Arquiteturas Film Festival Porto will be held from September 27 to October 1, 2022 in Porto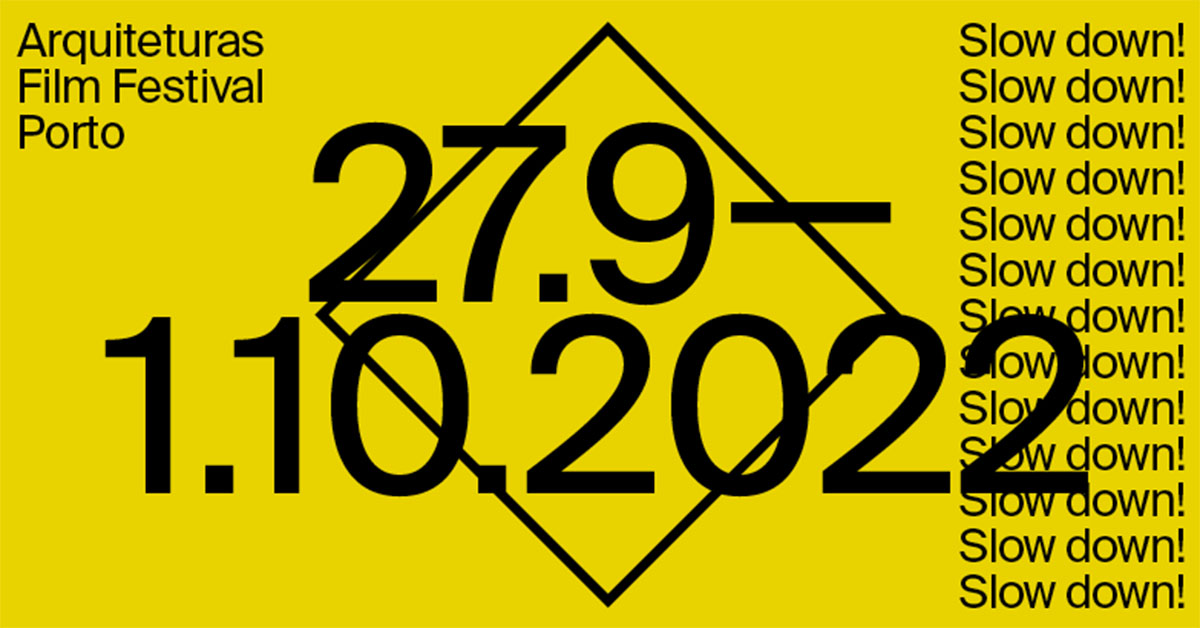 The 9th edition of Arquiteturas Film Festival makes its debut in the city of Porto, resuming the discussion and dissemination of architectural production through film.
The festival will be held from 27 September to 1 October, 2022 in the city of Porto, Portugal.
Organized by the INSTITUTO and under the direction of architect Paulo Moreira, this is an edition where cinema also gives way to debates and exhibitions, all around the theme "Slow Down!".
Over five days - 27 September to 1 October - the festival will be structured around four axes that explore the idea of "slowing down", even if this means demolishing, reducing, reusing or subtracting architecture.
This year's edition addresses spatial practices that convey the idea of 'reduction', even if it entails demolishing, reducing, reusing or subtracting architecture. Our interest lies in seeing, hearing and debating about socially and environmentally just practices that involve a reciprocal relationship between human activity and the natural world. The festival focuses on the growing global interest in interdisciplinary approaches to contemporary architecture. It uses the power of moving images as a tool for broadening public understanding and appreciation of architecture.
Arquiteturas Film Festival, organised by INSTITUTO, is an international platform for discussing and disseminating architectural production through films, exhibitions and debates, based in Porto.
The festival will take place over five days and will be divided into four main sections: Official Programme, Guest Institution Programme, Experimental Programme and Competition Programme. Each section is linked to one or two iconic venues in the city: Cinema Passos Manuel, the Faculty of Architecture at the University of Porto (FAUP), Fundação Instituto Marques da Silva (FIMS), INSTITUTO and Casa Comum.
Slow Down!, the theme for this year's edition, is launched in the Official Programme.
The programme consists of a film and debate session and two masterclasses open to the public (FAUP). The guest institution is the Centre for Documentary Architecture, which has put together a selection of films, talks, debates and an exhibition (FIMS).
The Experimental Programme offers screenings and discussions and is hosted by the festival organisers (INSTITUTO). Finally, the Competition Programme features 23 films divided into several categories — Fiction, Documentary, Experimental and New Talent — which will be screened at eight sessions (Casa Comum). The award-winning films will be screened again on the last day of the festival (Cinema Passos Manuel).
Find out details, programme and sections of the festival here.
Top image courtesy of Arquiteturas Film Festival.