Studioninedots adds green-colored pavilion-like workspace to office to spark creativity in Amsterdam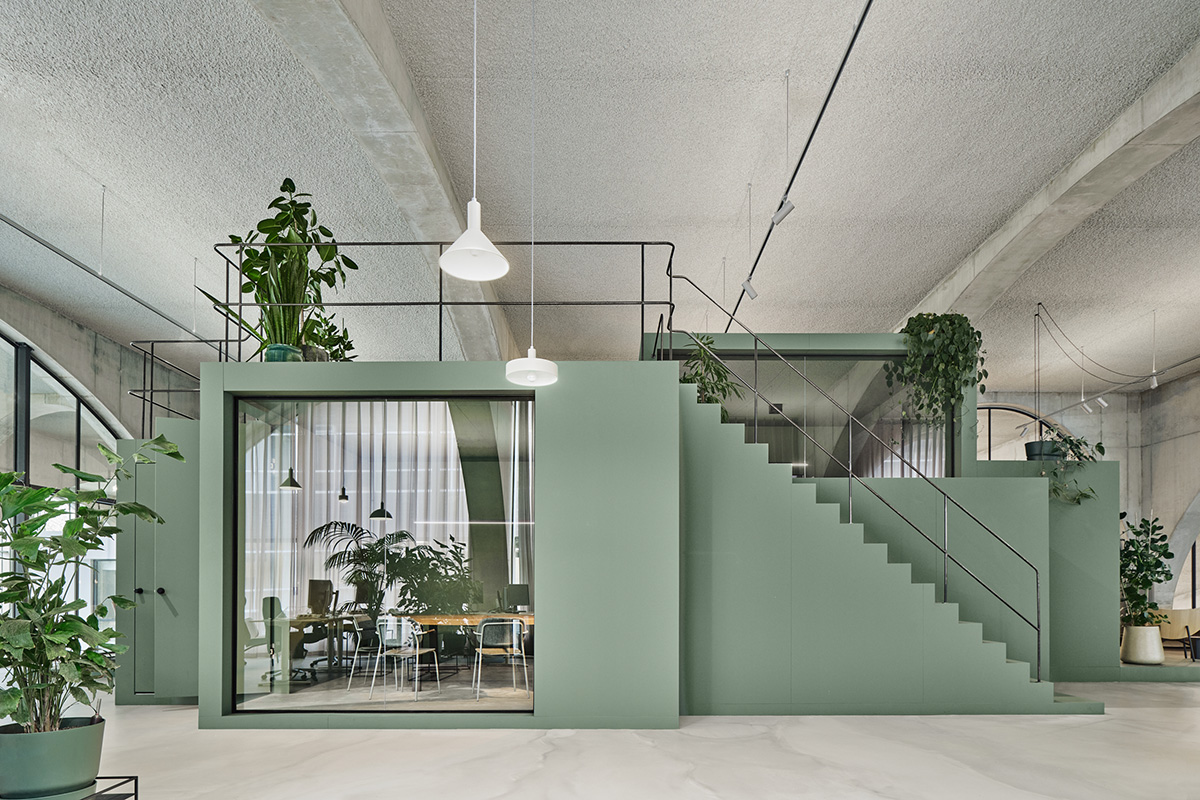 Amsterdam-based architecture and urban design practice Studioninedots has designed a green-colored, pavilion-like workspace added to the center of an office space in Lelylaan-Delflandlaan, Amsterdam, the Netherlands.
Named Wet Beast, the 750-square-metre office space is located on the ground level of Westbeat which is a mixed-use building designed by the same studio, Studioninedots.
Introducing a new workplace concept, the interiors feature three mystical objects to boost a new kind of experimentation, interaction and spontaneity within the social sphere of a working environment.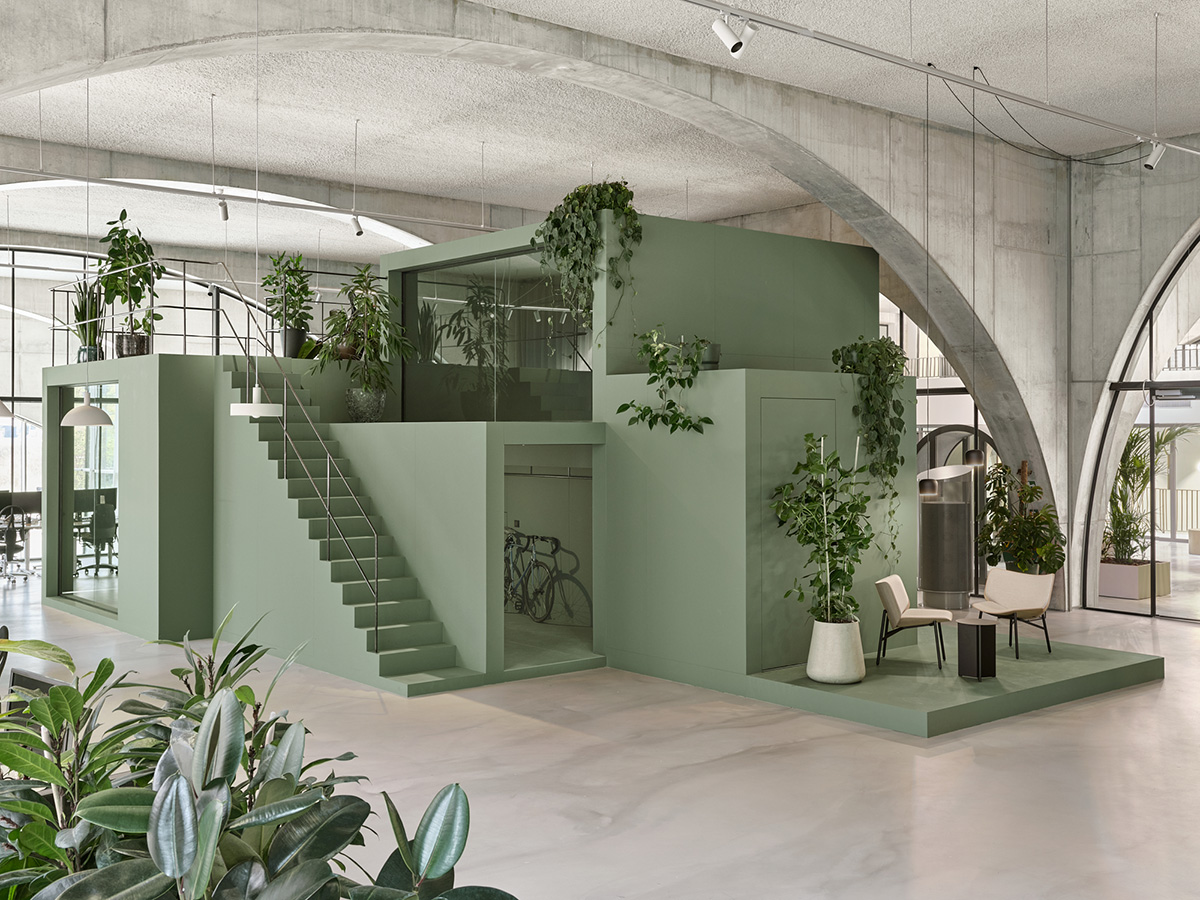 While working tables are placed regularly, at the center, a huge block, painted with green, creates an island of interlocking volumes and a playful environment while sparking creativity and interaction.
Since its completion in 2021, Westbeat building is recognisable by the concrete arch constructions in the plinth. Between the arches, exciting spaces arise that can be used by a variety of users and for a wide range of purposes.
Commissioned by Amsterdam-based Gerimedica, a software and service company on the healthcare industry, the design offers an office concept with three spatial elements that connect people and give new impulses.
"Wet Beast is an environment that stimulates creativity and a sense of community," said Studioninedots.
"As seemingly unfamiliar objects in a well-organised work landscape of tables and chairs, three 'pieces of furniture' have been added, which provoke their own interpretation."
"Wet Beast facilitates shelter, seating, meeting space, place for lectures, events, play, relaxation, contemplation and more," added the office.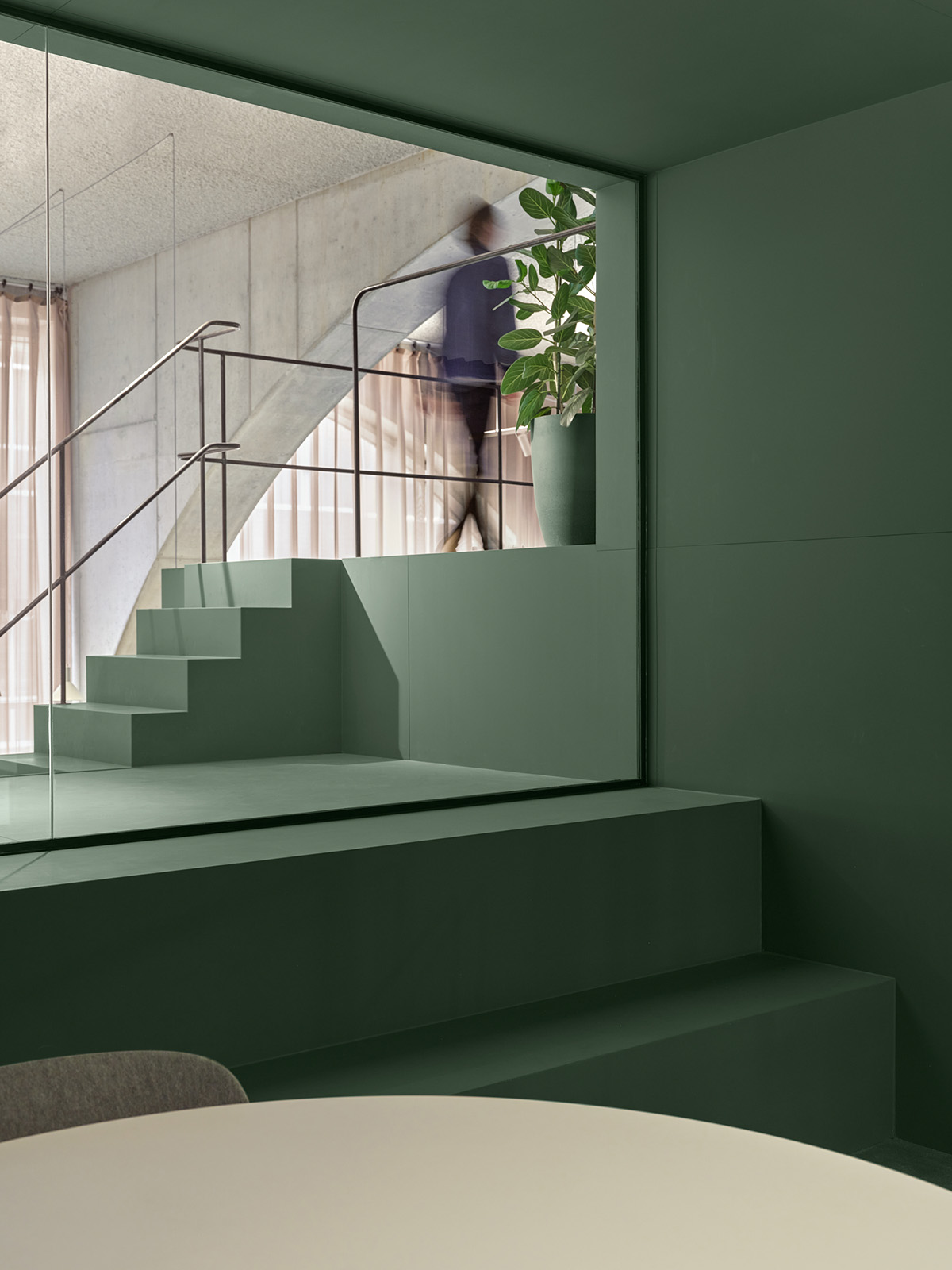 The design of the furniture pieces is fully detached of the architecture and the open interpretation in function is reflected in the diverse palette of colours, shapes and materials that make up the whole.
The elements are created in such a way that they can be used temporarily or permanently and can continually evolve in function.
Adopting flexibility, the Beast acts as "an Escher-like play world" in which, in addition to meetings, anything can happen. Stairs, alternating fixed elements and passages attract free interpretation or use.
Large glass walls ensure interaction between the sheltered core and the surrounding space. The studio added a piece of jungle that connects stairway between the two levels.
The steps can also serve as a podium for a presentation or as a place to relax, according to the studio. The stairs take their name from the organic shapes and the integrated planting.
Town Hall is made with friendly timber seating elements and light curtains. The Town Hall is an intimate place that is half hidden behind the curtains, or a continuation of the open space.
With Wet Beast, Sthe office aimed to create a concept that can be perceived different by every observer.
"We have created a new workplace that inspires users, stimulates creativity and challenges them to a new way of working," added the studio.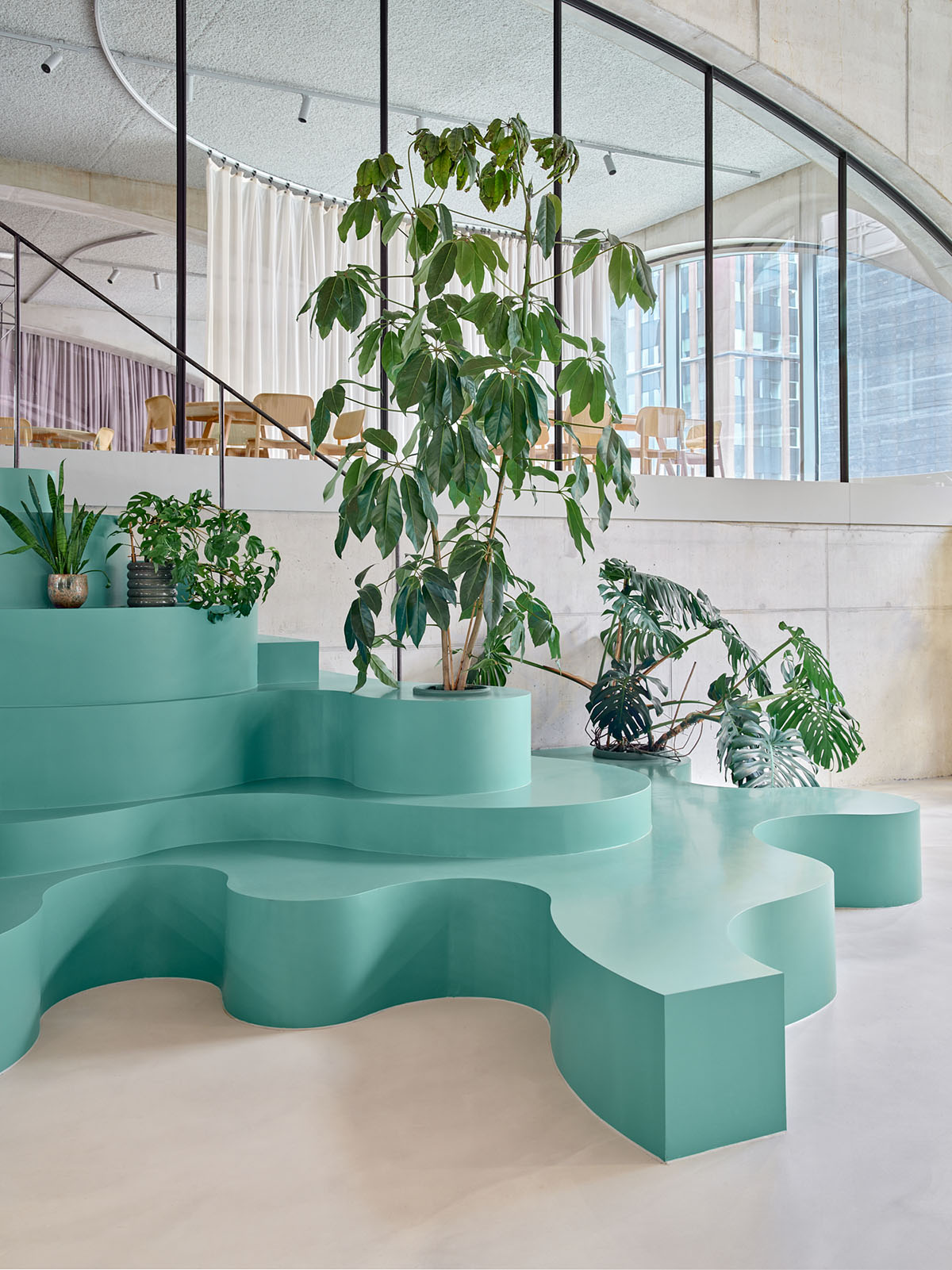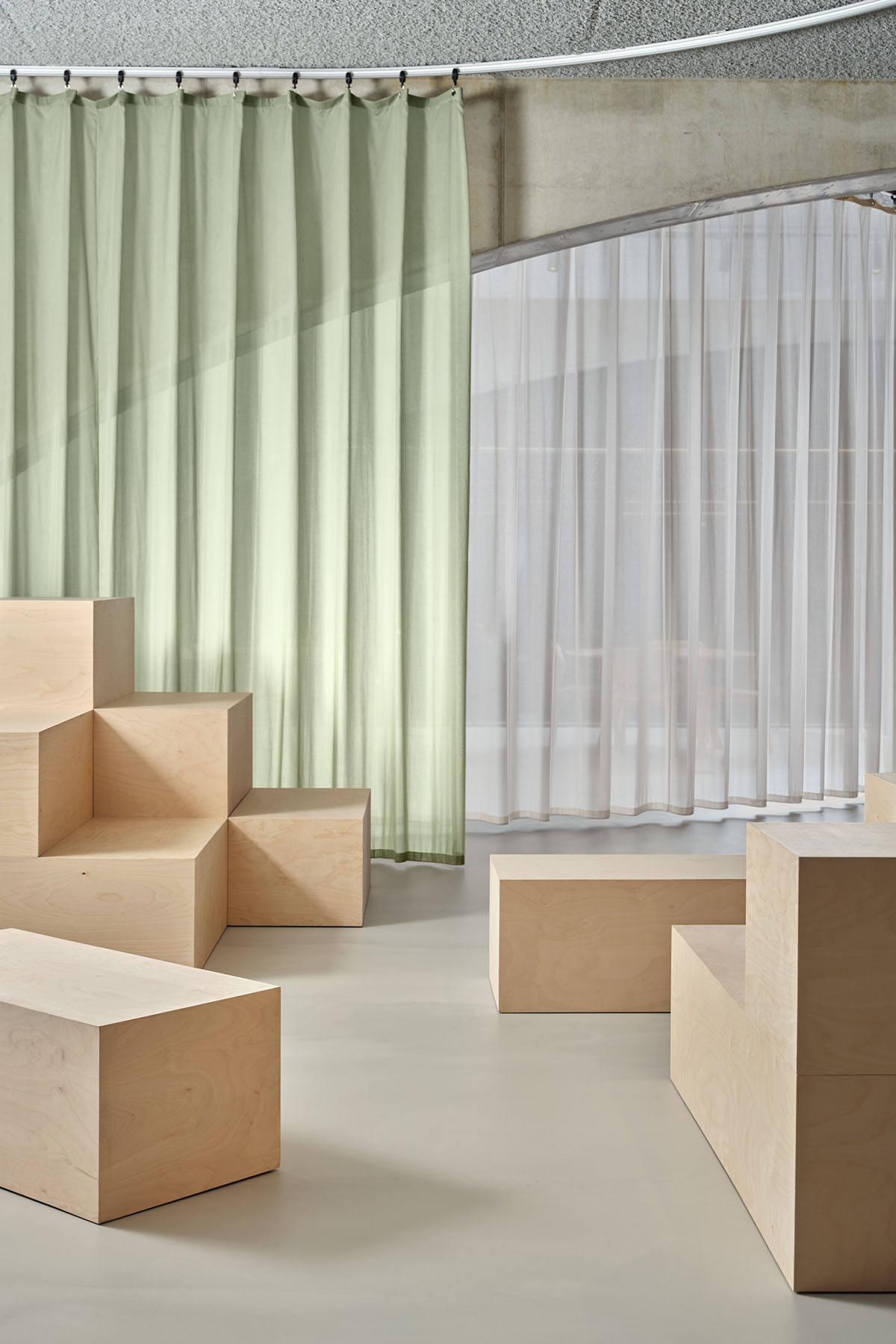 Floor plan
Section
Scheme
Pavilions
Scheme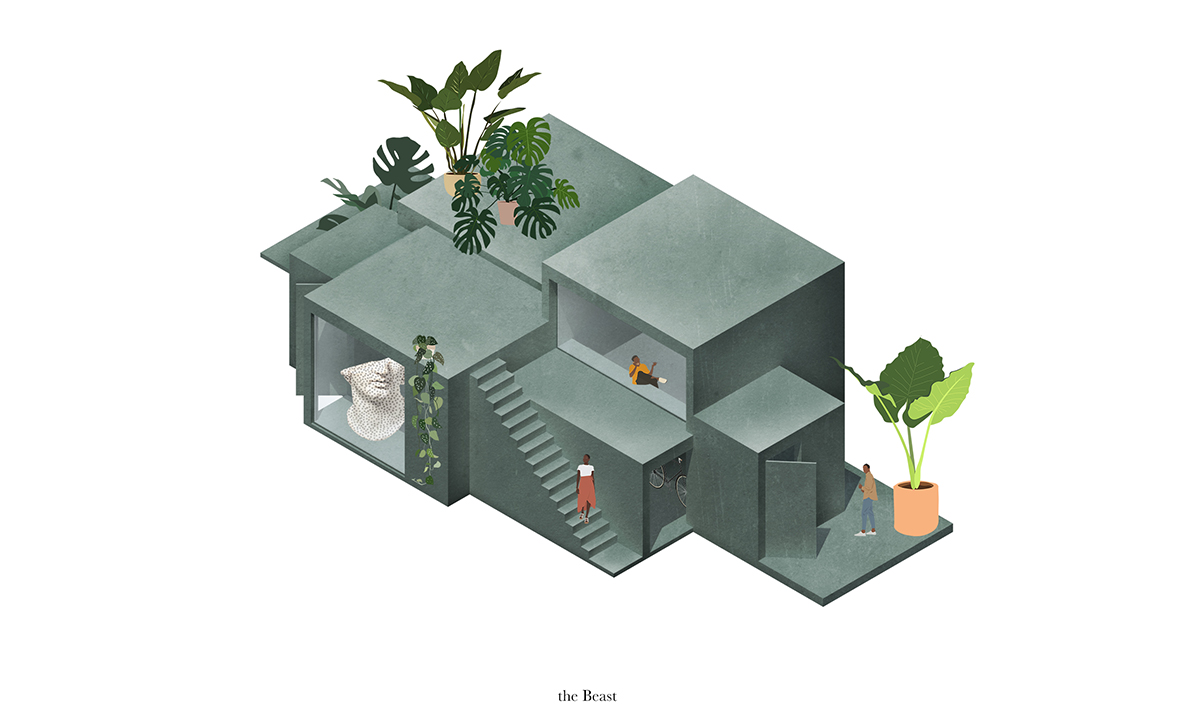 Axonometric model
Jungle stairs
Studioninedots was established in 2011 by Albert Herder, Vincent van der Klei, Arie van der Neut and Metin van Zijl. The studio is an architecture and urban design practice whose work extends from housing to urban concepts.
Project facts
Project name: Wet Beast
Architects: Studioninedots
Location: Lelylaan-Delflandlaan, Amsterdam, NL
Size: 750m2
Client: Gerimedica
Design – realisation: 2020 – 2021
Design team: Albert Herder, Vincent van der Klei, Metin van Zijl, Ania Bozek, Eva Souren
Collaborators: DeManMetDeHamer, Het Groenlab, Bureau Vandervorm, Clemens Lichtadvies, Levtec
All images © Maarten Willemstein.
All drawings © Studioninedots.
> via Studioninedots