MOON, soon to be added to the Dubai skyline, will offer an authentic space tourism experience
A 198-metre-diameter giant sphere is set to be added to the Dubai's skyline as a unique destination resort, aiming to offer an "authentic space tourism experience" and mimicking the shape of the moon in the real world.
Visitors will dive into the real moon and embark on a journey beyond the boundaries of space tourism.
Called MOON, the $5 billion project is envisioned by two Canadian entrepreneurs, Michael Henderson and Sandra Matthews, whose venture is called Moon World Resorts Inc (MWR).
Awaiting official approval for construction very soon, MOON is set to be licensed for four different geographical locations: North America, Europe, MENA and Asia by the same company. The founders consider the UAE, Bahrain, Qatar and the KSA for the MENA region.
MOON in Las Vegas, United States
The 516,000-square-metre complex will house a new tourist destination and authentic training facility for various kinds of space agencies and their astronauts. Further, 300-unit purchasable luxury villas, named Sky Villas, will be available for the exclusive members of the Private Members Club of the MOON.
A large lunar surface in the inner part of the sphere, reaching 123.4-meters at its highest level, will serve the lunar colonies for space exploration and discovery. A 90-minute excursion to this lunar surface of the MOON is expected to cost US $500.00.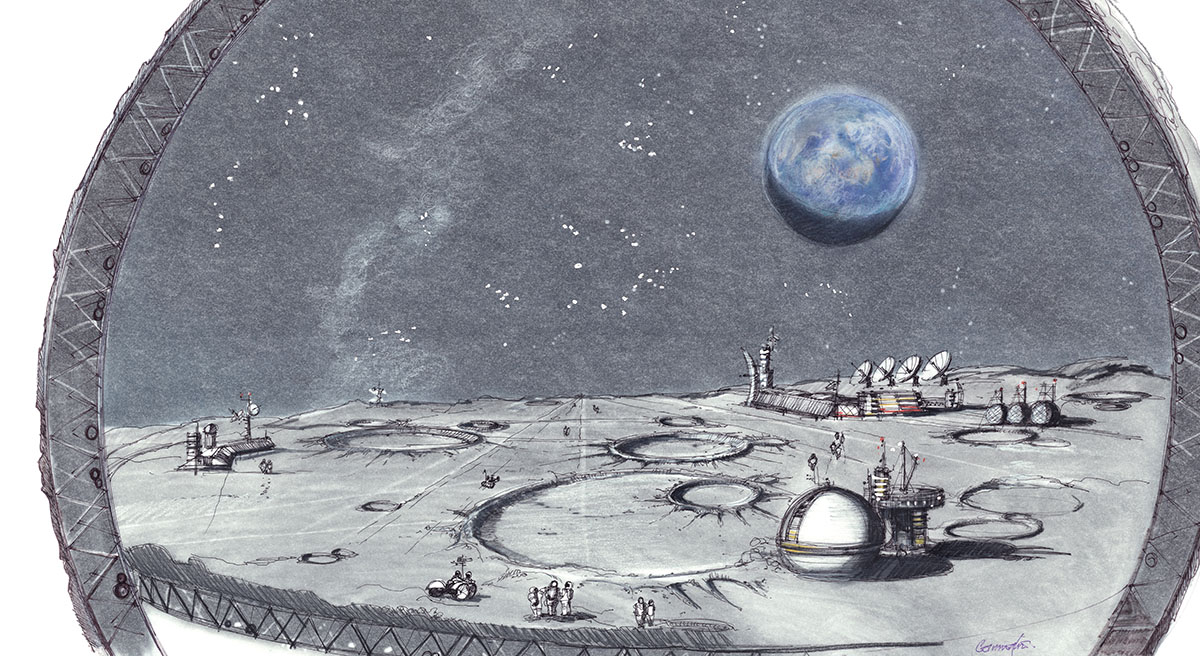 View from lunar surface
MOON will reach 224-meters height from ground level and discs diameter will reach 259 meters.
Described as "a contemporary, fully integrated, luxurious, technology-driven and a unique destination resort", MOON is planned to be built according to LEED Gold Five Star standards and operate at a Five Diamond Level.
"MOON will adhere to the highest global standards of environmental stewardship!," said Michael Henderson and Sandra Matthews, co-founders of Moon World Resorts Inc (MWR).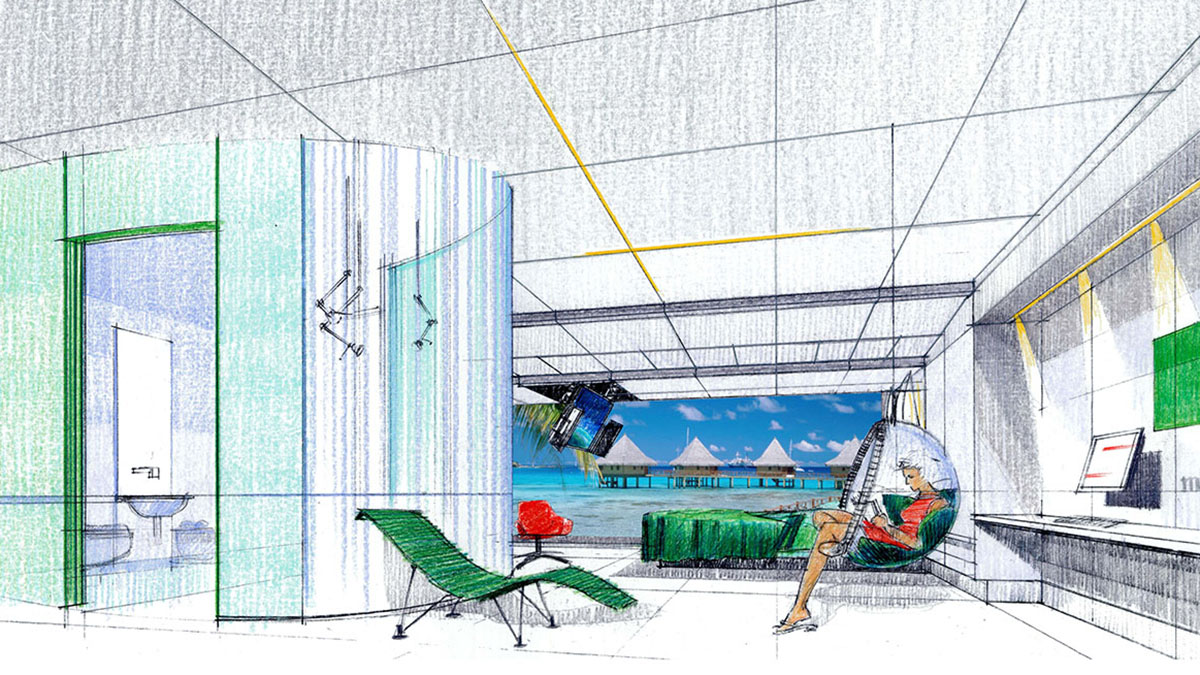 View from luxury suites at MOON will be available for purchase for MOON's Private Club Members
When completed, MOON expects 10 million annual guests, while expects 2.5 million guests to MOON's lunar surface described as MOON's "signature attraction".
View from Crater Cafe at MOON
"The world's most spectacular and innovative destination resort"
"An amazing, out of this world attraction, MOON will form the "bridge" delivering an affordable and entirely authentic space tourism experience millions of enthusiasts around planet earth have been patiently waiting for; a chance to actually "participate"," said Michael Henderson, co-founder of MWR.
"Within MOON one will find a huge array of components which will integrate to deliver a seemingly never ending journey of discovery," Henderson added.
View from a Galaxy Atrium at MOON
"MOON is actually logical"
According to Henderson and Matthews, the design scheme will be "the world's most spectacular and innovative destination resort."
The founders believe that compared to artistic renderings and NFT types creations, MOON could easily be built from architectural and engineering perspective.
"Unlike past and present artistic renderings and NFT type creations, MOON is actually logical. From an Architectural, Engineering and Design perspective MOON can be built."
"Additionally the business case for MOON is extremely compelling, the brand is already known and loved by 7.5 billion humans! Indeed MOON is the most recognised brand on planet earth and is fortunate to enjoy the largest billboard ever created," the founders added.
View from an Events Center showcasing a rock concert at MOON
Touching on hospitality, entertainment, attractions, education, technology, the environment and space tourism, the project's focus is on leading edge architecture, engineering, design and technology.
The structure is divided into two main volume: four-storey disc spaces under the main sphere consists of a program of public amenities, such as meeting spaces, ballrooms, restaurants, spa-wellness, show theater and business center are placed on the Middle Disc.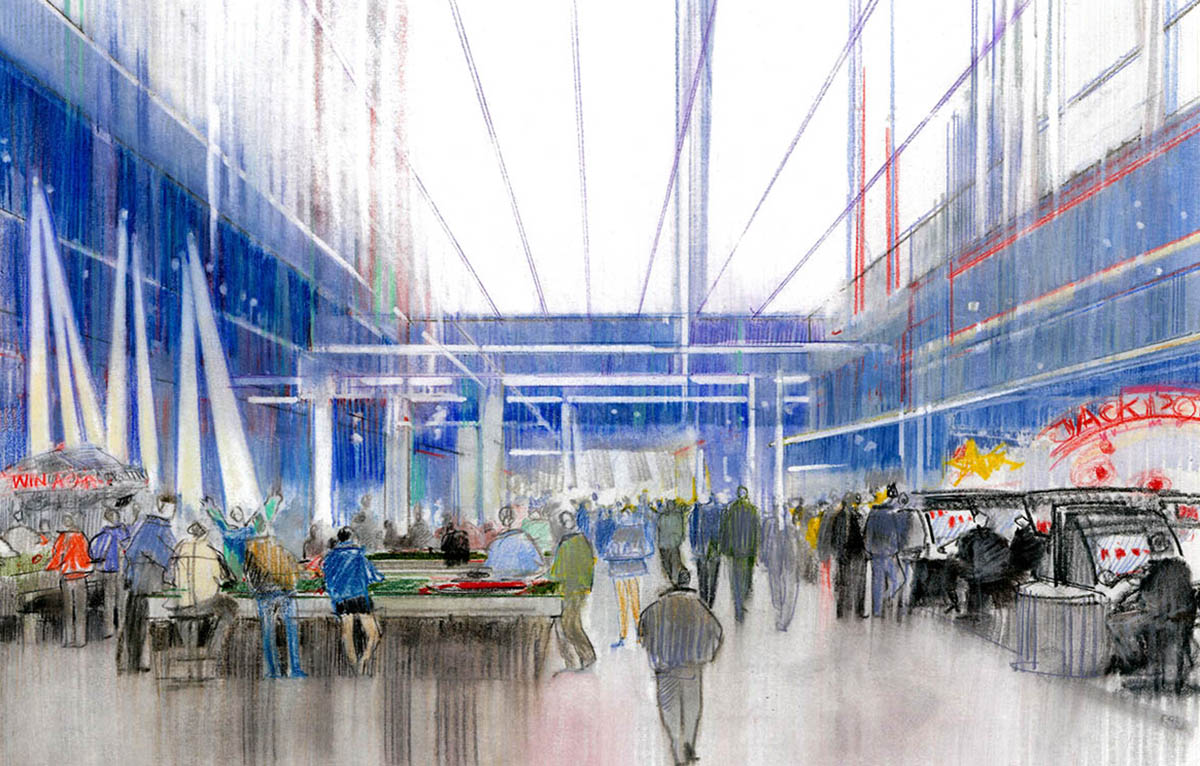 View from MOON Casino
On the Upper Disc, there are hotel lobby, lounges, boutiques, event center concourse, show theater concourse, night clubs, discovery center, arena concourse, global meeting place, shuttle station, casino, merchandising and business center.
Upper Disc Terrace includes beach club, lagoon, sports, multi-function areas, aquatic center, lounges, greenscape, amphitheater. Lower Disc level is dedicated to convention centre, loading dock storage, mechanical, global meeting place and business center.
View from Night Club
Within the sphere, a stack of floors, reaching 20-storey in total, includes hotel suites. Shuttle station, mechanical units and club are placed in between these floors which will also include multiple high-speed express elevators for vertical movement.
In order to climb to the upper part of the sphere, guests will board the shuttle ride-system within the lower disc buildings, and they will be transported to the lunar surface by using a high-speed shuttle system which is a maglev type vehicle - known as a new type walking mechanism derived from magnetic levitation.
View from Convention Center at MOON
The shuttle will traverse the void area between the inner sphere core and the main hotel superstructure.
The main sphere will be built from carbon fibre composite, and columns supporting the sphere will be made of concrete and steel. The number of columns supporting the sphere may vary depending on the final height, according to Henderson. In general, 4 or 5 columns are planned to support the main sphere.
The reason why the company's founders chose Dubai as the first location is since the country invests in purely residential real estate projects rather than innovative and groundbreaking space tourism projects.
View from Piano Bar
"There is nothing innovative in building a square box and filling it with a USA based children's franchise models, that much duplicated product is everywhere!," said Henderson.
"Waterparks and theme parks etc. are regurgitations the world over; in MWR's humble opinion one must "dare to be different"!."
View from Show Theater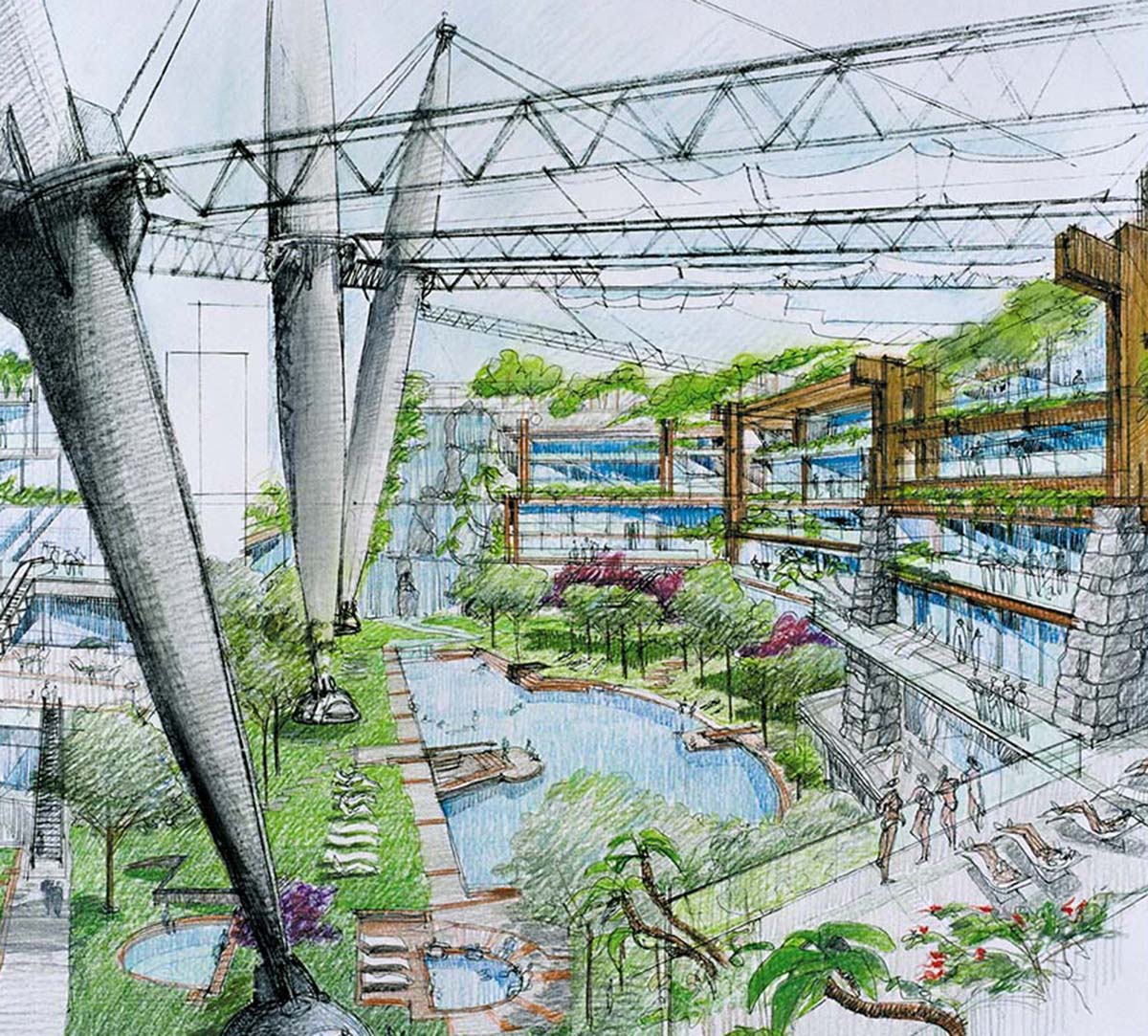 View from spa-wellness center
"Regional Licensees may choose to have MOON developed as a stand alone Destination Resort or as a central focal point surrounded by a mixed use community; similar to the relationship between the Burj Khalifa and Downtown Dubai," Henderson emphasized.
Shopping experience at MOON
Guests will be transported via a high-speed shuttle system at MOON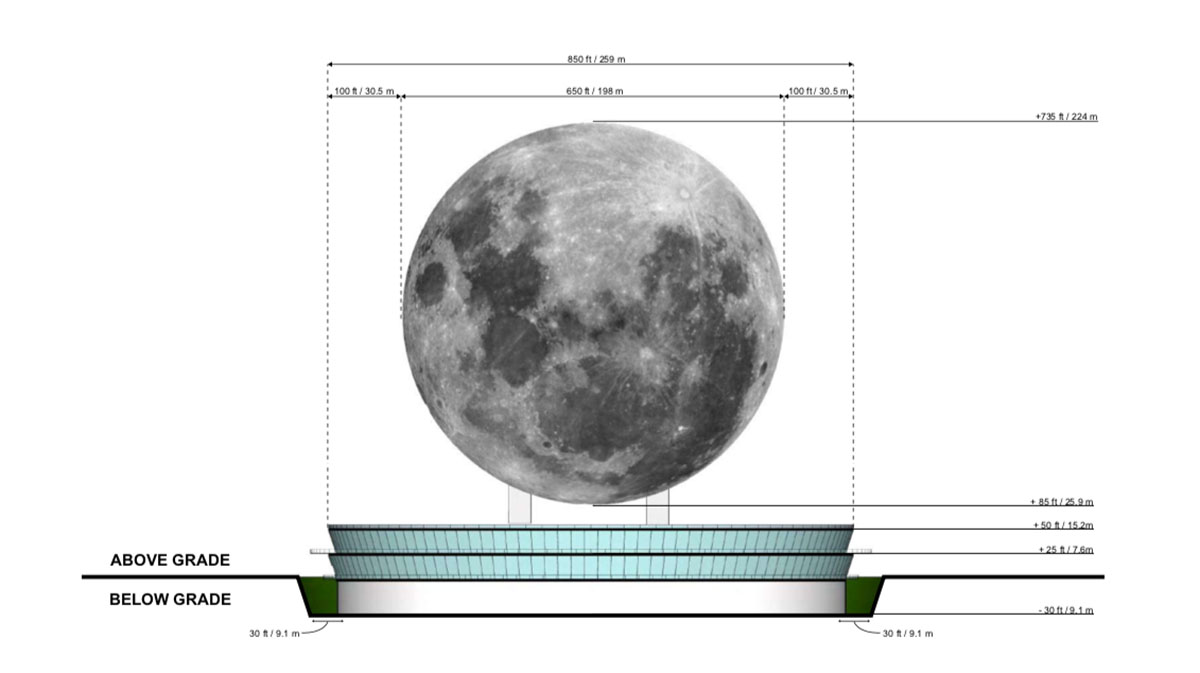 Concept section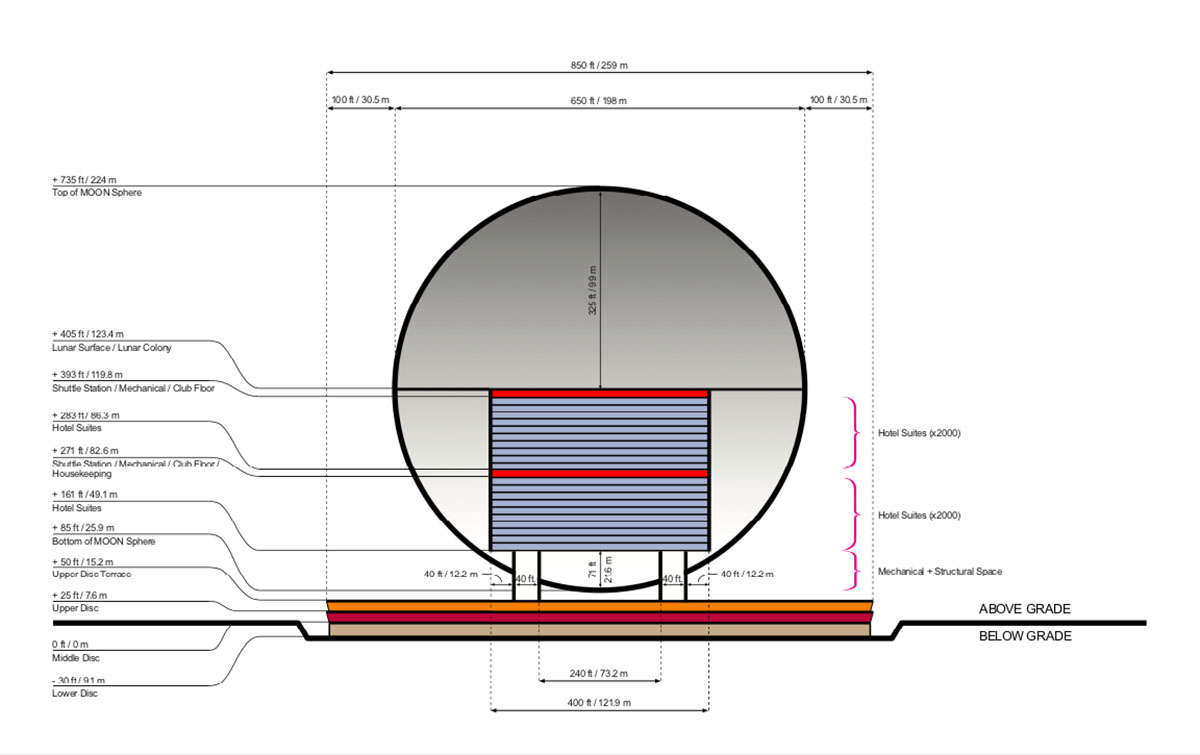 Schematic section
Schematic perspective section
If everything goes on a plan and approved, MOON is expected to be completed in 48 months and opened in 2027.
Project facts
Project name: MOON
Designers: Michael Henderson and Sandra Matthews
Main structure size: 516,000 m2
Car park size: 204,387 m2
All images & video courtesy of Moon World Resorts Inc.
> via Moon World Resorts Inc