PLP Architecture unveils masterplan for Tokyo Cross Park Vision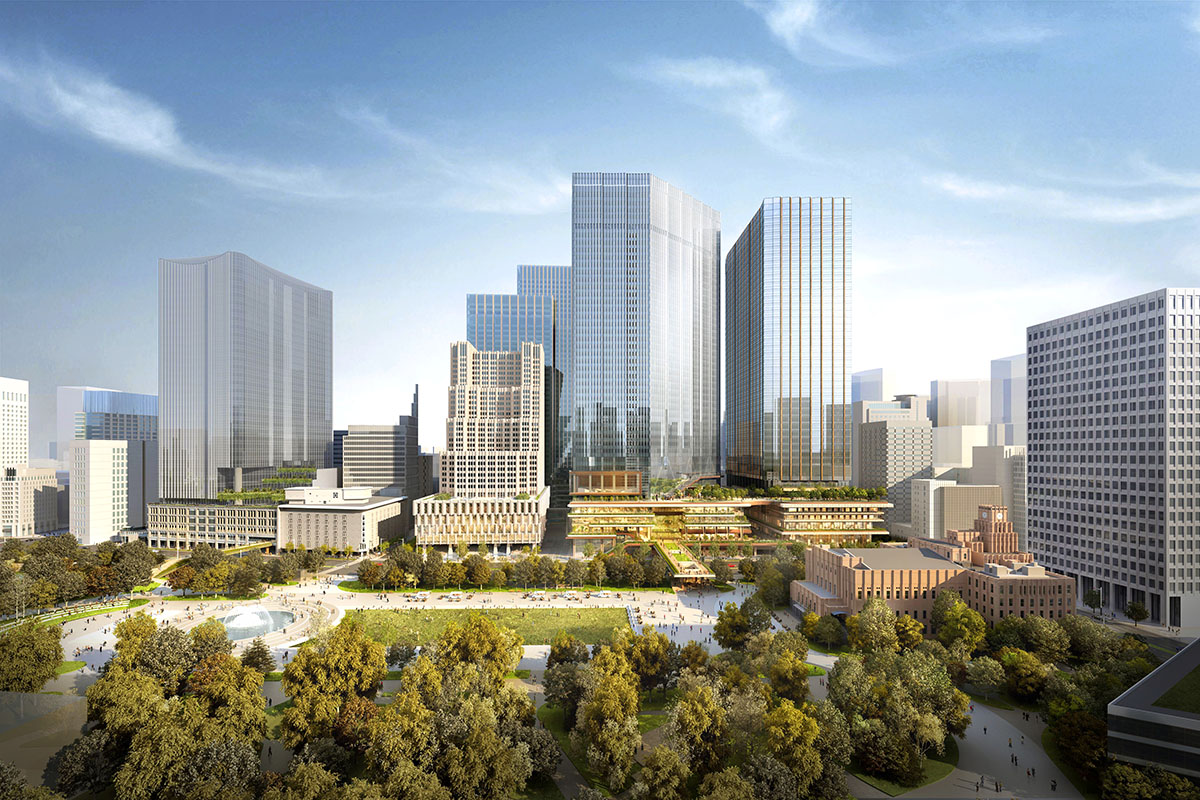 PLP Architecture has unveiled vision for Tokyo Cross Park masterplan, which will create a new district redevelopment in the prestigious Uchisaiwaicho 1-Chome district of Tokyo, Japan. The site is at the very centre of Japanese culture, economy and politics.
The masterplan, covering a 230-hectare 'green heart', will be connected to the 16-hectare Hibiya Park and look across to the Imperial Palace of Tokyo.
PLP serves as the master designer and placemaking strategist for the entire 1.1-million-square metre development, the largest in the metropolitan area of Tokyo, the firm will design two of the four mixed-use towers on the 6.5-hectare site.
The project is developed for a multi-stakeholder partnership, which will comprise of 10 of Japan's most prominent companies. The multi-disciplinary group came together to co-create a new vision for urban development in Tokyo.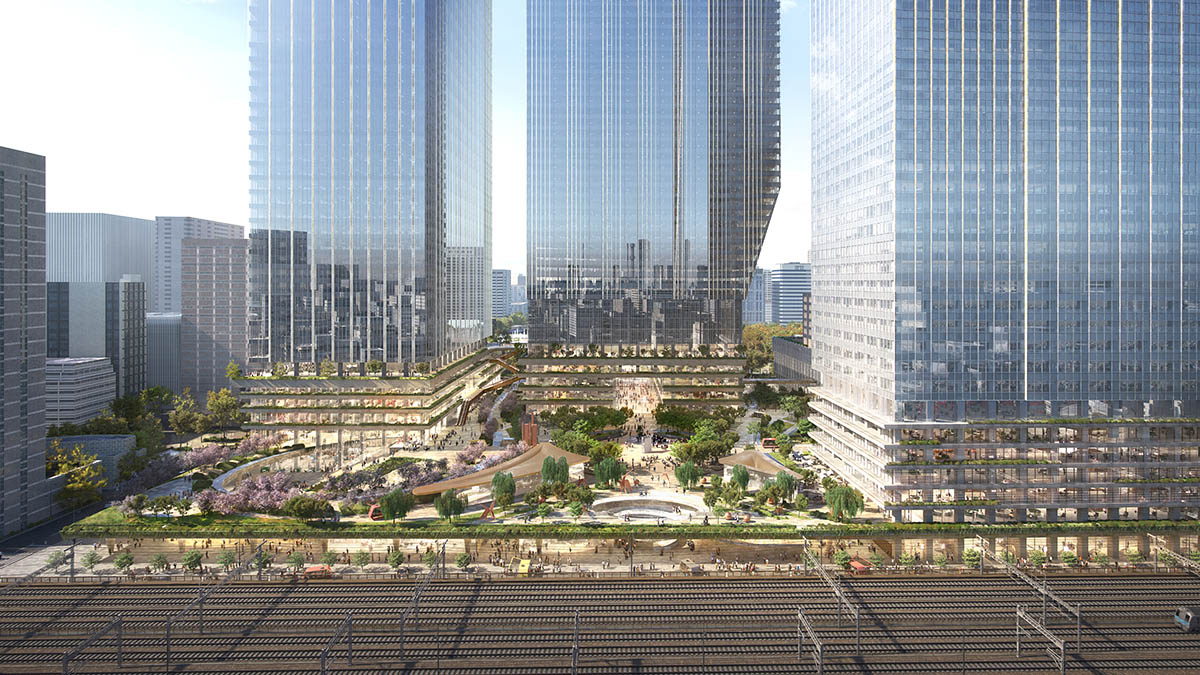 Cocreation plaza
PLP's masterplan is aimed to provide a platform within the city that will facilitate collaboration between these different disciplines to develop future ideas.
The project site will be connect to the 16-hectare Hibiya public park and will include 4 towers that are raised on a 31-metre-tall podium with an elevated green public space, and a 2-hectare public plaza.
The overall programme will contain offices, commercial facilities, hotels, residential, co- creation spaces and an extensive indoor and outdoor public realm. Each component is conceived to work together to create a cohesive urban experience.
The site consists of three districts: North, Central and South. In the North District are the Imperial Hotel's new main building, designed by ATTA, and the PLP Architecture designed North Tower, which offers premium hospitality-oriented offices, commercial facilities, serviced flats and rental housing. In the Central District, which is connected to Hibiya Park by an open-air 'park bridge', the Central Tower, also designed by PLP, will be equipped with offices, a hotel, banquet hall, a multipurpose hall and cross-industry co-creation hubs. In the South District, the South Tower, designed by Nikken Sekkei, will comprise of offices, a hotel and wellness promotion facilities.
The 'park bridge' connection to Hibiya Park will propose a larger loop of pedestrian walkways, linking to surrounding stations and districts.
As PLP Architecture emphasized, this will propose "an expansive pedestrian network, with safe and green routes, in a heavily urban area that has previously been dominated by vehicular traffic."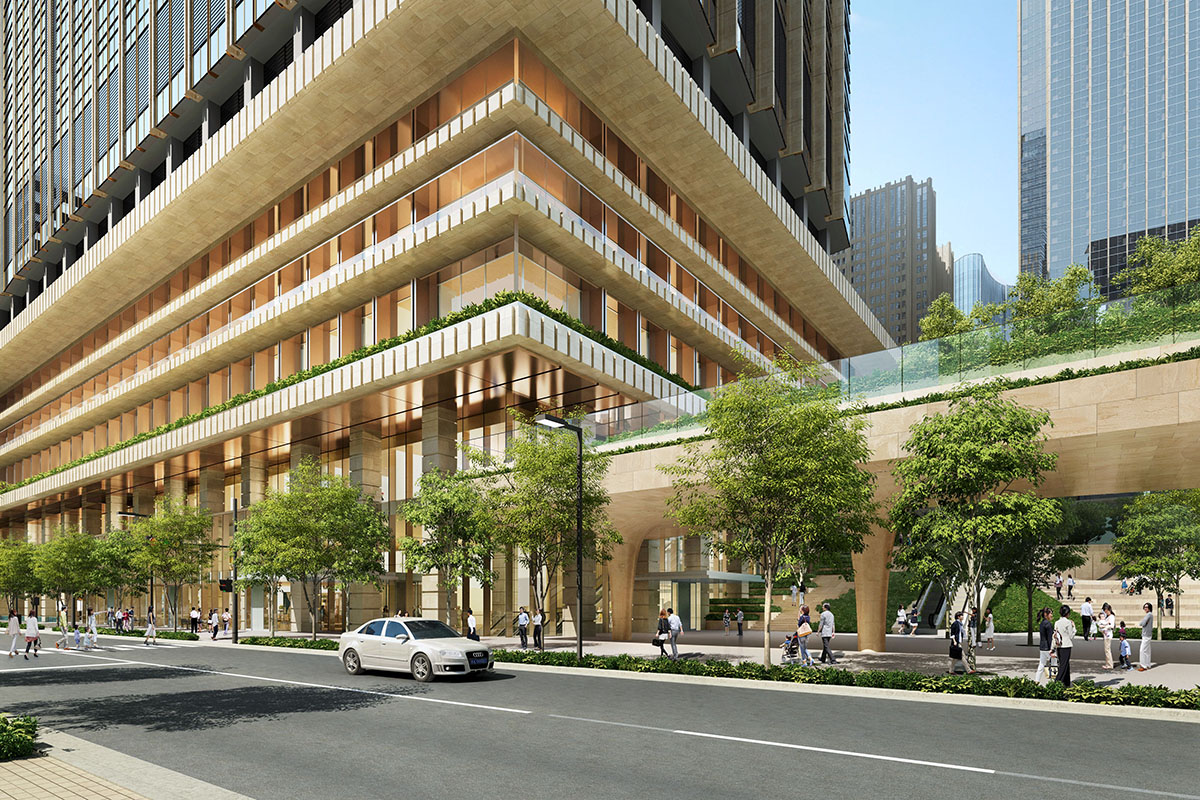 The Tokyo Cross Park Vision, which is set to propose key parts of the city and culture cross over, is based on uniting 3 concepts to create a range of new urban experiences: Uniting natural life and urban life, Uniting Tokyo's top talent and Uniting Japan's top ten companies.
The Tokyo Cross Park Vision is enhanced with 5 major principles: A human-centric city, which aims to establish a truly 'human-centric' city. It intends to increase experiences throughout the site and to improve people's wellbeing, giving them a positive connection to nature in the city, and provide spaces to freely share ideas.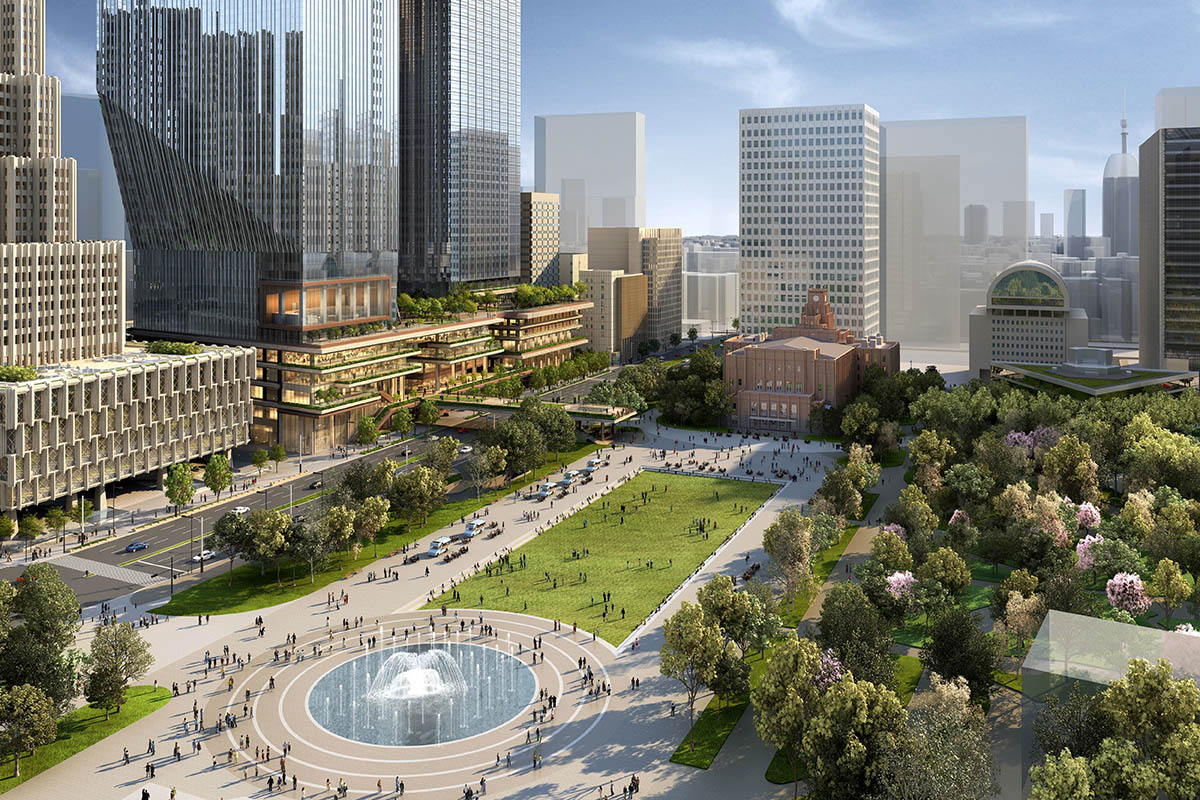 Another principle is Urban development x digital, in which the district will be supported by advanced digital infrastructure, including digital twins, which will enable it to become a cross-disciplinary third- generation smart city.
The third component, called "Omotenashi", is the Japanese word taking pride in the world-class hospitality that they offer, embodied in the term "Omotenashi". The fourth principle is Evolving Wellbeing, through the masterplan it provides opportunities to bring natural elements into the site as an extension of these green spaces. And the last component is Reaching Carbon Negative, which aims to showcase the possibility of reaching the government's target of carbon neutrality by 2050.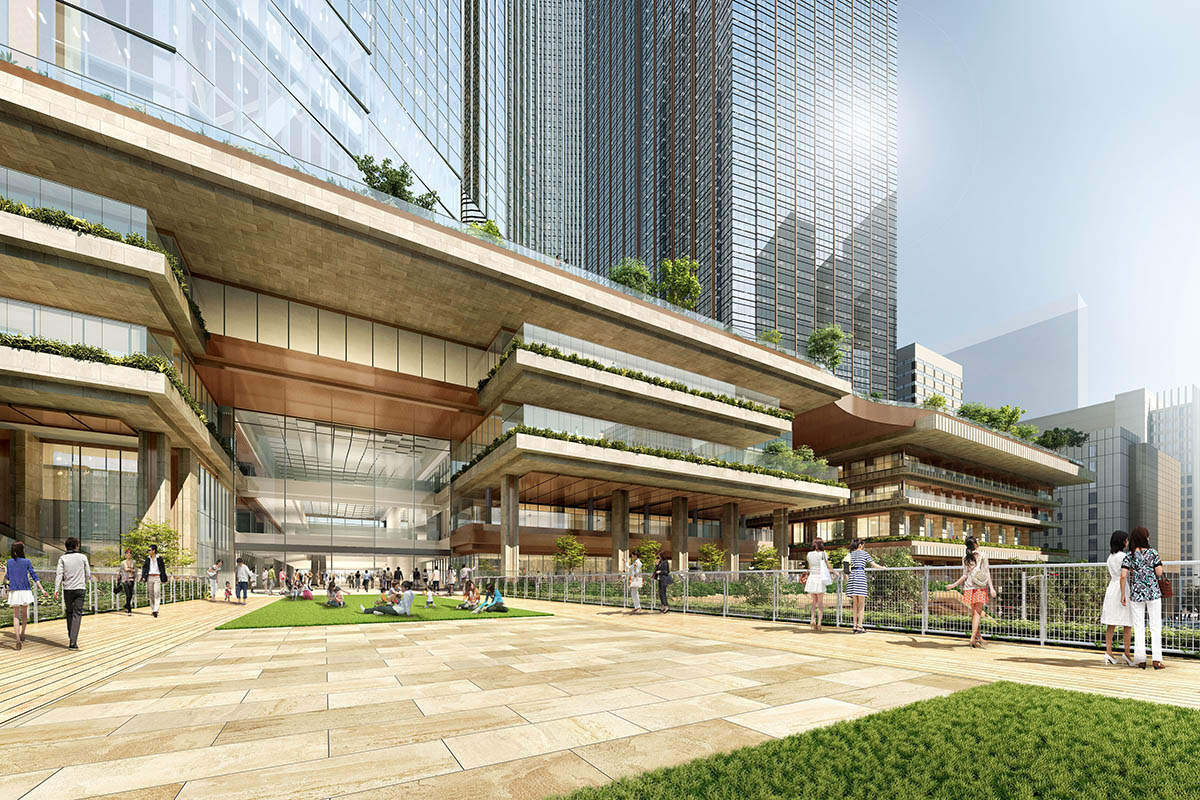 View of podium top garden plaza
The South Tower is scheduled for completion by 2028 at the earliest, while the entire masterplan is expected to be completed by 2037. Respectively, the Central Tower is expected to be completed by 2029, the North Tower is scheduled to be completed by 2030 and the Imperial Hotel is planned to be completed by 2036.
Development Stakeholders
Nippon Telegraph and Telephone Urban Solutions Inc.

Kokyo Tatemono Co., Ltd.

The Dai-ichi Life Insurance Company Ltd.

Chuo-Nittochi Co.

Imperial Hotel Ltd.

Tokyo Century Corporation

TEPCO Power Grid Inc

Nippon Telegraph and Telephone Corporation

Nippon Telegraph and Telephone East Corporation

Mitsui Fudosan Co.
PLP Architecture is currently working a new office building that will be built adjacent to the Grade II listed Holborn Viaduct, London. PLP Architecture is also designing a "biophilic" residential tower in Singapore.
All images © Nikken Sekkei / PLP Architecture
> via PLP Architecture