Margine converts 1930s apartment into jazz musician's home studio evoking the soul of jazz in Rome
Rome and Lecce-based architecture studio Margine has converted 1930s building into a jazz musician's bright and functional home studio evoking the soul of jazz with minimal interventions.
Named Casa del Musicista, the 130-square-metre home is located in the historic Appio Latino district close to the Aurelian walls and a few steps from the Basilica of San Giovanni in Laterano in Rome, Italy.
Built in the 1930s, the existing conditions of the apartment unit were dark and fragmented apartment. The studio has redesigned the interiors with flexible space flooded with light. This minimal touch has changed the character of the apartment unit.
White backdrops and oak wood elements are combined in an elegant way and applied where they are necessary. The architects revolutionized the interiors to amplify the permeability and versatility of the environments, freeing the project from the classic stereotypes of "living".
The narrow, labyrinthine corridor, which characterized the initial distribution, has become a comfortable space thanks to the opening of the back wall, which visually connects those who enter with the main area of the living room-study, characterized by a floor to ceiling slatted oak boiserie: "In the living room, the oak wood spine curves to keep the access enfilade and the kitchen in symmetrical connection," said Margine's founders, Giulio Ciccarese and Valentina Pontieri.
"The dense slatted structure of the exoskeleton improves the acoustics of the spaces, making the system a sort of passive musical instrument that transmigrates sounds into space."
"With its unconventional pentagonal conformation designed to host jam sessions and impromptu musicals, the room's minimalism is enhanced by the boiserie, which, like the case of a mysterious musical instrument, organizes the paths and hides the secondary and service spaces, such as the closet, the access to the bathroom, the passage to the kitchen, and the semicircular wardrobe that organically redesigns the main junction of the house," stated the office.
"At the same time, the slat system refines the acoustics of the space and amplifies the diffusion of natural light."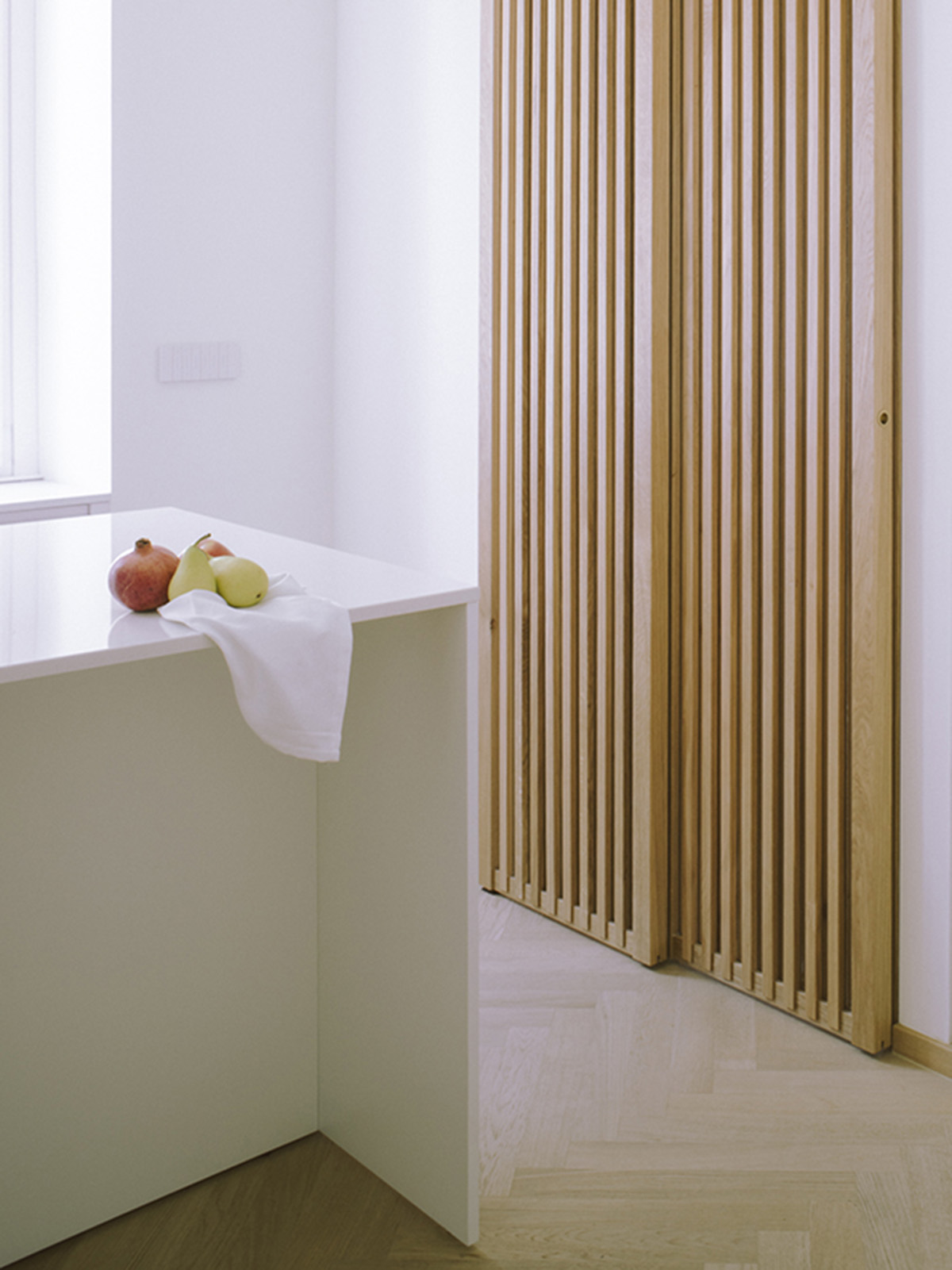 A few, well-studied formal elements create a pure environment with clean lines, warmed by the Italian herringbone light oak flooring and embellished by the Carrara marble surfaces with which the floors, window sills and bathrooms are clad.
The studio used some sophisticated furnishings, which evokes a typical 1960s lifestyle. They were mostly purchased in flea and antique markets.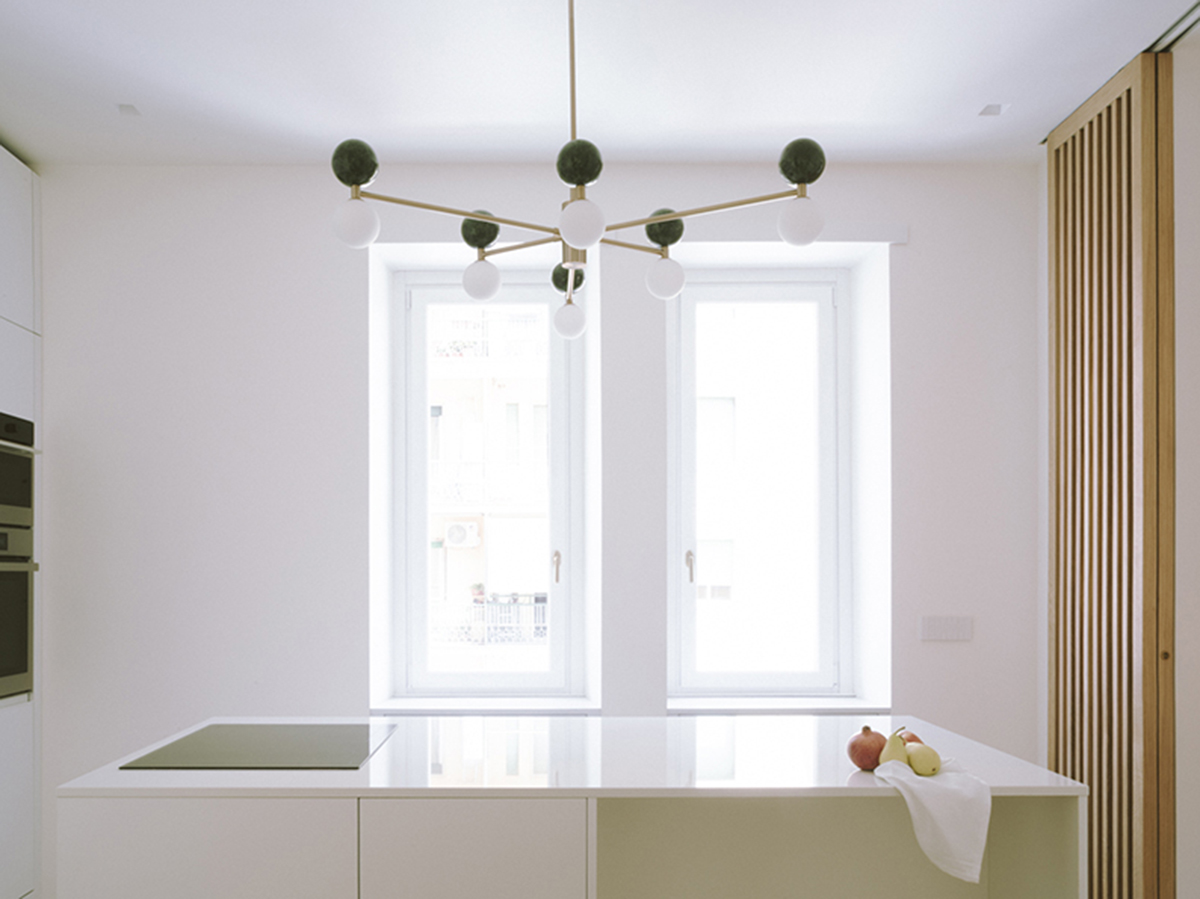 The pieces are mixed with more refined pieces, such as the Omaggio a Morandi sculptures by Salvatori, the 3T chair by Mangiarotti, Venini's vintage Triedri chandeliers and Pepe Fornas lamps for Aromas del Campo.
Margine aimed to compose its own architectural melody, incarnating an eclectic and extremely versatile home, where elegance insinuates itself in the intelligent combination of materials, textures and furnishings that appear entirely simple but utterly refined.
Floor plan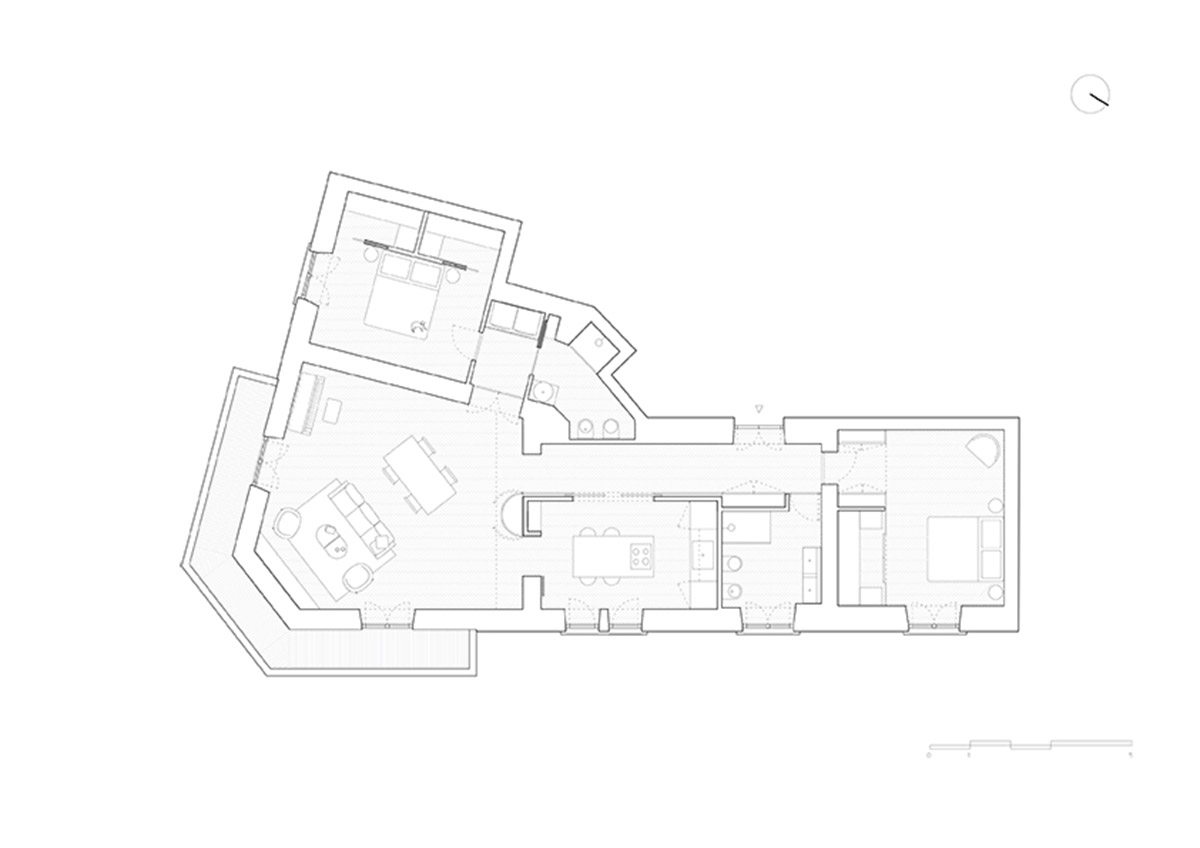 Floor plan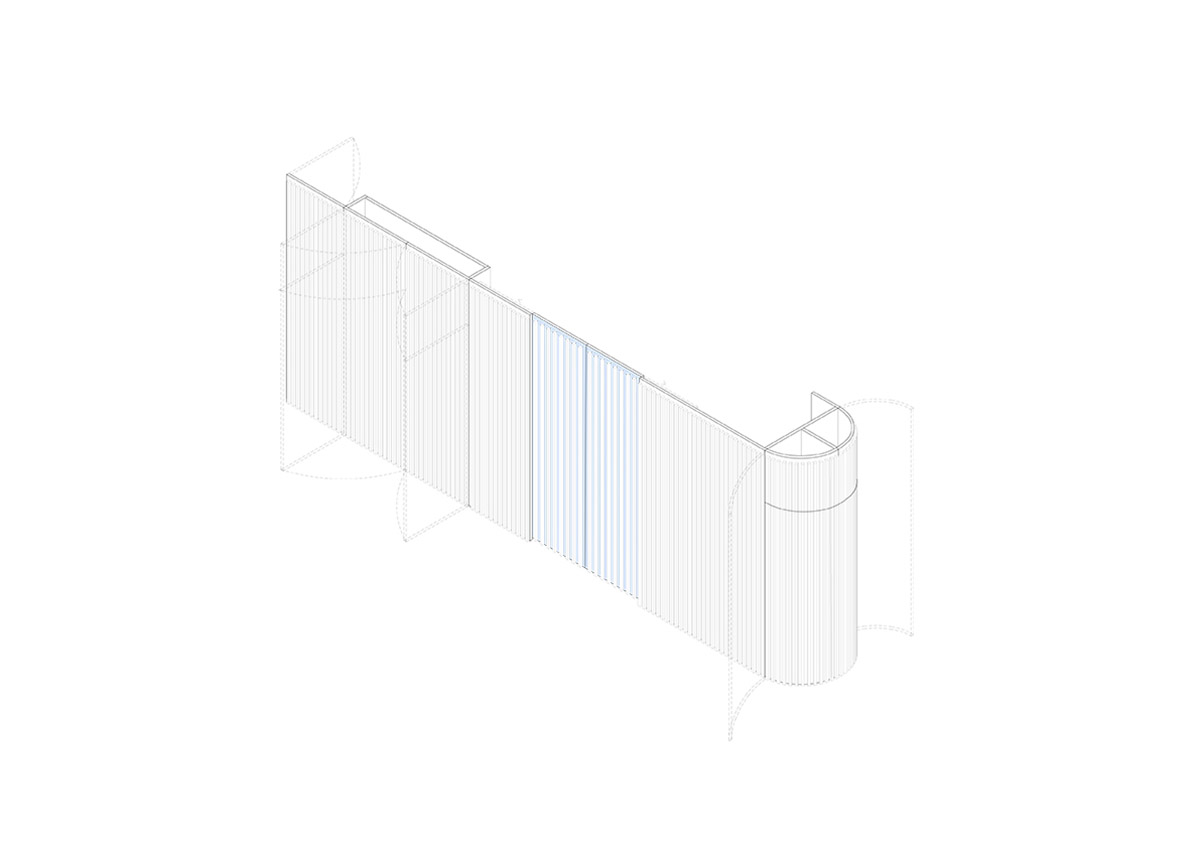 Axonometric drawing
Project facts
Project name: Casa del Musicista
Location: Appio Latino, Rome
Architect: Margine (Giulio Ciccarese, Valentina Pontieri)
Client: Privato
Date: October 2021
Size: 130 sqm
Contractor: Dueffe Ristrutturazioni
All images © Lorenzo Zandri
All drawings © Margine
> via Margine