Kerstin Thompson Architects designs 160-metre-long museum bridge raised on slender stilts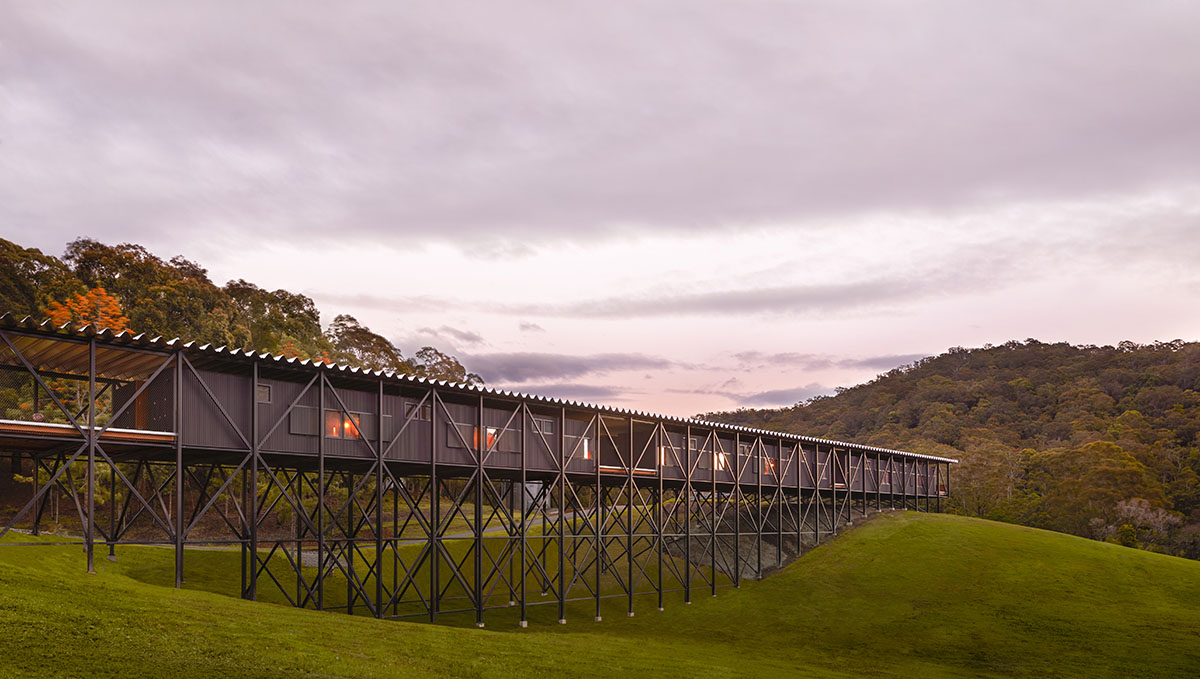 Melbourne-based architecture practice Kerstin Thompson Architects (KTA) has designed a new museum bridge measuring 160 metres long by 9 metres wide, offering sweeping views towards the existing gully in the sloping hillside in the Shoalhaven region of New South Wales, Australia.
Named Bundanon Art Museum and Bridge for Creative Learning, the museum officially opened its doors on 29 January 2022 in the Shoalhaven region of New South Wales.
An official ceremony and festival of events will be held on Saturday 5 March 2022, including live music and performance.
Situated on a 1,000-hectare of bush and parkland overlooking the Shoalhaven River, the project was designed to serve as an education centre for creative arts and education, for scientific research, an art museum and a retreat to explore landscape and engage with First Nations history and culture.
The project is distinguished with its elongated structure raised on slender stilts, aiming at "prioritising the existing landscape and its ecology," according to Kerstin Thompson Architects.
The museum is inspired by "rural Australia's trestle flood bridges"
Kerstin Thompson Architects are inspired by rural Australia's trestle flood bridges to create this museum bridge. The dramatic bridging structure straddles the gully from ridge to ridge, while allowing sporadic waters to flow beneath it and for the reinstatement of the wet gully ecology.
"The design is driven by Bundanon's main imperative, as established by the Boyd family, to foster an appreciation for and understanding of landscape and art," said Kerstin Thompson Architects.
"We have placed the site's ecology at the centre of the design with the new suite of buildings and landscapes responding to Bundanon as both subject and site of Arthur Boyd's work, seeking to heighten the visitor's appreciation for the sights, sounds, textures, and ecological workings of the landscape."
"Both the Art Museum and Bridge respond to current and future climatic conditions, with inspiration drawn from rural Australia's trestle flood bridges," the studio added.
Due to its elevated structure, the project is aimed at leaving a minimum footprint on the landscape, avoiding damaging the land and focusing on the landscape itself.
To create such a modern, but modest structure, Kerstin Thompson Architects worked with New Zealand landscape architects Wraight Associates with Craig Burton and environmental design consultants and building services engineers Atelier Ten.
Encompassing a total of 500-square-metre area, the building, housing a world-class creative learning centre, consists of a museum, a café, an education center, and accommodation up to 64 people, with dining facilities offering sweeping views over the Shoalhaven River.
Accommodation at the Bundanon Art Museum and Bridge. Image © Katie Rivers
The Art Museum and Bridge also share an expansive public plaza near the existing 19th century buildings. Both public groups and education audiences will be able to stay onsite for an immersive Bundanon experience.
"This expansion will widen public access, deepen engagement in creativity and the landscape, and position Bundanon both nationally and internationally," said Bundanon Chief Executive Officer, Rachel Kent.
"I look forward to this new chapter in Bundanon's history – building on its past achievements and opening its doors to new audiences and generations, going forwards."
The museum is divided into two sections: a 160-metre-long elevated art bridge is floating above, which includes accommodation suites, workshops.
An Art Museum and a state-of-the-art Collection Store facility that will house and protect Bundanon's extensive $46.5 million collection of some 4,000 items, are subterranean that protects the works from diverse climate conditions and offers thermal stability in the form of the reinstated hill.
The bridge's floating structure is conceived in the spirit of plein air -needing less climate control and more indoor/outdoor flow.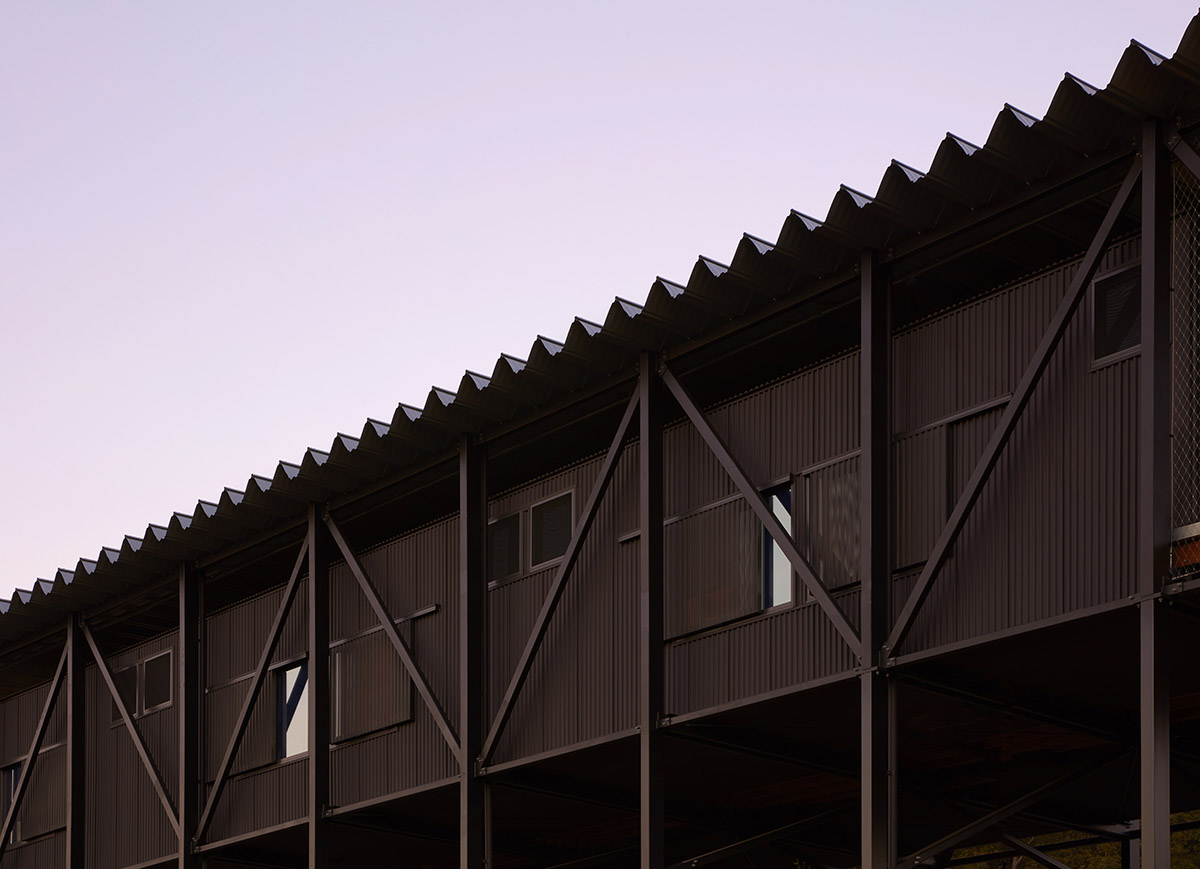 The bridge museum also encompasses Bundanon's net zero ambitions. As stated by Bundanon, the project incorporates radical solutions in response to a changing climate, thanks to its elevated structure, it becomes defensible against fire and flood by setting a net zero energy target.
"The Bridge is treated like a piece of flood infrastructure with the architecture supporting the natural system of water flow across the site," stated Bundanon.
The structure is powered by solar panels and it incorporates exemplary sustainability features including passive temperature management, black water treatment, harvesting and storing of rainwater, local materials throughout and a reduced reliance on fossil fuel sources.
The project has recently been supported by a $22.5 million investment from the Australian Government, $10.3 million from the NSW Government and philanthropic support.
It is expected that the $34 million project will contribute to the Shoalhaven region's cultural tourism. The Australian Government, in the last budget, also announced that there will be additional uplift funding of $6 million over two years, stated in Bundanon's website.
The establishment of Bundanon represents one of the most significant acts of philanthropy in the history of the arts in Australia.
Video © Mana Creative
Arthur and Yvonne Boyd's gift of Bundanon in 1993 was driven by a big vision, which has been built upon by subsequent acts of private generosity and government support, creating the cultural institution for artistic enjoyment and learning that thrives today in the Shoalhaven.
Kerstin Thompson Architects was founded by Australian architect Kerstin Thompson in 1994. KTA has expansive project portfolio, including institutional, educational, residential, commercial and infrastructure projects.
All images © Zan Wimberley unless otherwise stated.
> via Bundanon & Kerstin Thompson Architects