Naked Eye by NONOTAK: A tribute to the International Day of Light
Latest immersive exhibition at ARTECHOUSE by Paris based artist studio Nonotak makes you lose all sense of space. Blurring the lines between the real and the virtual, Naked Eyes is a choreography of lights.
"Art is not something to look at, it's something to feel. That is one of the ideas that infuses much of the work created by Nonotak Studio, who see their work not as interactive machines, but as pieces that are alive in their own right," said the Creators.
Noemi Schipfer and Takami Nakamoto merged architecture and sculpture to create an unearthly light and sound instillation by using an impressive combination of the cutting edge visual technology. They unify space, sound, and visual specificity that overwhelm the physical perception.
"The space is important because it's an indicator of scale and it affects proportions when we design an installation," said Nonotak Studio.
The exhibition comprises of four unique site-specific installations. They use simple geometric forms to define the relationship between space, time and reality.
"The light is sculpted, contained, diffused, and reflected using LEDs, projectors, and laser-illuminated fiber optics, so that the Naked Eyes can enjoy the three dimensionality of it. It reflects the notion of the light being an abstract matter, which needs intervention and design to become shape and volume," said Schipfer, in a press release by Artechouse.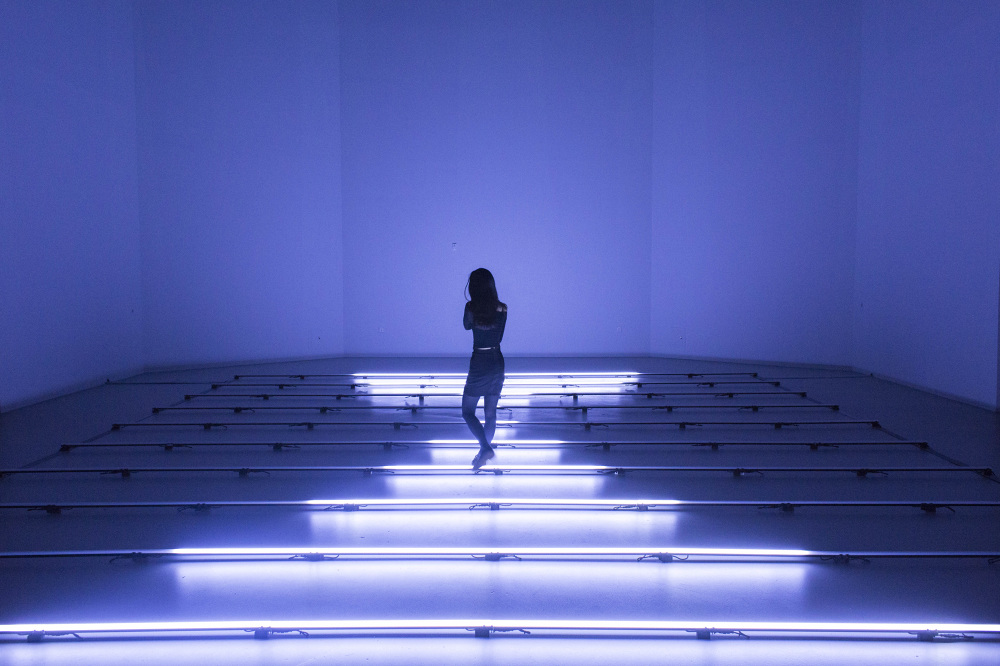 Baseline is inspired by the volume of space. It creates a cube of light that visitors would enter from a staircase. It has LED bars on the floor, which individually interact with lights projected from the ceiling.
Ocean is inspired by flow. It features a façade containing wood slates that conceal strips of LED that appear to flow like water, create a canvas of light. The lights are molded so that the indirect light makes patterns and moves in concentric circles that pulsate.
Coma features 16 pillars topped with headlights, that dance to an upbeat music. The headlights are used for their kinetic movement and unique silhouettes, creating a dizzying, yet elegant exhibit.
Zero Point One features fiber optics that are used to create a cross-hatched grid of light in the center of the space. It is named after the gauge of cable needed to assemble the piece. Each fiber is covered in phosphor to turn blue laser light into white light that dissolves without ghosting. When the lasers are off, the fibers disappear completely.
This Exhibit is open through June 30 at Artechouse, Washington D.C.
All images courtesy of ARTECHOUSE & Nonotak Studio
> via ARTECHOUSE