Heatherwick Studio designs glass desk supported by sculptural planter legs
British designer Thomas Heatherwick's firm Heatherwick Studio has designed a glass desk supported by sculptural planter legs, as part of the Design Museum's Connected: Made Together, Apart at London Design Festival.
Called Stem, Heatherwick's design was developed with nine imaginative and original tables and seating designs, created by nine leading international designers and beautifully made in one of Europe's top craft workshops.
Heatherwick is among the nine designers, alongside Ini Archibong, Maria Bruun, Jaime Hayon, Sebastian Herkner, Maria Jeglinska- Adamczewska, Sabine Marcelis, Studiopepe and Studio Swine.
Image courtesy of the Design Museum
Thomas Heatherwick used a glass table and carefully carved the maple wooded legs in a rippled form. Heatherwick worked with the team on the project via digital communication and video conferencing without touching the real product in production process.
This approach required a new level of trust in the makers, since the designers had no physical contact with their pieces whilst they were being made at Benchmark's Berkshire workshop during the summer.
The installations are displayed on an exhibition, called Connected, which has been launched on 11 September at the Design Museum in London will be on view until 11 October 2020.
Image courtesy of the Design Museum
"When the onset of Covid-19 significantly changed the way people live, interact and work, creatives and makers had to adjust their processes using new technologies to work together at a distance and often operate from new, improvised, home offices," said a press release by the Design Museum.
"The designers had a choice of three sustainable American hardwoods to work with – red oak, maple or cherry. They were also invited to record their creative journeys to demonstrate how they approached the brief and developed their designs at a time of limited physical contact."
"This extraordinary installation showcases the results of a unique experiment that sets out to push the boundaries of what is possible with these timbers and to explore how designers and craftspeople adapted their working practices during lockdown."
First sketch by Thomas Heatherwick. Image courtesy of Heatherwick Studio
Heatherwick's design celebrates the power of biophilia by incorporating planting into curved CNC-machined American maple legs, clamped to a glass tabletop.
After spending 3 months at the same desk using video conferencing to communicate, the studio craved nature and began to see the space around them as a mini television studio – what is behind you and around you is now being seen by the world.
Heatherwick is inspired from the craft of wooden spoon carving. The same principle is applied to a shelving unit, with carved timber uprights and glass shelves.
Heatherwick also designed holes to hide cables inside the legs. Image courtesy of Heatherwick Studio
The seat will be upholstered in Gotland shearling, with a carved base that references the other elements.
"Commissioning nine designers to make furniture from wood doesn't sound like a particularly original brief. But these are not ordinary times," said Justin McGuirk, Chief Curator at the Design Museum.
"We are all being over- exposed to our homes and having to adapt to new patterns of working. The pandemic has forced each designer to approach their home-working set-up with a completely fresh perspective – what do they really need?."
"The Connected project has been a rare opportunity for them to design for themselves, but the key challenge has been that they have had to rely entirely on digital communication. It couldn't be more relevant and we are delighted with the results."
First sketch by Thomas Heatherwick. Image courtesy of Heatherwick Studio
The resulting responses to the brief are incredibly diverse and personal, with a bold array of natural and stained finishes that bring these sustainable timbers to life in a new way.
Each of the designs have challenged the makers with their complexity and attention to detail.
Making of Stem, Heatherwick Studio. Image © David Cleveland
"I am blown away by how each designer was given the same brief and we ended up with nine completely different – and incredible – creative interpretations," said AHEC's European Director, David Venables.
"The performance of these three hardwoods has been exceptional, and craftspeople at Benchmark have risen to the challenges presented by some complex designs and the results are extraordinary."
"This is a genuine evolution in how we work: the craftspeople have worked tirelessly with the designers over video conferencing to ensure the exact details are met. And it proves that lockdown doesn't get in the way of creativity and creation. I can't wait for the designers to see their pieces for the first time."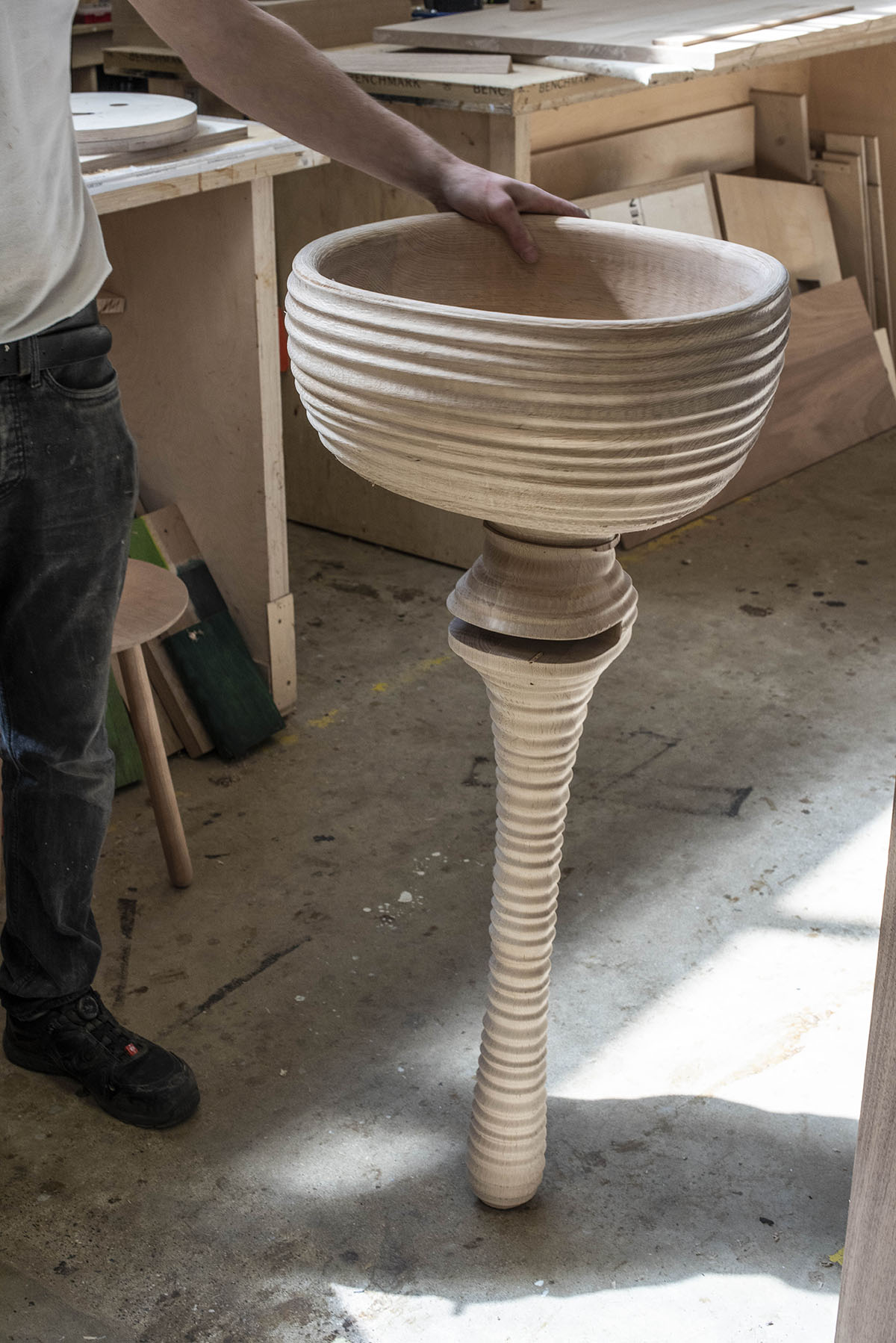 Making of Stem, Heatherwick Studio. Image © David Cleveland
Connected exhibition Stem, Heatherwick Studio. Image © David Cleveland
Connected exhibition Stem, Heatherwick Studio. Image © David Cleveland
Heatherwick Studio is a team of over 200 problem solvers dedicated to making the physical world around us better for everyone. Based out of their combined workshop and design studio in Central London, they create buildings, spaces, masterplans, objects and infrastructure.
Heatherwick previously spoke to WAC on his inventing approach in an exclusively interview.
Top image courtesy of the Design Museum
> via The Design Museum