Zaha Hadid Architects designs new high-rise with curved glass façade in Hong Kong's business district
Zaha Hadid Architects has unveiled design for a new 36-storey high-rise to be built in the heart of Hong Kong's central business district.
Called 2 Murray Road, the design, commissioned by Hong Kong-based property developer Henderson Land, will replace a multi-storey car park to create an urban oasis adjacent to Chater Garden within a short walking distance to both Central and Admiralty MTR metro stations.
2 Murray Road, reaching to 190-metre height, will incorporate "the integration of advanced design, construction and operational technologies throughout the building."
Animation © Cosmoscube
The tower will have a base elevated above the ground and will shelter courtyards and gardens cultivated with trees and plants in the centre of one of the world's busiest cities, the design is aimed to create new civic plazas that are enveloped by nature.
Zaha Hadid Architects' design echoes the organic forms of the natural world; the redevelopment connects with the adjacent public gardens and parks.
"These tranquil outdoor areas flow into the generous communal spaces of the interior; the craftsmanship and precision of the curved glass façade enhancing this seamless connectivity between the building's interiors and the surrounding gardens and city beyond," said ZHA in project description.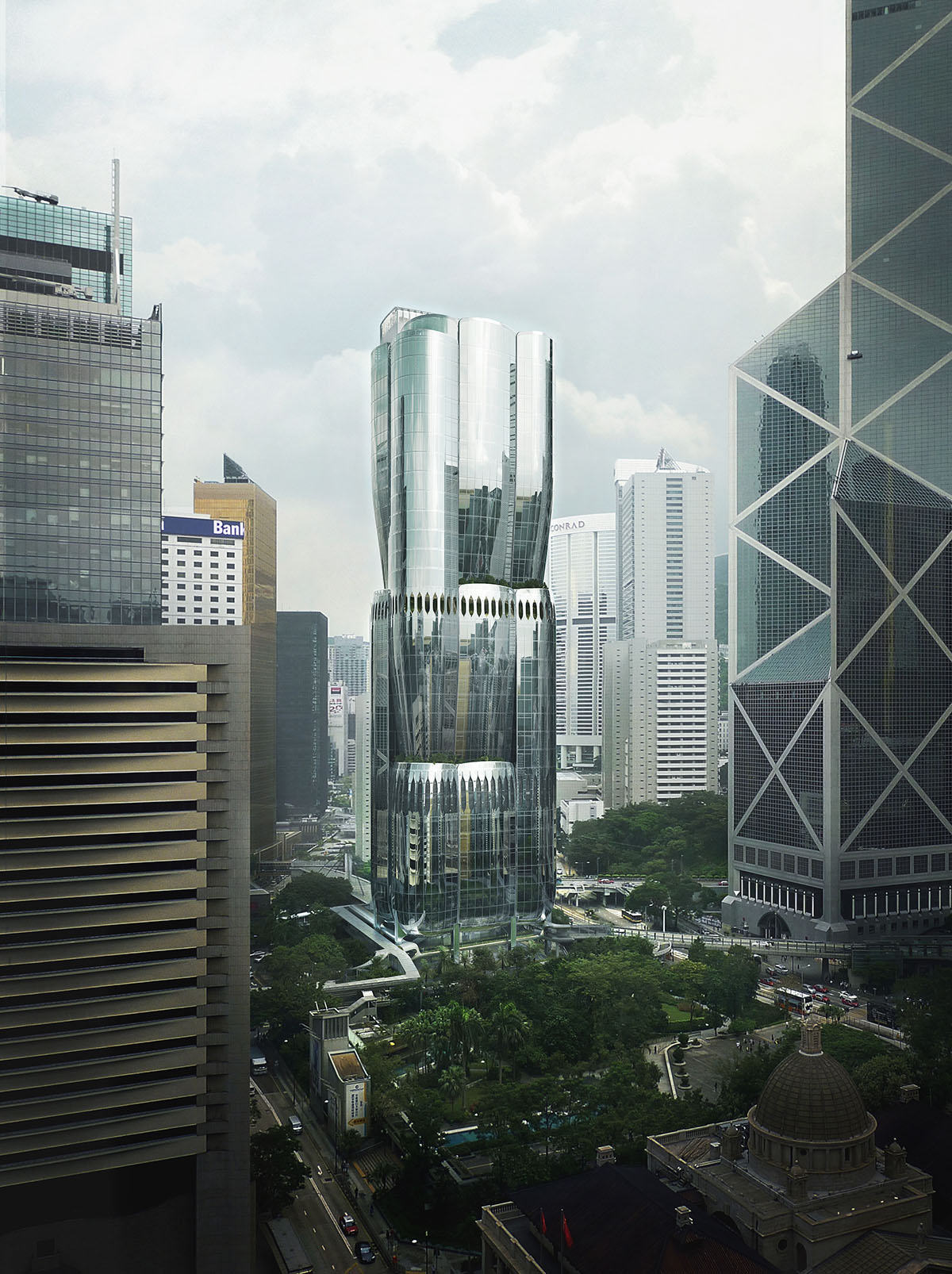 Image © MIR
ZHA is inspired by the structural forms and layering of a Bauhinia bud about to blossom. "Known as the Hong Kong orchid tree, the Bauhinia x blakeana was first propagated in the city's botanic gardens above the Murray Road site and its flowering bud features on Hong Kong's flag," the studio added.
At the core of the city's financial district, the project is situated at the east-west / north-south junction of Hong Kong's network of elevated pedestrian walkways; connecting directly with surrounding gardens, shops and restaurants as well as the offices of leading financial and civic institutions.
Image © Arqui9
The tower is built with a high-tensile steel structure providing very wide span (up to 26m) of naturally lit, column-free, Grade A office space with a 5 metre floor-to-floor height giving maximum flexibility. Its vertical core located on the eastern side of the building to optimise views of Chater Garden and the city's renowned skyline to the west.
ZHA is closely working with the Henderson Land and global engineering firm Arup's Building Sustainability Team, the design has achieved LEED Platinum and WELL Platinum pre-certification together with the highest 3-Star rating of China's Green Building Rating Program.
According to ZHA's statement, the design, procurement and construction targets full certification at occupancy.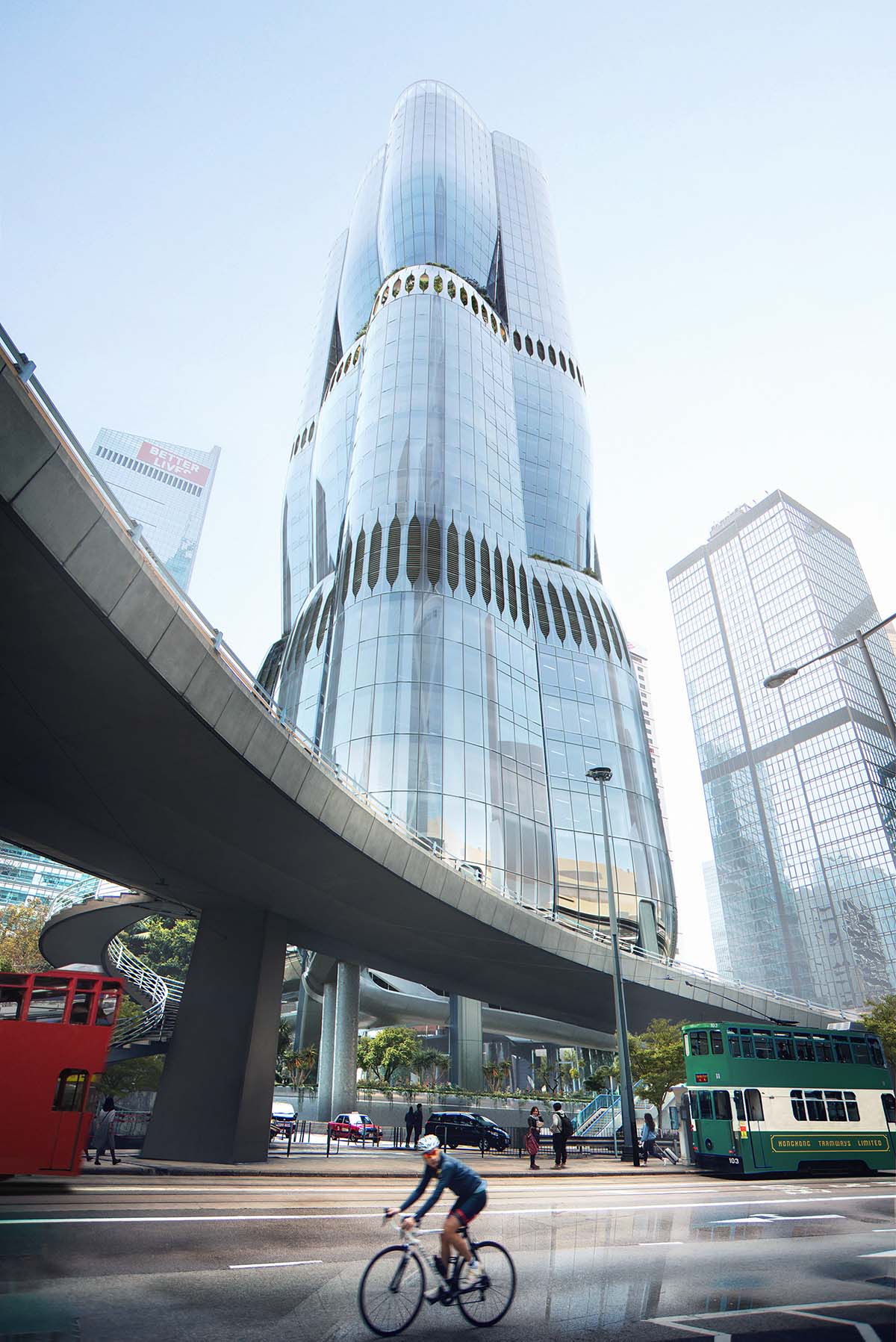 Image © Arqui9
The 43,200-square-metre building will include a smart management system that creates "a contactless pathway for all occupants from the street to their workstation that eliminates direct contact with communal surfaces and includes AI-assisted lift controls."
Visitors or employees, by using a mobile phone, contactless smart card or biometric recognition, can enter the building and pass security, call lifts to their office floor and access other zones such as lounge areas and washrooms.
Image © MIR
"Arranged for access on multiple levels, the large double-height foyer at ground level welcomes staff and visitors with its interplay of natural light, planting and organic forms leading up to the second floor public lobby on the city's elevated walkway network," continued ZHA.
"Suspended above the canopy of its surrounding tress, the sculptural glass façade of this expansive lobby defines a variety of nested spaces, each refined for purpose and experience."
"Designed for intuitive navigation and to accommodate evolving patterns of working with enhanced workplace flexibility, the colour palettes of these finely detailed spaces differentiate key destinations within the tower," the studio added.
Image © Cosmoscube
Located on the refuge floor, there is a Sky Garden which is an outdoor recreational space with running track and an aquaponics planting network that acts as an effective biological air-purifying filter by consuming contaminants.
The banqueting hall is situated at the top of the tower to offer panoramic views of the city's surrounding skyline. The banqueting hall will house a variety of public and corporate events, its glazed roof and façade will ensure this space becomes one of the city's most memorable venues.
Considering the region's powerful summer typhoons, the façade of the building is designed as resistant to summer typhoons. The façade is comprised of 4-ply, double-laminated, double-curved insulated glass units – the first of their kind in Hong Kong – to effectively insulate the building and reduce its cooling load as well as build resilience.
Image © MIR
The tower contains hybrid ventilation system which is controlled by the building's automated management system and enables all office levels to be naturally ventilated.
"This natural ventilation can be supplemented when required with mechanical dehumidification and filtration to further enhance the indoor environment and air quality," added ZHA.
Image © PixelFlakes
"The building's air quality monitoring system will detect the degree of occupancy in any interior and automatically adjust indoor air temperature, humidity and fresh air volume to meet demand. These smart systems learn to accurately predict daily occupancy trends to optimise energy demand, ensuring increased efficiencies with lower energy consumption."
"Two weather stations installed at street level and roof level will monitor real-time outdoor conditions including PM10, PM2.5, ozone, daylight (solar irradiation), wind speed (m/s), rainfall (mm), temperature (oC), humidity (%) and noise (dB)."
"These weather stations will inform occupants of outdoor air quality and are connected to the building's automated management system to adjust the tower's hybrid ventilation as required, ensuring the optimum supply of high quality outdoor air," the studio explained.
Image © Cosmoscube
The redevelopment also incorporates a solar responsive ventilator (SRV) along the western perimeter of each floor to enhance the comfort of occupants. Powered by photovoltaics, the low speed, silent SRV creates a channel of air that has the ability to adjust solar radiative heat to the perimeter zone for further comfort.
As ZHA summarizes, there will be a 26% reduction in electricity demand with the use of smart chiller plant optimization, high-efficiency HVAC equipment and daylight sensors that reduce artificial lighting during periods of sufficient natural light.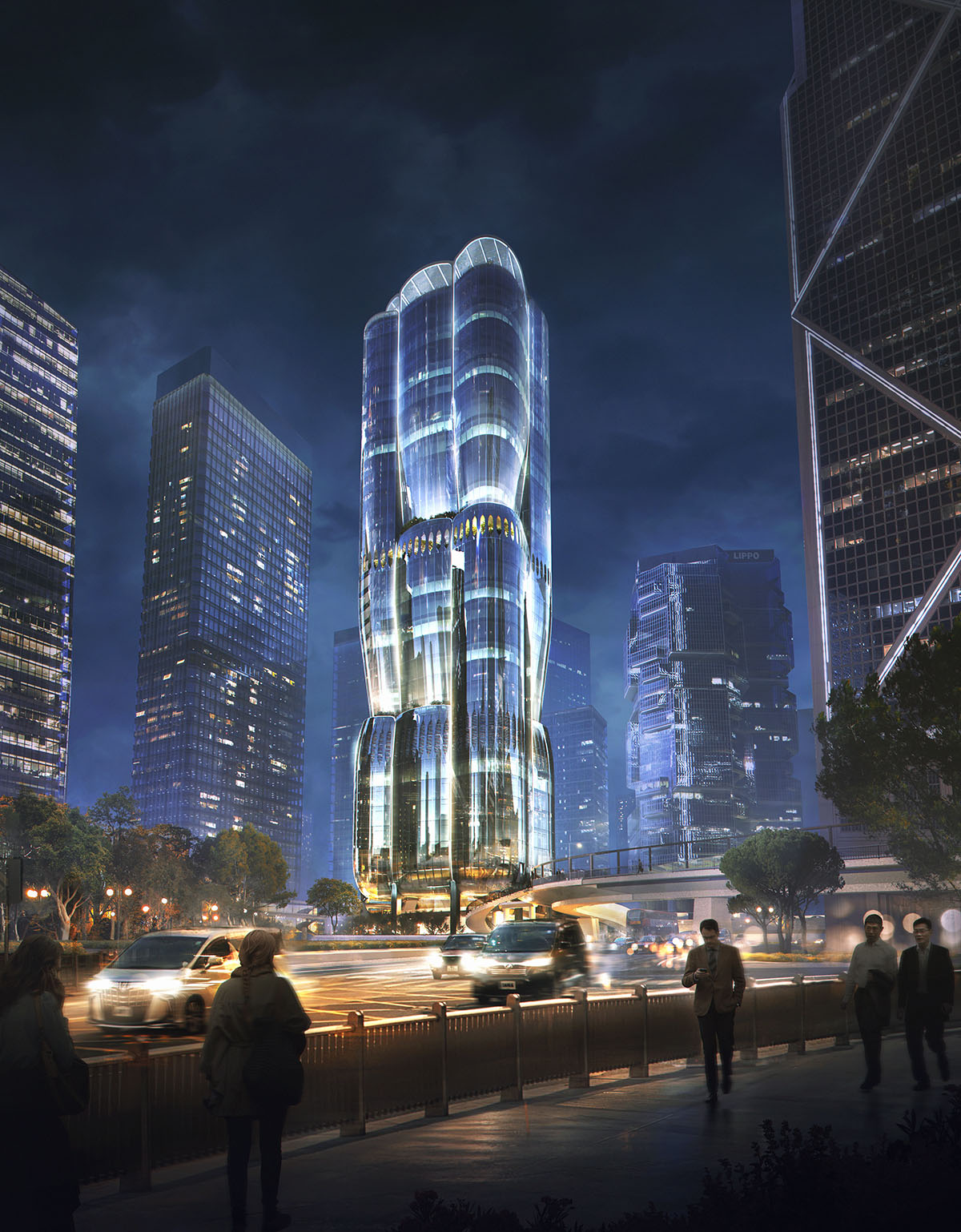 Image © Arqui9
The design will employ a top-down construction method to accelerate the redevelopment programme on-site by implementing deep basement and above-ground construction at the same time.
"With construction works beginning last year and its procurement targeting embodied carbon reductions as well as the use of recycled materials, 2 Murray Road looks to the future with the integration of advanced design, construction and operational technologies," said the firm.
Zaha Hadid Architects will work with Hong Kong-based architecture firm Ronald Lu & Partners on the project.
Project facts
Height: 190m (36 levels including ground, 5 below ground)
Floor area: 43,200 sq.m
Site coverage: 65% developed
Project Team
Client: Henderson Land
Architect: Zaha Hadid Architects (ZHA)
Design: Patrik Schumacher
ZHA Project Directors: Jim Heverin; Sara Klomps, Chris Lepine.
ZHA Project Team: Brandon Gehrke, Bidisha Sinha, Carlos Michel-Medina, Edgar Payan, Eddie Can, Fernando Alvarenga, Hazel Wu, Inês Fontoura, Irena Predalic, Janet Cheung, Kaloyan Erevinov, Kar-Hwa Ho, Karoly Markos, Kelvin Ma, Kylie Chan, Magda Smolinska, Melodie Leung, Michael Sims, Muriel Boselli, Nailu Chen, Oliver Bray, Paulo Flores, Simon Yu, Tim Yeung, Torsten Broeder, Yun Zhang.
ZHA Competition Team: Edgar Payan, Adrian Yiu, Brandon Gehrke, Carlota Boyer, Eddie Can, Fernando Alvarenga, Irena Predalic, Karoly Markos, Lorena Espaillat Bencosme, Maria Tsironi, Michail Desyllas, Nailu Chen, Paulo Flores, Philip Siedler, Saman Dadgostar, Torsten Broeder, Uli Blum.
Local Architect & AP:: Ronald Lu & Partners (Hong Kong)
Building Services Engineering: WSP (Asia)
Structural & Geotechnical Engineering: LERA Consulting Structural Engineers (Steel); C M Wong & Associates; Eckersley O'Callaghan Asia (Footbridges & Banquet Hall)
Facade Engineering: Group 5F; Meinhardt Facade Technology (Hong Kong)
Lighting consultant: LichtVision; Speirs + Major (Landscape & Media Façade)
Landscaping: PWP Landscape Architecture; Earthasia
Quantity Surveyor: Rider Levett Bucknall
Sustainability & Civil Engineering: Arup
Traffic consultant: MVA (Hong Kong)
Acoustic consultant: Shen Milsom & Wilke
Vibration consultant: C.F. Ng and Associates
AV / IV / Specialist Media consultant: Ptarmigan Integration Limited
Security consultant: UCS Hong Kong
Signage & Wayfinding consultant: Atelier Pacific
Top image © Arqui9
> via ZHA