Zecc architects present the Steel Craft House in Utrecht
A former garage in the Utrecht neighbourhood Wittevrouwen, the Netherlands, is transformed into a timber residence clad in a cortensteel façade. The design is made by Zecc architects.
The main concept was to translate the working-class Dutch house characteristics through the cortensteel material. The abstraction and material of the residence make it stand out, but still connects with the surrounding buildings through the form, composition and the level of detail.
Another important feature of the design is the connection to the craftmanship, which is a key characteristic of the district. The discoloration of the cortensteel refers to the Dutch brick. The client of the design is a steel artist in Utrecht – Staalstudio – which made the choice for the façade material even more logical.
The design was made in close collaboration with the clients, not only in terms of the cortensteel façade, but the clients have handcrafted most elements of its construction themselves.
The openings in the façade have been designed by referencing the former structure of the building. On the first floor is a small loggia, connecting the living area to the street level. The bathroom has a cantilevered dormer with a closed surface, allowing light into the bathroom through a narrow gap, providing privacy.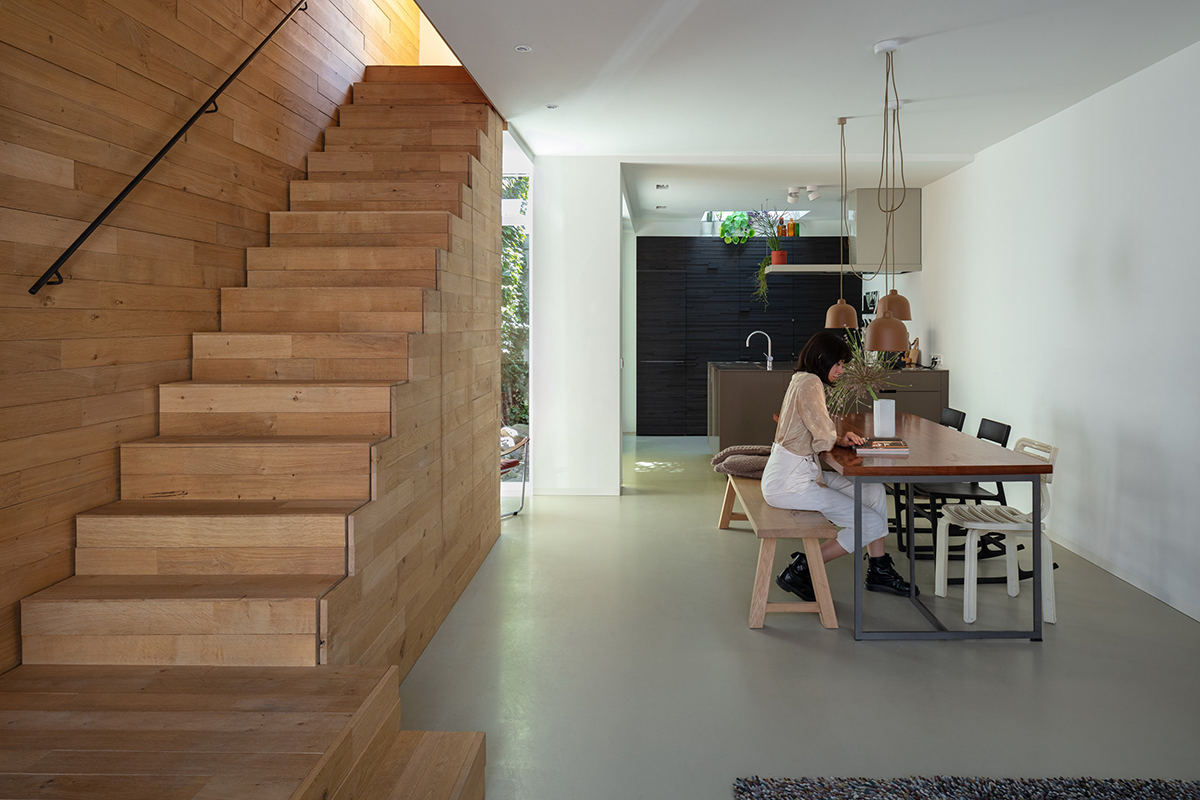 The interior is made out of oak and forms one piece of furniture, divided over three floors. The stairs and cupboards are in fact a vertical element connecting the different levels. Rooflights and the patio result in a very light interior.
Project information
Client: Roland Manders and Hanne Caspersen
Architect: Zecc architecten
Area: 95m2
Projectteam: Marnix van der Meer, Roy van Maarseveen
Façade: Staalstudio (Roland Manders)
Project design and realization: 2010-2020
Location: Utrecht, the Netherlands
All images courtesy of Stijnstijl Fotografie
> via Zecc Architecten (in Dutch)