Nax Architects created pop-up shop that features pinkish time tunnel for tea cosmetics brand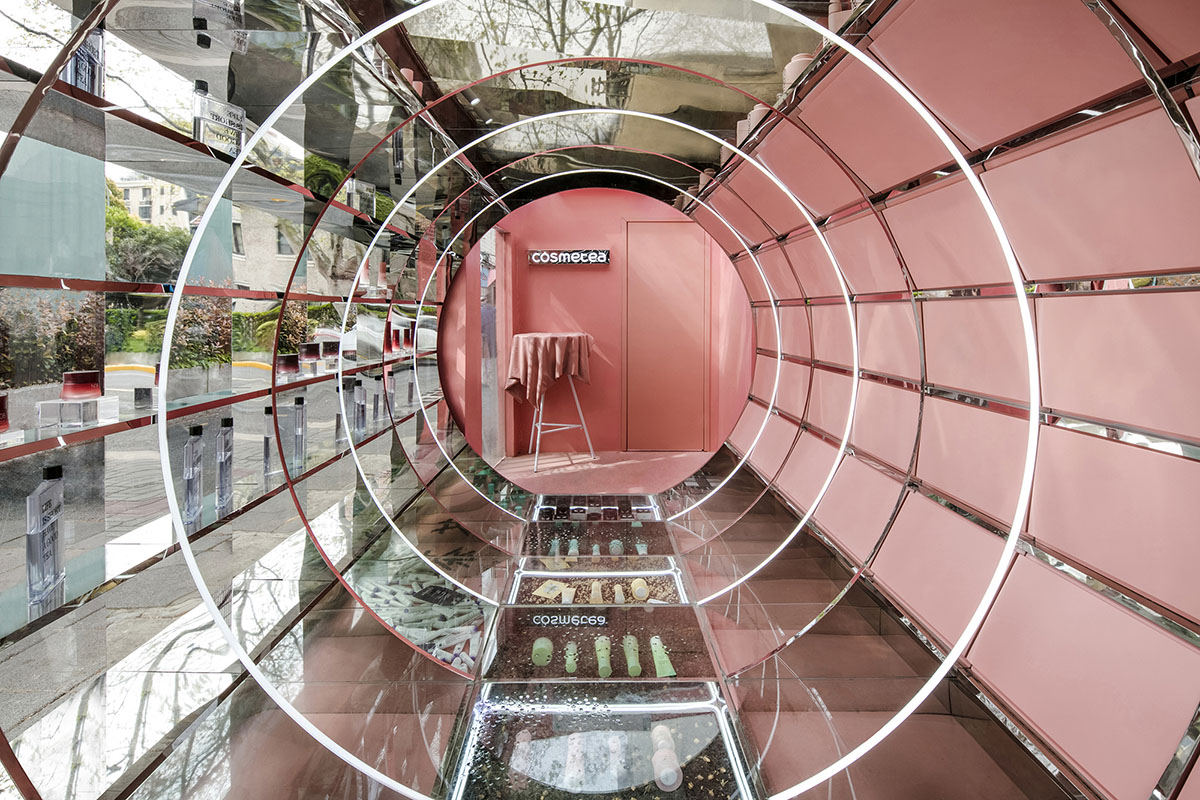 Nax Architects has created a pop-up shop that features a pinkish and mirrored time tunnel inside of the structure for a tea cosmetics brand Cosmetea in Shanghai, China.
Named Cosmetea Pop-up Shop, the store is located on Yuyuan Road, a hundred-year-old road that has undergone many changes and represents the essence of Shanghai's history and culture.
"Today's Yuyuan Road has gained further recognition as Shanghai's trendy gathering place, demonstrating the power of innovation to influence the organic micro-regeneration of old neighborhoods," as the studio explains.
Designed for a tea cosmetics brand Cosmetea, the company subverts the previous definition of cosmetics by innovatively integrating tea with trendy cosmetics. The company uses Tea Beauty Science to create modern fashion aesthetics based on natural Eastern sentiments.
Nax Architects previously designed Cosmetea's new store in Shanghai, featuring pink hues and 3D tactile wall textures.
The company commissioned Nax Architects to design a pop-up store to display its products in a modern, attractive and innovative way.
Based on the dimensions of spatial design and brand planning, construction of art and an immersive scenario experience, as well as an exploration of differences between natural and artificial realms, the studio designed a pop-up store that represents the philosophy of relationships between existing environments and future architecture.
As the studio explains, the store promotes the brand's creative and sustainable evolution.
"Tea embodies humanity and culture. Its inherent ancient wisdom as well as its pure and clean beauty have surpassed an awareness of East and West to gain universal acceptance," said Nax Architects.
"This beverage is healthy and suitable for social interactions. In the context of a new era, tea's dual advantages express it in more enriched and diverse ways, making it a suitable aspect of modern urban residents' lifestyles."
The studio's design commission involved transforming a steamed dumpling shop on the corner of Yuyuan Road into a retail and exhibition pop-up shop, as well as creating a brand-new scene that suits urban residents' lifestyles and shares Cosmetea's exclusive brand philosophy with the world.
The studio takes cues from Cosmetea's logo. "This logo is based on a simplified image of a fairness cup, and resembles a pendulum with a time imprint, which implies cosmetics users' inner wish to 'retain time'," said the team.
The logo's pendulum image is internalized as a design language and starts with the façade being dramatically chiseled out to create a cave, which extends to become a 9-square-meter interior space and creates infinite possibilities within the limited spatial scale.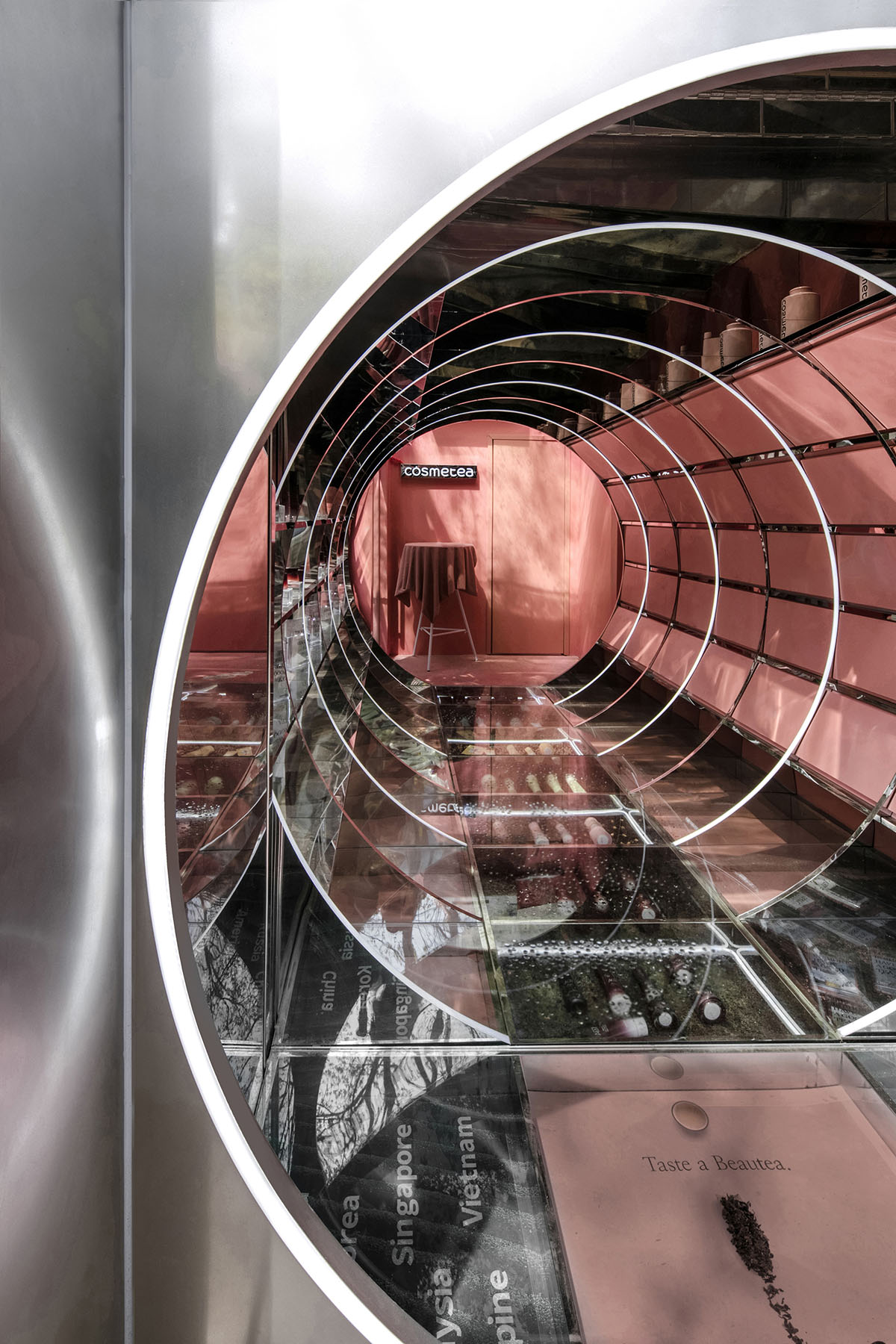 The "time tunnel" uses a stainless steel mirror with LED string lights, and combines with a large window to bring in urban and natural landscapes while blurring the boundaries between its interior and exterior.
The hollow layer has pallets that are inserted into customized slots in a sequence based on the principles of mortise and tenon structures. The wall cabinet can be used for product display and storage, and its surfaces are painted red to match the brand's main color scheme.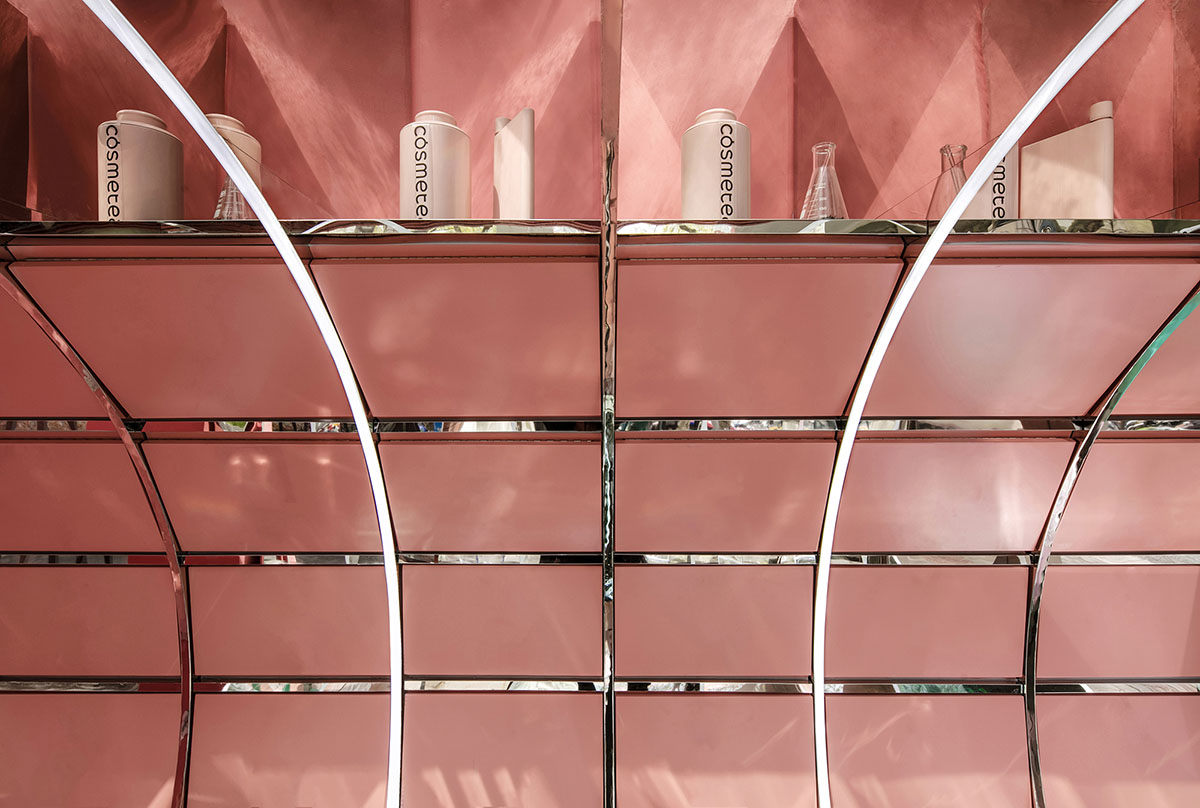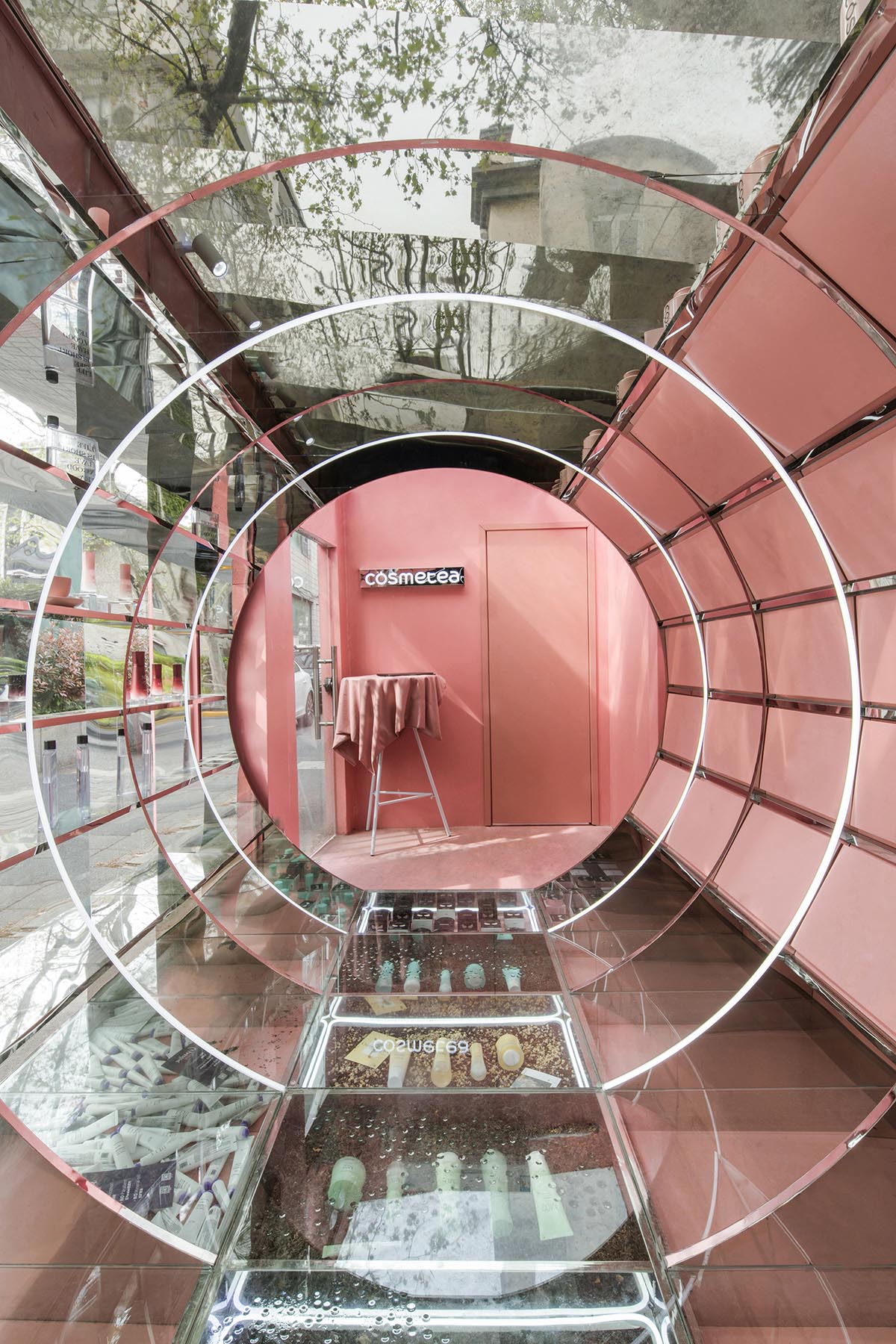 When stepping and walking on the glass floor, visitors will encounter a series of circles, and each circle represents a period of time during the past.
It also has drawers that visitors can rummage through to search for old items. The circular tunnel is like a wormhole that transcends time and space, and enables people to briefly escape from the hustle and bustle of everyday life.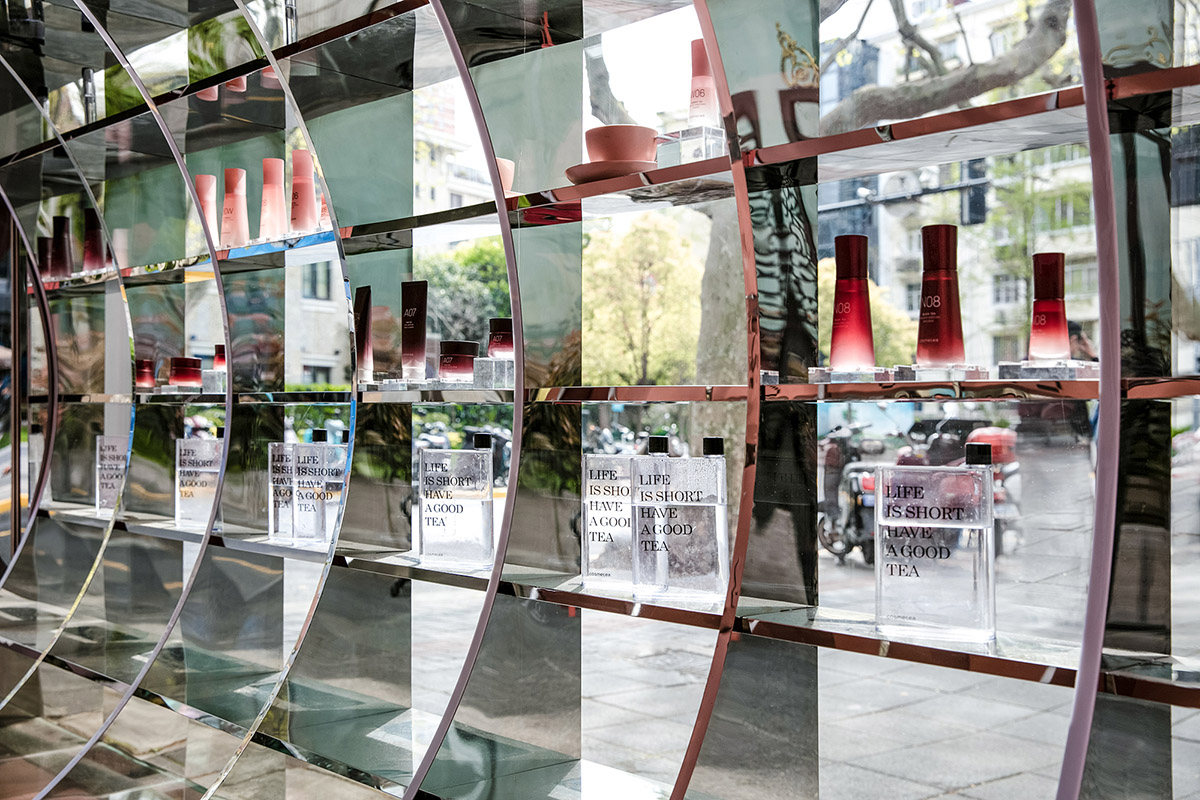 The entire space was created based on the pop-up model. It incorporates creative, visual and sensory aspects, as well as a conflict between past and future to give space a new sense of vitality.
In the daytime, it's a very friendly and shared space with a childish sense of wonder.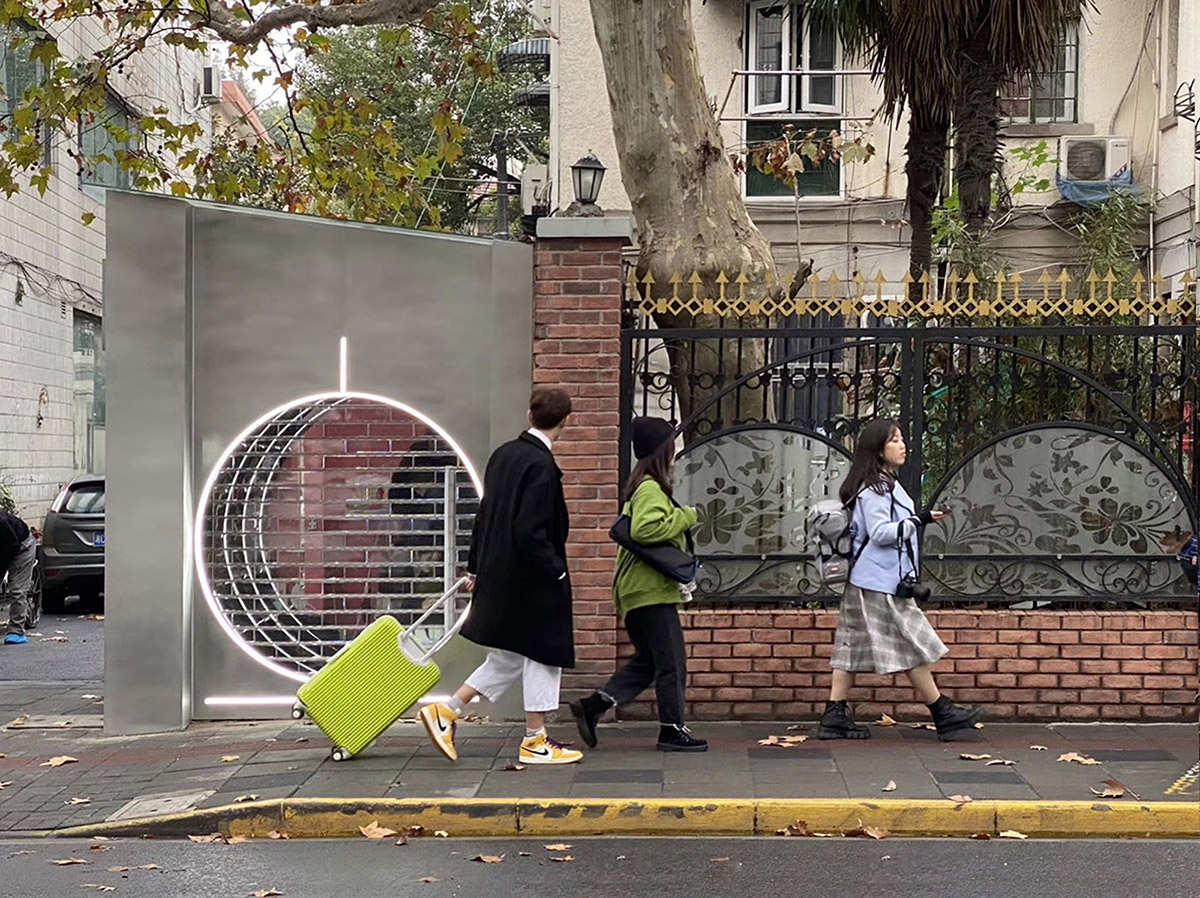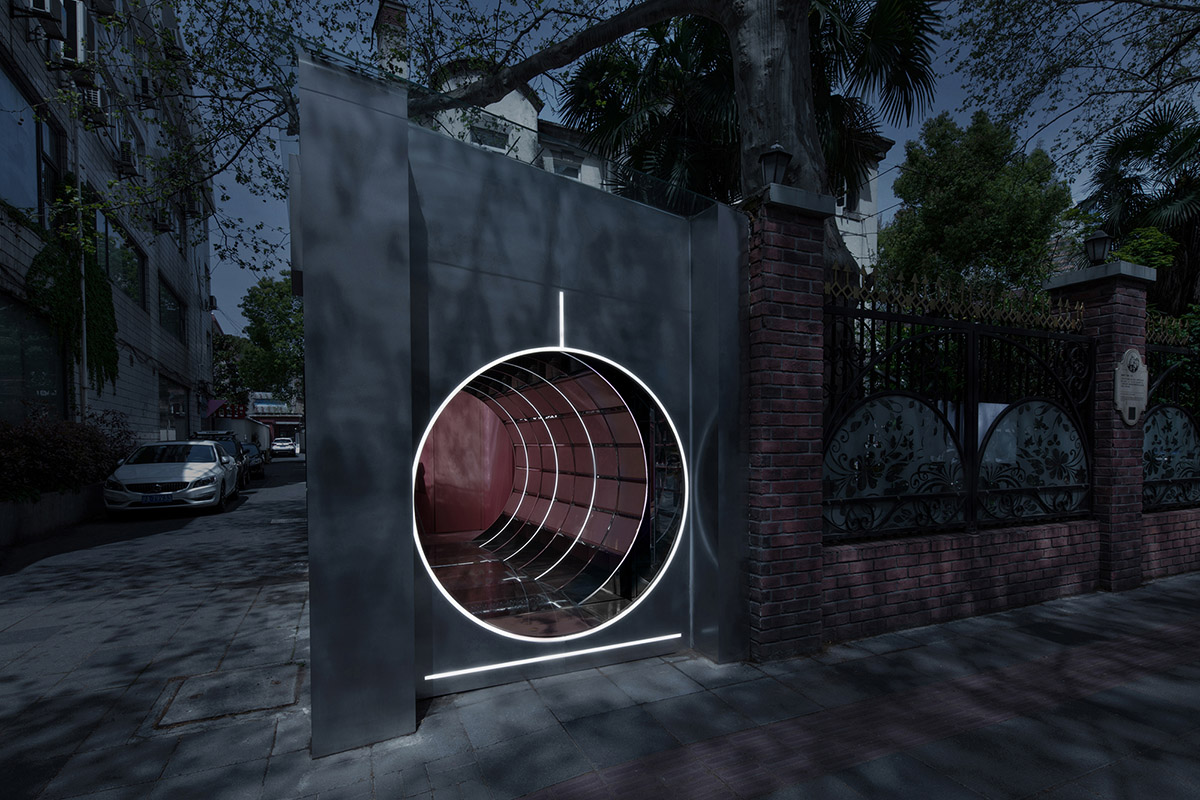 As night falls, it's more like an urban lighthouse. Based on cutting-edge concepts, this project's spatial experiment and behavioral experience help gradually deepen the brand's impression on its consumers while reconsidering the relationship among city, nature and people.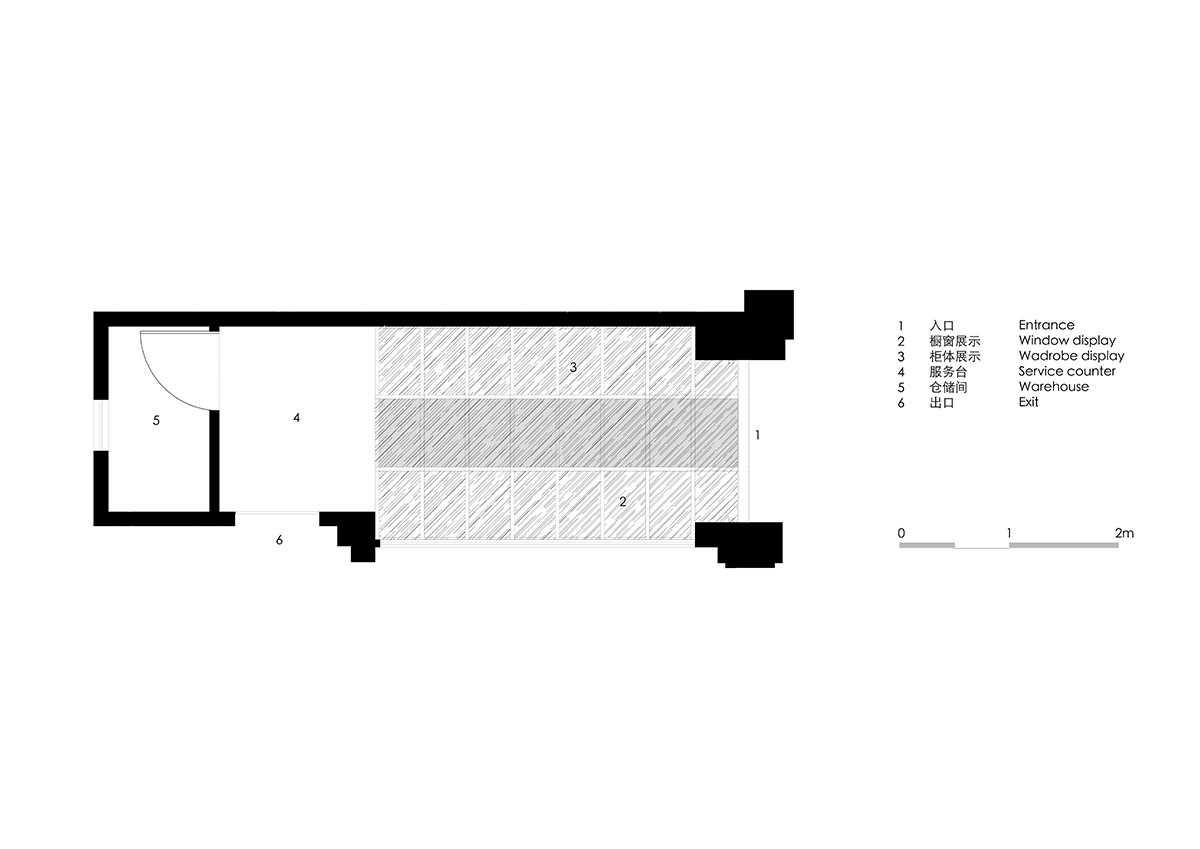 Floor plan. Image © Nax Architects
Project facts
Project name: Cosmetea Pop-up Shop
Project location: Yuyuan Road, Shanghai, China
Area: 9 Square Meters
Completion time: 2019
Design firm: Nax Architects
Design team: Lina Chan, Yiting Ma, Jo Jiao
Client: SHANGHAI CHICMAX COSMETICS CO., LTD
All images © Raitt Liu
> via Nax Architects