15 days left to enter WA Awards 10+5+X 37th Cycle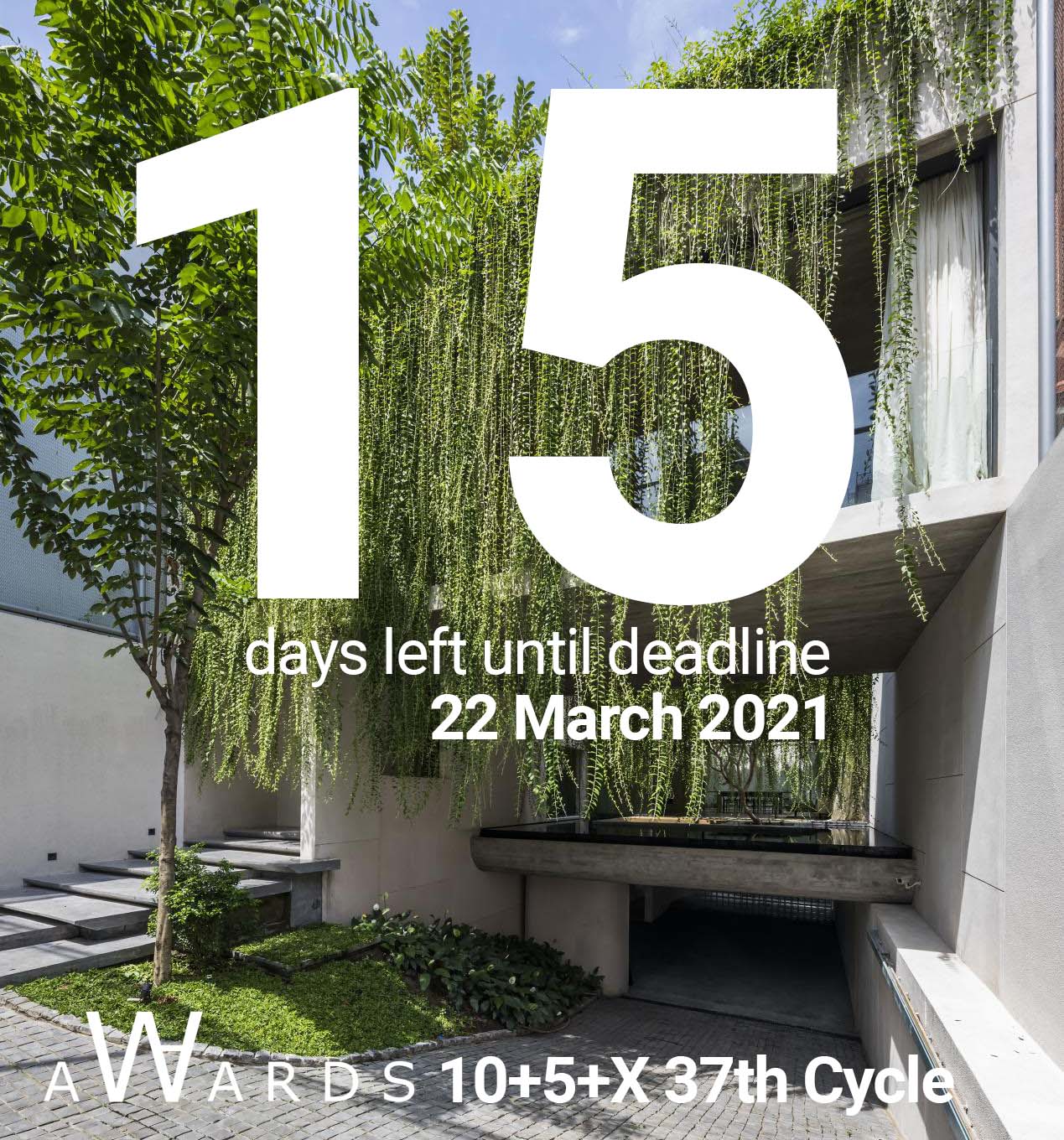 Only 15 days left to submit your entries to the WA Awards 10+5+X 37th Cycle, but there is still time to send your architecture, interior design and student projects to the WA Awards 37th Cycle to become globally recognized.
The time is running! Start your entry today by registering on this page. It's free. You can send your entries until Monday, March 22 (23:59 GMT).
If you're already a member of WAC, log in to your account to start your entry.
To help your entry, we have collected a list of the most frequently asked questions coming from our members and readers.
1. What is the deadline?
The deadline is at 23:59 GMT on Monday, March 22.
2. Do I have to create an account to submit an entry?
Yes, you need to create an account on this page by selecting a correct status that represents you (Architect, Interior Designer, Student). Students can follow these steps to validate their accounts as Academic Member and send their projects in easiest way.
3. How many steps do I have to follow in entry process?
There are only 3 steps you need to follow. Firstly, create an account on WAC. Secondly, upload a project on your WAC page. Thirdly, you can send your project by clicking "Participate Now" button which will appear after you have uploaded your project.
4. How many categories do I have in the WA Awards 10+5+X?
Categories are accepted under 2 major sections in the WA Awards. For Architecture, you can submit in Designed, Realised and Student categories. For Interior Design, you can submit in Realised and Student categories. Please visit this page to see category details.
5. What type of materials will I need to submit during upload?
There is only one-page upload form you need to fill in correctly. The form includes project name, project section, project type, designed-completed year, project description that should be written with minimum 1500 characters, project facts (technical data), project team, country, city, project category and project images you need to upload (jpg, jpeg, and/or png).
6. How many visuals can I upload?
Associate Members may upload up to 10 images, while Professional and Academic members may upload up to 20 images per project.
7. Can I upload drawings?
Yes, all image uploads can include drawings, illustrations, etc.
8. Do image uploads change by category?
Yes, if you submit a Realised project, project should be presented with photographs. If you submit a Designed entry, project should be presented with renderings. If you submit a Student project, project should be presented with renderings.
9. Do image uploads have specific image sizes, dimensions, weight or other specifications written in the upload form?
Yes, you can read all detailed required image sizes and other specifications in the upload form under the "Project Images" section. Or, to see details, consult our visual guidance on How To Participate page.
10. Can I submit my entry in different language?
No. All project uploads, account descriptions, project submissions should be entered in English. If the WAC editorial team detects any project uploaded in different language, the project will be removed from the competition and there will be no refund.
11. What are submission fees per category in the WA Awards 10+5+X?
The WA Awards has modest entry fees to increase participation to all architecture and interior design offices. The WA Awards 10+5+X participation fees are: Designed category: $100, Realised category: $200, Students: free. Find out more about WA Awards 10+5+X fees.
12. How can I pay for my entry?
We receive payments via secured credit card (Visa, MasterCard, AliPay) during the payment. Or, you can make a bank transfer before sending your entry, but as the WAC awaits your payment until arrive to its account, that can take a longer time to process on your entry. Please note that there will be bank charges for international transfers that you will have to cover in full. Please see details on this page.
13. What happens if I sent my work in wrong category by paying wrong category fee?
If you uploaded and sent your project in wrong category by paying a wrong submission fee, the WA Awards team will remove your entry from the competition and there will be no refund for wrong category selection. However, we will keep your right within the same Cycle to submit a correct project type that is relevant to your payment made mistakenly before. For this, send an email to [email protected], we will help you out.
Or, if your submitted project includes non-category images or irrelevant information related to the relevant category (For example, if you upload renderings or constructions photographs in a Realised category) the project will not be evaluated even during the competition or after the rating/voting process has started. The WAC Awards team will remove your project from the competition and there will be no refund.
14. When is the shortlist announced in the WA Awards?
The shortlist of that Cycle is announced for Rating/Voting process in a week when the deadline has ended.
15. Who will judge my work?
There are 2 types of judgement processes in the WA Awards. The first one is Voting; WA Honorary Members and Previous Cycle Winners vote to select the first 10 projects. They see a VOTE button in the shortlist page when they signed in.
The second one is Rating; World Architecture Community members rate to select the +5 projects. In order to Rate the projects, a WAC member must have at least 1 uploaded project in his/her page and the project should have been opened to the public by being approved by World Architecture Community.
After the shortlist is ended, the system calculates the Votes and Rates separately and gives the winners.
You can consult WAC's How To participate page to read all details. If you have further questions about WA Awards 10+5+X, you can contact the WAC team at [email protected].
Top image: MIA Design Studio's Villa Tan Dinh from Vietnam won the WA Award in the 36th Cycle. Image © Hiroyuki Oki