CallisonRTKL designs Guadalajara airport terminal featuring wooden undulating roof in Mexico
Global architecture firm CallisonRTKL has unveiled design for a new airport terminal in Guadalajara, Mexico, featuring wooden undulating roof for natural ventilation and to filter daylight.
A new airport terminal, called Terminal 2 (T2), will be designed as an addition of the Guadalajara Airport (GDL) in Jalisco, Mexico, the building aims to be "the first net-zero energy airport" by embracing a holistic design approach.
"CRTKL's innovative use of technology and digital gives each guest the ability to personalize their travel experience, allowing for a stress free journey," as explained by CallisonRTKL.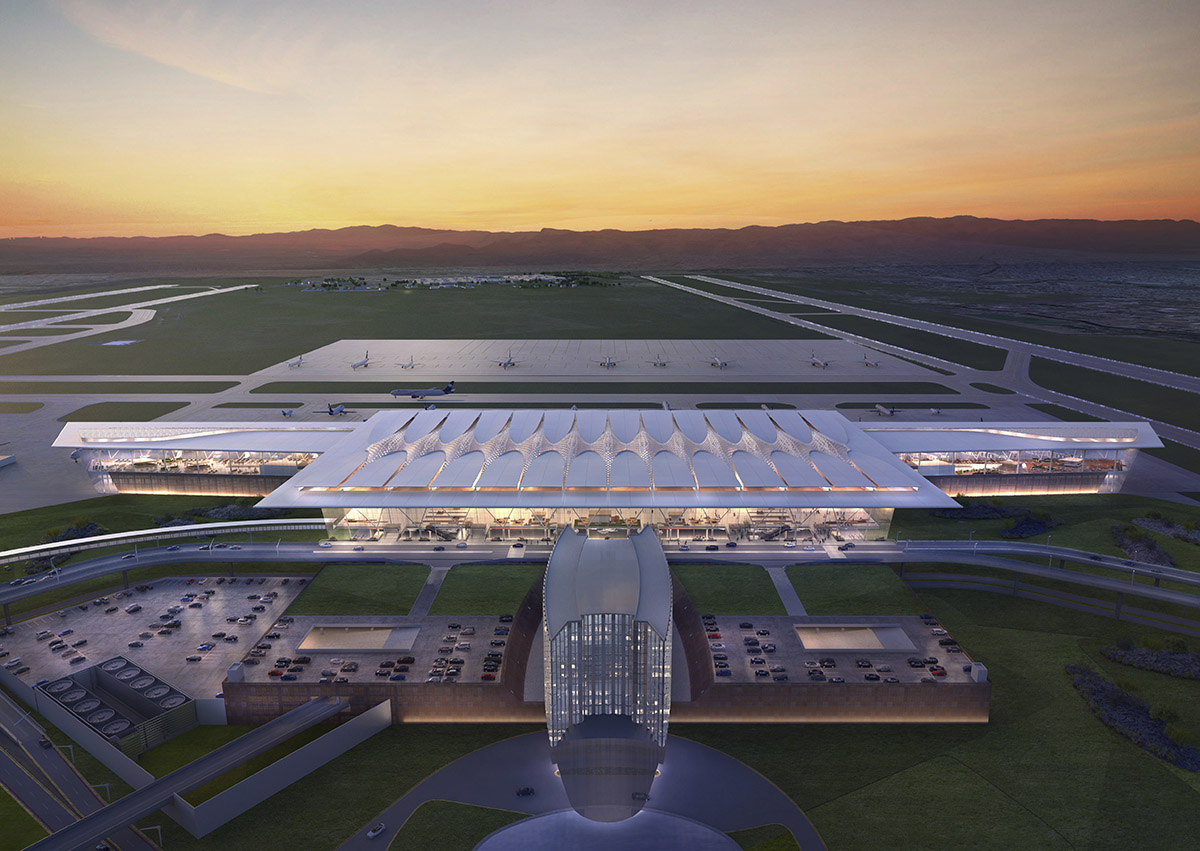 It will not only bring together the local folkloric music, dance, food, and symbols of the city, but will also tell a tale of regionalism through a concept recognized as "The Soul of Guadalajara."
The firm takes inspiration for the terminal design from the flight of the Mexican Eagle—a longstanding emblem of power and prosperity for the country.
Additionally, the firm takes cues from Mexico's alluring and rich canyons, which are home to a variety of unique vegetation, provided inspiration for the lush, green elements throughout the interior of the terminal.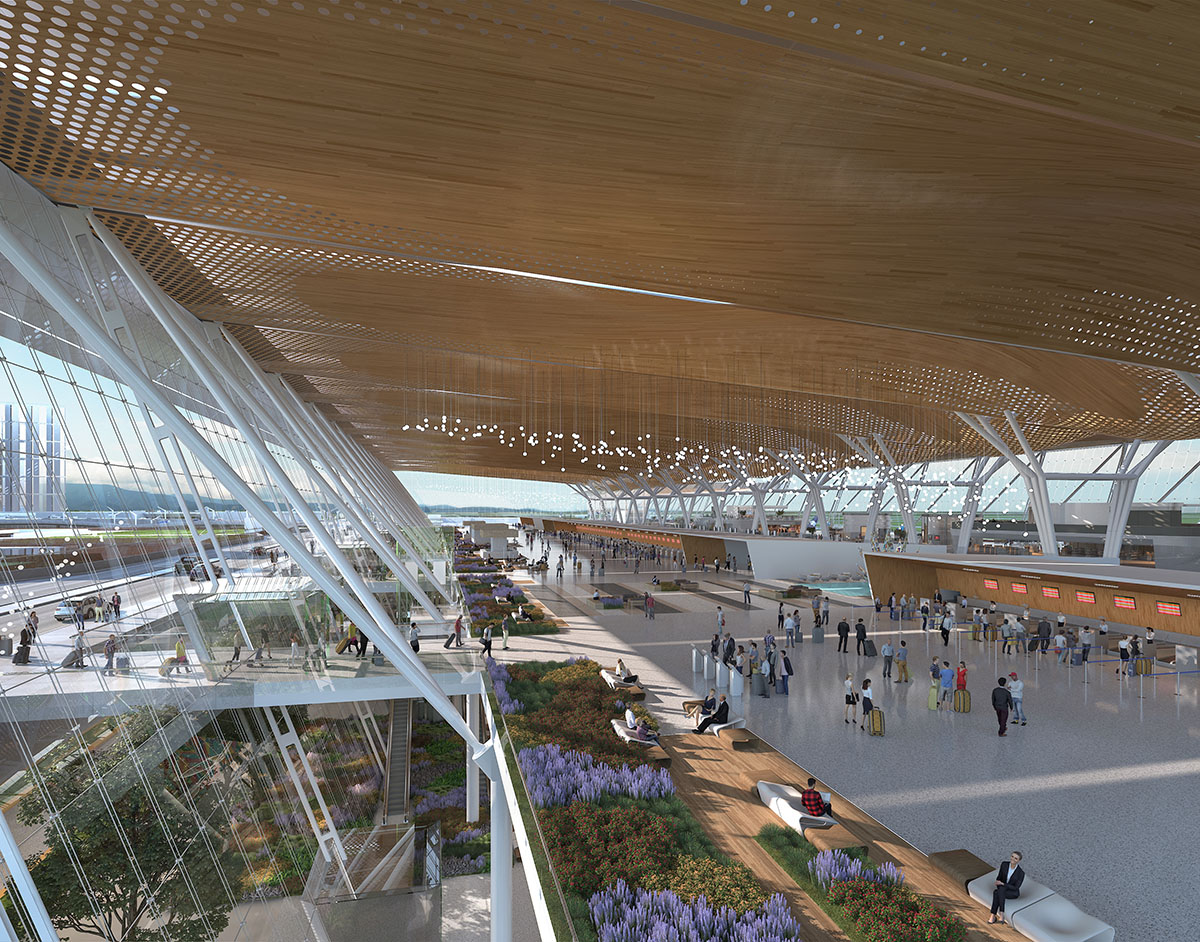 "The new airport surpasses all current standards of excellence for domestic and international in Mexico. Designed with passenger comfort as the backbone, the airport is accessed by multiple points of entry," said CallisonRTKL.
The terminal's interior spaces are designed with light-filled spaces in a parklike setting, the terminal design incorporates the use of design elements that are largely modeled after the textures and colors of the vast, beautiful fields of agave, paying homage to this key ingredient in the production of tequila.
The building's roof is made of wooden perforated roof shaped in wavy form to filter sunlight and provide internally climate-controlled space. White-colored columns, resembling the branches of tree, support the roof and help to minimize the building footprint.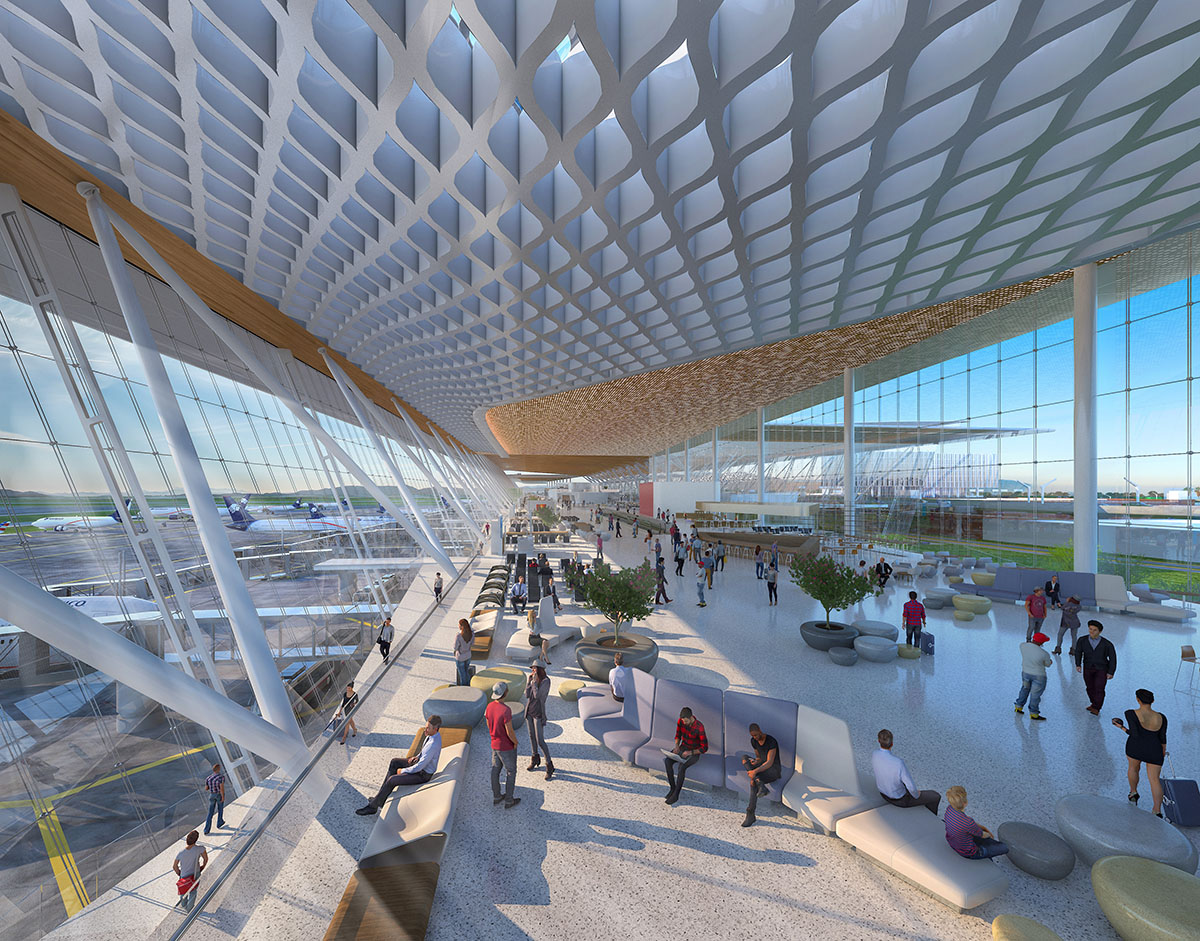 "A vital part of connecting to the future is Guadalajara Airport's campus-wide-goal of being net zero energy," added the firm.
"To reach this goal, multiple environmental strategies have been set in place throughout the airport to reduce energy use by 60 per cent and the carbon footprint by 90 per cent."
"CRTKL's proposed terminal would emit 2,814 metric tons of CO2 each year—a staggering difference when compared to a typical medium sized terminal," highlighted to the studio.
CRTKL will implement "unperceivable" responsive technologies inside to direct passengers and guests, interweaving with the human experience to another level.
Some of these include improved daylighting, insulation, glare control, shading, natural ventilation combined with economizer cooling, high performance mechanical systems, and building management systems.
Surrounded by a series of distinguished geological characteristics, the city of Guadalajara is prominently recognized for being home to a diverse and rich ecosystem.
These unique natural attributes, which set Guadalajara apart from any other place in the world, provided inspiration for CRTKL's landscape design approach. When leaving or arriving in the city, travelers will experience a multi-layered, three-dimensional landscape design—reminiscent of Guadalajara's rich geological and ecological heritage.
From curbside or airside, the firm aimed to create a visual experience that is cohesive with the rest of Guadalajara's natural landscape.
The firm's ultimate goal is to create an immersive and memorable journey that enhances and celebrates the unique identity of the airport as well as the city of Guadalajara.
Set in place as a requirement to help navigate and inform passengers along their journey through Terminal 2, an innovative wayfinding system has been installed at the Guadalajara Airport.
From the curbside to airside, the passenger begins an experience that is at once integrated into Guadalajara and unique to this terminal. The entire terminal's physical and visual layout enables intuitive wayfinding, with an abundance of natural daylight flowing from skylights all the way down to the arrival hall.
Clear sightlines and readily-found information will aid passenger understanding of the connections between different areas of the terminal, both in plan and in section.
The enhanced system goes beyond the traditional signs and maps to connect all physical wayfinding elements with digital and dynamic content—allowing passengers to feel at ease through receiving consistent updates, such as gate changes.
Upon entry to the airport, passengers are immediately welcomed into the heart of the terminal concourse, envisioned as the "Great Room," as they make their way past security clearance.
The large space is surrounded by a variety of retail offerings, including duty free and high-end luxury chains, hospitality-infused lounge spaces, and a flexible events area that features local music and dance performances. Both a place of emotion and excitement, the arrival hall is the designated area where guests say their final goodbyes to family and friends, or where they are greeted and welcomed into the city of Guadalajara.
Whether the passenger is entering or leaving, the Arrival Hall is characterized by a mural featuring local artists and musicians, as well as abstract cultures that reflect the rhythm of regional dance and twirling skirts. These elements celebrate the city beyond and hint at the vibrancy of what can be found there.
Overlooking the "Great Room" and concourse area, the second level Club Lounge provides VIP passengers with an elevated level of hospitality as well as an immersive wellbeing experience so that guests emerge feeling renewed and refreshed before or after a flight.
An outer deck area has been installed to create a visual connection between the concourse and the lounge—allowing VIP passengers to experience all the energy and activity radiatiating from the "Great Room" while also maintaining a semi-private space. Passengers will be able to depart Guadalajara relaxed and restored.
As part of this stress free journey, a number of other strategically designed amenities can be found throughout Terminal 2 that have been implemented with the intention of taking away the stress of traveling, while simultaneously immersing guests in the local culture. A variety of food and beverage options are located in both the North and South concourse areas, giving passengers the opportunity to recharge and have one last taste of Guadalajara before departing to their final destination.
Structured in a casual, food hall-like setting, chefs and restaurants have set up shop to serve local and authentic flavors while guests lounge in the highly social and active communal dining area. Steps away from the security checkpoints, an open lounge and art gallery is available to passengers looking to spend time with friends and family before departing.
An adjacent art gallery museum café creates a place where all travelers converge— reminding them to stop, pause, and enjoy the romance of traveling through T2. This space will deliberately highlight and celebrate local artists, while also allowing travelers to refresh themselves before going through security.
A children's play area set has been designed within an abstract agave field, allowing children to experience their own miniature Guadalajara. Additionally, the play areas give passengers with children the opportunity to rest, play, and be entertained while also reducing their perceived wait time before boarding their flight.
CallisonRTKL (CRTKL) combines the legacy of two great design practices into an even stronger, more distinct voice that is characterized by the strength of our ideas, the spirit of our culture and the passion of our people to make the world a better place.
All images courtesy of CallisonRTKL
> via CallisonRTKL