Dutch Rooftop Award 2020 goes to Depot by MVRDV
The rooftop 'forest' on the Boijmans van Beuningen Depot in Rotterdam, designed by MVRDV, was awarded with the Rooftop Award 2020. According to the Rooftop Revolution director Jan Henk Tigelaar, the depot design is a good example of boldness, creativity and an innovative vision regarding roofs.
The Rooftop Revolution is a Dutch initiative focussing on bringing more nature into the city and providing a platform for ambitious 'roof innovators'. Roofs are considered as "unused spaces" in the city. In the Netherlands, there is 400 square km flat roof, which is approximately 60.000 soccer fields. The initiative is independent and works together with governments, municipalities, companies and building owners throughout the Netherlands.
They advise housing corporations on the possibilities of rooftop sustainability, organize crowdfunding projects for green rooftop realization in neighbourhoods and publish iconic green roof 'examples' in order to inspire architects and designers. In the image below they show a rendering of their Rooftop Vision for Amsterdam.
Image courtesy of Rooftop Revolution
MVRDV designed a rooftop garden on top of the Depot of the Boijmans van Beuningen museum in Rotterdam, the Netherlands. This was done in collaboration with MTD landscape architects. The rooftop 'forest' consists of grass and 75 especially cultivated, multi-trunk birch trees.
The garden will be at 35 meters height, and will have a strong connection with the surrounding Museumpark. The birches were grown 3 years ago and are prepared for their new location at such a height. In the Spring of 2020, these trees were moved to the rooftop by a crane. A special watering system will guarantee that the trees will have enough water and the trees will be monitored by a specialized arborist.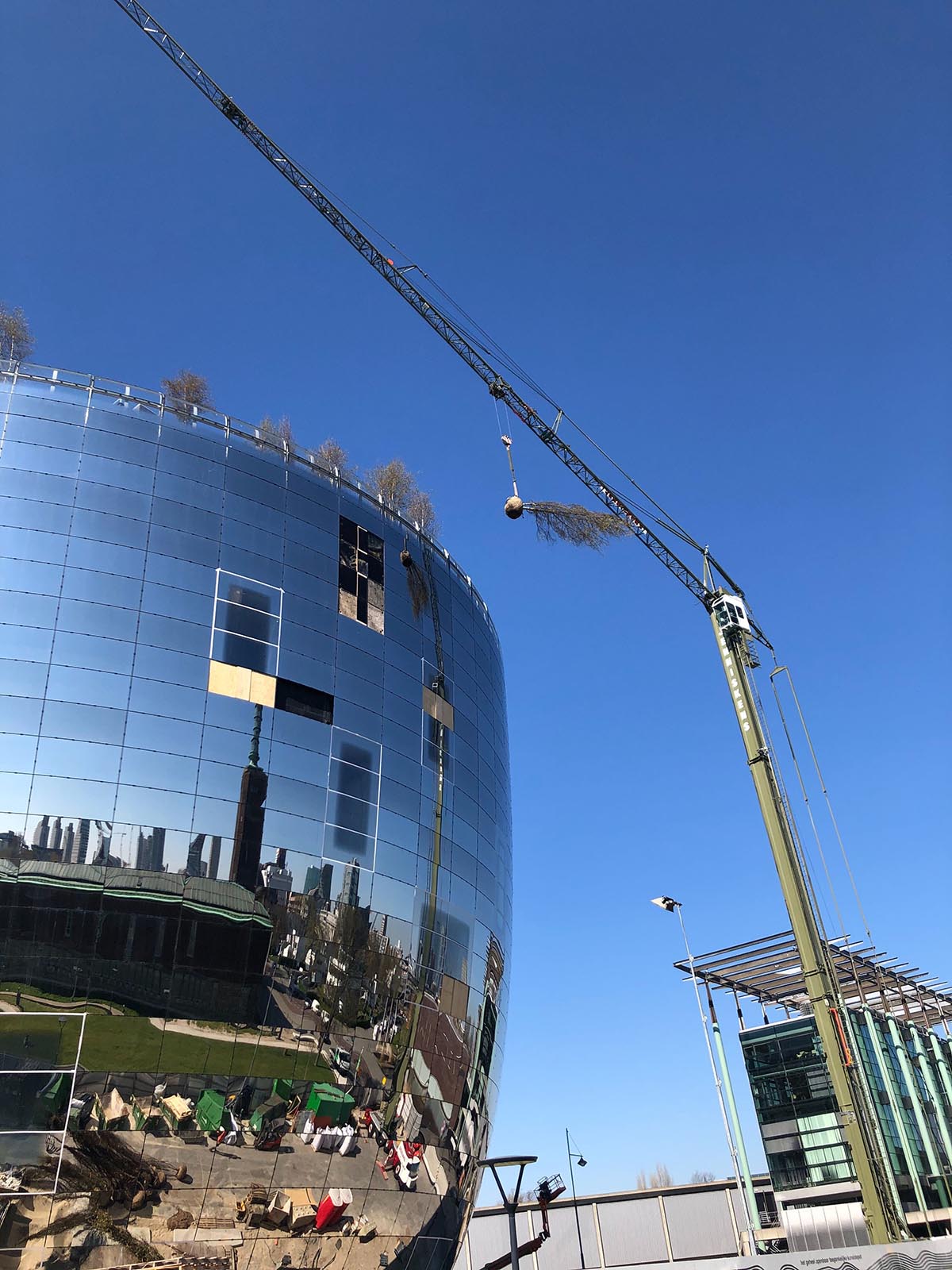 Image courtesy of Arjen Ketting, MVRDV
The Rooftop Award 2020 was awarded on Friday September 4th. The Rooftop Revolution had nominated seven projects under which Capital C in Amsterdam, Tridios Bank in Driebergen and De Peperklip in Rotterdam. The Depot by MVRDV was the winner. Jan Henk Tigelaar stated that 'the jury could not ignore this icon'.
MVRDV co-founder Winy Maas has stated: "Roofs are very important in our designs, we make them accessible and often program them as gardens, woods or event grounds. The depot is a special case; as an accessible art depot, it has a clear public function, but at the same time, it is located in the Museumpark, which we did not want to impact significantly. We solved this by moving the park to a height of 35 meters."
Top image courtesy of Arjen Ketting, MVRDV
> via Architectuur NL (Dutch article)