Shigeru Ban designs public toilets with colorful glass walls in Tokyo's two parks
Japanese architect Shigeru Ban has designed a pair of public toilets with colorful glass walls in Tokyo's two parks: Yoyogi Fukamachi Mini Park and the Haru-no-Ogawa Community Park.
Designed with the latest technology, the toilets' transparent walls are turned into opaque when someone enters inside and locks the door. The toilets' cleanliness is also the second factor to invite users to use them safely.
Commissioned by the non-profit Nippon Foundation, Ban's designs were realised as part of the Foundation's Tokyo Toilet project, which aimed to redesign public toilets in 17 locations throughout Shibuya with the help of 16 creators invited from around the world.
Tadao Ando, Toyo Ito, Kengo Kuma, Marc Newson, Sou Fujimoto and Fumihiko Maki are among the designers who design other public toilets within the scope of this project.
"While the specifications of each toilet vary, wheelchair access is possible at all locations. Ostomate facilities are also available at some locations. All toilets are also equipped with Washlet," said the Nippon Foundation.
The rectangular volumes contain three units inside; unit for women, unit for men and an accessible toilet which are all divided by mirrored walls.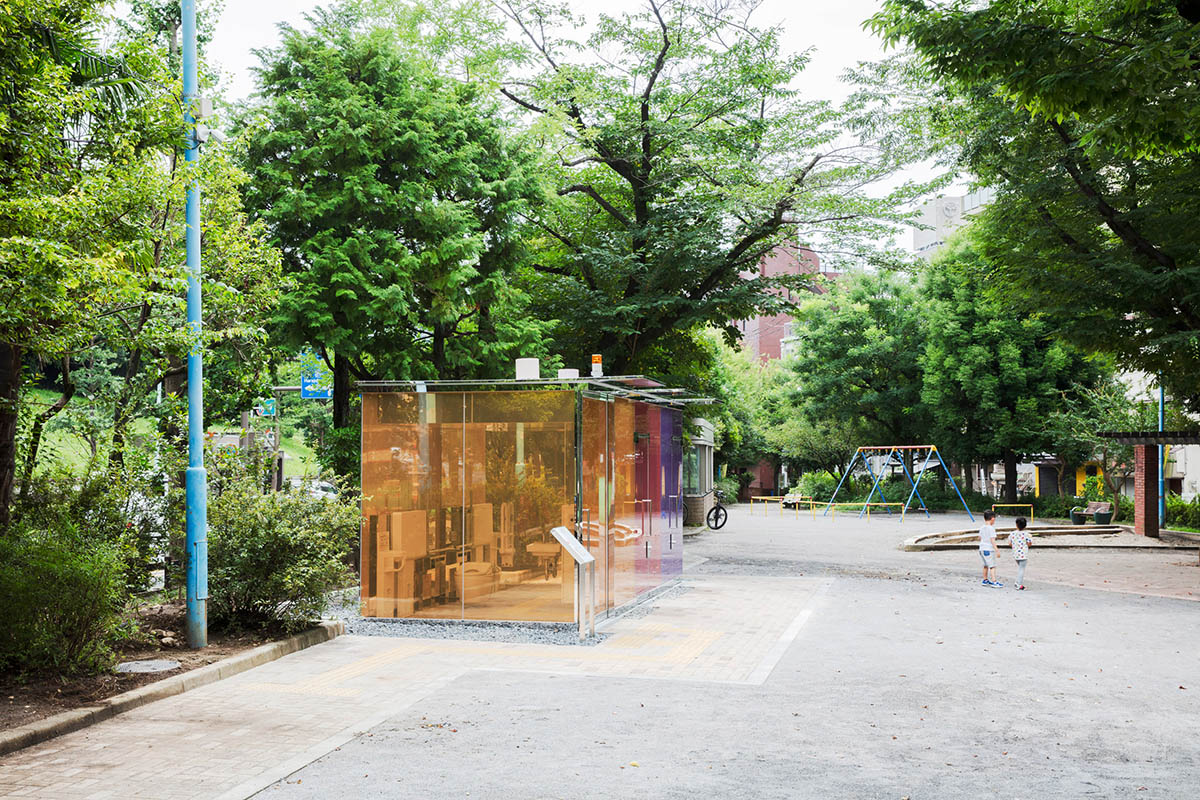 Each unit has a different color; women's volume is designed with pinkish transparent wall, while men's unit is designed with purple color wall. Accessible unit is dressed with orange color wall in Yoyogi Fukamachi Mini Park.
However, the toilet in Haru-no-Ogawa Community Park is designed with the tones of blue and green. At night, the facility lights up the park like a beautiful lantern.
"There are two things we worry about when entering a public restroom, especially those located at a park," stated the website of Tokyo Toilet project.
"The first is cleanliness, and the second is whether anyone is inside. Using the latest technology, the exterior glass turns opaque when locked."
"This allows users to check the cleanliness and whether anyone is using the toilet from the outside."
"The Nippon Foundation, the Shibuya City Government and the Shibuya Tourism Association will work together to maintain these facilities," stated Tokyo Toilet's website.
"We will also work with professional toilet inspectors to periodically survey the toilets to ensure we are providing the best user experience."
All images © Satoshi Nagare, courtesy of The Nippon Foundation.
> via Nippon Foundation