Medusa Group completes black house clad with graphite-coloured composite panels in Poland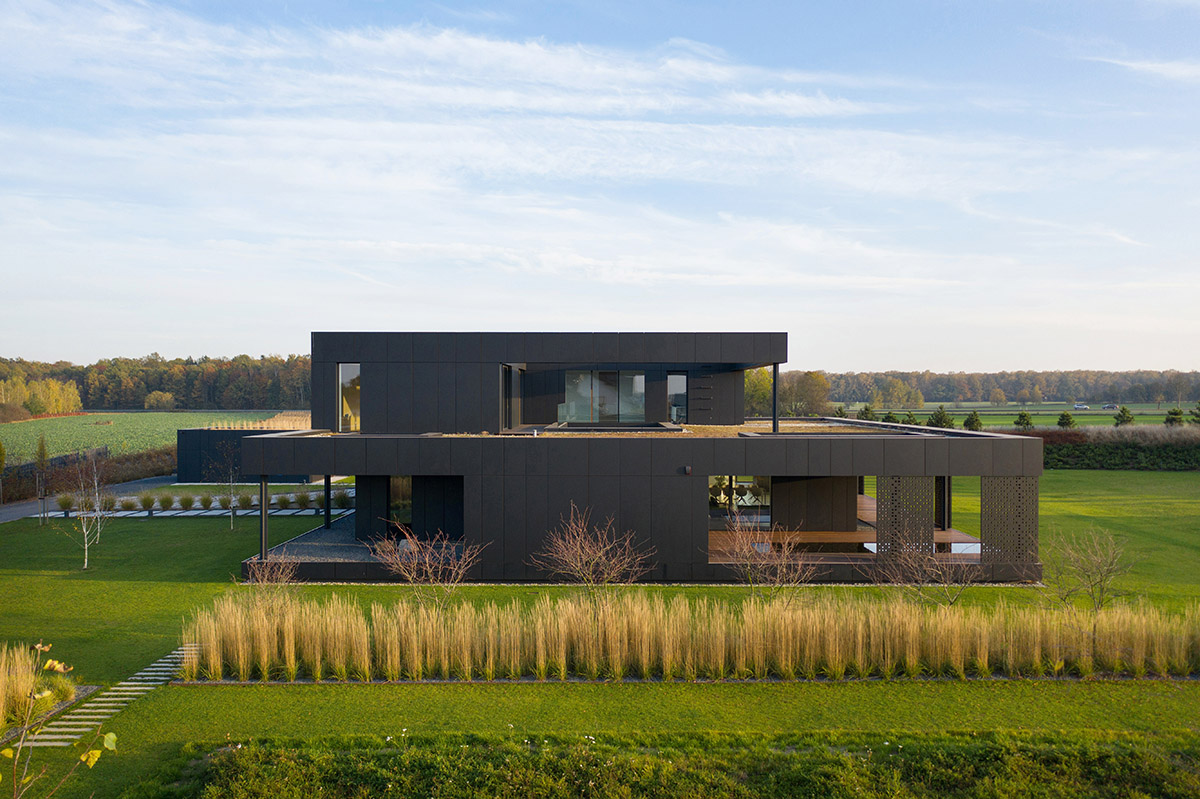 Warsaw-based architecture firm Medusa Group has completed a residence clad with graphite-coloured composite panels in Poland.
Daria Cieślak, Przemo Łukasik, Łukasz Zagała explain the project with their words below. Named The Black House, the modern form with large glazing creates a distinct spatial structure. The house was created by opening up the cuboidal blocks.
In doing so, the horizontal layout incorporated this expressive building into the lowland landscape of suburban fields and meadows common in Poland.
The ground floor space designed in the form of contemporary pergola creates an outdoor recreation space with terraces and a minimalist water and gravel garden accent. Roofed and partially separated by openwork panels, it functions here as a semi-private, open pocket house.
The adopted functional layout is reflected in the architecture. Located to the north on the ground floor is the main entrance area, connected directly to the dressing room. The eastern part of the building houses a double garage, utility rooms and a kitchen.
The south wing of the house features a spacious living room with a dining room on the ground floor, adjacent to a centrally located patio with a tree in the middle. The indoor patio separates the day zone from the recreational area with a small SPA and gym. The living room opens up into the garden thanks to movable glazing, which provides access to the terrace.
The night zone on the first floor is divided into two independent sections. On the east side, it houses a master bedroom with a wardrobe, bathroom and study. The north wing of the first floor houses a children's room along with a bathroom and library.
The house's facades covered with graphite-coloured composite panel cladding adds elegance, nobility and minimalism to the building. The house, although modern and unusual in comparison with the surrounding buildings, creates a calm architectural accent.
Deprived of details, it operates with a pure architectural form of frames, arcades and terraces, evoking an impression of harmony with the place and nature, accentuating its presence.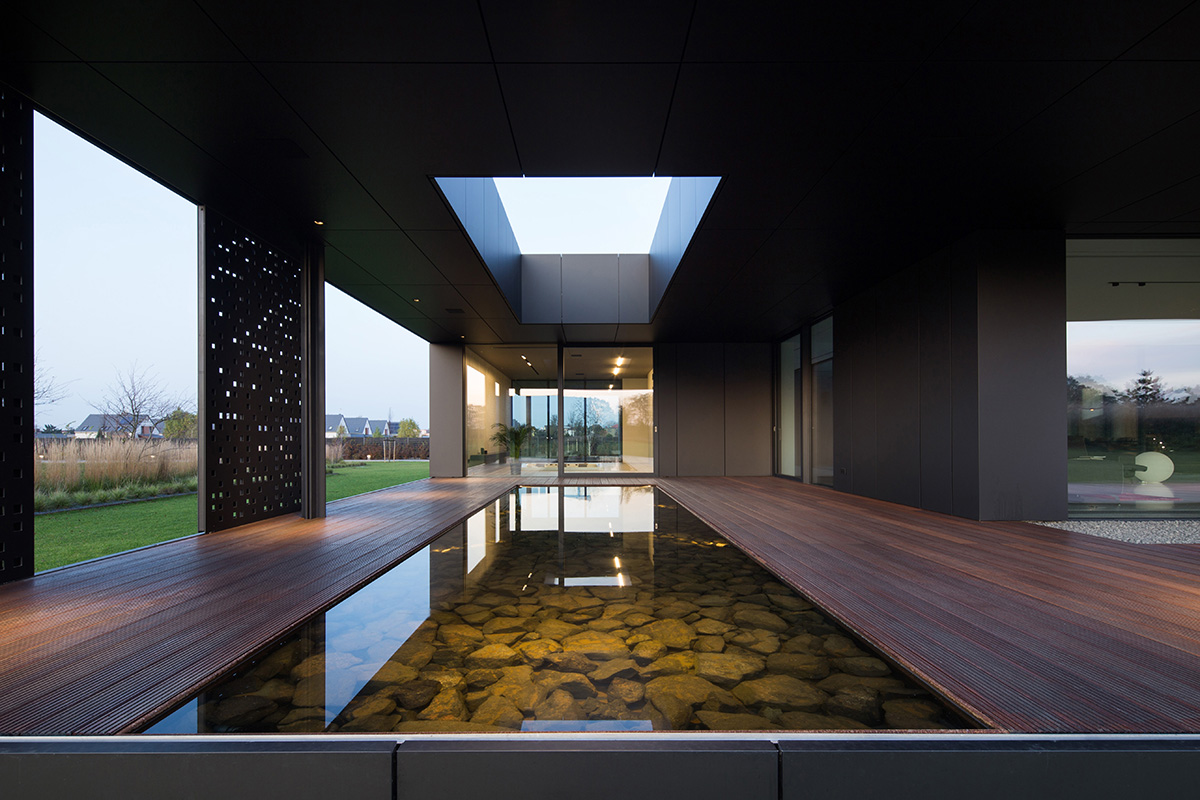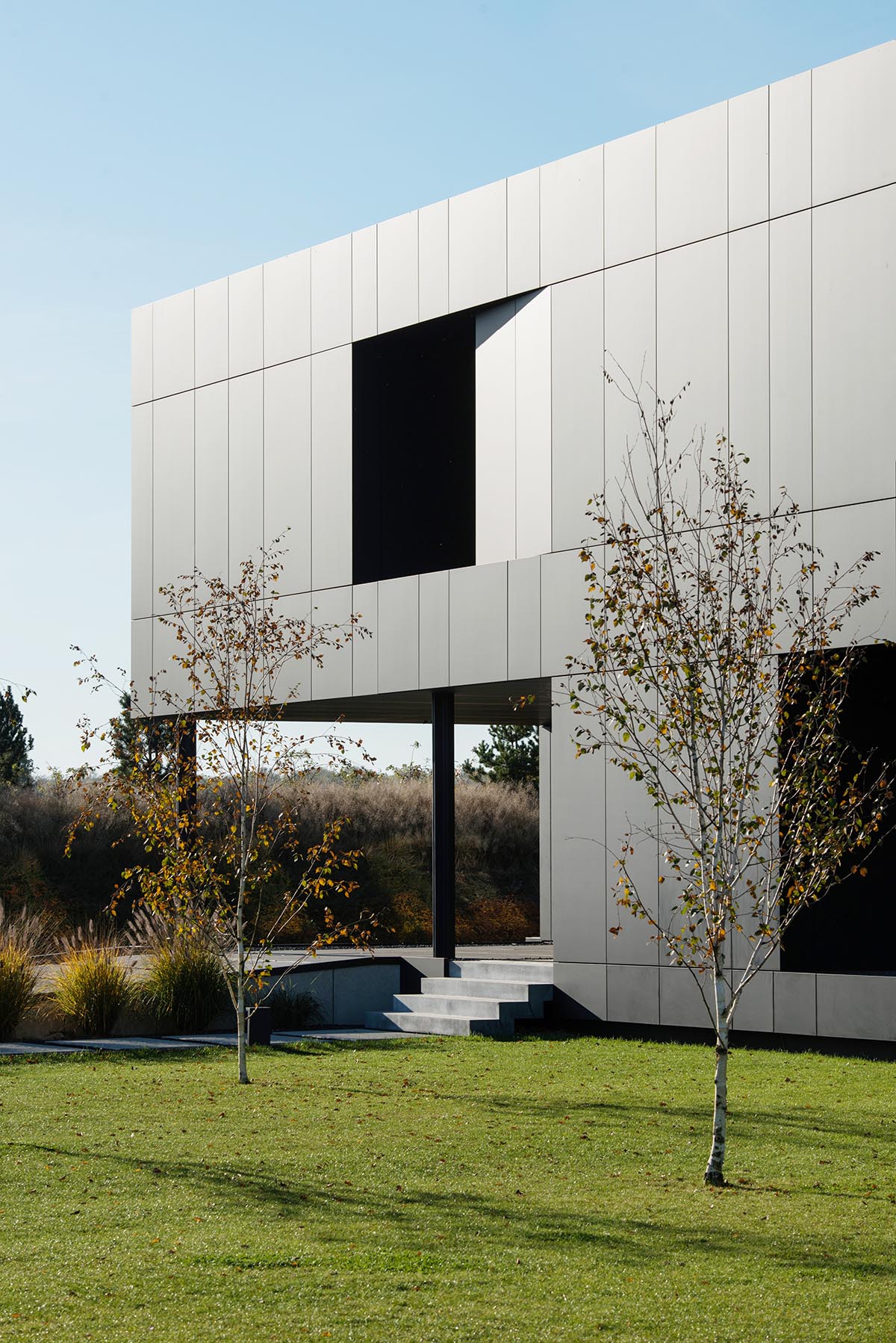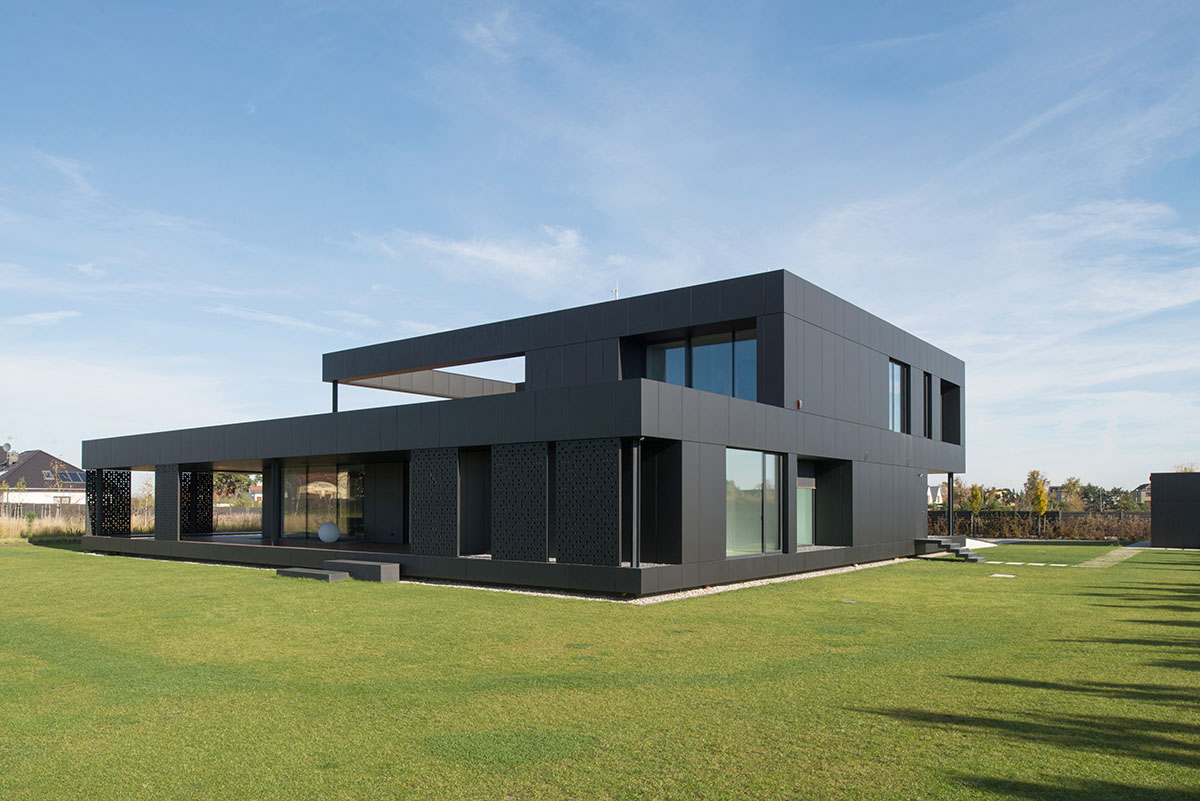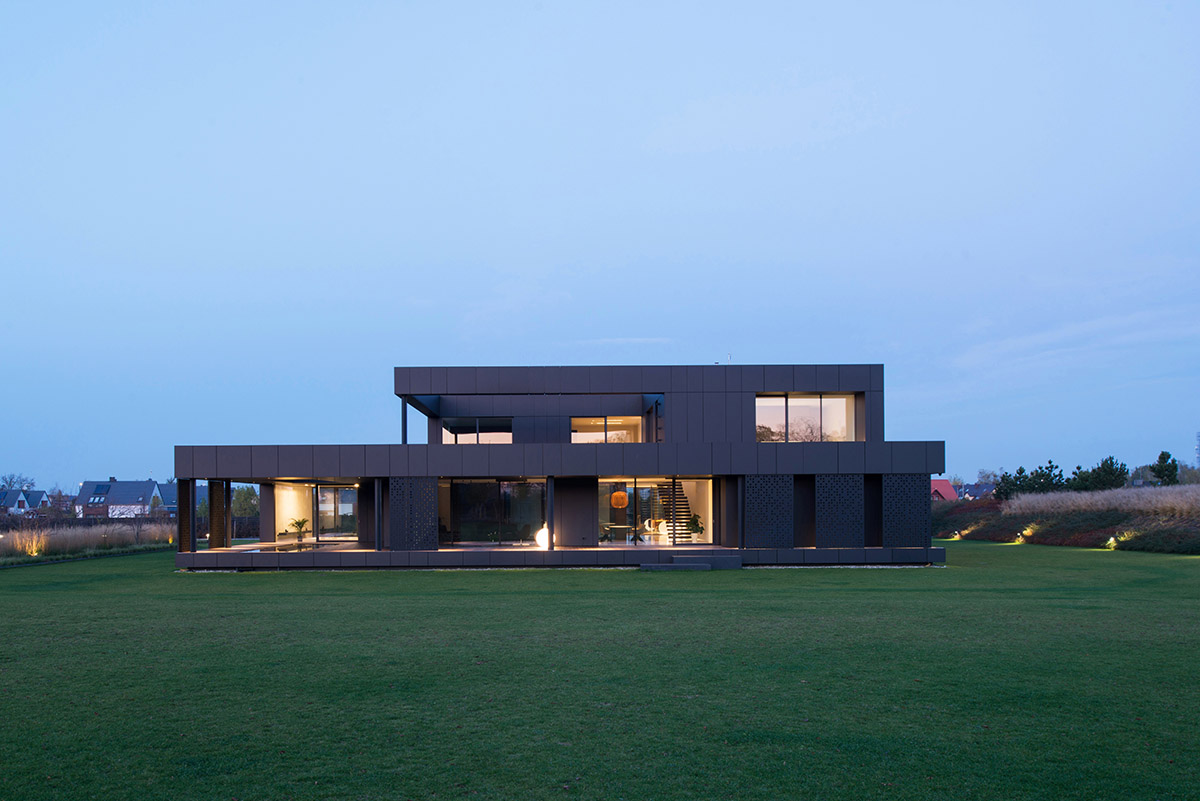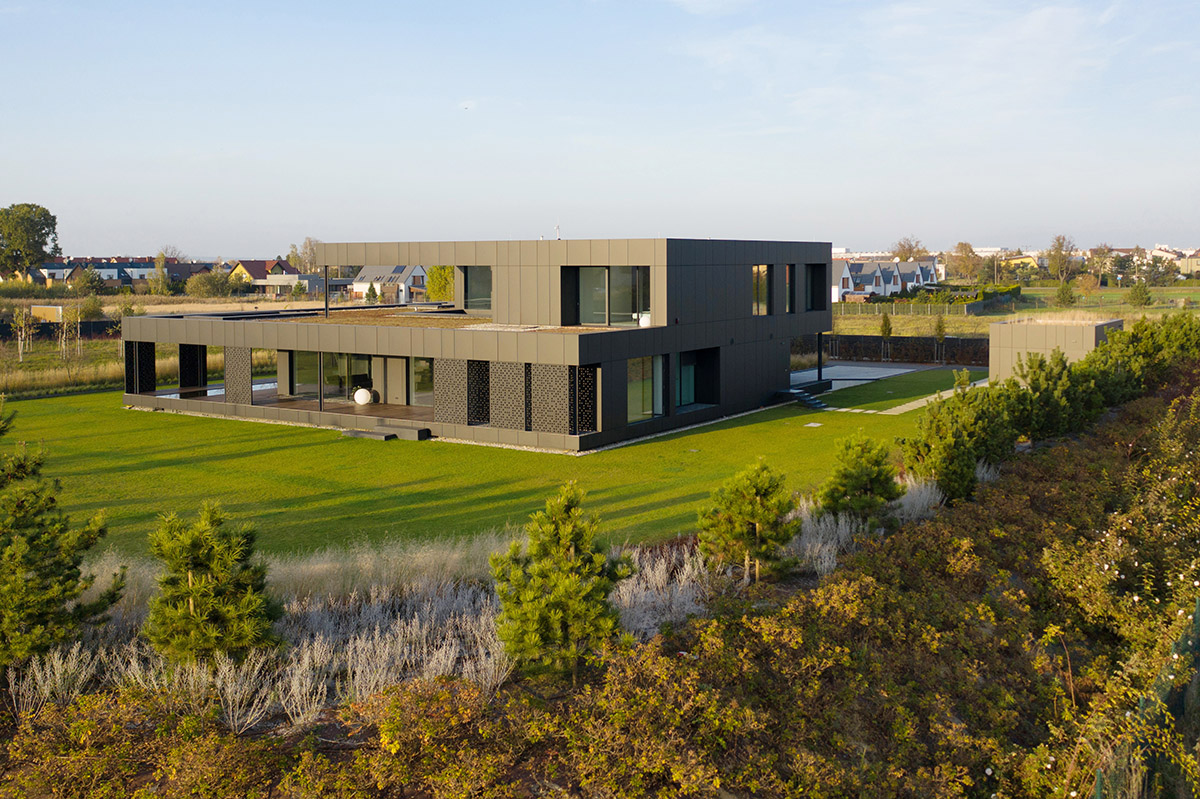 All images © Tomasz Zakrzewski
> via Medusa Group