Ronald Lu & Partners unveils design concept for Tencent East China Headquarters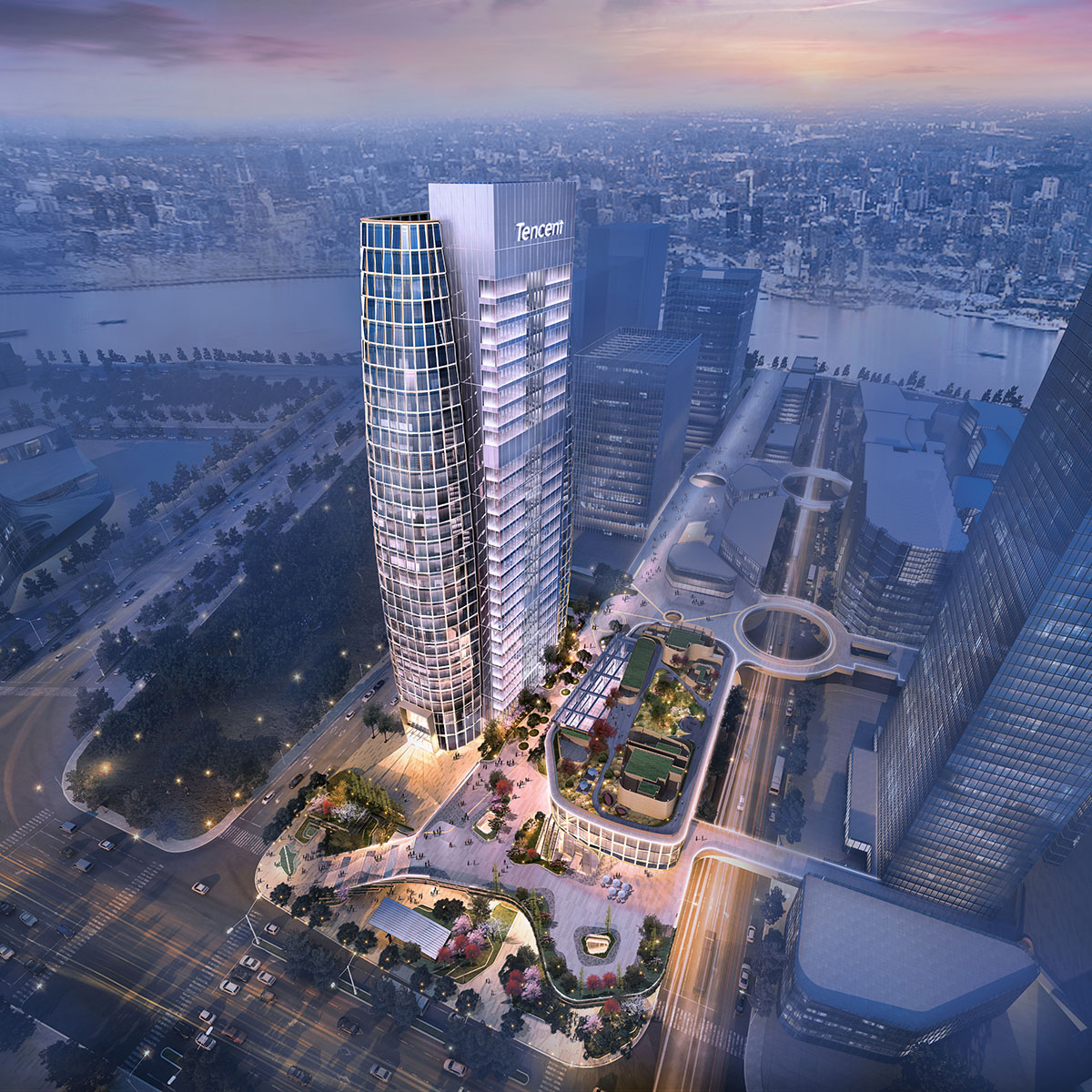 Ronald Lu & Partners (RLP) has unveiled design for Chinese tech giant Tencent's 77,000-square-metre East China Headquarters in Shanghai, which is currently under construction on site. A recent topping-out ceremony was held to celebrate the completion of the Headquarters' main structure.
This bespoke innovative architecture inspired by "A Myriad of Twinkling Household Lights", which reflects Tencent's vision, identity and culture, is set to become a new landmark for the Xuhui District upon its completion by the second half of 2021.
Designed by Ronald Lu & Partners and situated in the West Bund Media Port in Binjiang of Xuhui District, the Tencent East China Headquarters consists of a 29-storey, 150-metre-high office building and a four-storey podium with diversified functional areas and an emphasis on shared space.
"A Myriad of Twinkling Household Lights" concept
The façade of the building, made up of irregular window grids, resembles pixels which represent order, rhythm and principles. The design draws inspiration from a Chinese proverb 'A Myriad of Twinkling Household Lights', with thousands of distinctive windows reflecting sun rays.
These different windows altogether from afar look like a myriad of twinkling household lights shimmering under the sunlight. The design is symbolic of Tencent's forward-looking vision, as a leader of tech and digitalisation, to provide a multitude of products and services to suit the diverse needs of tens of thousands of households around the world. It also signifies pluralism and the diversity of multicultural talents from different backgrounds that form the Tencent team.
"We are very happy to see the building is getting closer to completion after our collective effort of over five years. In addition to the innovative architectural appearance, this project closely reflects RLP's principle in designing better life at every opportunity," said Bryant Lu, Vice Chairman of Ronald Lu & Partners.
"The design is human-centric. Beyond the façade, the architectural and interior design is much more than a conventional office building. The design embraces the concept for a work campus where substantial consideration has been put towards increasing human interaction, technology and sustainability. It also echoes our philosophy of designing sustainable and healthy buildings."
Campus Concept - Wellness & Collaboration
RLP believes good design can bring wellness to the workplace and boost productivity. "Throughout this project, we put an emphasis on the physical and mental well-being resulting in a new experience which authentically encourages employees to share resources and collaborate across technology, products and talents. We hope users of the building will feel a strong sense of belonging on the campus headquarters" Lu further explained.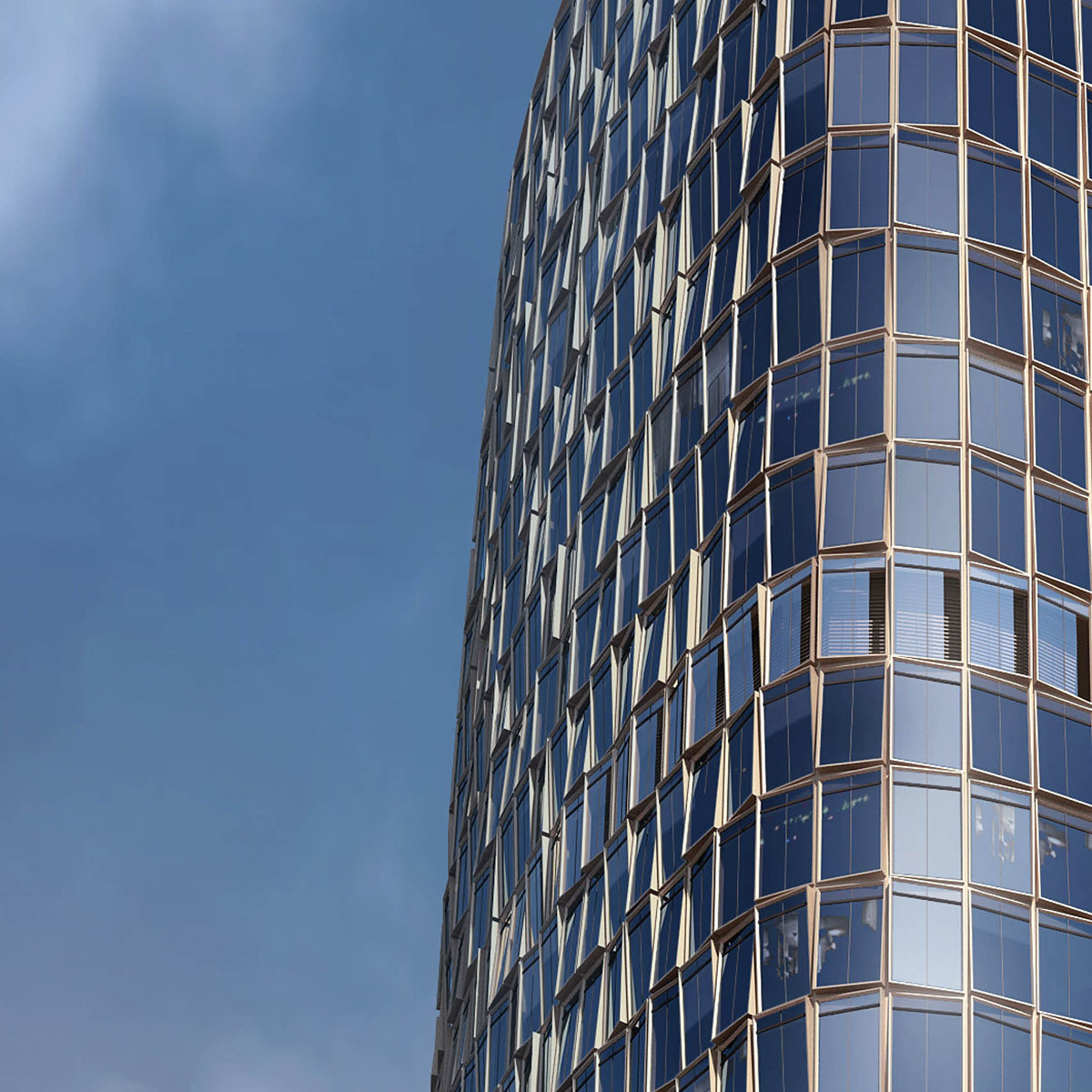 Promoting Sustainability
The Headquarters has also been carefully designed with international standards of sustainability including LEED Gold; Chinese Assessment Standard for Green Building level 2; and employment of the WELL AP Grade Principal, the first evidence-based system for measuring, certifying and monitoring building features that have impact on health and wellbeing.
From the IGU insulated glass material of the window, which considerably reduces the heat absorbed for energy saving, to the abundance of greenery and dedicated workout space on every floor, the focus of the design is on providing a forward-thinking approach to reducing environmental impact while also, positively impacting usability.
Ronald Lu & Partners (RLP) is a design-led architecture firm with the vision to design a better life and redefine sustainability with 550 trusted advisors across Hong Kong, Beijing, Shanghai, Shenzhen and Guangzhou.
RLP is an industry changer, focusing on transit-oriented development (TOD), transportation, mixed use, retail, dining and entertainment (RDE), civic & community, culture, industrial 4.0 and smart manufacturing, education, healthcare and wellness, luxury residential and interior design services. RLP has collaborated with over a thousand international partners and have award winning projects all over the globe.
All images courtesy of RLP
> via RLP