DROM transforms the monotone Soviet Azatlyk Square into a lively contemporary public space
Rotterdam-based architecture practice DROM in collaboration with Strelka KB, have completed a renovation project for the main Azatlyk Square in the city of Naberezhnye Chelny, Republic of Tatarstan, Russia.
The old square has been transformed into a dynamic and vibrant multi-use public space with different hues of orange colour applied throughout the public space.
The original square was designed around a formal central axis that was intended to connect the municipality building to the unbuilt Lenin museum.
By losing its starring role as a social connector, the public space became a relic of the Soviet past, underused, kept alive by a few maintenance interventions and disconnected from city life.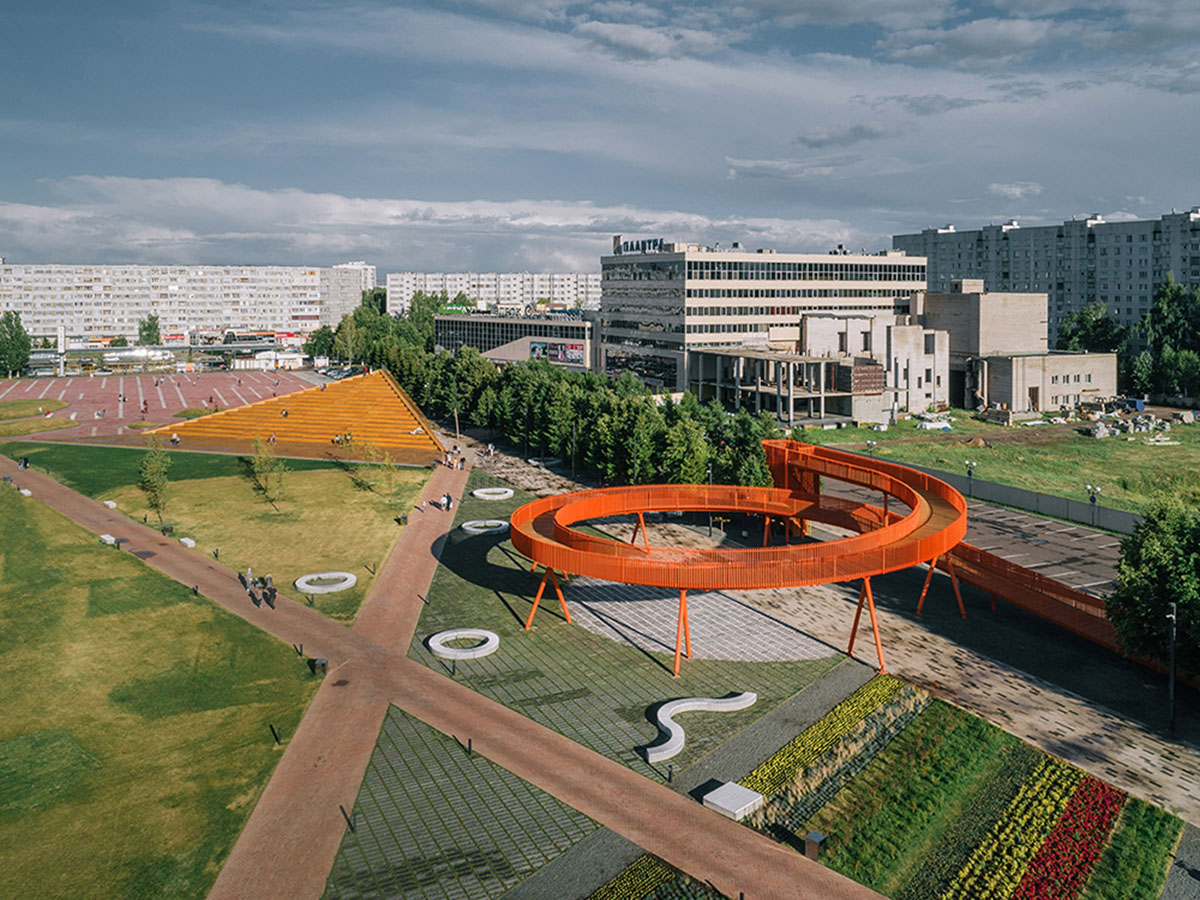 Image © Dmitry Chebanenko
"We wanted to convert the famous Kamaz truck factory – the lifeless public space of a typical Russian monotown, built in the Seventies and dominated by a single industry, into a multipurpose area with a fresh take on inhabitants' interaction," said Timur Karimullin, Sofia Koutsenko and Timur Shabaev, founders of DROM.
Highlighted by a dense row of planted trees, the main axis of Azatlyk Square has been relocated towards the edge of the plot to directly connect the nearby neighbourhoods with the new promenade and its pavilions that include diverse playgrounds, a café, a food stall and a spiral viewing platform.
Image © Dmitry Chebanenko
The former central area has been divided into three different squares, each with its own unique character. To the East, the Event Square is a pink concrete paved urban space that is also used for weekly outdoor markets.
Next to it, is the Green Square, a relaxing spot with a wooden amphitheatre and a broad lawn from which to enjoy the seasonal landscaping conducted by the city's planting department and lastly, the Cultural Square, with a fountain and a new circular shallow pool for playing in the water on hot days.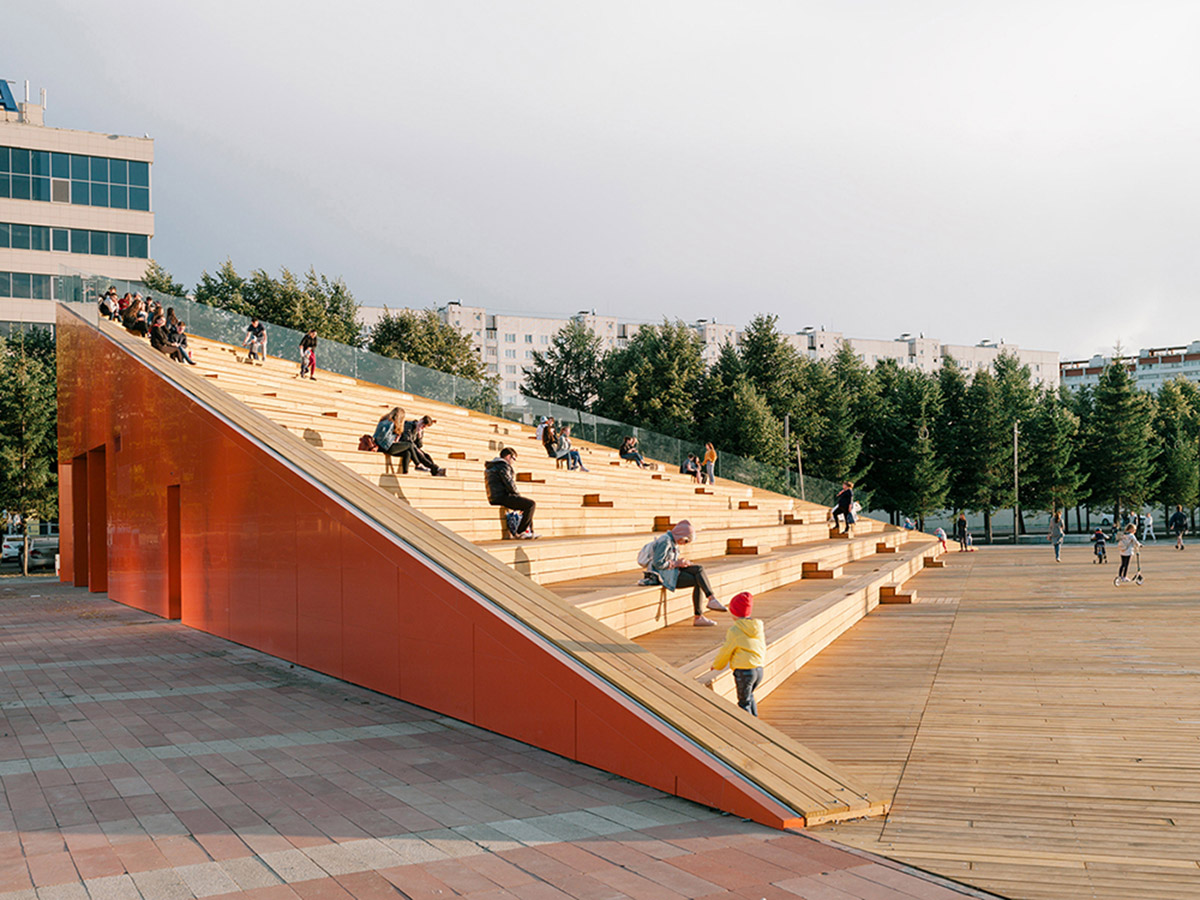 In dialogue with the Promenade, each square is energized by an anchor programme: the amphitheatre doubles as a cafè; the spiral viewing platform, which is painted in the emblematic orange Kamaz color, adds a vertical dimension; and the circular pool transforms into an ice-skating rink in winter.
DROM designed peculiar paving patterns for each of the squares and integrated spaces that are protected from the strong crosswinds and sun by strategically placed "hills" and local species of linden, red maple and blue spruce trees.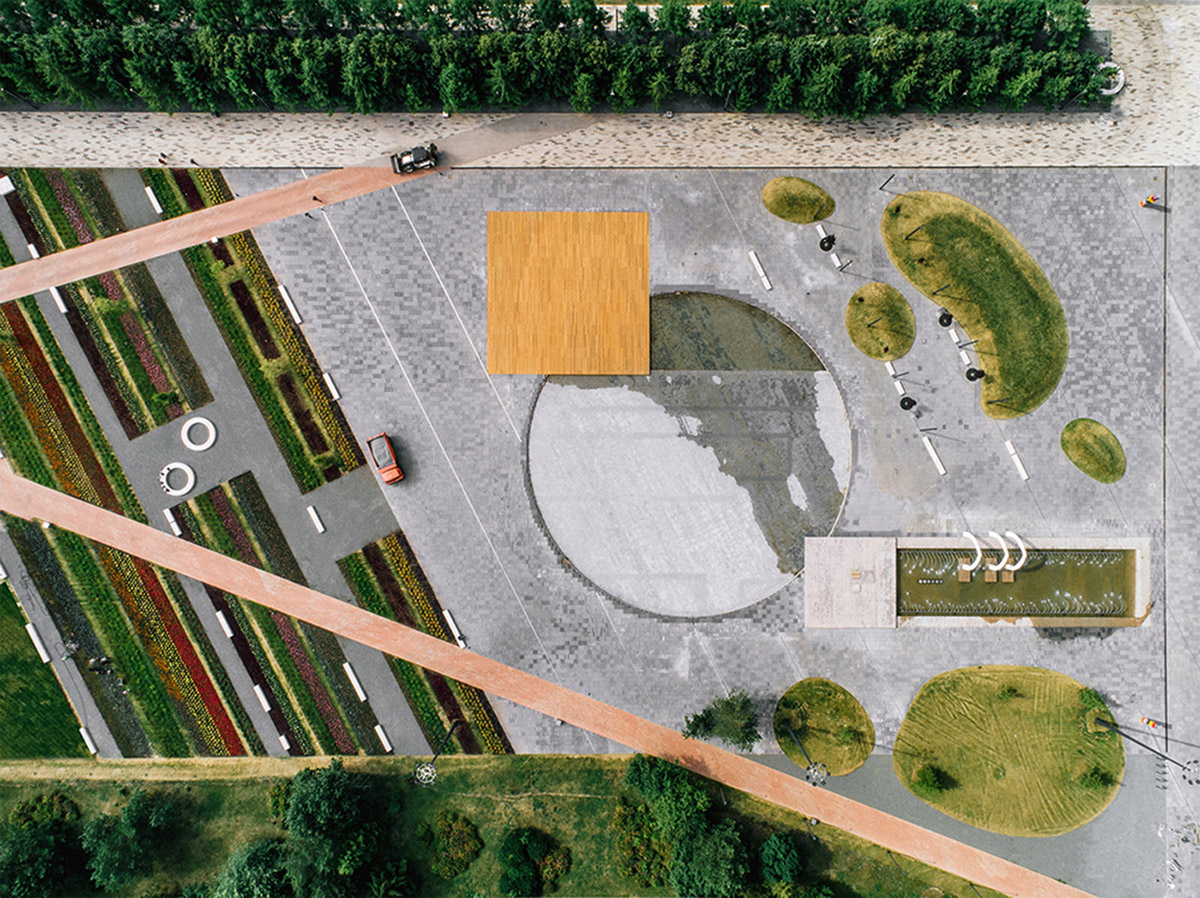 Image © Dmitry Chebanenko
In addition to the pavilions, Azatlyk Square features bespoke urban furniture and lighting elements, which were developed and produced by local manufacturersclosely involved in the creation of a new niche in the city's economy.
Image © Dmitry Chebanenko
The main supporting structure for the spiral viewing platform is made with the same technology that is utilized in the production of gas pipes. The benches were shaped by a local concrete factory and the lamps were fabricated using standard steel profiles.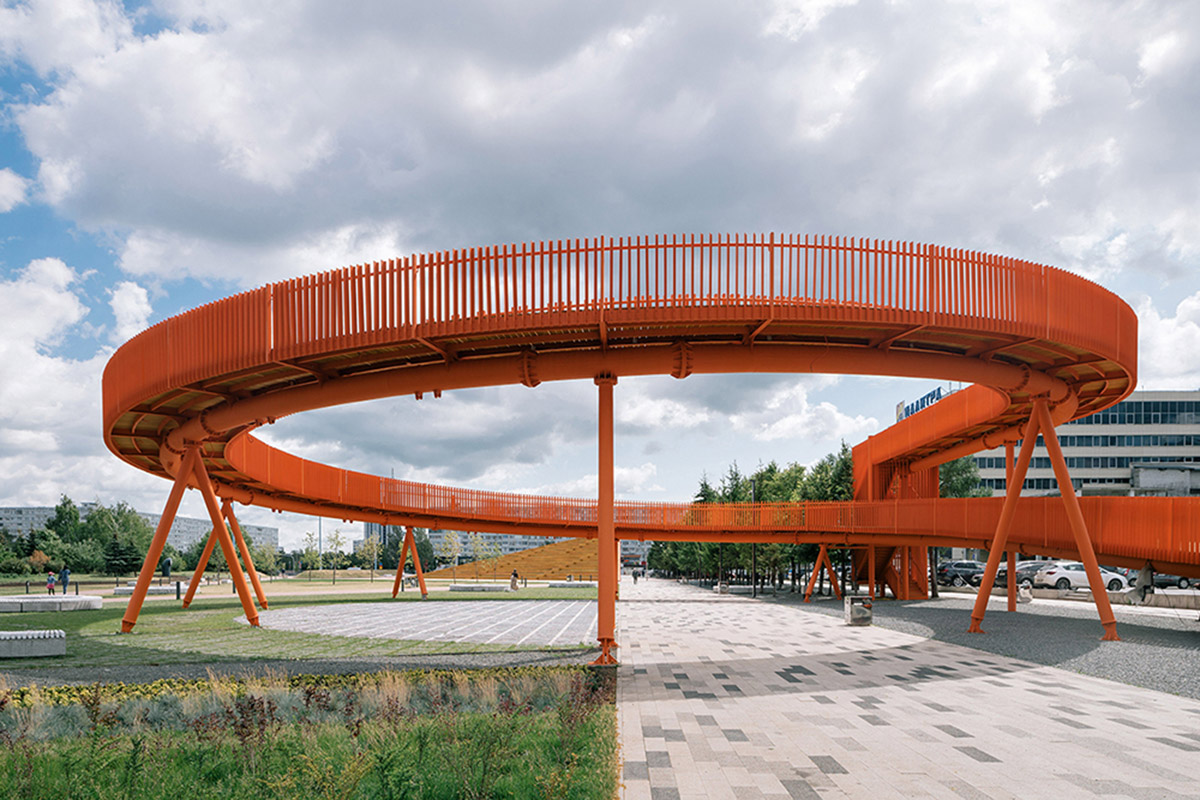 By maintaining most of the pre-existing greenery and adding new trees, the architects intend to preserve the existing ecosystem and peculiar landscape.
All these aspects helped the natural integration and the visual impact of the enormous transformation in the city centre, making the project more sustainable, resilient, and financially viable.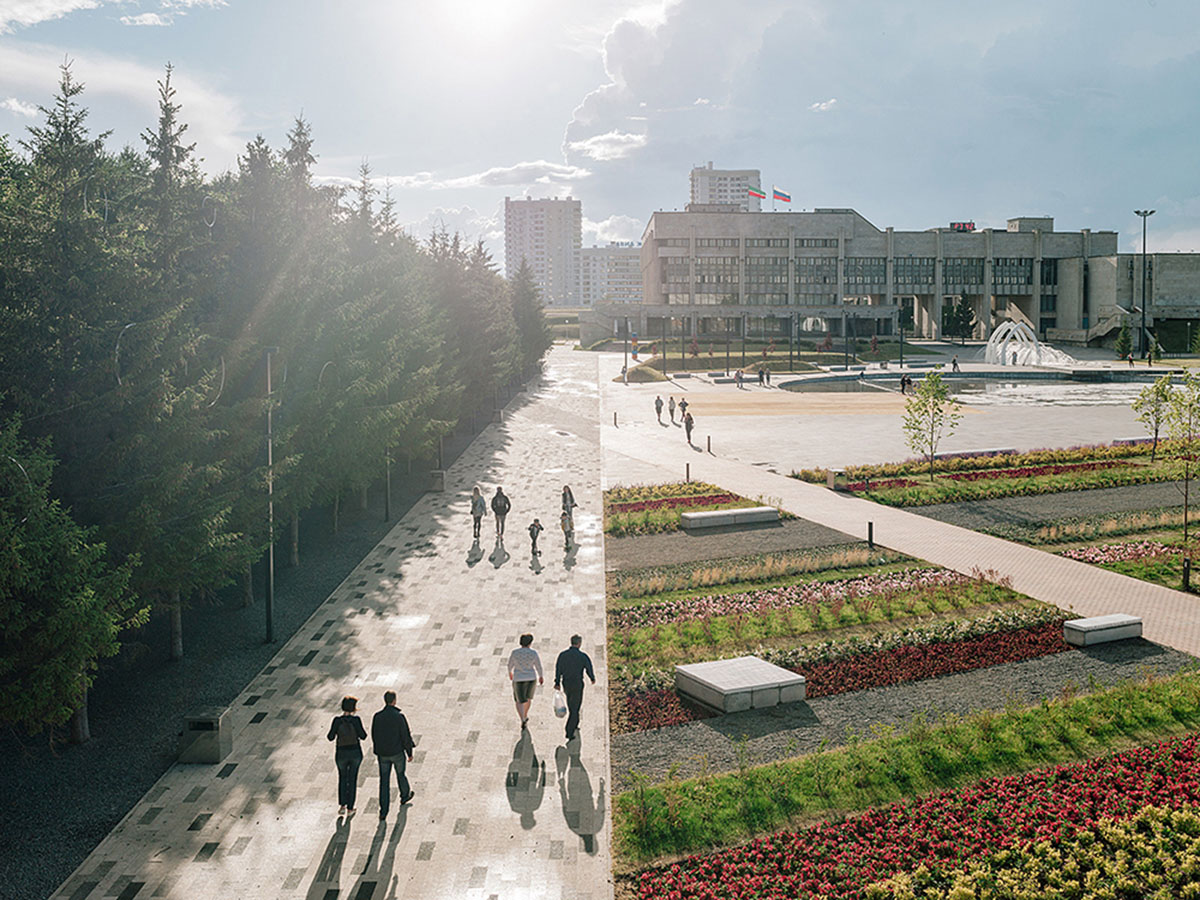 The city and its inhabitants embrace the new public space and the flourishing green areas as a stimulus to transform a monotone industrial past into a lively contemporary dimension of living that injects new energy into their roots.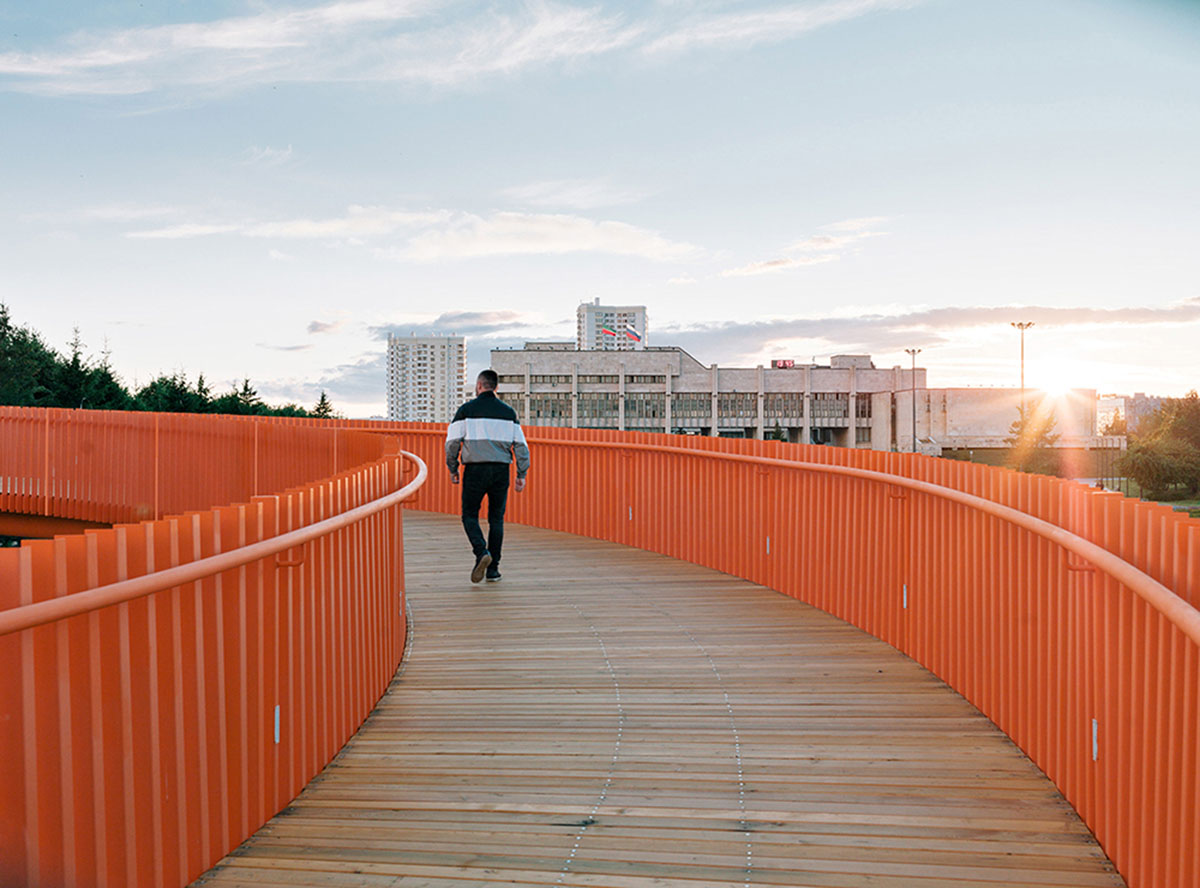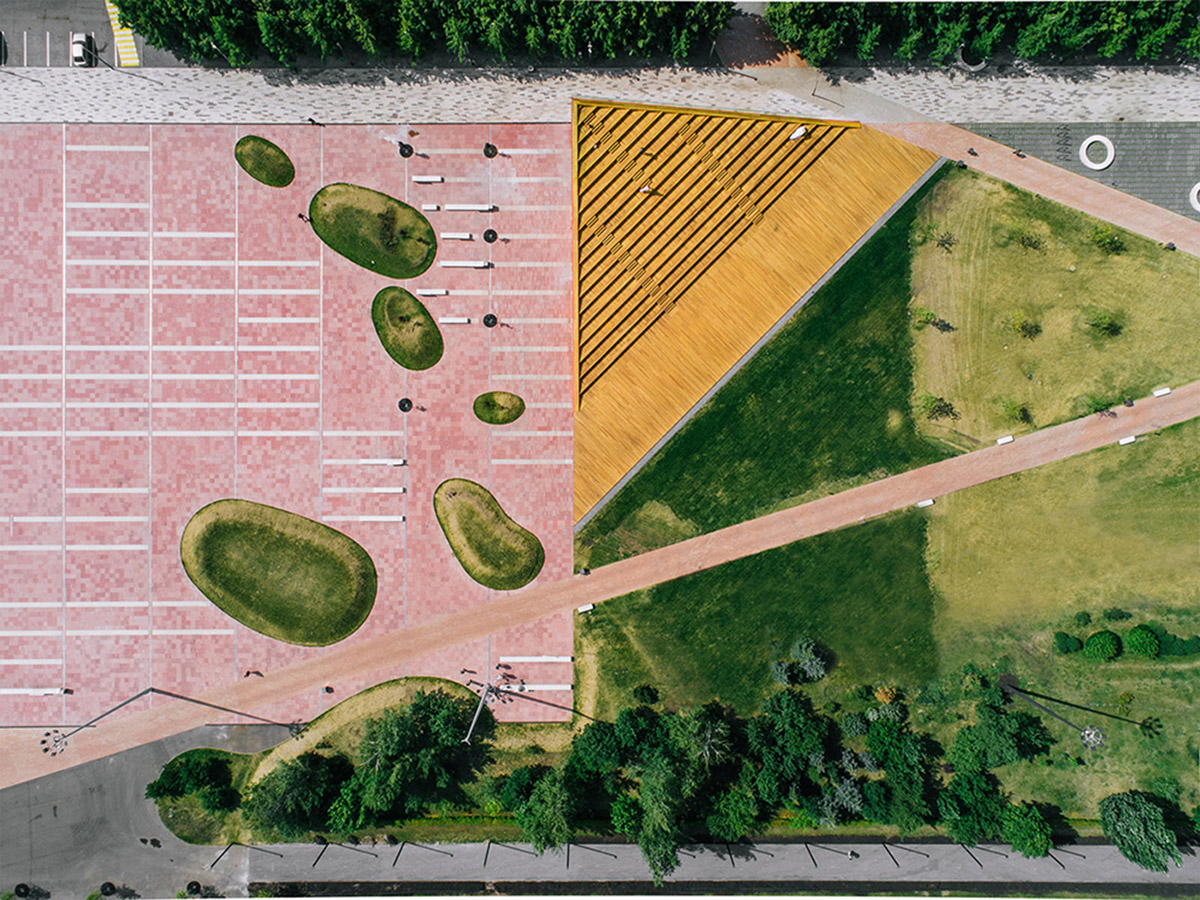 Image © Dmitry Chebanenko
Image © Dmitry Chebanenko
Image © Dmitry Chebanenko
Image © Dmitry Chebanenko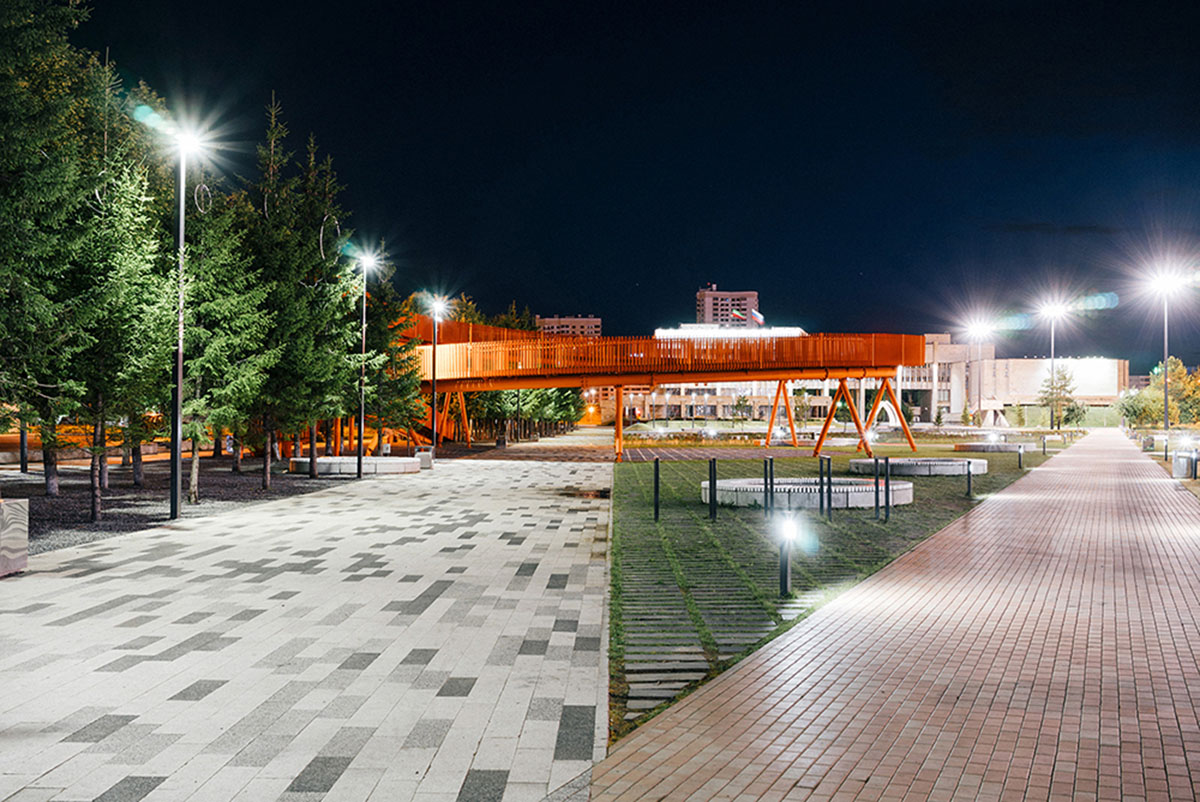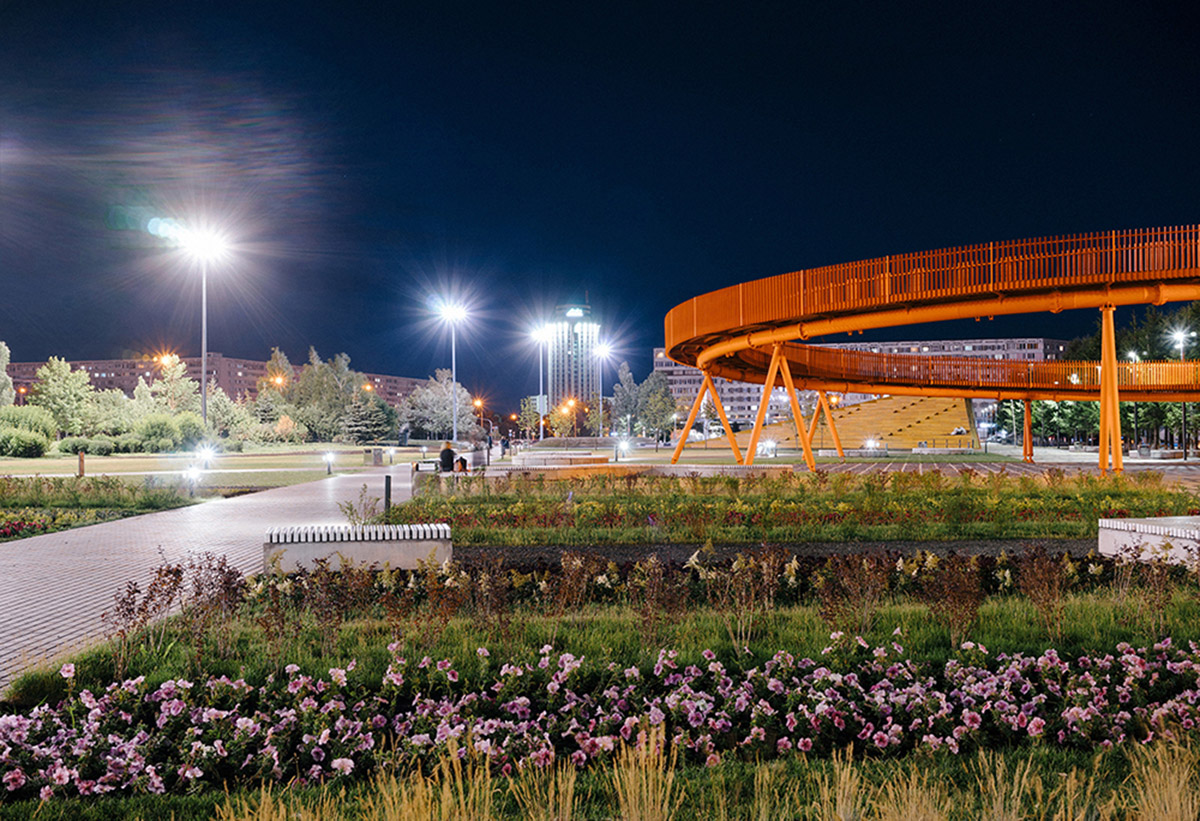 Masterplan
Masterplan axonometric
Azatlyk Square accessories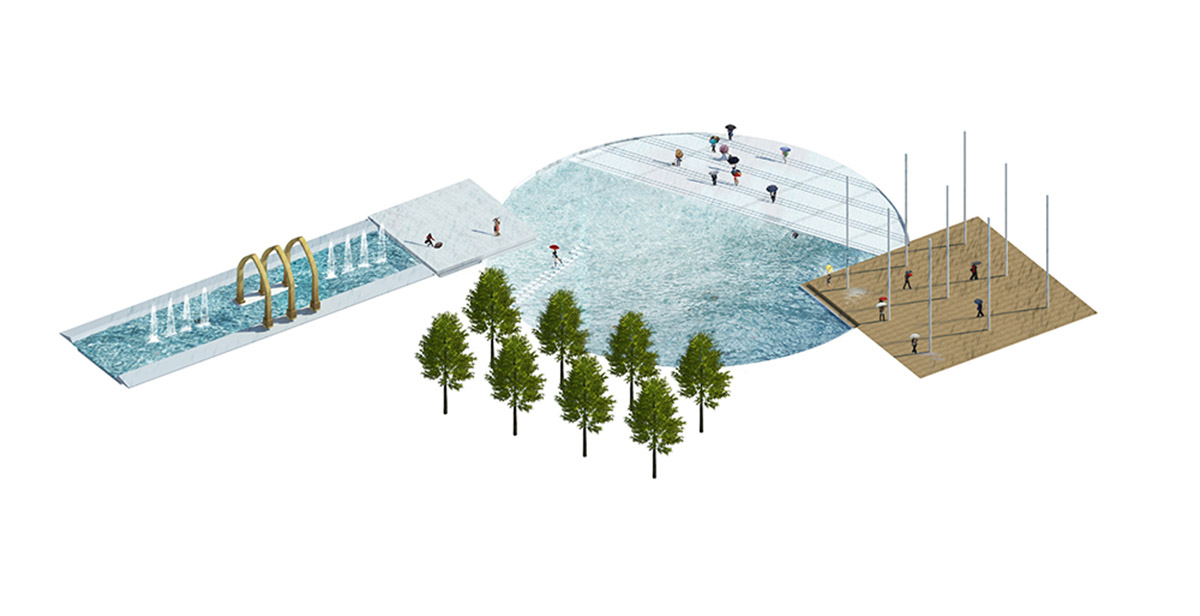 Azatlyk Square, central square in summer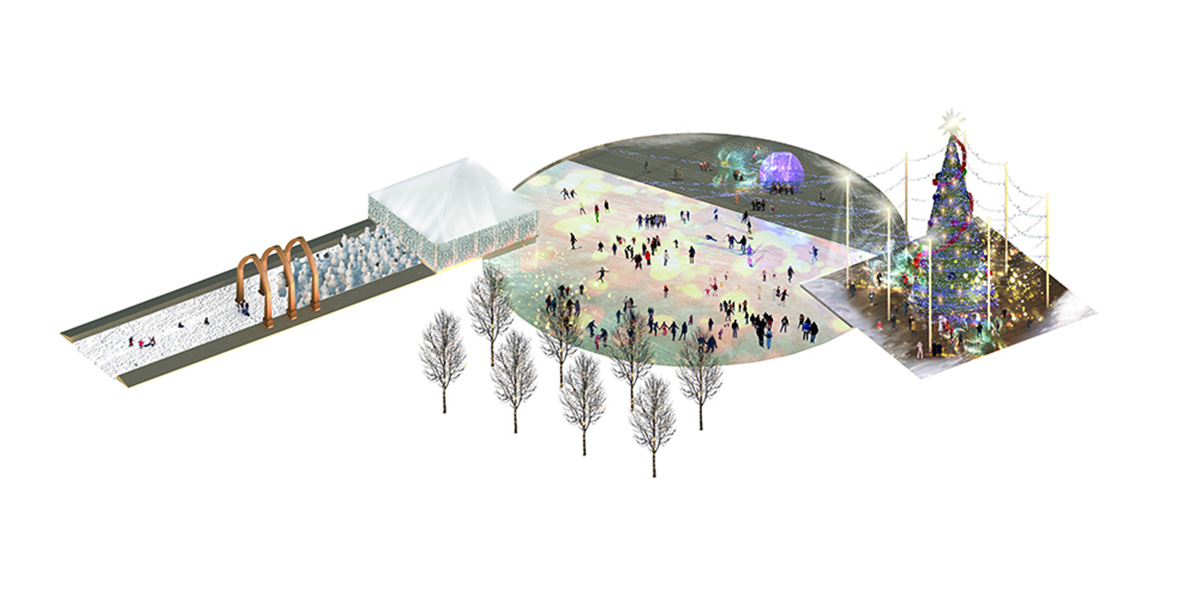 Azatlyk Square, central square in winter
Azatlyk Square landscape sketch
Azatlyk Square section-1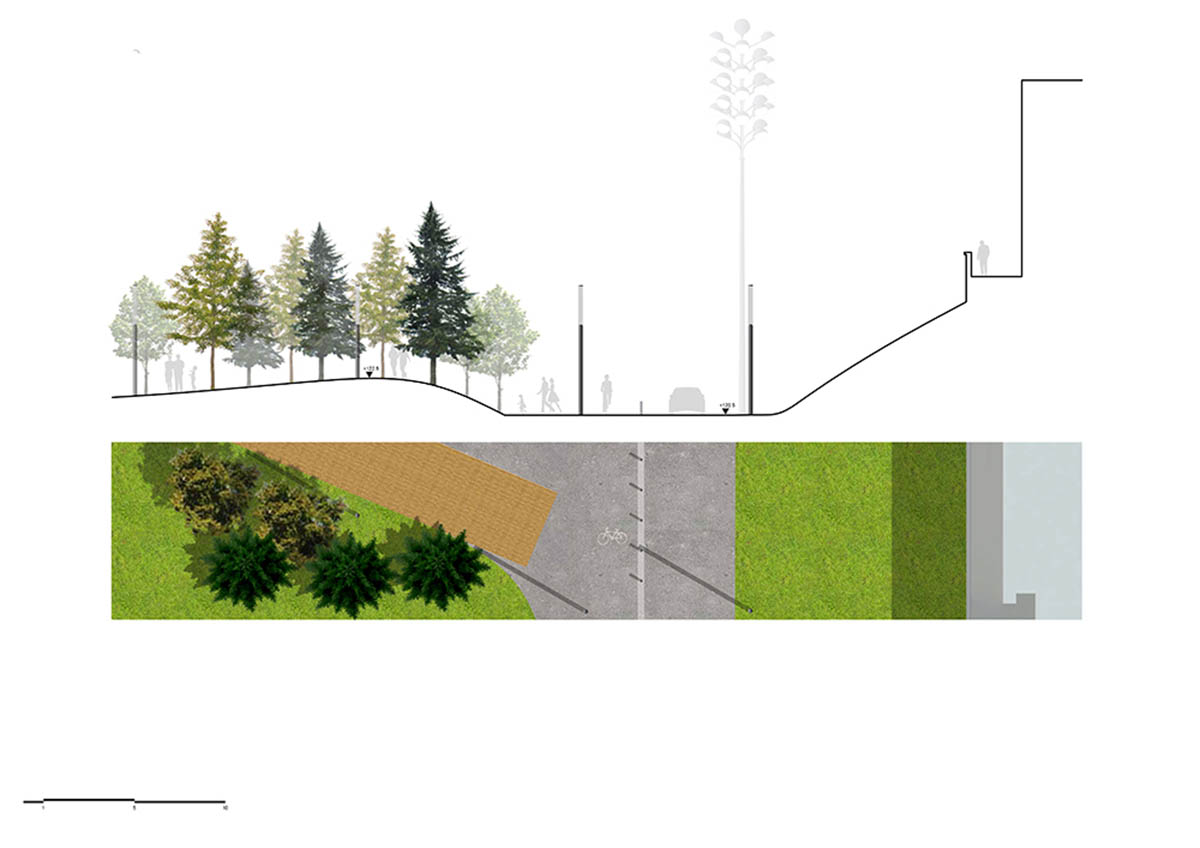 Azatlyk Square-2
Longitudinal section
Project facts
Project name: Azatlyk Square
Location: Prospekt Khasana Tufana 18, Naberezhnye Chelny (Republic of Tatarstan, Russia)
Architect: DROM (Timur Karimullin, Sofia Koutsenko, Timur Shabaev)
Project team: Asaf Barnea, Aga Batkiewicz, Valentina Ciccotosto, Elif Gözde Öztoprak, Roos Pulskens, Pratyusha Suryakant
Collaborator: Strelka KB
Local architect and engineering: KMT-PRO
Client: Strelka KB, DOM.RF
Commission: January 2017
Design phase: January 2017 – April 2017
Construction phase 1: Summer 2017 – Fall 2018
Construction phase 2: Spring – Summer 2019
Construction phase 3: 2020
GFA: 7.8 Ha
Building costs: approx. 4.500.000 €
Planting Consultant: NOVASCAPE
Materials: Granite paving, Tainted concrete paving
All images © Evgeny Evgrafov unless otherwise stated.
All drawings © DROM
> via DROM