Innovative Diseases of the Future Treatment Hospital Designed in Lisbon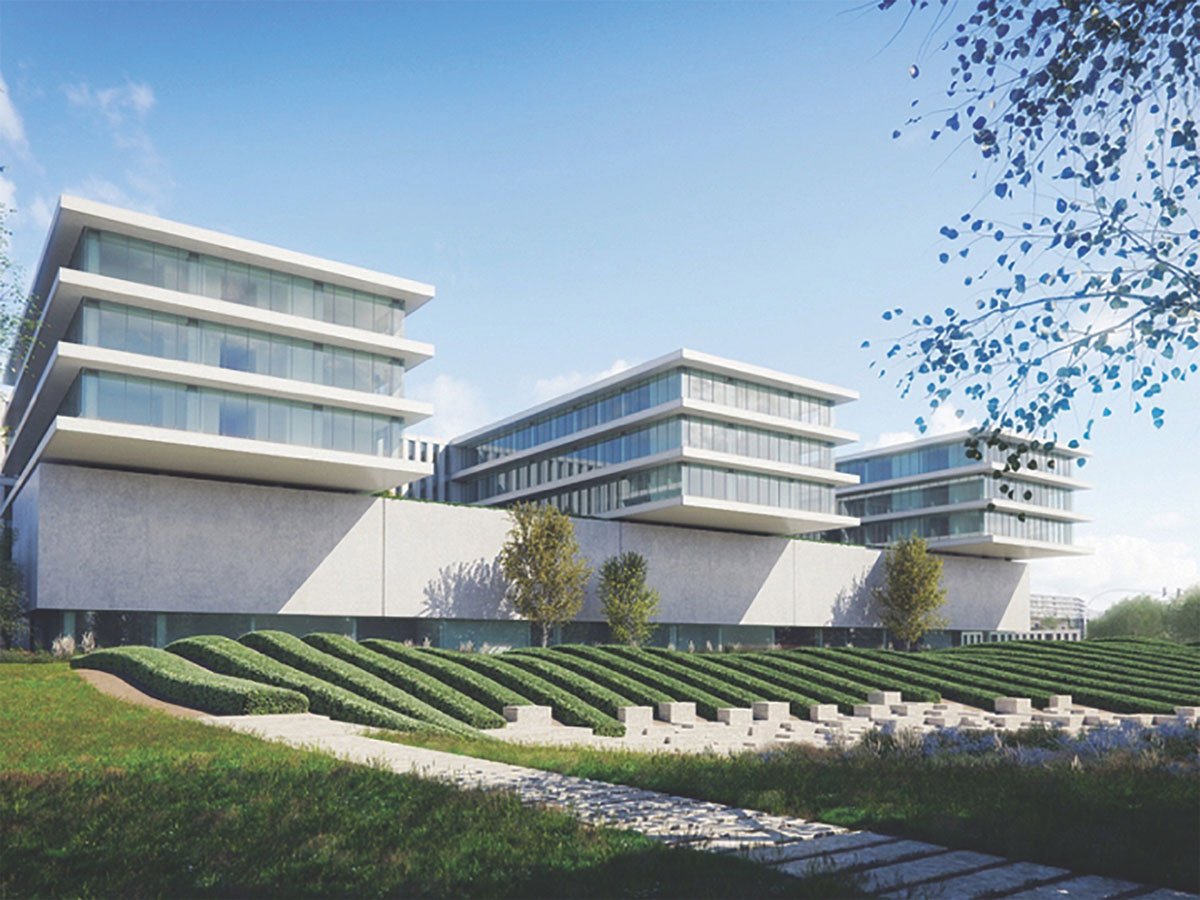 Arriving in Lisbon on the train from nearby Caiscais west of the capital, it is hard to miss a new building complex under construction in Alcântara, an area in the city's outskirts rapidly becoming an up-and-coming neighbourhood of the Portuguese capital. The construction gets one's attention for its size and because there seems to be an obvious desire to make an architectural statement.
According to José de Mello Saúde CUF, the developer1 CUF Tejo Hospital will open in Lisbon as a treatment center that represents "a new health care paradigm in Portugal" and which has been named one of "Fifty Projects that Will Change the City" by the Lisbon Union of Architectural and Engineering Broker Experts.
Designed by Portuguese architect Federico Valssassina, the 75,000 square meters hospital complex will include 250 beds and more than 180 examination and treatment clinics and aims to prepare the Portuguese medical profession with an ad-hoc place to treat "diseases of the future".
But what are those? Diseases of the future will be more complex than known illnesses, more severe and will impact the lives of a very large portion of the world's population. A significant increase in the incidence of chronic diseases is to be expected in the most diverse areas. And an aging population is a factor causing increased and complex ramifications. From the onset, CUF Tejo Hospital was designed to provide a specialized response through innovative and multidisciplinary approaches to the pathologies of the near future, integrating essential clinical areas, both from the perspective of diagnosis and treatment, as well as forms of rehabilitation.
The effects of climate change are also being felt around the globe and the health of millions is being affected in more ways than one; air pollution, floods, food scarcity, etc. Warmer temperatures also make it easier for climate-sensitive diseases to flourish, thrive and migrate and it enhances reproduction and transmission of viruses; as a result there are a series of "new" illnesses and diseases; there is a need to invest in measures to make our world's population more resilient to severe weather events. The Lisbon Climate Change Adaptation Strategy intends to tackle those to symbiotically and mutually benefit and protect our quality of life.
After having gone through a severe recession in the past decade, Portugal has re-emerged with a newfound strength and focusing on the future, is preparing to face the impact that our changing biological environment will have on people's health. The 100-million euros hospital investment will provide oncology, neuroscience, cardiovascular, lung, otolaryngology and ophthalmology treatment with the latest technology, in a pleasant treatment environment. The diseases of the future will be more complex and severe and will condition the life of substantial number of people worldwide; on one hand a significant increase in the incidence of chronic diseases in most diverse domains.
This hospital has been designed taking into consideration the needs of its patients as well as of the medical community. Indeed, it will be dedicated to a multidisciplinary approach to study future pathologies while functioning as a teaching hospital; integrating training activities, postgraduate studies and clinical research, including a Clinical Simulation Center2. This Hospital was envisioned to provide a specialized response through innovative physical and technological infrastructure design, promoting contact and ideas exchange between different medical teams in order to guarantee responses customized to each patient.
Architecturally, it will be the result of a seamless correspondence between form and function. The complex is composed of very clean volumes, devoid of superfluous decorative elements while maintaining a pleasant environment, and comprises three types of facade:
1. To the South (Inpatient Areas), the facade is comprised of concrete wall panels, with a set of clear windows facing and taking advantage of the front garden.
2. To the East and West, the set of windows alternates between clear glass or translucent glass protected by horizontal shading bars in the white concrete panels. This solution aims to make the result seem "lighter" while providing a level of privacy to the patients.
3. And the third facade, to the North; the complex main "volume", provides a composition of simple lines that makes one aware of the building's importance: here, spans of light are playfully juxtaposed to the rigor of the of the concrete white walls. Creating a balance in the treatment of space while highlighting the overall institution's image.
The relationship between built and open spaces and the materials used was decisive for a successful solution; each area and elements of architectural composition are designated in an attractive fashion but combining security, convenience, appropriate orientation and clear contrasting solution of spaces according to a variety of uses and of users intended to, including outdoor spaces; there are gardens accessible from different areas of the hospital available for everyone's enjoyment; relaxation spaces that will take advantage of their physical location with open, soothing city and river views; setting up a high standard of medical facilities in Lisbon with this innovative design.
---
1.CUF has been the market leader in the provision of private healthcare in Portugal for over 70 years. José de Mello Saúde owns CUF hospitals and clinics across the country. CUF stands by its commitment to a model based on the quality of medical staff, access to state-of-the-art medical technology and the human-focused care it provides.
2. A Clinical SImulation Center is a place to replicate real-world environment that is safe for teaching and experimentation, bridging the gap between classroom learning and real life clinical experiences.
All images © CUF