Active Citizenry with Participatory Planning: A Case Study of Peterborough's Jackson Park-Brookdale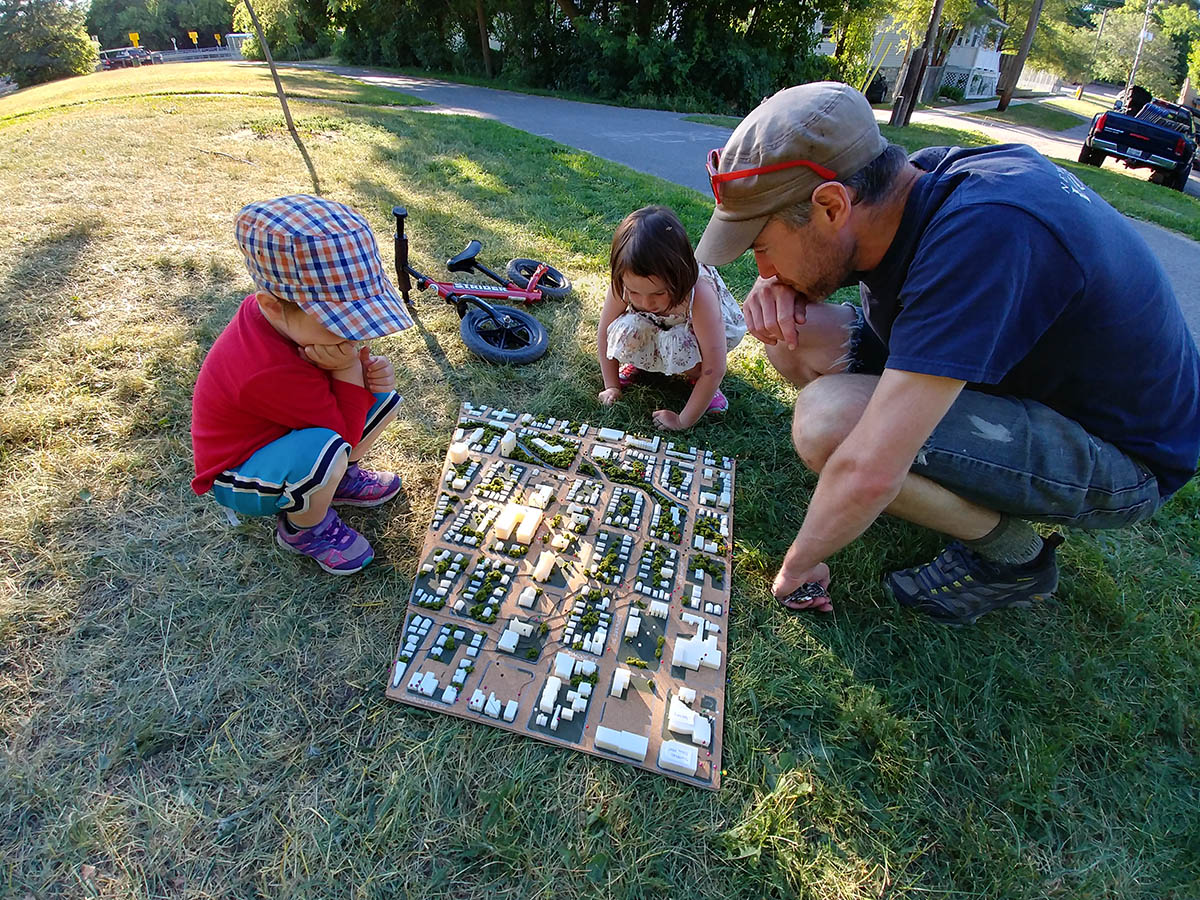 Community and city planning organizations around Canada are doing their bit to see that their residents have a voice in shaping their neighbourhoods. The Centre for Active Transportation (TCAT) in Toronto has been pioneering efforts in this regard for some years now. TCAT is a project of Clean Air Partnership (CAP), a registered environmental charity. Their overarching vision is to create vibrant cities with clean air, a healthy population, and a transportation system that prioritizes walking and cycling, as active transportation plays a vital role in engendering environmental and economical sustainability in cities.
Green UP's kiosk at a participatory planning event championing the process of co-design. Image © Francis Nasca.
TCAT's recent collaboration with GreenUP in Peterborough is a seed that is sown out of the Active Neighbourhoods Canada (ANC) partnership. The partnership employs a participatory planning approach to connect people and have their voices heard, which aids in creating improvements they've been wanting to see in their neighbourhoods. The Active Neighbourhoods Canada network is an avant-garde pan-Canadian partnership of the Montréal Urban Ecology Centre, TCAT and Sustainable Calgary. The partnership uses a co-design process to amplify the voices of marginalized residents, and support people in reimagining their built environments so that they encourage active transportation, vibrant placemaking and citizen engagement.
A student ensuring his voice is heard at the Highland Heights Public School Pop-up in Peterborough. Image © Laura Keresztesi.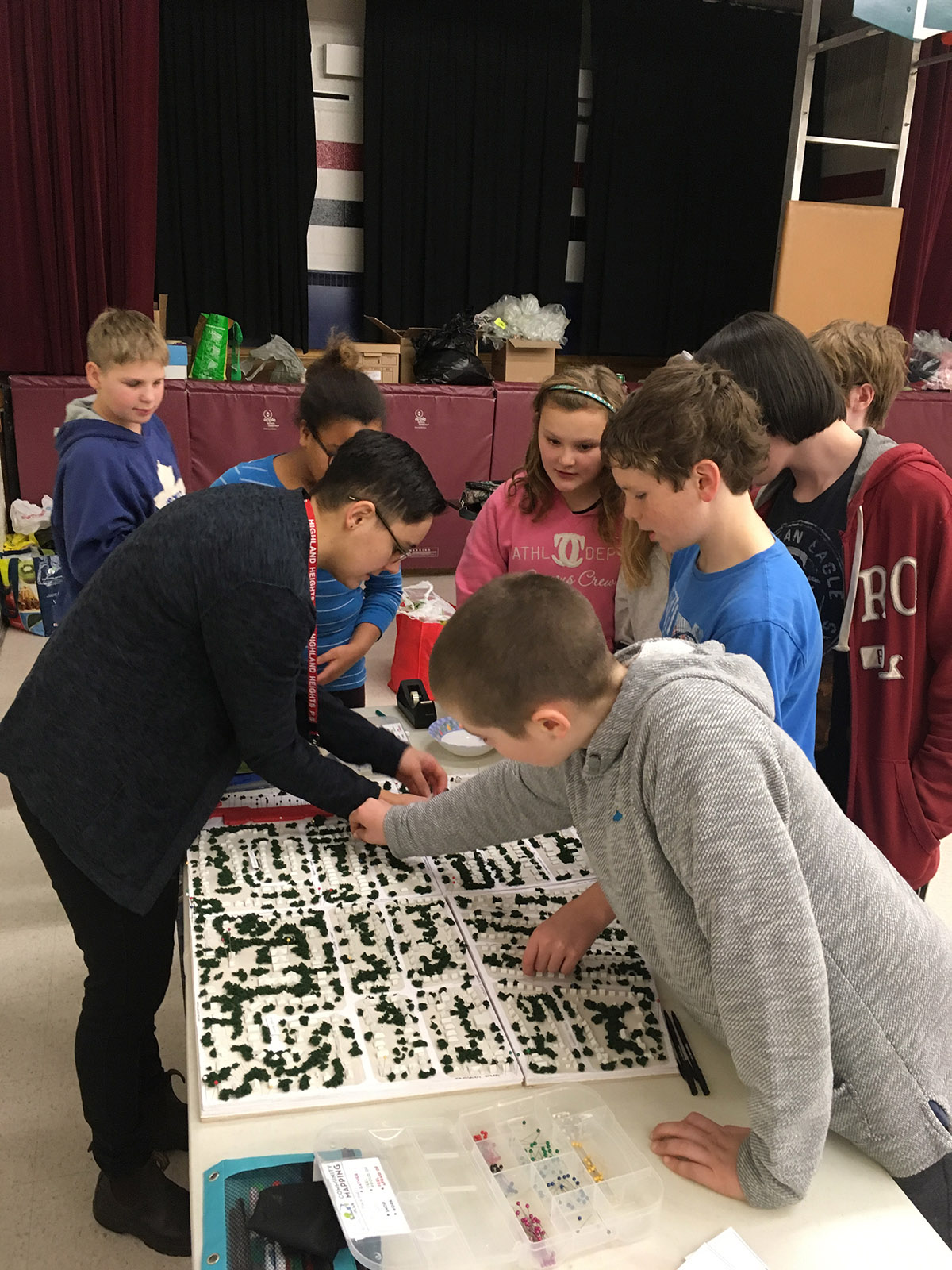 Children given the freedom to picture the environs of their neighbourhood at the pop-up hosted by TCAT and GreenUP. Image © Laura Keresztesi.
Participatory Planning
Co-design, or, in other words, participatory planning, is a strategy to build active, livable cities. This neighbourhood-level strategy employs both local knowledge held by citizens and expertise held by built environment professionals, resulting in meritorious outcomes that make city building accessible, community-driven, and fun. Experts are invited across disciplines, ranging from land use to urban design, architecture to transportation infrastructure and placemaking, and they play a huge part in helping residents translate their lived experiences into design interventions that enhance their neighbourhoods. Health equity is vital to neighbourhoods, and therefore, the impact of the built environment on public health is acknowledged in the partucipatory planning process. Inequities in planning processes make it all the more challenging for lower income persons, minorities and vulnerable groups to feel welcome. The co-design approach, pioneered by the ANC network, aims to end these barriers and engage each and every citizen.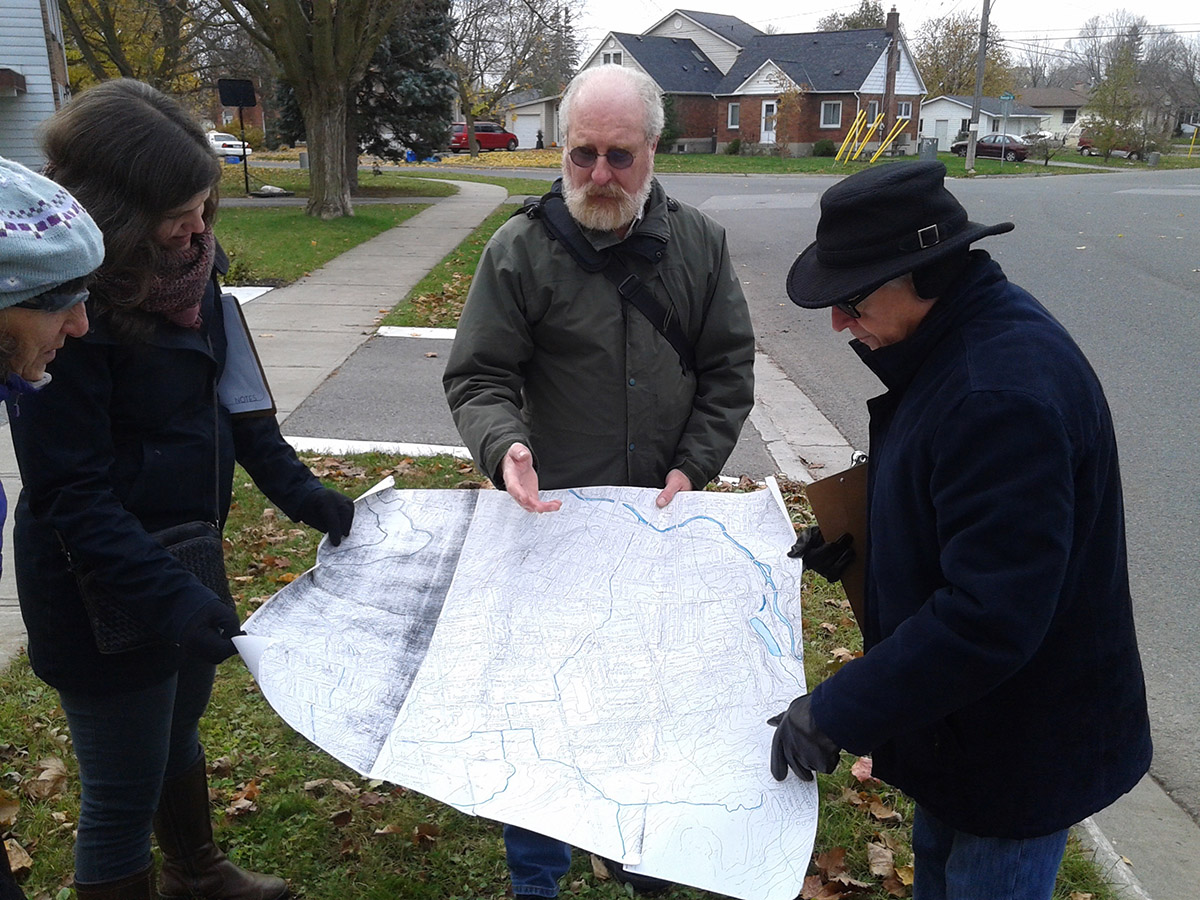 Co-design process at play. Image © Laura Keresztesi.
The ANC network has developed a toolbox that constitutes several co-design exercises that can support communities looking to co-design spaces. Empathy Walks, Photo Portraits, Safety Mapping, Street and Travel Surveys, etc., are all interventions that help the ANC network realize their vision of shaping cities around its people.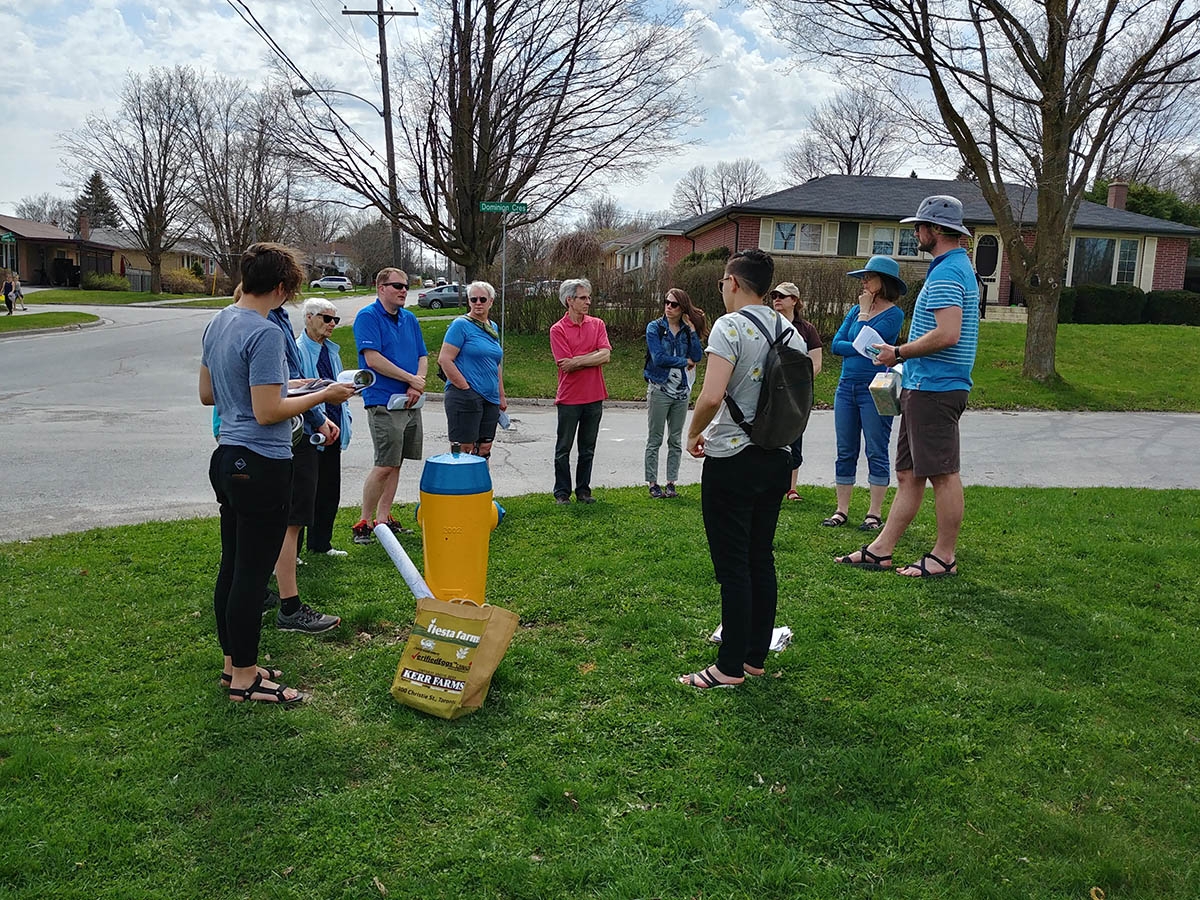 A Participatory Planning Jane's Walk held in early May, 2018. Image © Laura Keresztesi.
School children (at Highland Heights Public School) being asked to provide constructive inputs towards planning their neighbourhood efficiently. Image © Tessa Nasca.
Between the years 2013 and 2017, TCAT launched four Active Neighbourhoods Canada projects in Ontario, and in 2017 they received additional funding to further the Active Neighbourhoods Canada work. From 2017 onwards, TCAT has been using the knowledge garnered in the first phase to revamp and reform professional practices and policies, and equip decision-makers and communities to mould active and healthy communities. TCAT's long-term strategy involves bringing about three crucial types of changes; individual behaviour, by transforming the built environment, political and societal behaviour, by developing and putting in place policies relating to participatory planning and health inequities, and lastly, professional behaviour, by fathering a Pan-Canadian Action Platform on participatory planning, healthy built environments and health equity. TCAT aims to achieve these changes by working at three levels, the community level, the provincial level and the national level.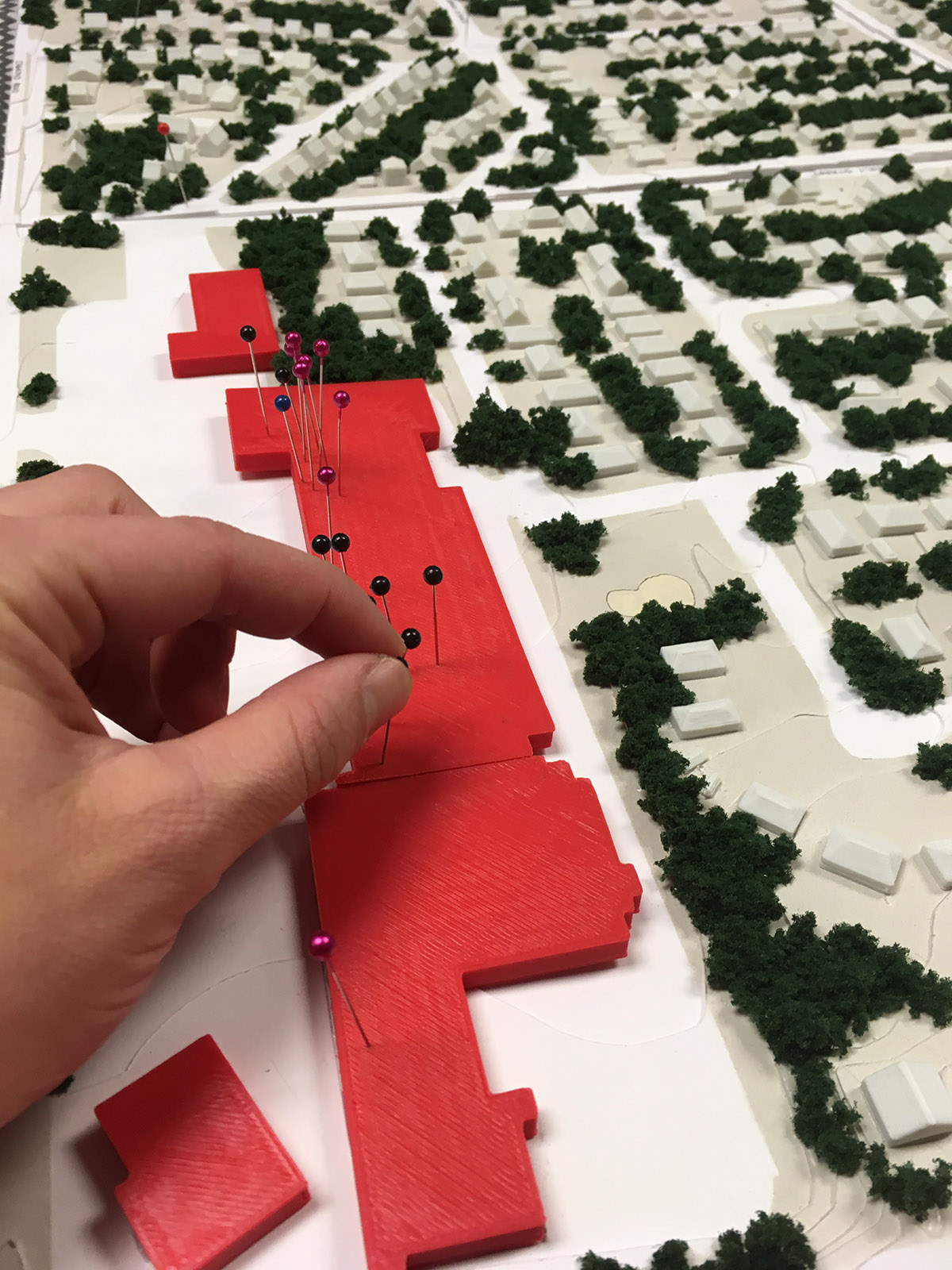 Participatory Planning of Jackson Park-Brookdale through Charettes. Image © Laura Keresztesi.
Portrait and Vision
The first step in the co-design process is conducting workshops, citizen-led walks, and pop-up engagement activities, whereby residents get a chance to speak out about the issues they are confronted with in their neighbourhood, culminating in the formulation of a neighbourhood Portrait document. Once the issues are identified, another workshop is scheduled in which residents and experts co-design solutions for these problem areas, which result in what is termed as the Vision.
A child, at a pop-up engagement activity at the Highland Heights Public School pop-up, expressing her thoughts on how she envisages her ideal community. Image © Laura Keresztesi.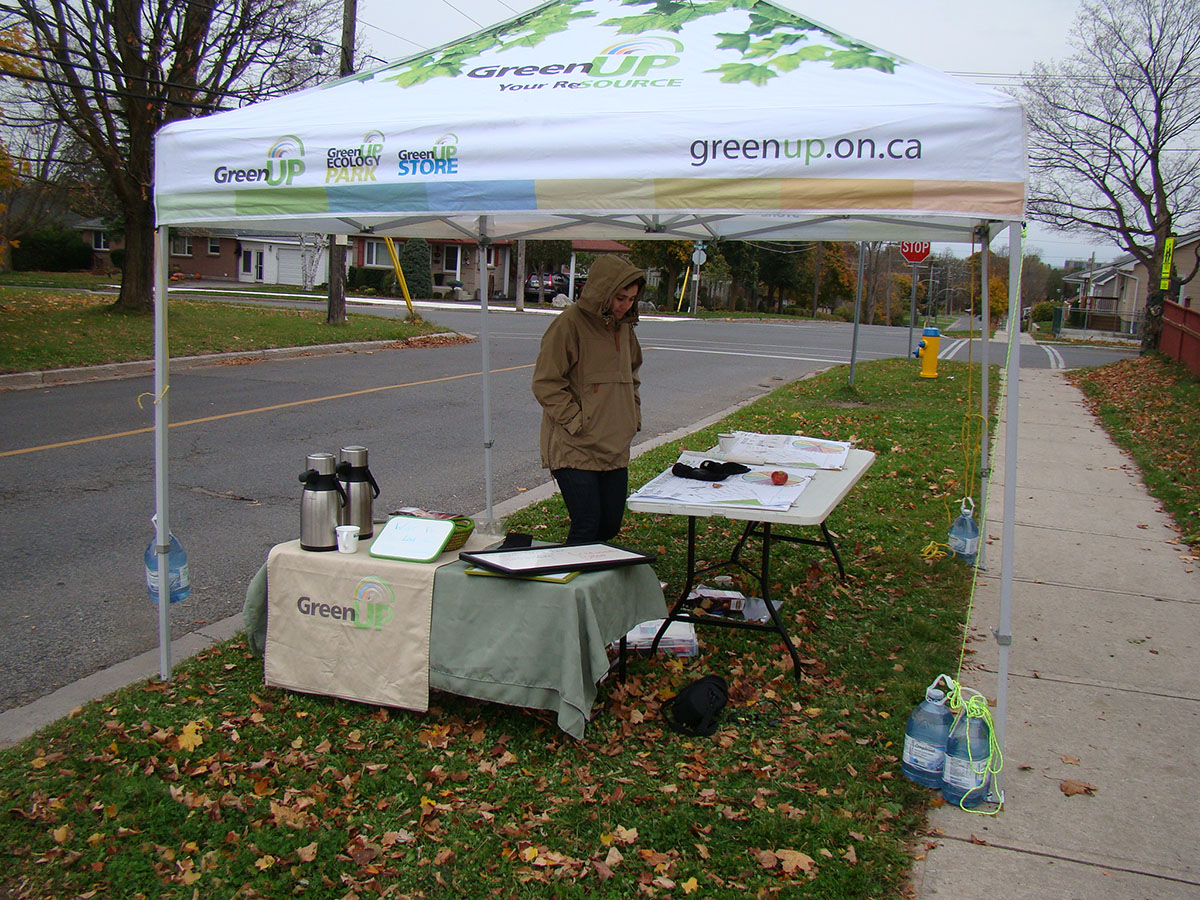 Green UP's Map Chat pop-up in Peterborough. Image © Laura Keresztesi.
Jackson Park-Brookdale Neighbourhood
To get a sense of what the co-design process looks like on the ground, the case study of the Jackson Park Brookdale neighbourhood in Peterborough is brought to light. Jackson Park-Brookdale is the first neighbourhood among the three Peterborough neighbourhods participating in GreenUP and TCAT's NeighbourPLAN program.
The Jackson Park-Brookdale neighbourhood is situated just north of downtown Peterborough, west of the Otonabee River, and is nestled along Jackson Park. Jackson Park is a natural asset that supports an active culture in the community, providing locals with equitable access to trails, woods and waterways. The uniqueness of the community is largely felt because of its residents and rich history celebrated through the architecture of mid-century homes dotted along its streets.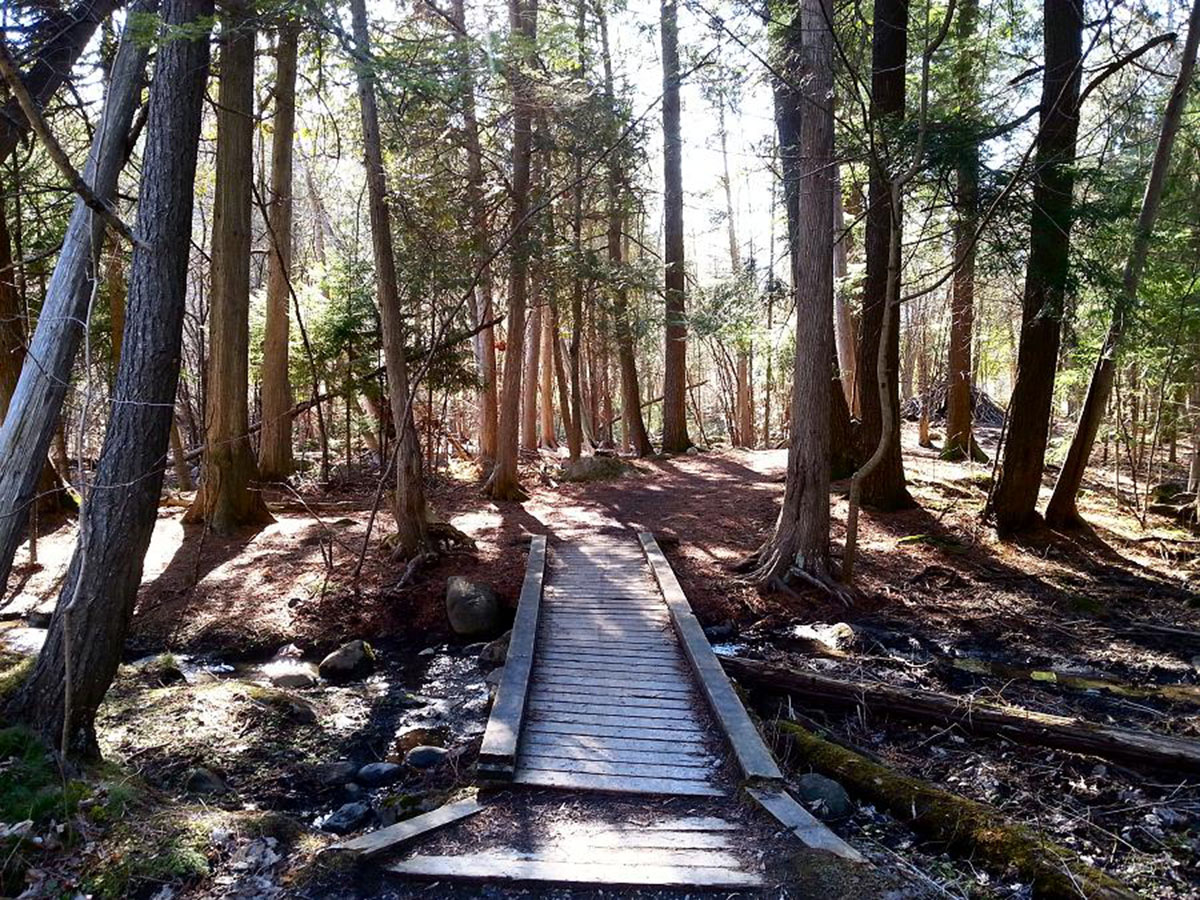 Along the shores of Jackson Creek in Jackson Park. Image © Ancient Forest Exploration & Research.
TCAT and GreenUP held participatory planning workshops and gathered feedback that would influence design interventions leading to active public places encouraging healthy, sustainable lifestyles. Statistics representative of income groups, population make-up and housing situation were tabulated that informed the nature of co-design engagement activities within Jackson-Park Brookdale.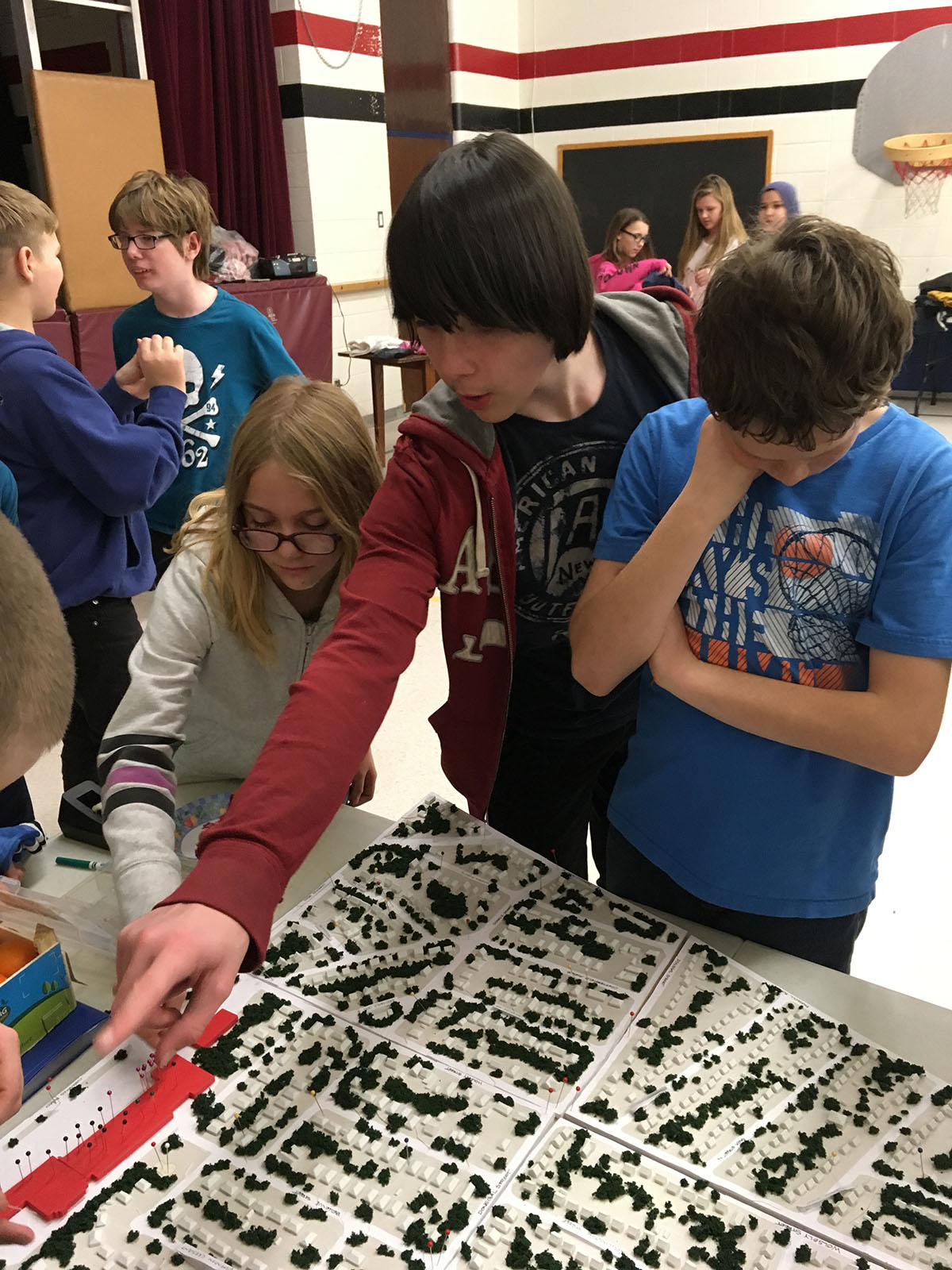 Participatory Planning Workshops being held at the Highland Heights Public School pop-up. Image © Tessa Nasca.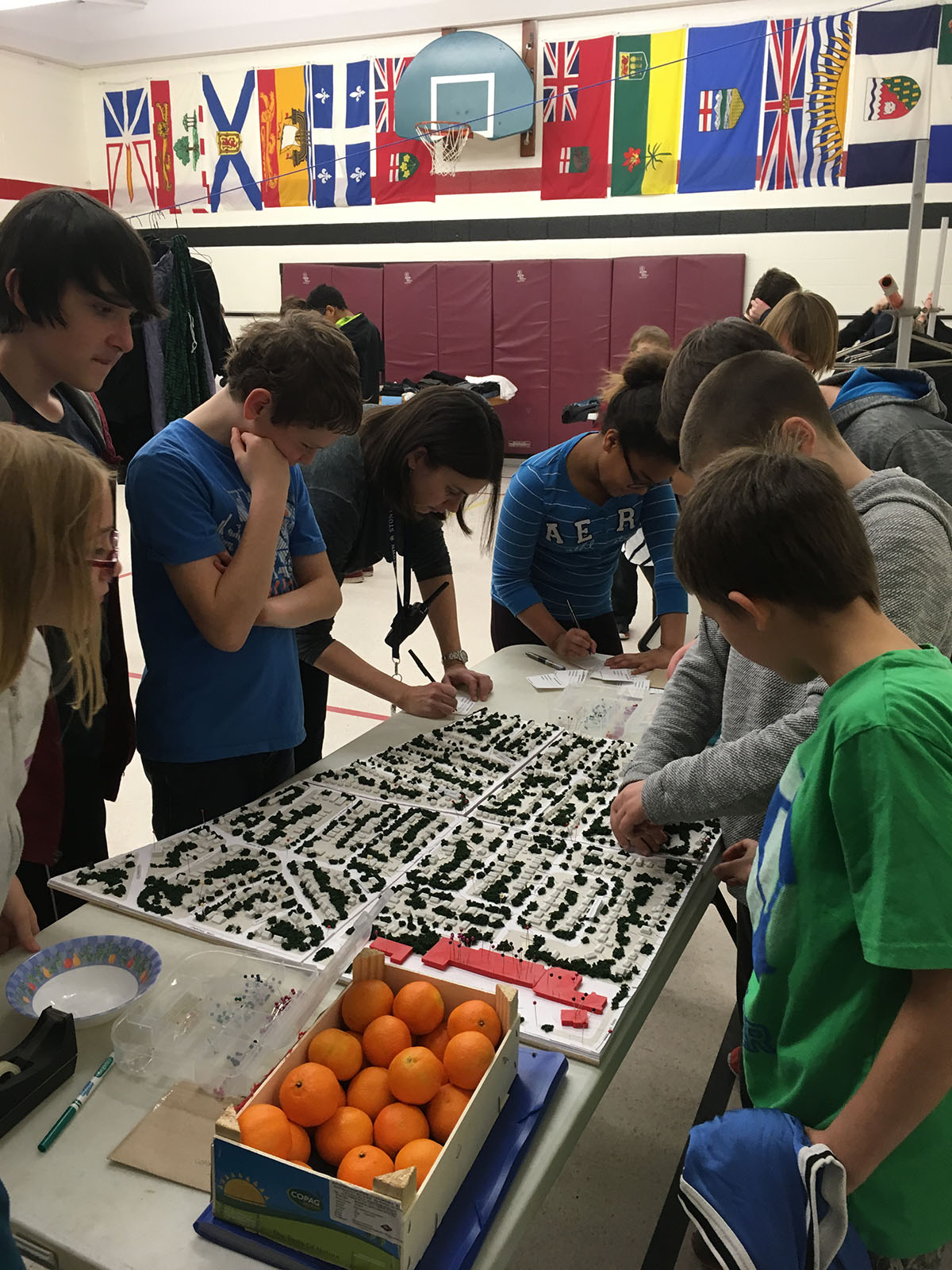 Mapping Design Interventions through the neighbourhood at the Highland Heights Public School pop-up in Peterborough. Image © Tessa Nasca.
Mapping assets and hotspots was the next step to keeping the themes of 'enhanced community connectedness and safer, accessible streets and sidewalks' alive. Design principles were then discussed and validated thereafter at a Citizens' Open Forum. Some of those included greening the neighbourhood and making it more children and aged friendly.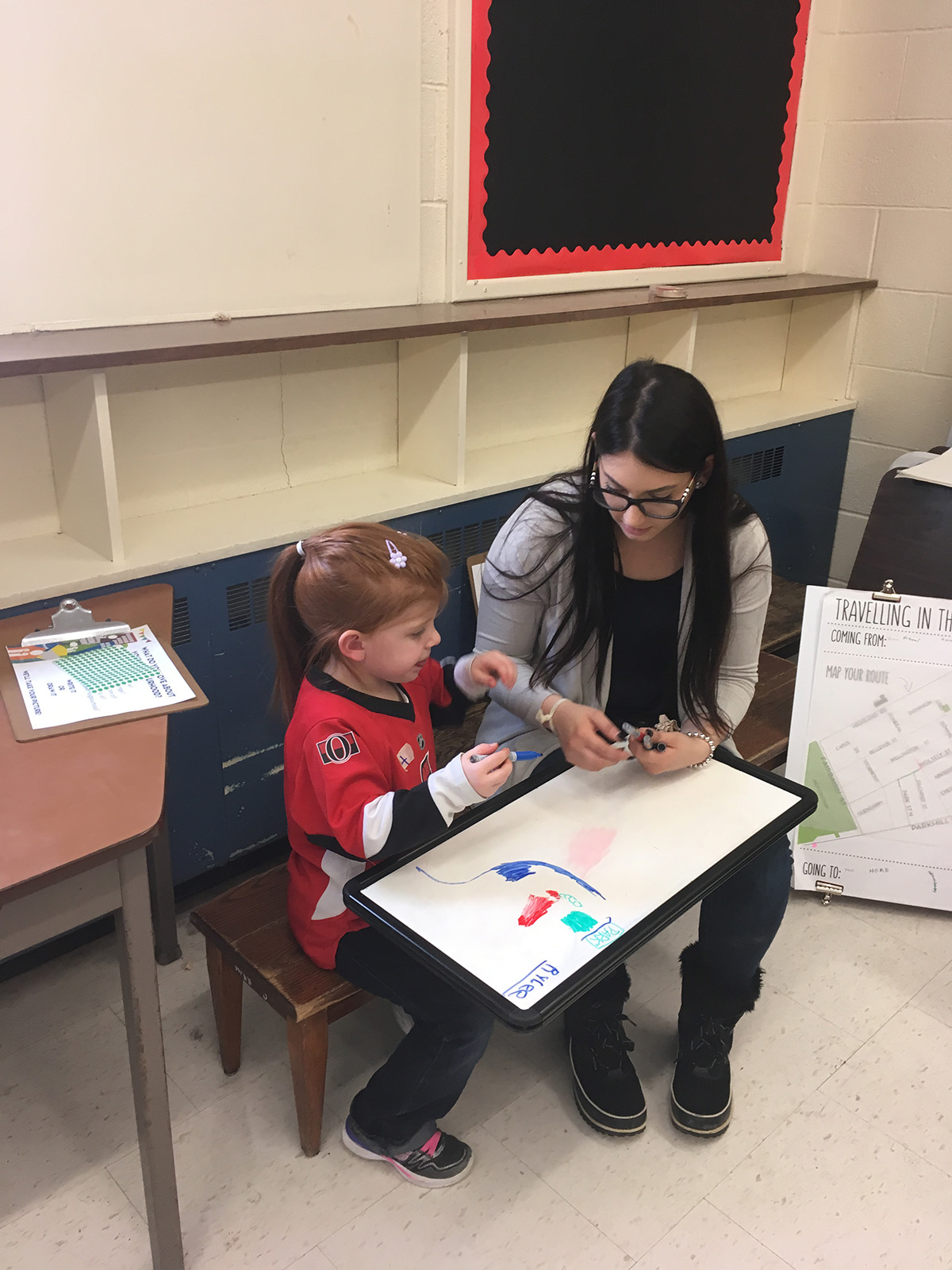 Approach to Participatory Planning by adopting child-friendly design measures. Image © Tessa Nasca.
Suggestions being recorded at the Jane's Walk held in May, 2018. Image © Tessa Nasca.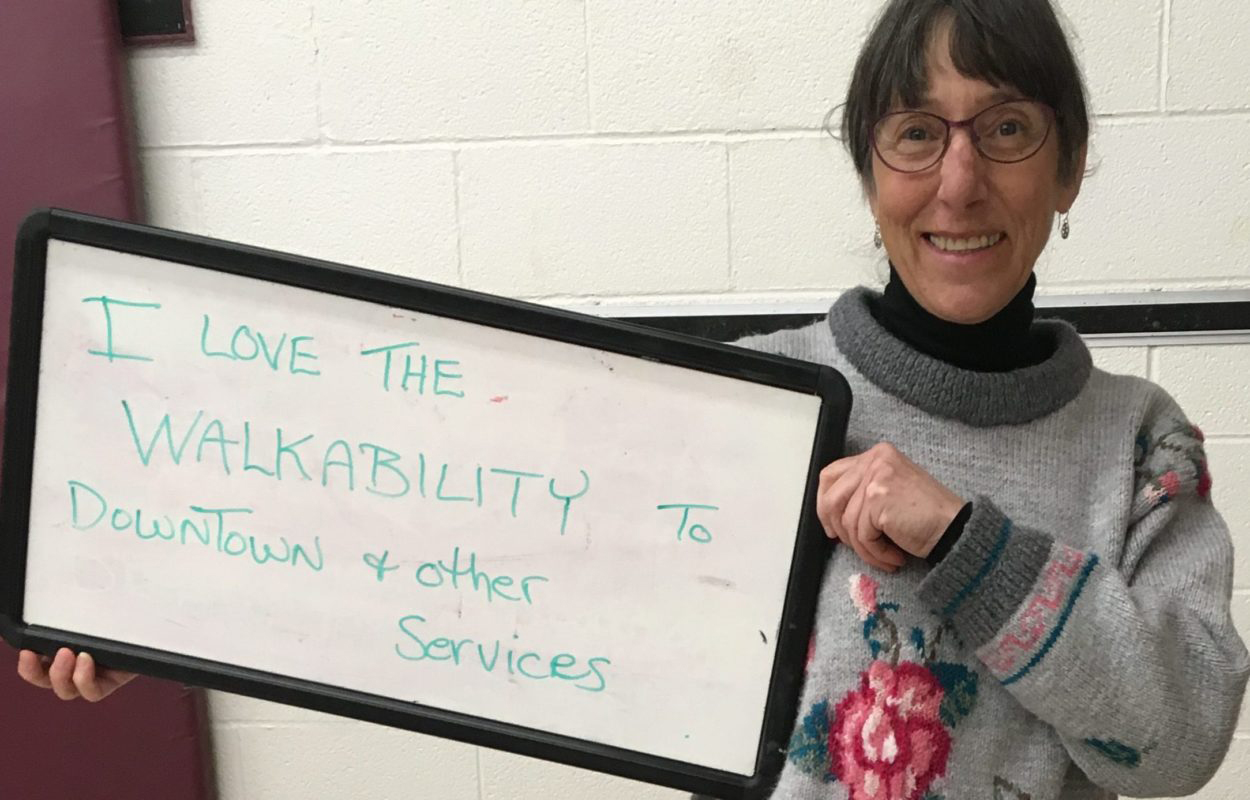 A Peterborough resident envisioning how she wants her public realm to look like. Image © Tessa Nasca.
Planning Policy
This exercise is then tied up with planning policy, so that residents' visions for their neighbourhoods are linked with relevant supportive policies. The Official Plan of the City of Peterborough sets the tone for how the city is to develop until the year 2041. The policy, in plain and simple terms, supports the vision of the neighbourhood. The Official Plan summarizes that the city is to be used by everyone belonging to the community and that accessibility is an absolute must in order to be deemed a healthy city.
As Jane Jacobs, the distinguished thinker and advocate of responsible planning, very rightly said, "Cities have the capability of providing something for everybody, only because, and only when, they are created by everybody." Cities and neighbourhoods should not resist change; communities should, in fact, reflect the perspectives of everybody using the space.
References:
TCAT et al. "A Vision for the Jackson Park-Brookdale Neighbourhood, Peterborough, Ontario"
Active Neighbourhoods Canada. Codesigning the Active City.
Top Cover Image: Inclusivity and integration in planning by involving all members of the community. Image © TCAT.