Jun Aoki & Associates designs Louis Vuitton's new Osaka store with light and airy glass sails
French fashion brand Louis Vuitton has opened its new flagship store in the Midosuji district of Osaka, Japan.
The new store, designed by Japanese architecture studio Jun Aoki & Associates in collaboration with Peter Marino for the interior design of the store, features a series of light and airy curved glass sails.
Named Louis Vuitton Maison Osaka Midosuji, architect Jun Aoki, who is known for his work on a number of landmark Louis Vuitton stores in Japan and around the world, including New York's Fifth Avenue Maison, takes cues from Osaka's history as a sea-faring city.
For this reason, Aoki imagined a light and airy white structure inspired by the traditional Higaki-Kaisen sailing boat and its billowing sails. Visitors who walk on the street first perceive the a sculptural form of the facade which endlessly extends to the sky. At night, these glass sails blow up the building with its play of shadow and light.
Using the purity of the façade, this act is reinforced by the use of metal fretwork motifs at ground level, giving the impression of a ship floating on water.
The design of the façade also allows for the optimal use of natural light. By illuminating the different levels, the store breathes the city's energy, while offering clients a sense of calm and respite.
Reflecting the nautical spirit of Osaka throughout the building, on the ground level the new store also welcomes a new cafe, named Café V, the first ever Louis Vuitton café, as well as its first restaurant, Sugalabo V, offering cuisine with Franco-Japanese influences.
In the interiors, American architect Peter Marino tried to achieve a dialogue between Louis Vuitton and Japan. Visitors are welcomed with colourful interiors with a playful attitude over several garments.
"Over four levels, the style that has made the trunkmaker renowned around the world blends harmoniously with Japanese materials imbued with centuries of tradition, such as woodwork and origami washi paper," stated the Louis Vuitton.
"Vast spaces are worked in subtle contrasts to elegantly marry spectacular halls with intimate spaces."
"The multiple spaces also evoke Louis Vuitton's commitment to supporting the arts."
"Twenty contemporary artworks curated by Peter Marino are featured alongside vintage Louis Vuitton trunks, creating a contemplative conversation between past and present. Bursts of color in works by Vik Muniz, Polly Apfelbaum, Kimiko Fujimara and other artists offer a counterpoint to the building's sleek lines," it added.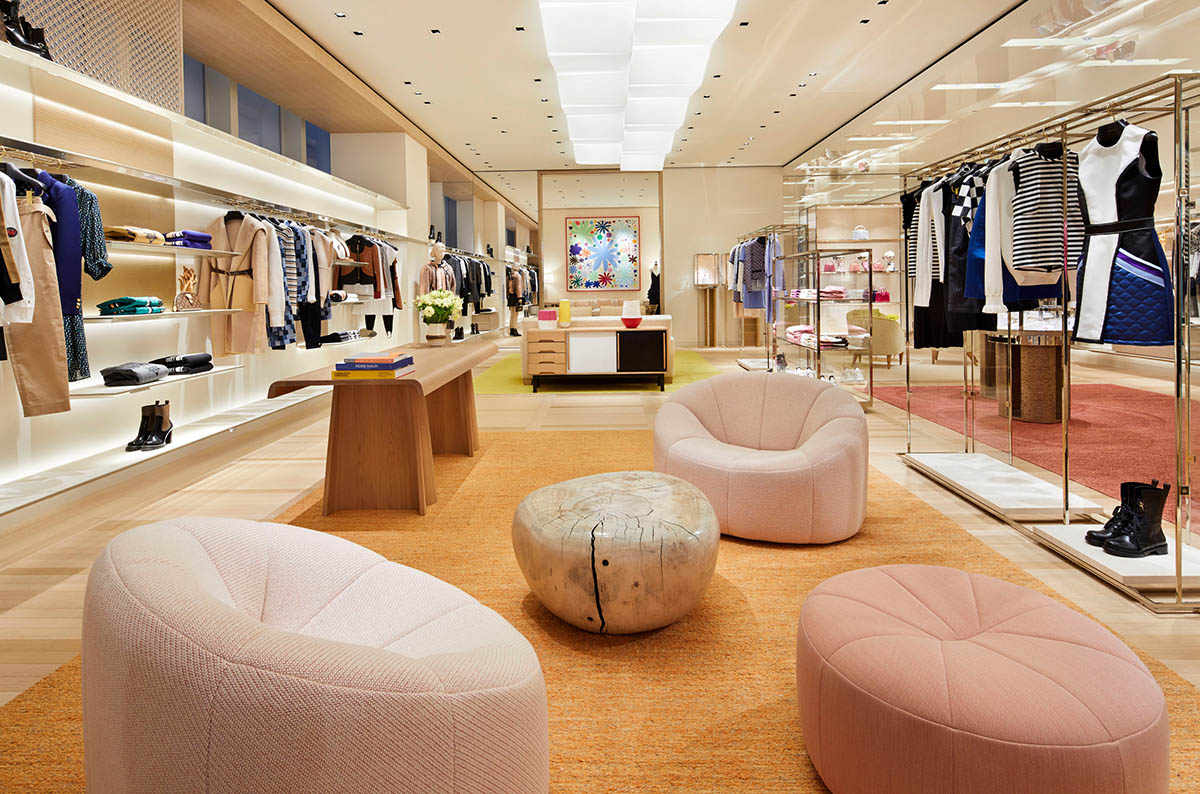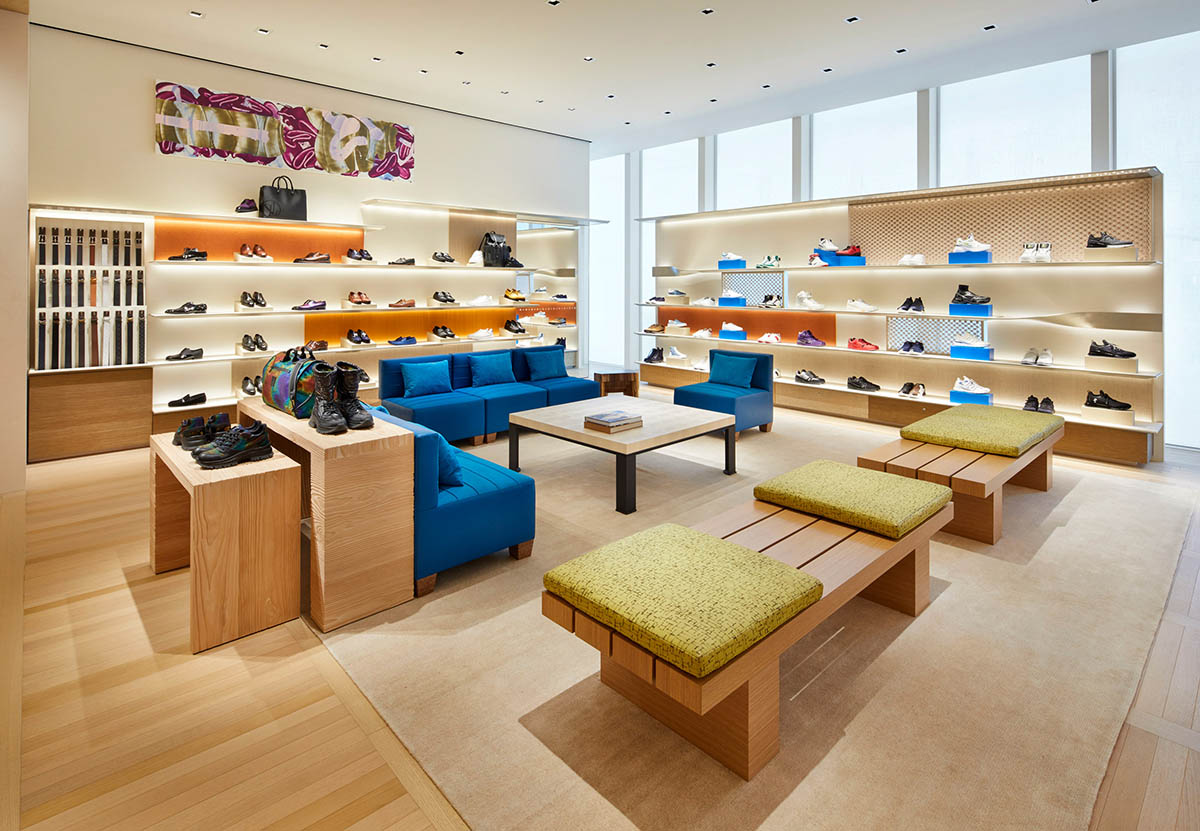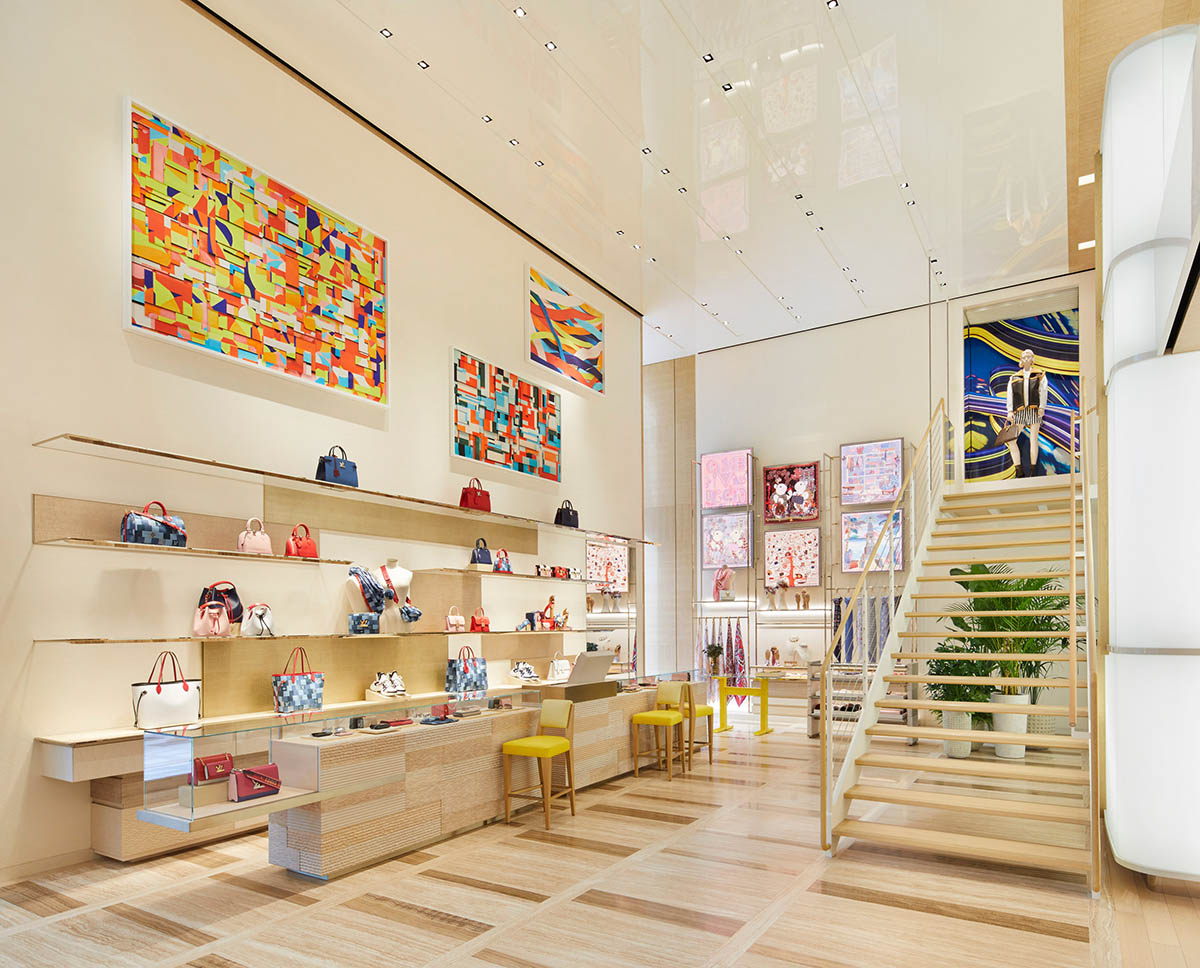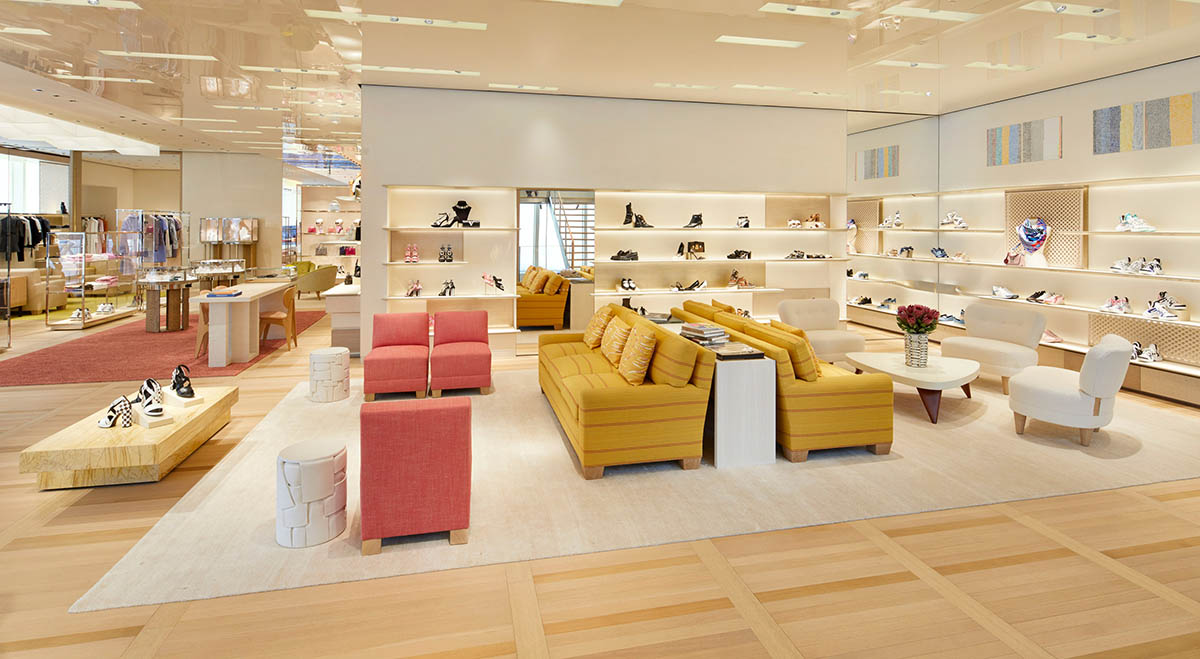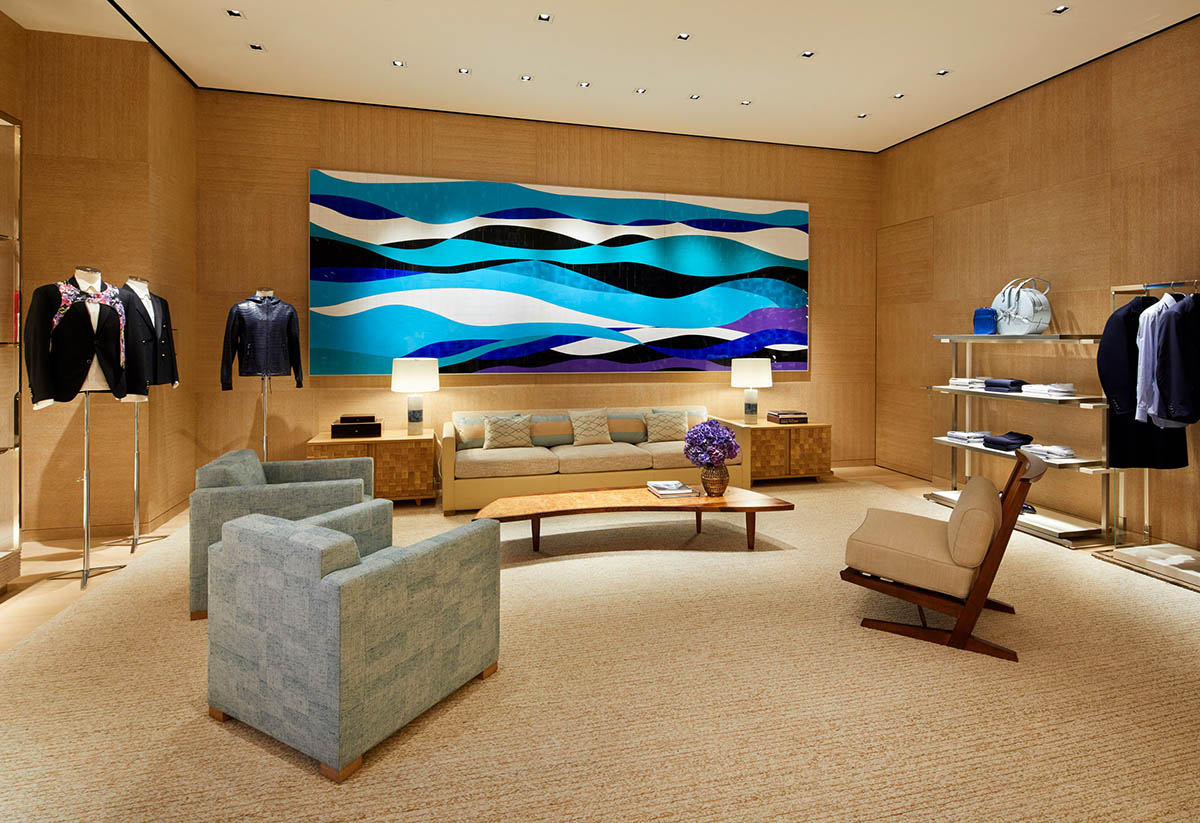 With its never-ending embrace of innovation, Louis Vuitton has opened its first café and first restaurant on the top floor of the new store in Japan.
The Café V spans a vast terrace, a bar and the exclusive Cocoon Room. There is also a discreetly concealed door to the Sugalabo V restaurant, proposing a unique dining experience.
Both the café and restaurant are overseen by Japanese chef Yasuke Suga, a protégé of Joël Robuchon whose Tokyo restaurant Sugalabo topped 2019 world's best restaurants ranking by "La Liste".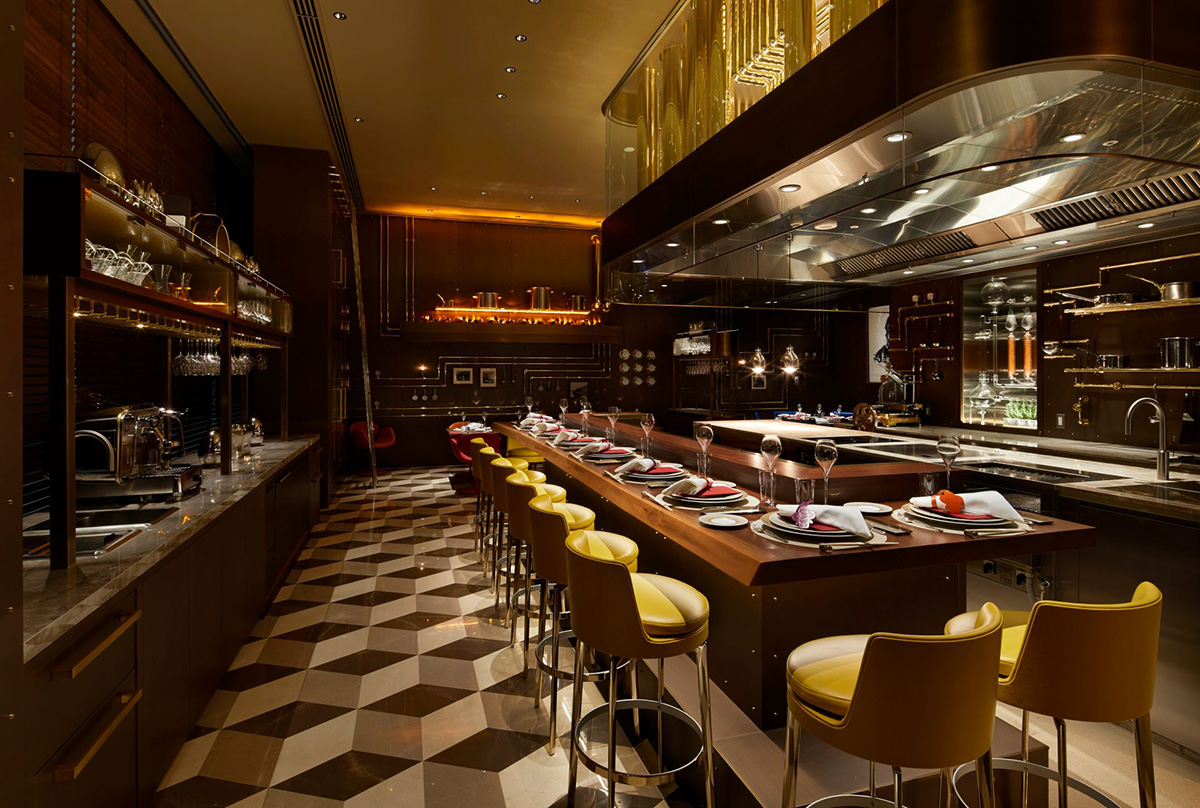 At the Louis Vuitton Maison Osaka Midosuji, Yasuke Suga proposes a cuisine that melds both French and Japanese inspirations, featuring the vast diversity of Japanese products.
Frank Gehry recently completed the new store of Louis Vuitton in Seoul, South Korea with fluffy glass structure. Peter Marino also renovated Louis Vuitton's London Store with channelled and colourful explosion.
All images courtesy of Louis Vuitton
> via Louis Vuitton