CHIZA architectural bureau unveils design for the new Baku Banquet Hall in Azerbaijan
Baku-based architecture studio CHIZA architectural bureau has unveiled design for the new Baku Banquet Hall in Azerbaijan.
CHIZA Architecture Bureau, founded by Chingiz Agharzayev and Zaki Jabiyev, has developed a multifunctional building that follows the same architectural language "deconstruction style" with the Heydar Aliyev Center and Baku Congress Hall in which the proposal will be close to these buildings.
Dubbed as Banquet Hall, the 7,121-square-metre building is located on the Aladdin Guliyev street. The project is designed to become a multifunctional building, where various events, such as exhibitions, meeting, concerts, conferences and so on will hold.
The building consists of three floors and has underground parking, which places 183 cars. The main hall area is 1500 square meters, that can accommodate up to 1100 people.
The volumes are dressed by porous cooper skin in a repetitive layout in order to achieve lightweight construction. The ceiling high is 12,5 m. This hall can transform from one purpose to another easily. The lighting and decorations can be removed and changed. The project has a form of displaced cubes.
The finishes are perforated copper panels, which are fixed in the way to leave empty spaces between panels and walls.
"Because of lightweight construction of a facade, the building seems airy. The main difficulty of the project is that it was designed on the frame of unfinished building," said CHIZA architectural bureau.
"In order to create our new project based on the frame of the old building, the full analysis of the existing frame was done taking into consideration construction features," added the firm.
The roof structure is provided with a 100 KG/sm hanging capacity for temporary lighting, decoration, exhibits, etc. A demountable stage is provided for "drive in" access to the hall from exterior service staging yard. The Baku Banquet Hall is to be a comprehensive facility which will cater to the Baku social and business market.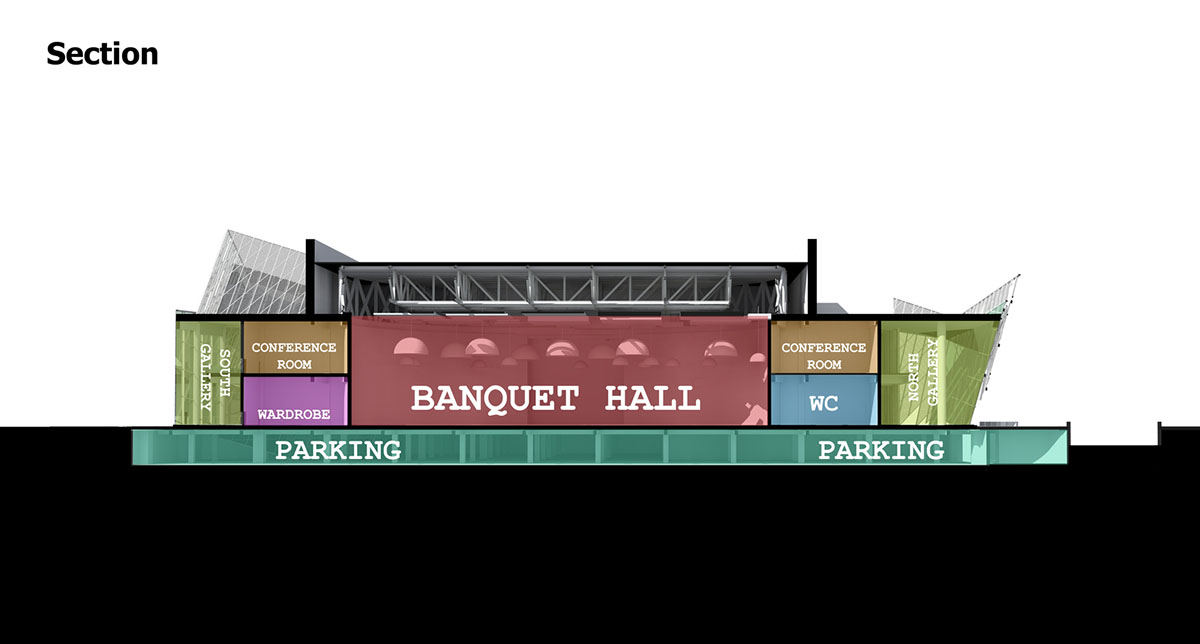 Project facts
Project: Conception of the Baku Banquet Hall on the Aladdin Guliyev street
Typology: Banquet Hall
Address: Baku, Azerbaijan Republic
Architects: Chiza Architectural Bureau
Client: Kontinent İnshaat
Creative team: İskenderli F. Amirahova G.
Graphic design: CORNER VISUALS
Stage of the project: Architectural project
Project Year: 2017
Total Size of the area: 3.60 Ha
Construction area of the object: 7121.30 m²
Total area of the object: 21606.50 m²
Total underground area: 8083.30 m²
Total overground area: 13523.20 m²
Building volume of the object: 134032.75 m³
Number of car places in the underground parking: 183
Number of floors: 3
Maximum height: 24.80 m
Total area of landscaping: 2.10 Ha
Awards: "ZOLOTAYA KAPİTEL" Experts' diploma of the II degree, Russian Federation, 2019 "ZOLOTAYA KAPİTEL" Silver diploma, Russian Federation, 2019
All images courtesy of CHIZA Architecture Bureau