Submitted by
Frank Gehry's Guggenheim Abu Dhabi is set to Commence Construction Soon
Frank Gehry's long-awaited Guggenheim Abu Dhabi is set to commence construction on the capital's Saadiyat in the Island Persian Gulf. The project was first announced in 2007 but it had many delays over a decade in the making process.
After a decade, the massive and fragmented project is "on track and budget", according to Richard Armstrong, director of the Solomon R. Guggenheim Foundation and Museum in New York.
Armstrong told Euronews in an interview that the project is on track and on budget, and its construction will be commencing soon and will take approximately 4 years to complete.
Situated next to the Louvre Abu Dhabi by Jean Nouvel, Gehry's building is comprised of a series of cubic boxes directed to different sides of of the island, with cone-shaped porous volumes scattered randomly. Bigness and complexity of the projects were also the key factor to delay construction and move forward, according to Armstrong.
"It's a big building, parts of it are quite complex and it should take a little bit of time to put together as it's also quite large," added Armstrong.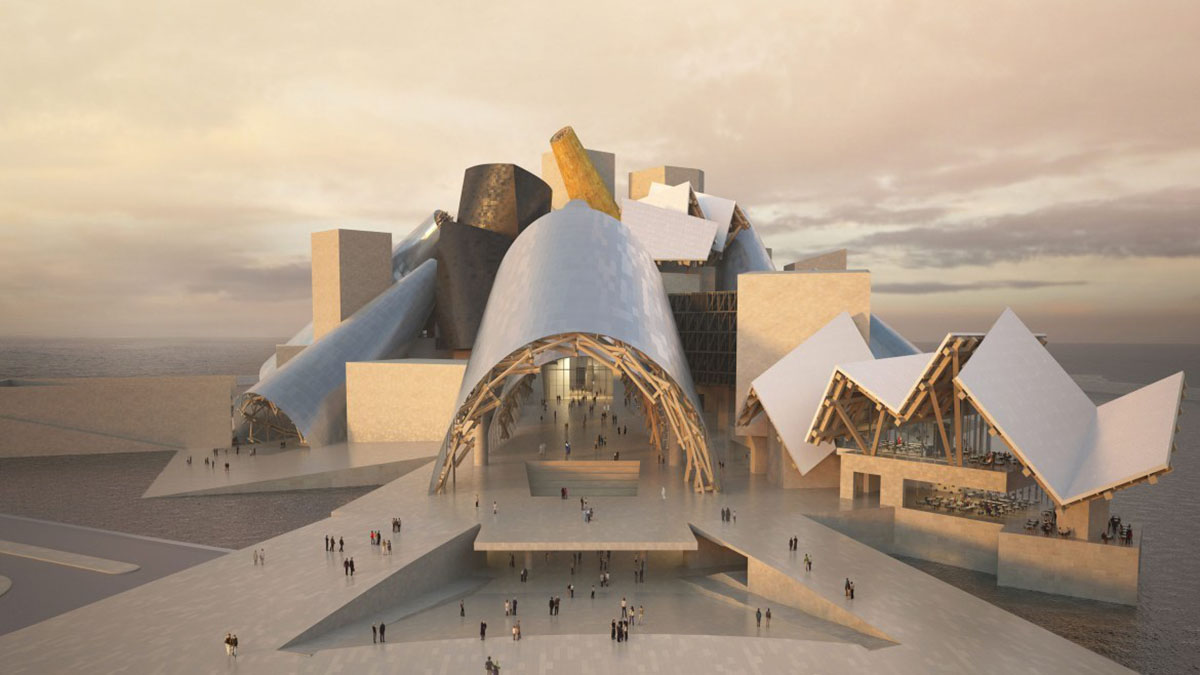 Once construction is completed, Armstrong added that the Guggenheim Foundation's efforts in Abu Dhabi would focus on making sure the museum was on the right creative path. "[It] will really consume all of our energies over the next 10 years I reckon," he added.
Guggenheim Abu Dhabi will be a transnational museum dedicated to contemporary art and culture and will present to the world some of the most important artistic achievements of our time. The museum's distinctive cones recall the region's ancient wind-towers, which both ventilate and shade the exterior courtyards in a fitting blend of Arabian tradition and modern design.
The building will have spectacular views of the Saadiyat Cultural District and Arabian Gulf in its prominent location surrounded almost entirely by water.
"We've been working with our colleagues here to put together what we think is really the first global collection after 1965," the director added. "We'll be seeing important examples of work from all parts of the world, mostly in the wake of Pop Art."
The museum will also feature paintings and sculptures designed by younger artists, as part of the collections, with larger works being elevated for best effect.
"On the top floor, in particular, we expect to have very overscaled interesting works by the likes of James Turrell or Ernesto Neto or Monika Sosnowska from Poland," Armstrong explained.
The building will include a 350-seat theatre, a library, a research centre and F&B and retail outlets, 13,000 square metres of gallery space and 18,000 square metres of exhibition space. The Guggenheim Abu Dhabi's permanent collection will celebrate the very finest examples of global art dating from the 1960s to the present day.
Through a comprehensive series of collections, exhibitions, and educational programmes, the Guggenheim Abu Dhabi will identify unique contributions to this period in history. It will move beyond a definition of global art defined by geography by focusing on the interconnected dynamics of local, regional, and international influences.
The museum will provide significant space for its permanent collection and special exhibition galleries along with art education facilities, a theatre, a library and a research centre plus a retail store, a restaurant and several cafes.
The UAE houses many migrant workers who work for the construction under daily wages. The construction of the Guggenheim Abu Dhabi was also on the same critical line in which many protests complaint about the abuse of labor works.
All images courtesy of Gehry Partners, LLP
> via Euronews