Dialogue with the Machine Age - Arctangent Presents A New Renovation Project in Taiwan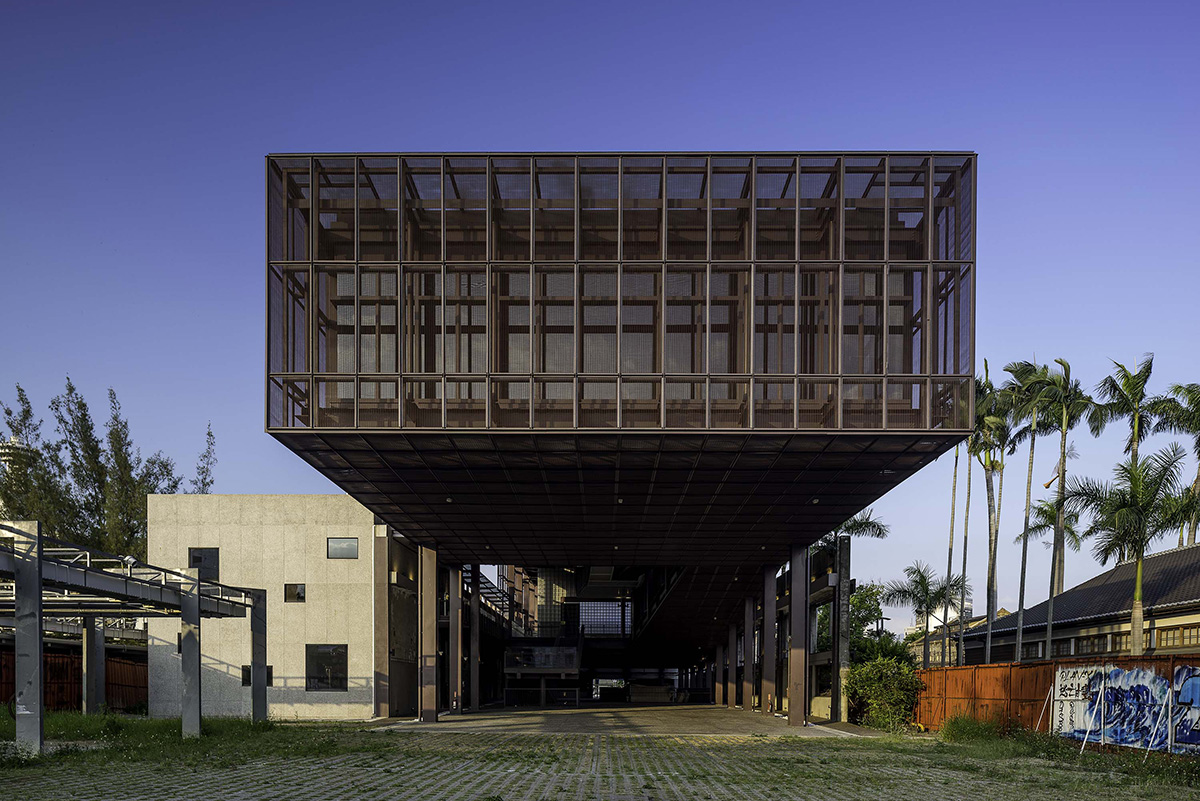 Taipei young architecture firm Arctangent Architecture + Design has successfully converted old brewery factory into an exhibition hall in the middle region of Taiwan. The Taichung cultural heritage park was originally built in 1916 as brewery factory during the Japanese occupation period of Taiwan. It was 1998, when the urban sprawl of the city lead to relocation of production lines elsewhere. Its eighty-two-year-old industrial plant was an urban giant and waiting for new definition. In 2002, the Taichung City Government designated 16 out of 28 buildings in the area as historic monuments. Serval buildings got preserved and rehabilitated for art exhibition and performance venue. Most of them trying to mimic the old for bring the past to present.
On the contrary, Arctangent is interested in building spaces for bridging the gap between past and future. Optimizing the central location of existing building, a new roofed courtyard is created as a viaduct to connect adjacent neighborhood park. New ramped gallery forms a new roof to old space, together with sunken pitch for displaying existing machinery; a three-dimensional viewing experience for viewer helps one to understand the special relationships between new and old, conscious and subconscious, and programmed and accidental endeavors.
Aerial photo
Model a plug-in vessel
Dialogue between old and new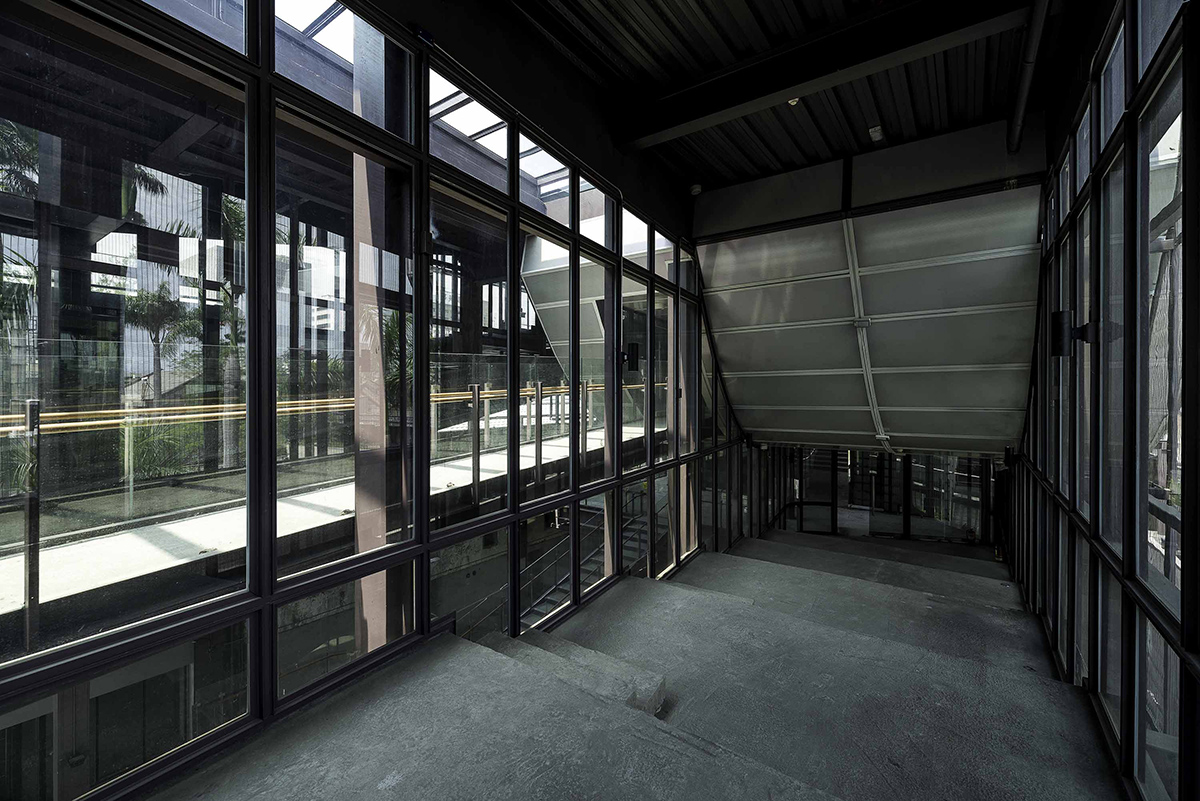 Ground floor open up to the south
Night time view to the concourse
Concourse
The arrangement and design of building sections play important role for space organization and experiential sequence. Layering, weaving, and juxtaposition are keywords for designing of space and form. Viewers experience the spaces through movements. What Arctangent expected was a dialogue between one's perception of the layering of spaces in totality and one's relation to the heritage park as promenaded. A rich and complex viewing experience and cognitions enhance one's understanding between new and old, private and public, and formal and informal.
Longitudinal section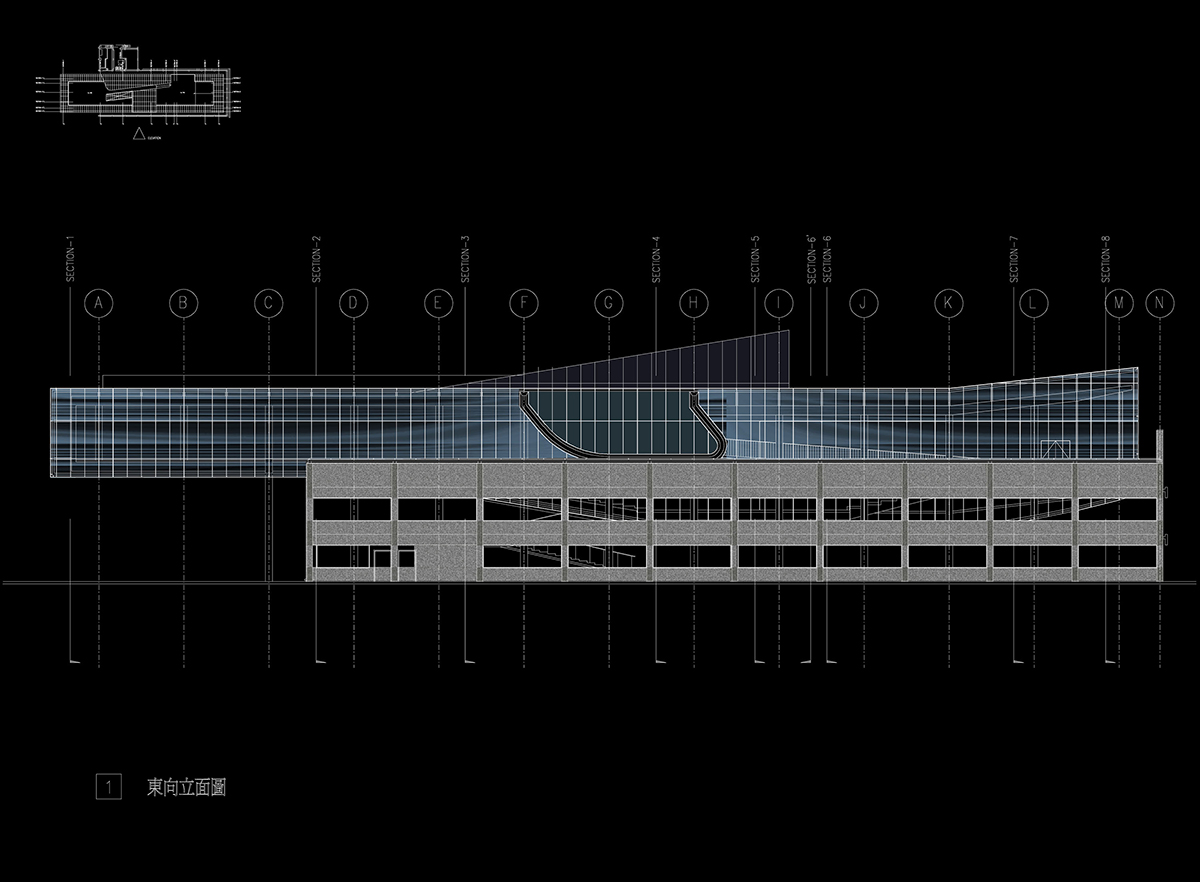 East side elevation
Section shows vertical circulation and remped gallery
Section shows the main program space
Night time view of new roof and its surrounding
Night time view from above
Project facts
Project Name: R04 Building in the Cultural Heritage Park
Location:Taichung City, Taiwan
Designed years: 2006-09
Completed year: Jun 2015
Architect: Arctangent Architecture + Design, Taipei
Partner in charge : Chiakai K Yang ( RA New York City ) + Yu-Chin Chen
Project Team: Fan Shu-Ya, Wang Ying-Ching, Chou Jung-Chin, Hsu Chieh-Wen, Kuo Chao-Min, Chiang Chiao-Ming, Chen Wei-Ying, Chen Chin-Piao
General Contractor: Jiangxing Construction Co., Ltd.
Technical Data: Steel frame, metal mesh, aluminum extrusions, Glass
All images and drawings © Arctangent Architecture + Design
All images and drawings courtesy of Arctangent Architecture + Design