Creative Group Unveiled Passenger Terminal Building For Kartarpur Corridor Between India & Pakistan
Creative Group, a New Delhi-based leading architectural firm, has unveiled the design of Passenger Terminal Building for Kartarpur Corridor between India and Pakistan. A state-of-the-art terminal building has been planned on a plot of 15 acres at Dera Baba Nanak in Gurdaspur District of Punjab on the Indian side of the Kartarpur Corridor. The Land Ports Authority of India will be constructing this project at an estimated cost of ₹ 190 Crores. The construction is expected to be completed before the 550th birth anniversary of Guru Nanak Dev, the founder of Sikh Religion, in November 2019.
Kartarpur Corridor has been planned and approved in November 2018 by both the governments of India and Pakistan. This is a step towards spreading universal message and teachings of great guru in terms of creating peace, harmony, and unity amongst all in general and between two countries in particular. About 6-km long corridor (4 km in Pakistan and 2 km in India approximately) will connect historic gurdwaras of Dera Baba Nanak in Gurdaspur District of Punjab (India) with Gurdwara Darbar Sahib, Kartarpur in Narowal District of Punjab (Pakistan).
Location map of Kartarpur Corridor. Google image.
Due to the partition of India, and creation of Pakistan in 1947, many historic Sikh shrines were left in Pakistan. Sikh community in India and abroad was finding it difficult to visit these shrines due to visa-related hassles. Gurdwara Darbar Sahib at Kartarpur in Pakistan is the nearest Sikh shrine from the Indo-Pak border. Kartarpur is the place where Guru Nanak Dev resided during the last 18 years of his life, and it is the final resting place of the guru also. Sikhs used to have a glimpse of this holy shrine through binoculars installed at Dera Baba Nanak.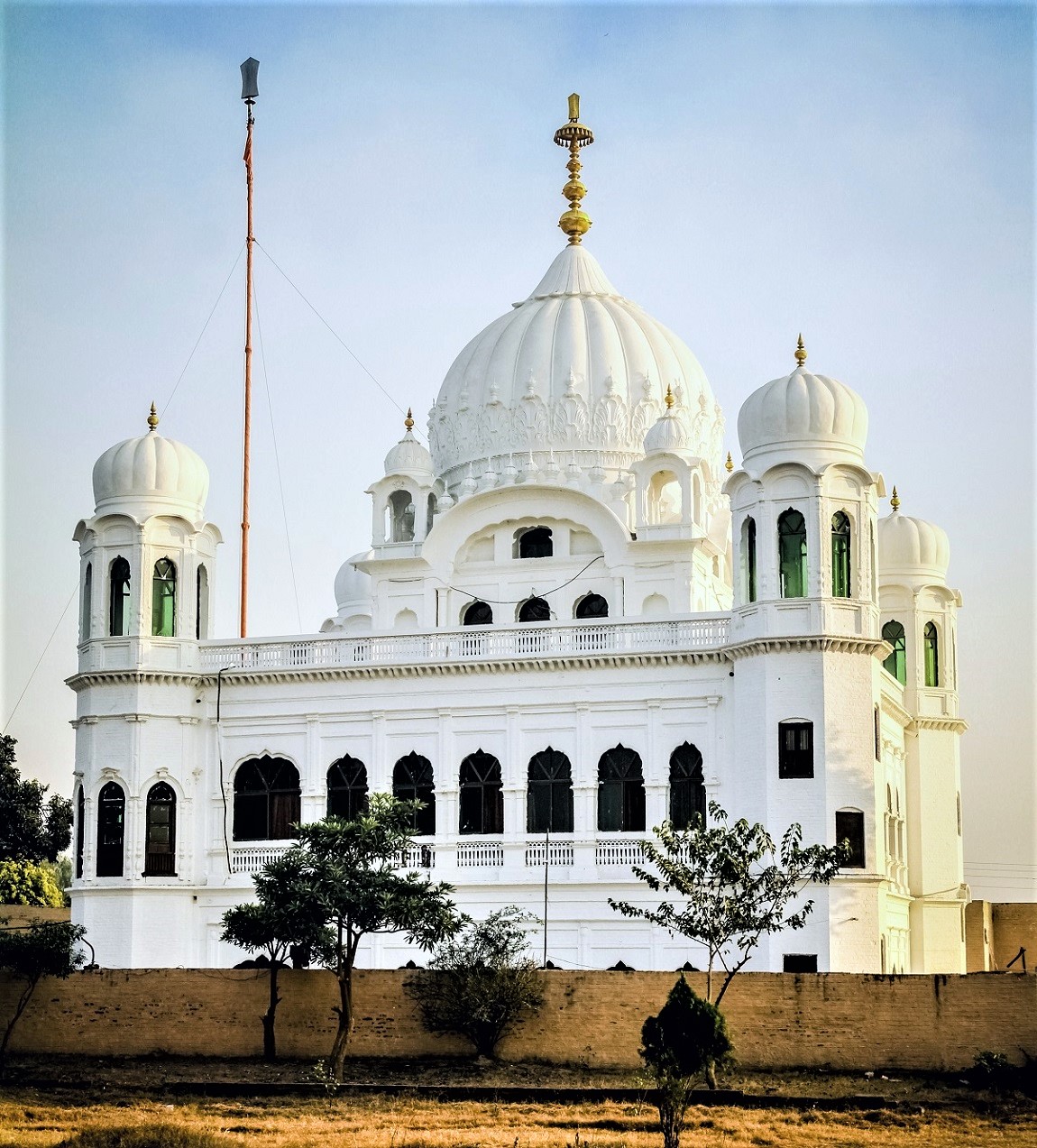 Historic Gurdwara Darbar Sahib at Kartarpur, Pakistan. Image courtesy of Wikipedia.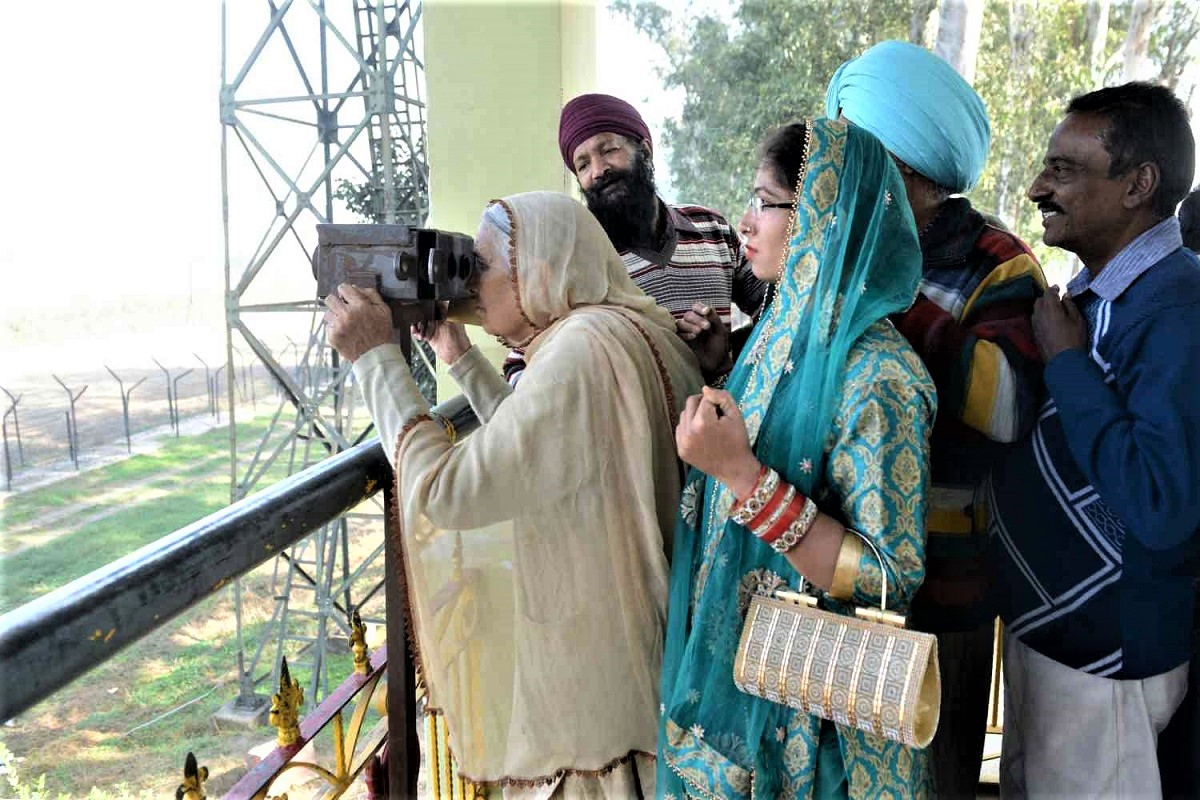 Sikh devotees having a glimpse of Gurdwara Darbar Sahib, Kartarpur through binoculars. Image courtesy of scroll.in
It was thus, a long-standing demand of Sikh community to provide a hassle-free corridor to Gurdwara Darbar Sahib at Kartarpur in Pakistan so that the devotees can visit the place conveniently and without facing visa-related issues. Now with the approval to provide corridor by both the governments, the Sikh community is delighted and excited to visit Gurdwara Darbar Sahib, Kartarpur on the occasion of 550th birth anniversary of Guru Nanak Dev in November 2019.
The foundation stone of the corridor was laid down on the Indian side on November 26, 2018, by the Vice President of India, Venkaiah Naidu. While on the Pakistan side, the foundation stone was laid by the Prime Minister of Pakistan, Imran Khan on November 28, 2018. Ever since the foundation stones were laid, the construction work is going on in full swings in both the countries.
Aerial view of Passenger Terminal Building at Dera Baba Nanak.
The proposed Passenger Terminal Building shall have a built-up area of about 21650 square metres in the first phase. It is planned to provide adequate immigration and customs clearance facilities to process the smooth movement of approximately 5000 devotees per day. The building shall be fully air-conditioned and disabled-friendly. Apart from the other facilities, the complex will include kiosks, cloakrooms and adequate parking space.
The second phase of the complex will cover the development of the visitors' gallery, a hospital, accommodation for devotees, and other necessary amenities. It will occupy an area of 35 acres in addition to 15 acres in the first phase.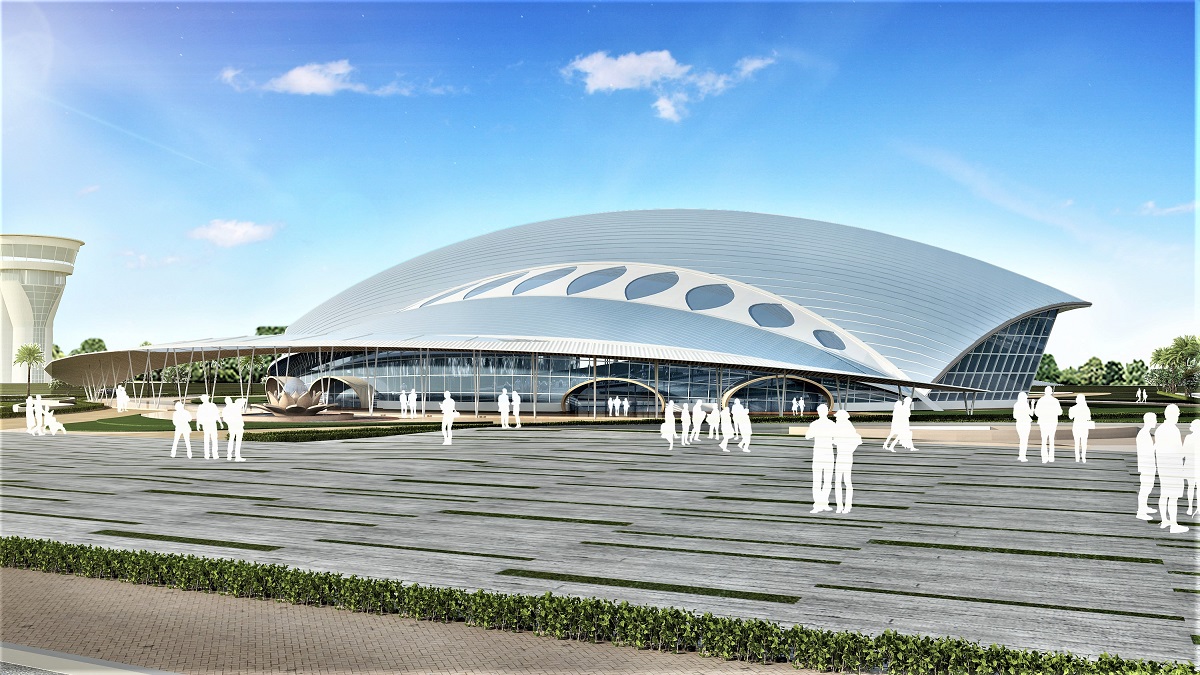 The Creative Group's Principal Architects Charanjit Singh Shah and Gurpreet Singh Shah have visioned this dream project as a physical homage to Guru Nanak Dev. They endeavoured to create the sensitivity of art and architecture in symbolising the universal message of oneness of humanity through various elements.
The design of the Passenger Terminal Building has been inspired by Guru Nanak's universal message of oneness of God and Truthful living. Two important elements of design are 'Wall of Pride' and 'Wall of Unity'. These elements will depict Guru Nanak's journeys (Udasis) in India, Pakistan and many other countries of the world.
The built-form, originating from the religious symbol - Khanda - of Sikhism, gives a unique identity to the Terminal Building. Gateway to the complex is crowned by five petals which symbolise five Vows of Sikhism.
All images courtesy of Creative Group except where mentioned.
> via inputs from the Creative Group.