Six individual pod-like villas built on a steep hillside are made of local sources of Rwanda
South African architecture firm Nicholas Plewman Architects has completed new luxury pod-like villas on a steep hillside of Rwanda, 6-room individual villas are built from local sources of Rwanda to provide a very light footprint and suggest the appropriateness of pod like structures that are pinned to the site rather than being more heavily embedded.
Located in a conservation site of Rwanda - next to the Volcanoes National Park, the new luxury resort were designed for Wilderness Safaris, the continent's widely acclaimed ecotourism operator, to introduce the area's wild and worth-preserving nature to rural people.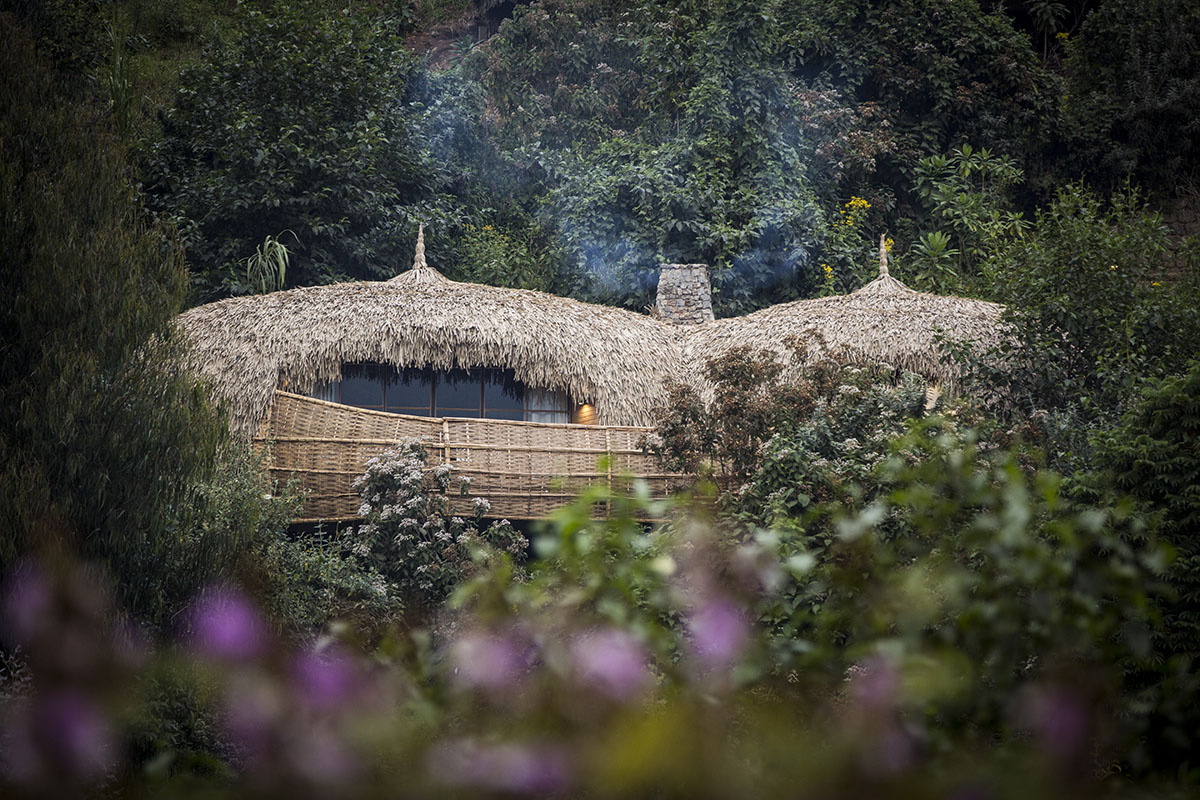 Named Bisate Mountain Gorilla Lodges, the villas offer 9 rooms with bedroom, bathroom, a fireplace, reception area and a private deck. Each villa occupies a 92-square-metre space with their irregularly-designed windows and thatched roofs, while presenting an amorph layout raised above steel stilts.
The nature of the land has volcanic soils, heavily tilled in the past by small scale farming, are soft and fragile. This and the extreme slope define the form of the structures and how they will be installed on site.
Referring to the traditional architecture of Rwanda, Nicholas Plewman explained that "the heritage of pre colonial Rwandan building tradition exemplified in the Royal kraals. These spherical thatched structures are richly detailed particularly in the interior where surfaces and screens are made from a variety of woven materials."
"Thirdly, perhaps most important but least tangible is the inspiration of the great apes themselves. Crude as the nests are that they build for themselves, they speak to the higher primate yearning for shelter, place making and comfort that drove their evolutionary relatives, our own ancestors, to create dwellings from materials to hand," said the architect.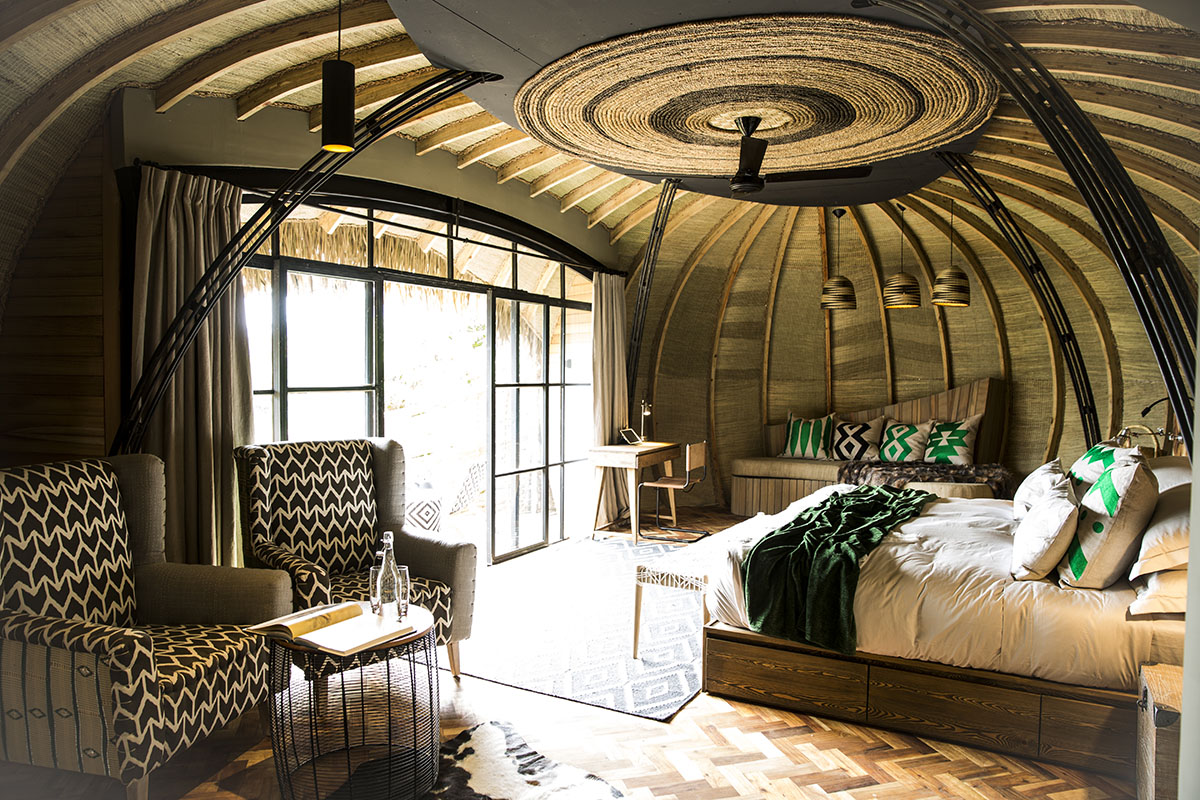 The buildings of Bisate will weave these three conceptual threads together literally.
"We have replaced thatch with timber shingle for reasons of functional durability. The outer shingles clad a basket frame roughly and shaggily, evocative of the jungle. Inside, timber, shingles, basket weave and even banana bark are layered to alternatively conceal or reveal the timber structure," he added.
"On the slopes of the Virunga mountains a crude stone wall has come to define the edge between intensive human development and the last jungle vestige of our primoridial past."
"Implicit in the whole development of Bisate is the notion of bridging that divide. It is hoped that the architecture physically and symbolically reinforces that idea."
The Bisate Lodges were completed in June 2017 and are operated by Wilderness Safaris to offer private access to Rwanda's finest wildlife and wilderness areas, overlooking the peaks of the volcanoes Bisoke, Karisimbi and Mikeno and rearing up through the Afro-alpine forests of nearby Volcanoes National Park.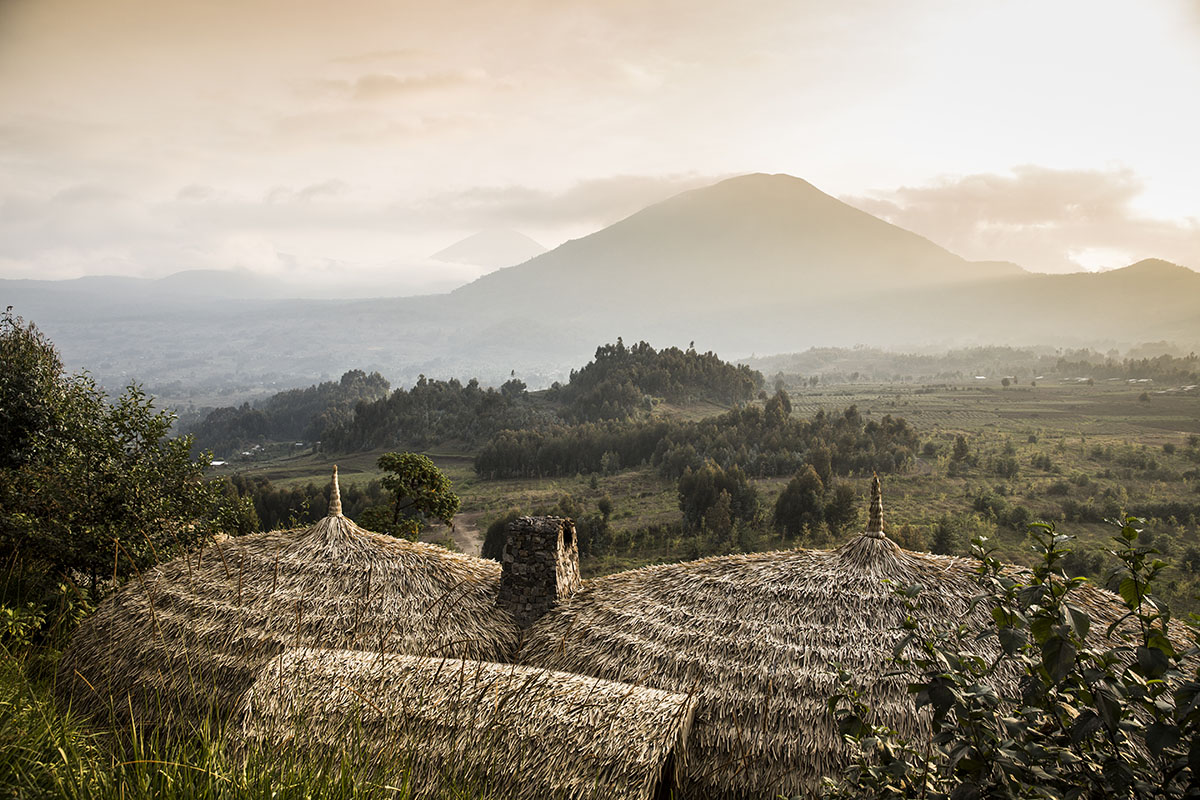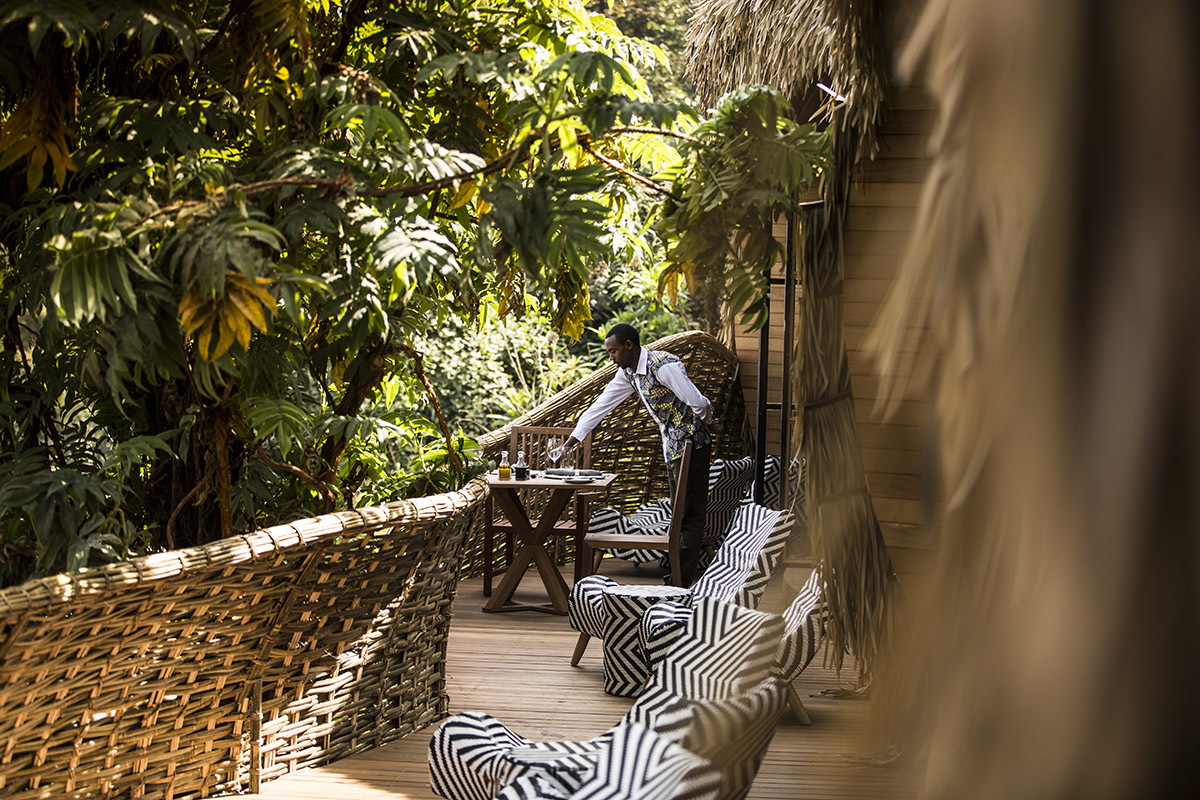 If you want to experience Africa's wild life and participate in Wilderness Safaris' biodiversity conservation efforts, as well as engage and meet the local community – in addition to learning about and making a far-reaching positive impact on an iconic Critically Endangered species: the mountain gorilla, you can rent one of these villas by only paying $1,100 / fully inclusive - per person sharing per night (16 October 2017 to 15 December 2017).
Project facts
Location: Volcanoes National Park, Northern Province, Republic of Rwanda
Nearest city: Kigali, around 57 miles away Year
Completion: June 2017
Area: per Room area total – 92 m2, Main Area total - 670 m2
Rooms: 9 Rooms in total project / excluding staff accommodation components in area schedule
Owner: Wilderniss Safaris there is also another shareholder and don't have the name on file
Management Company: Wilderniss Safaris (Christo Potgieter) project Manager
Architects: Nicholas Plewman Architects (Johannesburg, RSA - (Architectural Project Team Members – Nick Plewman, Garreth Kriel)
Interior Designers: Caline Williams-Wynn, Nilfah Adams Artichoke Interiors (Cape Town, RSA)
Other Collaborating Designers: Teta Isibo, Inzuki Designs, (Rwanda )
Engineers: De Villiers Sheard Consulting Engineers (Cape Town, RSA) Case Baker and Garry Sheard
Contractor: Roko Construction (Kampala, Uganda)
Alternative Energy Solutions: ALL done inhouse and mostly client supplied LOCAL POWER SUPPLY WITH BACKUP GENERATOR
Landscaping: Local landscaper
All images © Wilderness Safaris & Crookes & Jackson