OMA opened its "performative" theater-like MPavilion in Melbourne's Queen Victoria Gardens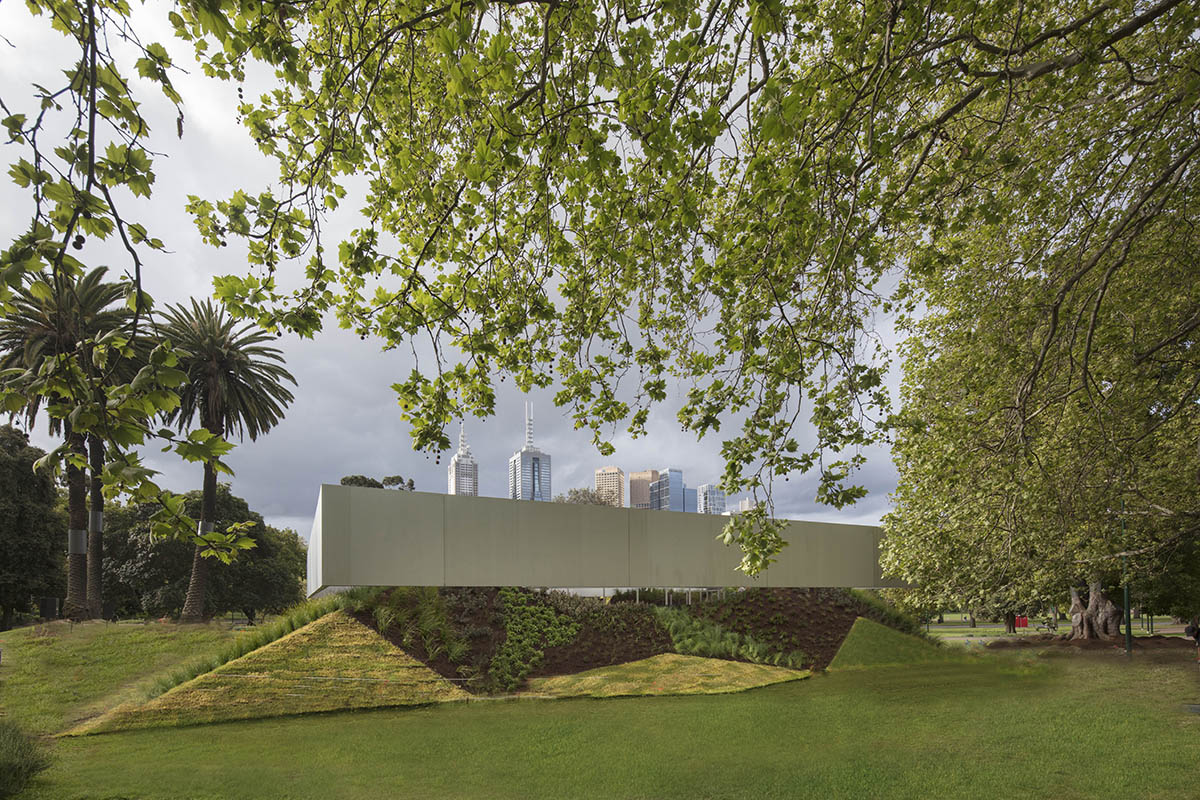 Acclaimed architects Rem Koolhaas and David Gianotten of OMA have opened this year's edition of the MPavilion in Melbourne's Queen Victoria Gardens. One of the world's most revered architects, this is Rem Koolhaas's first visit to Australia in nearly 40 years.
Initiated and commissioned by the Naomi Milgrom Foundation with support from the City of Melbourne, Victorian State Government through Creative Victoria and ANZ, MPavilion 2017 is the fourth annual architect-designed summer pavilion for Melbourne.
Together with hundreds of creative collaborators—both Australian and international—MPavilion presents a free, four-month program of events from 3 October 2017 to 4 February 2018.
Image © John Gollings
The Naomi Milgrom Foundation announced the designers of this year's pavilion in February and selected Rem Koolhaas and David Gianotten from OMA to design a "living pavilion"housing a variety of performances in the centre of Melbourne's Southbank Arts Precinct. OMA released its initial concept for the MPavilion in June.
MPavilion 2017 was officially opened today by MPavilion founder, Naomi Milgrom AO, Lord Mayor of Melbourne, Robert Doyle AC, and MPavilion architects Rem Koolhaas and David Gianotten of OMA. The opening event was commemorated with a live performance from Yorta Yorta soprano Deborah Cheetham AO joined by the Dhungala Children's Choir.
Image © John Gollings
"Our design for MPavilion 2017 is intended to provoke all kinds of activities through its configurable nature and a materiality that relates to its direct surroundings," said Rem Koolhaas and David Gianotten of OMA.
"We are happy that MPavilion can perform as a theatre of debate around the city and its development, and contribute to the ongoing civic discourse of Melbourne," added Rem Koolhaas and David Gianotten.
Image © John Gollings
"It is a rare and privileged opportunity to have Rem Koolhaas and David Gianotten of OMA design MPavilion 2017, and a remarkable coup for MPavilion to be their first completed commission in Australia. Rem and David's profound vision and insight has resulted in an extraordinary pavilion for Melbourne," said Naomi Milgrom AO, chair of the Naomi Milgrom Foundation.
Image © John Gollings
Inspired by ancient amphitheatres and embraced by a hill of native plants, MPavilion 2017 is shaped by two tiered grandstands—one fixed and the other moveable—and covered by a floating roof structure. The rotating grandstand allows interaction from all angles and for the pavilion to open up to the garden and broader cityscape.
Image © John Gollings
Overhead, a two-metre-deep gridded, machine-like canopy with a protective translucent roof embeds advanced lighting technology for the series of free public events.
Comprising static and dynamic elements, the 19×19-metre aluminium clad structure allows for multiple configurations that can generate unexpected programming, echoing the ideals of the typology of the traditional amphitheatre.
MPavilion's 2017 design was brought to fruition by builders Kane Construction, engineers Arup, building surveyors Gardener Group and landscape architects Tract who worked closely with OMA Australia's regional director Paul Jones.
The MPavilion 2017 program features hundreds of free public events through the popular MTalks, MMeets, MMusic and MKids event series, plus the MProjects installation component.
Image © Timothy Burgess
New this year is MPavilion's special regional-focused program led by project manager and Charlie Perkins scholar Sarah Lynn Rees (Indigenous Architecture and Design Victoria/IADV), and devised in collaboration with Shepparton Art Museum and Geelong Gallery. Also new this year is a series of events—more than 30 in total—initiated through MPavilion's inaugural public call for proposals in July 2017.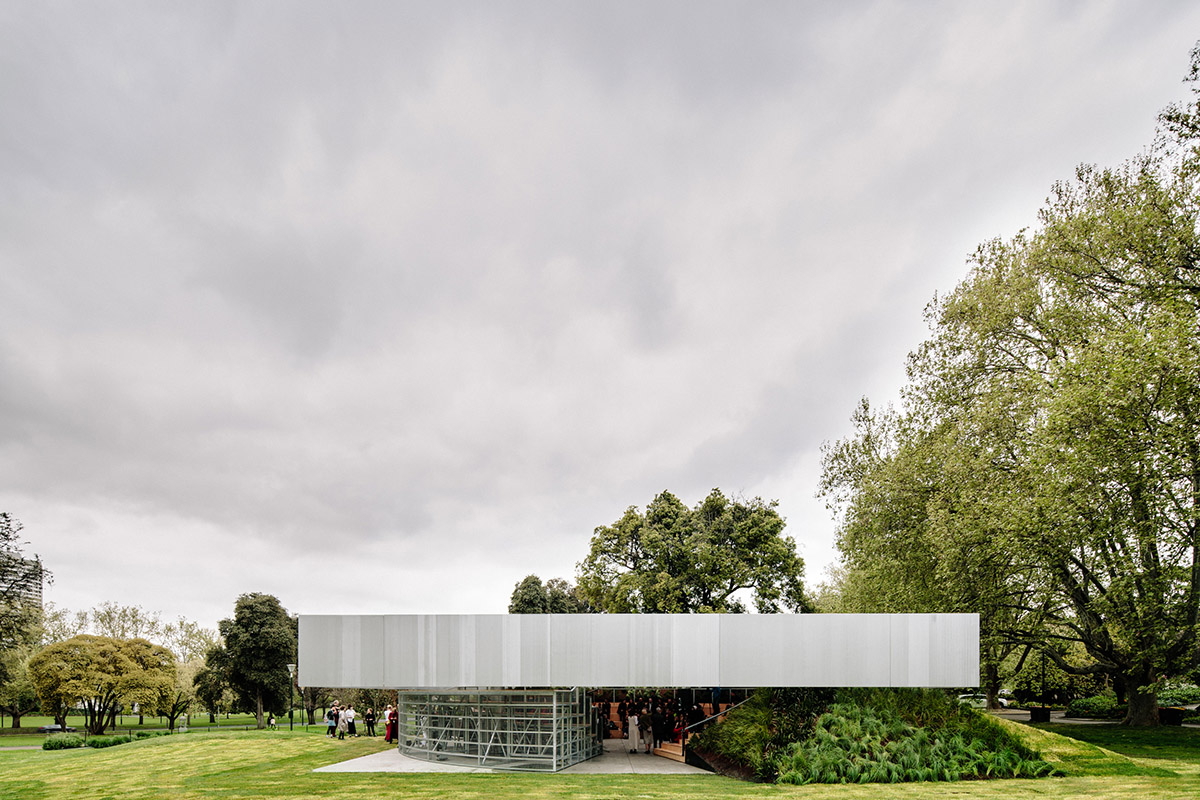 Image © Timothy Burgess
Opening MPavilion's 2017 program is MPavilion's inaugural event, 'Grandstanding: A reconfigurable future' on Tuesday 3 October, 1pm. In this event, presented in collaboration with the Australian Institute of Architects, Rem Koolhaas and David Gianotten will join some of Melbourne's most influential architects, cultural leaders and design thinkers including Rory Hyde, curator from London's Victoria and Albert Museum—guided by MC Esther Anatolitis (recently announced as the next executive director of NAVA)—in a quick-fire discussion about public space, the built environment and the world that surrounds it.
David Gianotten, Naomi Milgrom AO and Rem Koolhaas. Image © Timothy Burgess
On Wednesday 4 October, 1pm, Koolhaas and Gianotten will appear with Naomi Milgrom AO in the first MTalks in-conversation event this season, hosted by leading Australian journalist, author and ABC broadcaster, Virginia Trioli. Together they'll discuss their hopes and dreams for MPavilion 2017, the intentions and provocations in the design, and new ideas on architecture and the built environment.
MPavilion 2017 is designed as both a temporary summer pavilion and an enduring architectural creation. At the end of each season MPavilion is moved to a permanent new home within Melbourne's CBD, creating an ongoing legacy in Melbourne's increasingly sophisticated architectural landscape.
Top image © John Gollings
> via MPavilion