Bangkok I am Fashion Hub Competition Winners Announced!
1st winner:Ilya Pugachenko,Andrey Sayko,Alla Aniskova
All Images courtesy of Bee Breeders
The winners of Bee Breeders' latest architecture competition, Bangkok: I am Fashion Hub, have been selected and our top 3 entries come from Russia, Malaysia and France.

When tasked with creating ideas for a Fashion Hub to be based in Bangkok that was part community centre, part library, part exhibition theatre and part public space, participants were certainly challenged and our winners stood out for their unique designs and strong concepts.With a concept as broad as this participants were free to really explore new ideas and push the limits of their creativity. As such the three winning designs are incredibly different from their use of space, their concept and their desired impact.
This entry is striking as a floating ethereal presence on the site. It is clean and compact while also poetic and provocative.The choice for semi-transparency is both well-resolved and highly relevant in the context of fashion and textiles. The use of translucent polymer tubes as a stacking architectonic element presents both an innovative structural thesis as well as a poetic experience from both inside and outside the project. This envelope also reflects and reacts to the diverse program inside. Each portion of the façade is defined through the quantity of light desired, creating a unique gradient of translucency specific to each room function. Ultimately, the bundle of straws façade carries the potential for a provocative play of light within each space, evoking the sublimely airy work of artist Tara Donovan. To this end, as the visitor moves through a room, the light and view through the tubes would change with each step, establishing a subjective view in which no one space or view is exactly like another.

In addition to the central thesis of the façade, the spaces throughout are tidy and well-resolved. Although volumetrically simple, there are select moments throughout the project that allow for joy and exception. The triple-height library space, for example, is equally successful as a project within a project, poetically driving a triple-height core of books through the heart of the space. The semi-transparent façade also strengthens the runway space, in which we see a subtle reveal of the model's silhouette before she emerges on the runway, thus venerating the central female figure of runway shows.

Finally, the project's approach to context achieves a nice balance between the scale of the adjacent towers, train station, and multi-family residential. The rough volume as placed on site is a fitting size in order to participate in the city's skyline while remaining elegant and light. Similarly, the choice to pull the building back from the street edge provides for some much-needed breathing room between the building and stacked street/train zone. The subtle yet beautiful play between the undulating roof terrace and ground floor public space provide two moments of respite from the rigidity of the structural tube system. The levitating volume is a symbolic and radiating entity, drawing people's curiosity and welcoming them through simple iconic entrances.

1st Prize Winners Interview
2nd Prize Winner
2nd winner:Jun Hao Ong,Raphael Cheng
This entry, although quite loud at first glance, presents a clear and convincing argument for the flexibility of the fashion hub, claiming that at its core, it must grow and change with the varying program needs of the center. The flexibility of the space, implemented primarily through a large retractable platform in the center of the project, achieves the core concept of the task – to accommodate all kinds of people and all kinds of activities. Although flexibility is key to this approach, the focus on fashion remains equally strong throughout the presentation, evidenced particularly well through a series of axonometric diagrams showing the precise configurations for Bangkok fashion week, a textile symposium, and a local fashion marketplace.

As a subtle nod to traditional Thai building typologies, the 'wat' and 'sala' are used as a clever mechanism to establish program hierarchy, and successfully strike a balance between a closed object and an open hub. Evoking a contrast of solid and void, the wat and sala characterize the two sides of the fashion industry; one (solid) housing knowledge, craft and design, and the other (void) housing performance and exhibition, directed towards the public and consumer audience. This is formalized as the inside of the solid volumes of the prisms hosts activities such as class and conference rooms, studios, library, storage and services, while the remaining negative volume is a stage for public and open exhibitions, shows, and shops.

Also noteworthy is the project's effortless and fluid connection between the street level, the interior public spaces, and the train platform level above. The judges were particularly convinced by the central atrium volume, in which several levels of weaving staircases provide a breathable knot of circulation through the heart of the project. Once again referencing the importance of spatial flexibility, this knot participates in an unconventional runway which snakes throughout the entire building, thus challenging the runway typology entirely. Rather than a platform extruded through a box, this project proposes a continuous loop through all levels and all spaces throughout the structure as a gesture to bring fashion closer to the people, rather than isolating it at the terminus of a poorly-frequented red carpet.

2nd Prize Winners Interview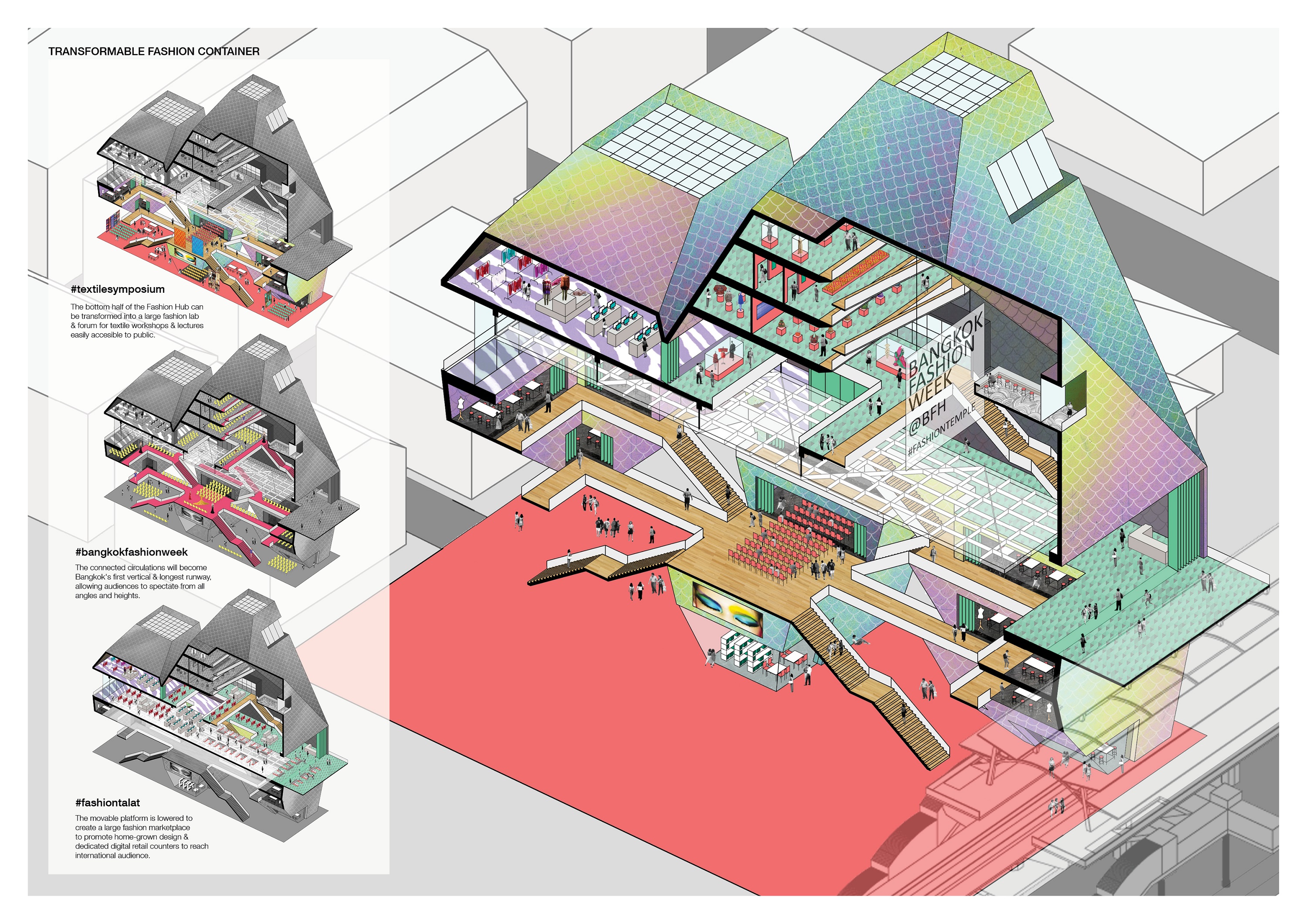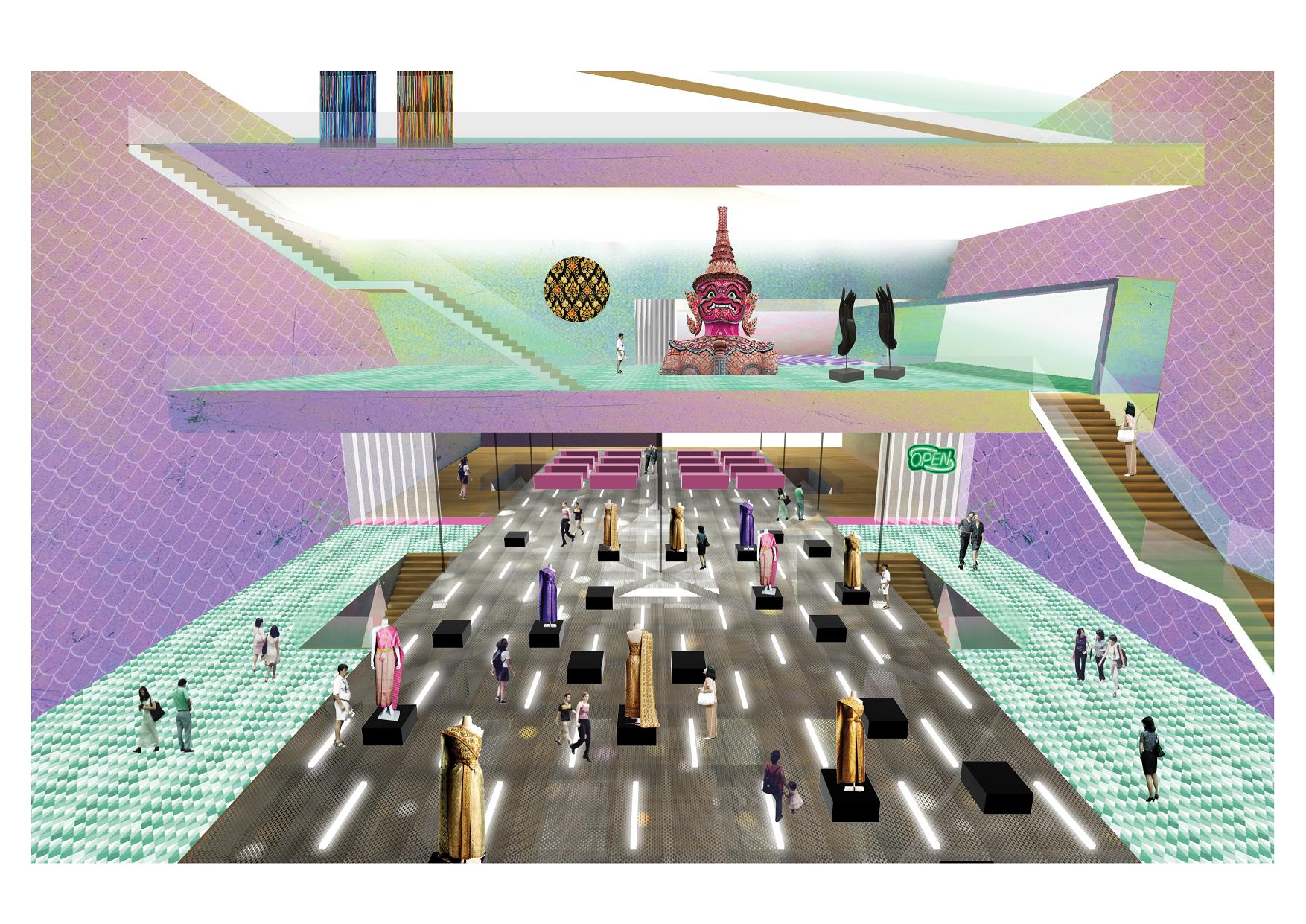 3rd Prize Winner
3rd winner:Quyet Tien Ngo,Mingbo Wang,Junwei Xie,Arnaud Rossocelo
This entry, in contrast to the majority of submissions, conceives of the project as a series of small volumes linked by an activated interstitial space, rather than as one towering object on site. As such, and coupled with the choice to use extruded house forms, it evokes the idea of a village or campus, thus establishing a strong and unique identity for the fashion hub. This exploration in interstitial space allows for a variety of experiences and views as one moves through the project, fulfilling its task as a community destination for both fashion lovers and laymen alike. This is reinforced with the ease and presence of access from both the street and train platform levels, resulting in a porous campus that welcomes unexpected visitors from many directions and levels. The choice to scatter smaller volumes throughout the site in favor of one large object also helps to mitigate the drastic change in scale between the adjacent towers, train station, and multi-family residential.

The brief yet convincing exploration into the climatic benefits of scattering compact forms around the site is also well-rooted in Thai vernacular architecture. Although loosely reminiscent of Herzog & de Meuron's Vitrahaus, this project takes a deeper inspiration than most entries from Thai vernacular architecture, incorporating not only the abstracted form, but more importantly, traditional methods of climate mitigation. The sensitivity to local climate lends a richness to this project's concept, and it is easy to imagine the interstitial space being comfortable throughout the year by incorporating shade and natural breezes. Although the design would present some clear structural challenges, the concept of a neighborhood within a neighborhood is convincing, and promises to be a vibrant hub for both fashion and non-fashion community activity.

3rd Prize Winners Interview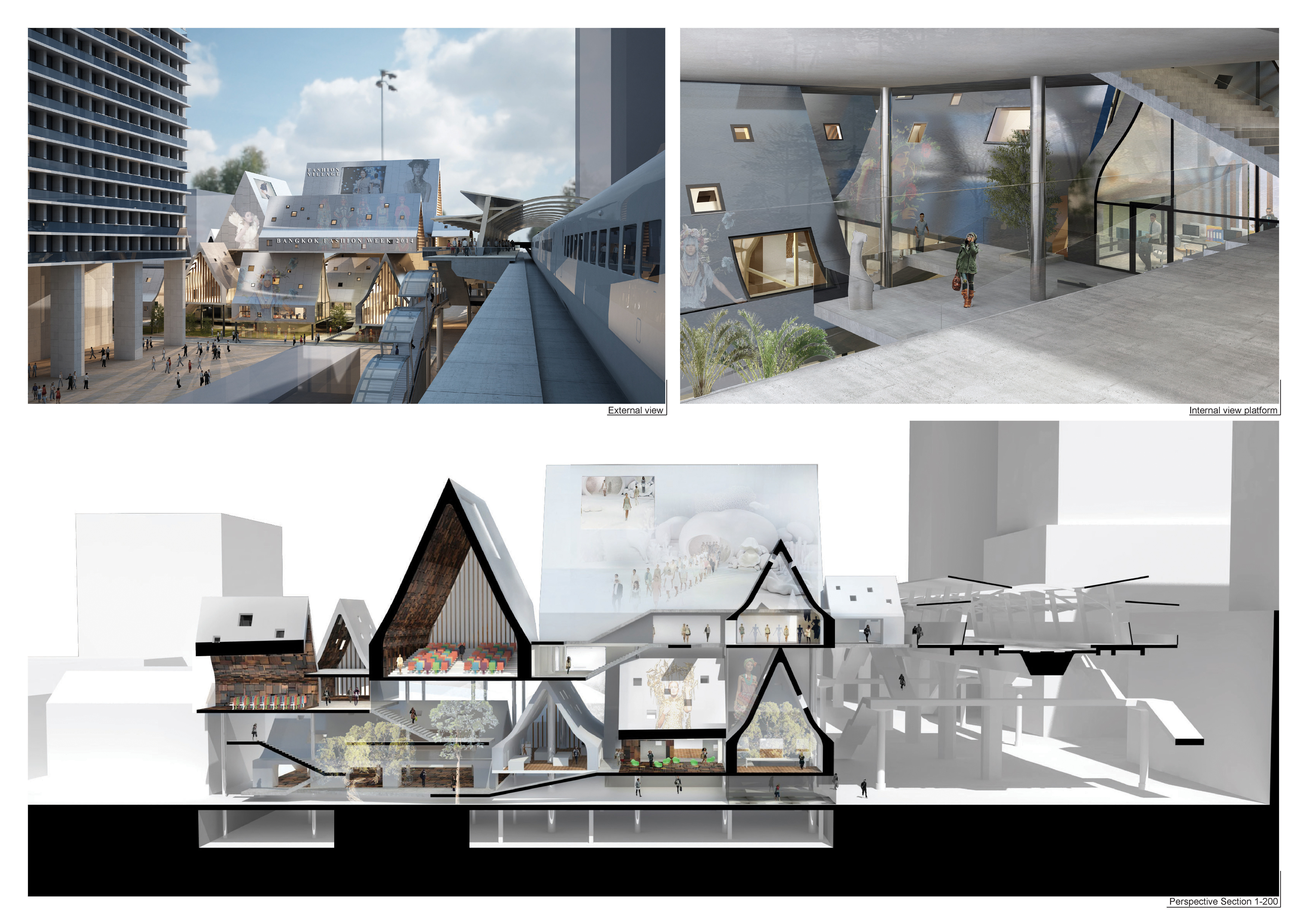 For Honorable Mentions,please click here
> via Bee Bredeers