Positive Urbanism in Mumbai As "Chal Rang De" Paints Asalpha Village
"We're on a mission to make Bombay (Mumbai) gorgeous again" says Chal Rang De (meaning 'Let's Go Paint' in Hindi.)
Dedeepya Reddy, the director, while journeying across Asalpha village, Mumbai, day-dreamt to paint it. Then, nine fellow-creators joined hands and 420 liters of paint later they've given a colorful hillock to the city.
Painting Asalpha was a scene-1 Village, 5-6 Days, 175 Walls, around 800 people and as Sumitro Sircar, key member of the initiative says, "100000000000000000 KCal were burnt over the week."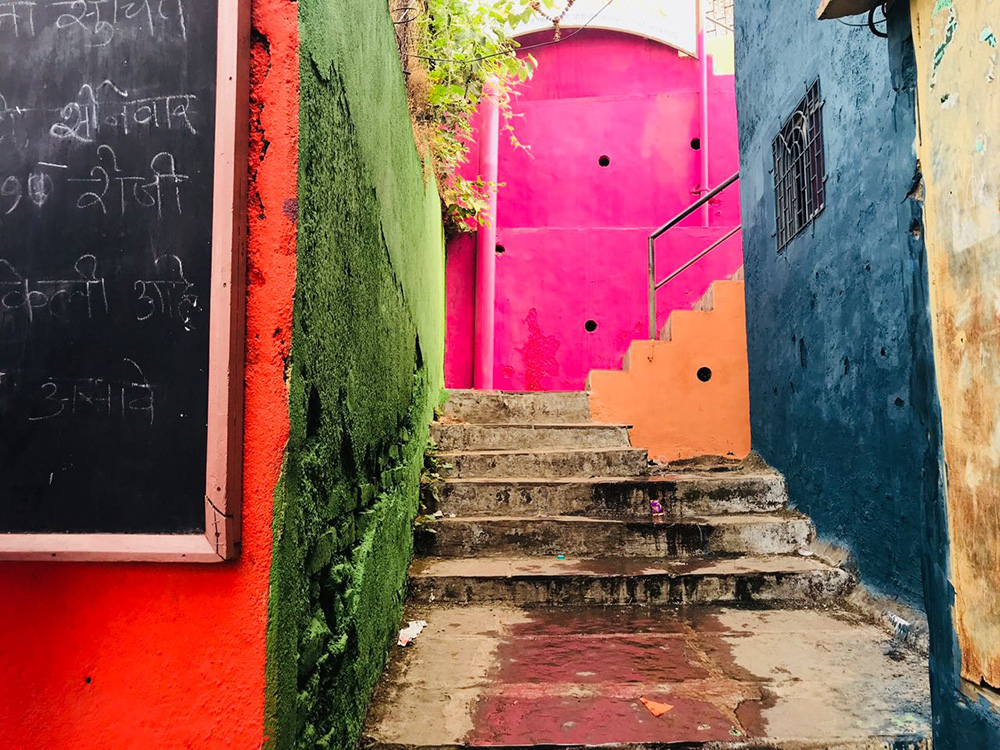 Positive Urbanism
Neighborhoods making themselves over with color, murals and graffiti are becoming a symbol of positive urbanism today. It is seen most impactful in slums in terms of gifting happiness and confidence to them. One to speak much of is Favela Painting Foundation's work in Rio de Janeiro.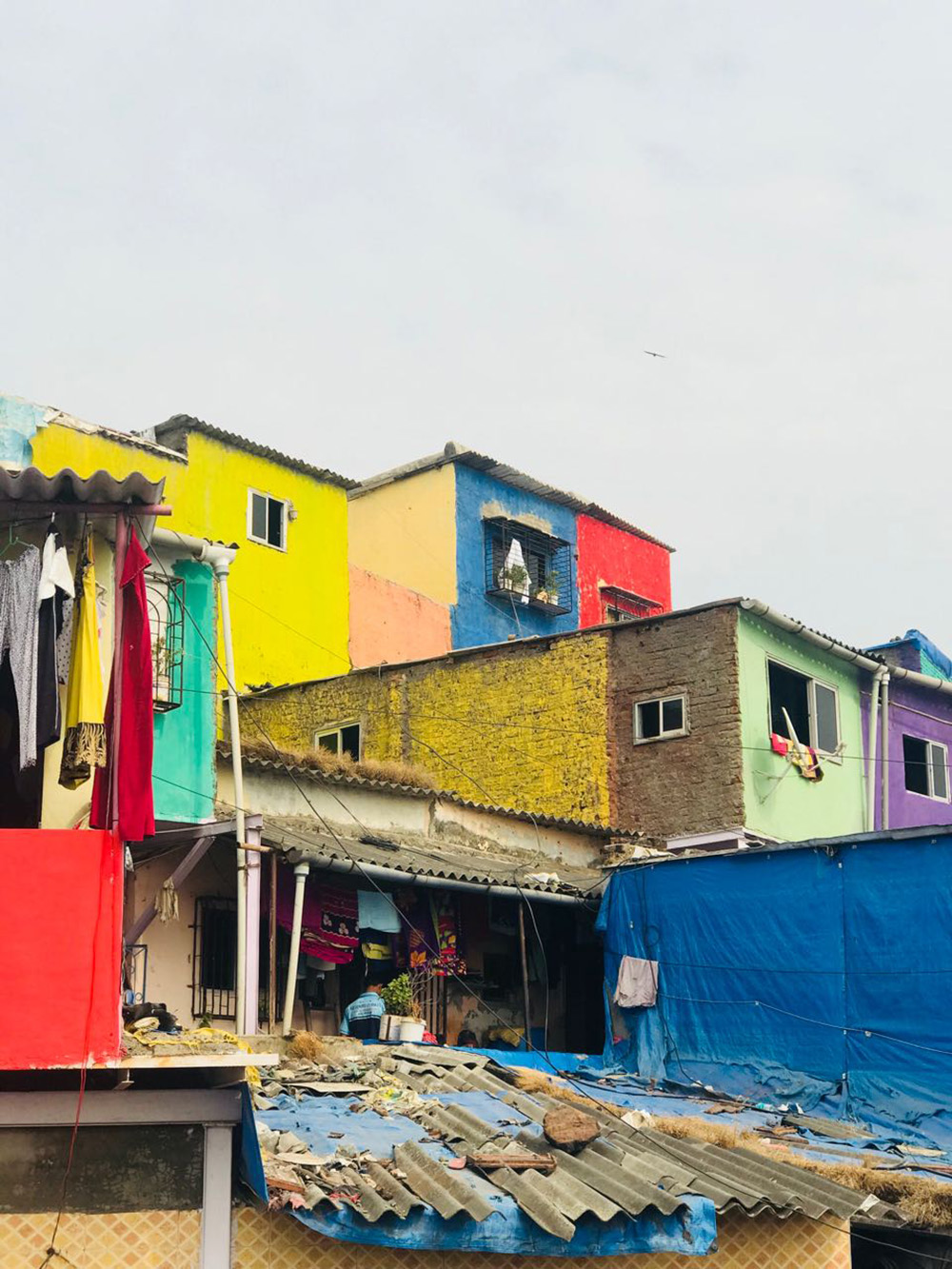 In Mumbai, slum dwellers deal with poor sanitation, un-clean water, no electricity and, sultry and life-threateningly overcrowded public transport to work. Pipelines burst and sewage logs at your doorstep, unattended for long. Your shack could even be on no man's land, making you homeless eventually. But the slum dwellers are hard-hearted, aspiring people looking to enrich their lives.
Of laborers, primary teachers, product makers and grocers, Asalpha is a calm, kind and content society. Unlike other Mumbai slums, Asalpha is tidy and famous for its sanity. Despite its hygienic, crime free settlement, Asalpha was lacking a positive vibe and confidence. A part of the village went under demolition too.
Chal Rang De's idea at this time was questioned by the residents, in suspicion of political/industrial activity. It wasn't long before they realized the initiative was to make Asalpha look good, despite their low income status. This became India's example of coloring slum life.
Chal Rang De's Effort
"Chal Rang De, a non-profit initiative, took its first steps in Mumbai", says Terrence Ferreira, joint director of the initiative. "Our aim is to transform the city into a colorful amalgam of local stories and talent. By painting walls with vibrant colors, we believe it changes people's perspective on slums and create positive emotions among residents."
"Dedeepya saw the beautiful untouched landscape of the Asalpha and remembered the unwarranted negativity in conversations on slums. She decided to show the world a new canvas on slums," says Terrence.
Chal Rang De received 1800 registrations online and deployed 750 willing volunteers on ground. The team also comprised of 15 artists in the lead. The team's effort was a hearty one.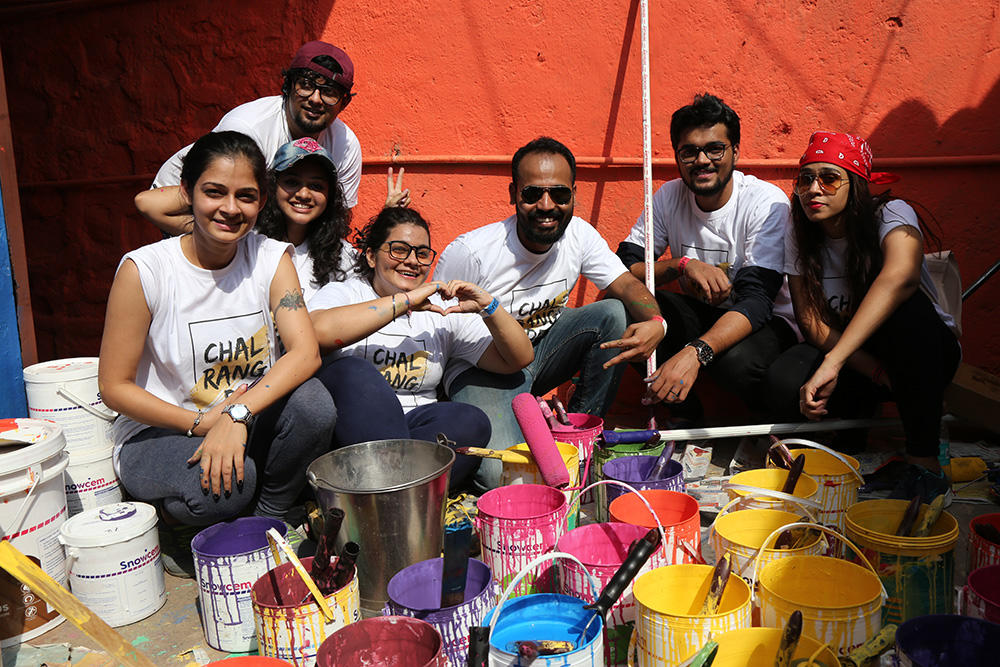 "It took a lot out of our volunteers who came from different walks of life. Even the residents pitched in. The enthusiasm was high among everyone. The will to be a part of a cause and help do something great for a community, and enjoy painting, motivated the team to do better than we expected. Everyone resonated with our vision and gave their 200%," says Dedeepya Reddy.
"We ensured a green signal from every authoritative body to paint Asalpha," says Soumitro. "But it happened only after the residents and the presiding committee relented. We faced little to no aversion from anyone while we presented our intentions."
"Most financial undertakings were taken care of by our sponsors. Snowcem Paints provided us with all the paint and Mumbai Metro was our logistics partner. And Co.Lab.Oratory Asia was of monumental help throughout the project duration," says Sumitro.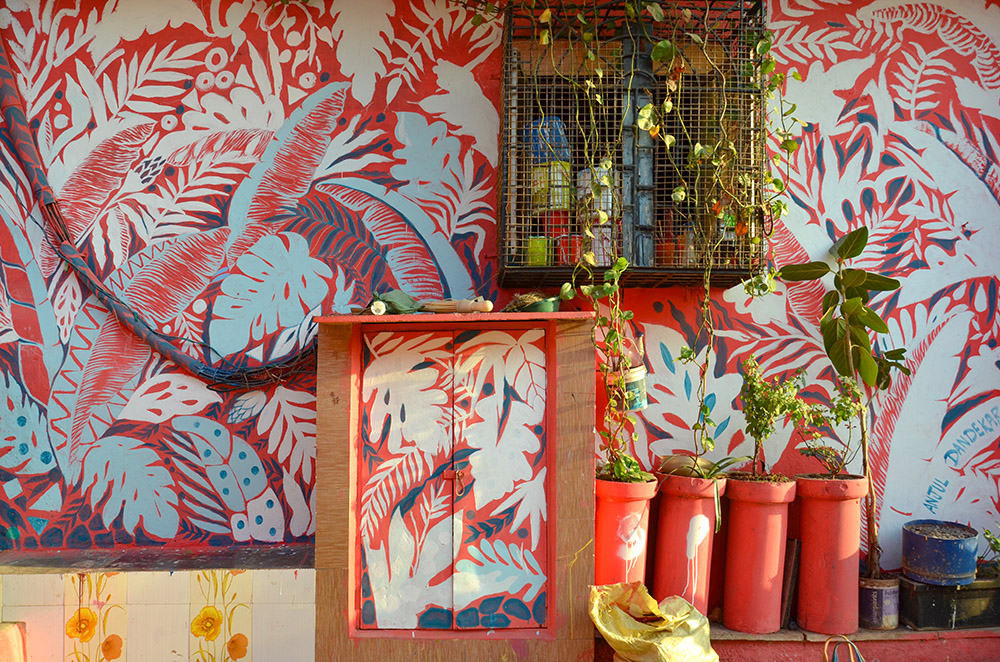 Some of the artist's work was beyond just coloring walls. This gave people of Asalpha confidence and self-reliance. And they hope to have more value based art work in the future.
"Cans and cans of paint went into painting every nook and cranny of the village!," says Dedeepya. "Some volunteers went up the scaffoldings with extended rollers to paint the walls out of reach, while some took to the roofs too. Children of the village ran around helping our volunteers when they could, and even put their own brushes to the walls. We had a lively 5-6 days between with increasing enthusiasm and adoration. The best part was when families of Asalpha opened their doors to their home food when we needed it. Now we're hungry for more initiatives."
Mumbai in Technicolor
Chal Rang De is bringing Mumbai's life to Technicolor by painting over its problems. While obtaining the Policemen's permit to paint Asalpha, the initiative impressed them. And named as 'Paint Police', Chal Rang De painted a Police Station too. It provides a secure vibe around detective-like atmospheres.
Anand Giridhardas of The New York Times calls Mumbai a city of paradox. Several skyscrapers and a whopping 6.5 million slum lives. And Chal Rang de is on track face-lifting Mumbai, which million dollar projects couldn't do for over a decade.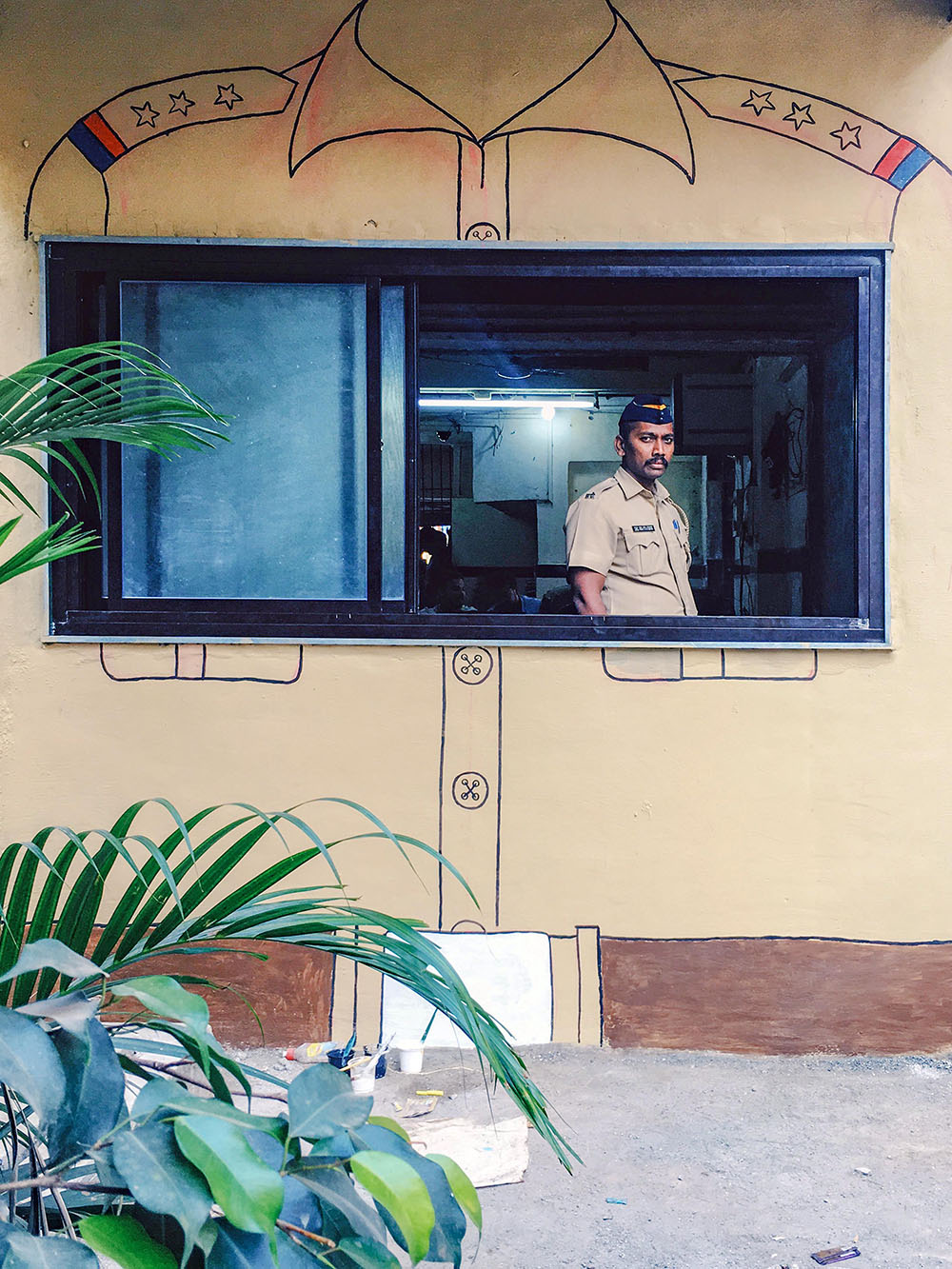 On their next, Terrence says "We're looking more into Mumbai for future projects. They will be chosen based on accessibility, visibility, permissions, eagerness of the residents, availability of raw material and more."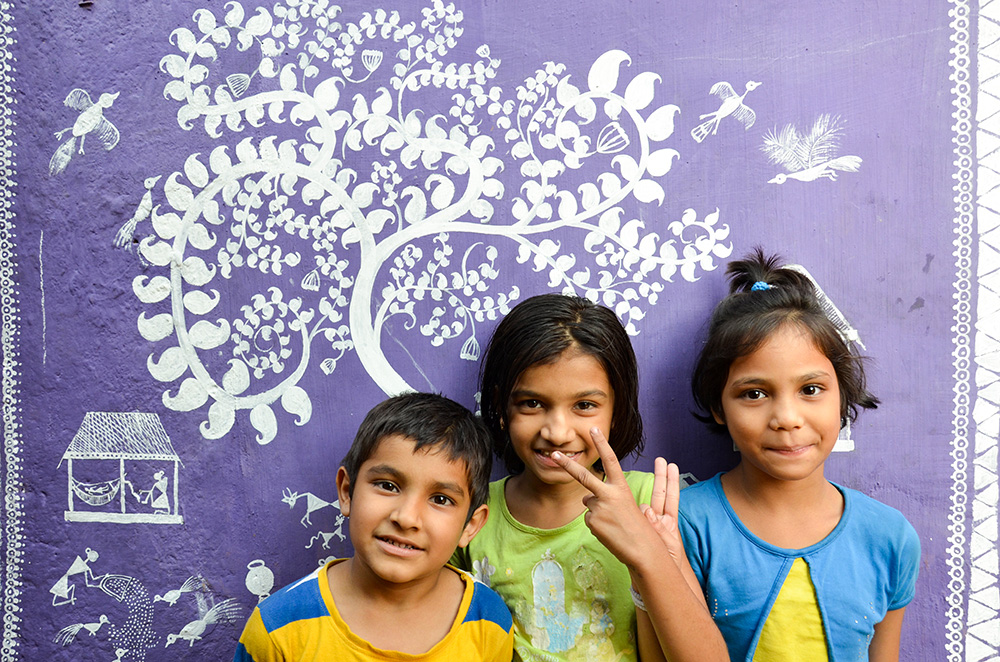 Key members Chal Rang De are composed of Dedeepya Reddy - Director, Terence Ferreira - Director, Sumitro Sircar - Communications Head, Kedar Shet - Chief Filmmaker, Nisha Goswami - Chief Designer, Khatiza Khan - Operations Manager, Fatima Baluch - Social Media Maven, Mansi Kurdikar - Editorial Genius, Navin Shingote - Tech Maven, Saba Hemani - Project Planneri, Siddarth Sudhakar – Wordsmith.
The Asalpha village project was carried out in association with Fruitbowl Digital among others too.
All images courtesy of Chal Rang De