Indian Art Stories-Four Artists To Follow
India's artists occupy a long list and since ancient times, there have been varieties of art in the country. The stories that inspire the art and its making are the most interesting. And when artists explain their work process, techniques, fun facts and stories, it makes for a fun filled, insightful session.
Today's Indian artists are doodlers, graphic designers, graffiti artists, muralists, sculptors and painters. Their works catch up well with people for the wit and quirkiness employed in them.
In an effort to cover the stories Indian artists producing varieties of works, here are four of them you should follow if you're a contemporary art enthusiast.
Ankita Bhattacharya
Art happens in different media, but the best detailed remains handmade. The culture of making detailed doodles has been well present amidst today's proliferation of digital art forms.
A textile designer by profession for over 12 years, Ankita bhattacharya's capacity of making intricate and fine-rendered doodles are outputs of her expressions through everyday life.
"My doodles portray my walk on the path of inner consciousness. I think about myself as a spirit wavering through life, when I doodle. And this is my interpretation of art", says Ankita, on her inspiration to produce her doodles. A pen, a pencil, some ink and watercolors are the tools that make her art.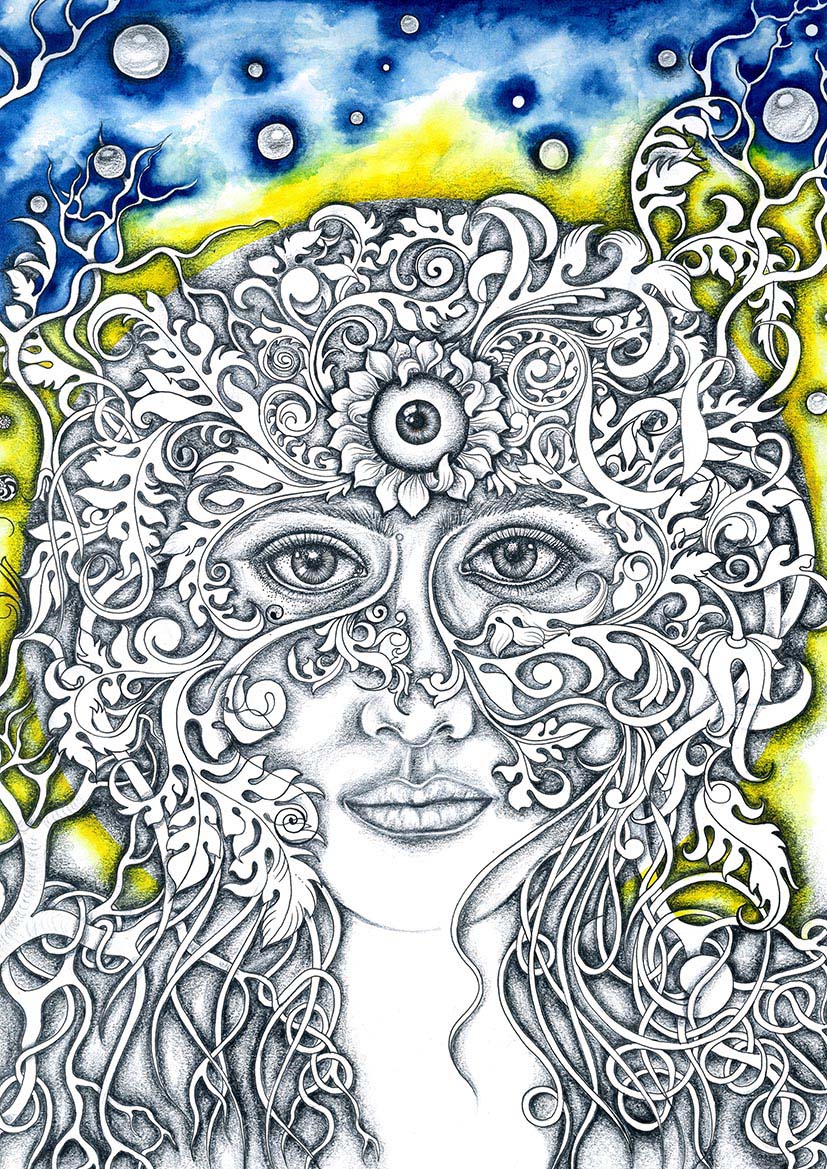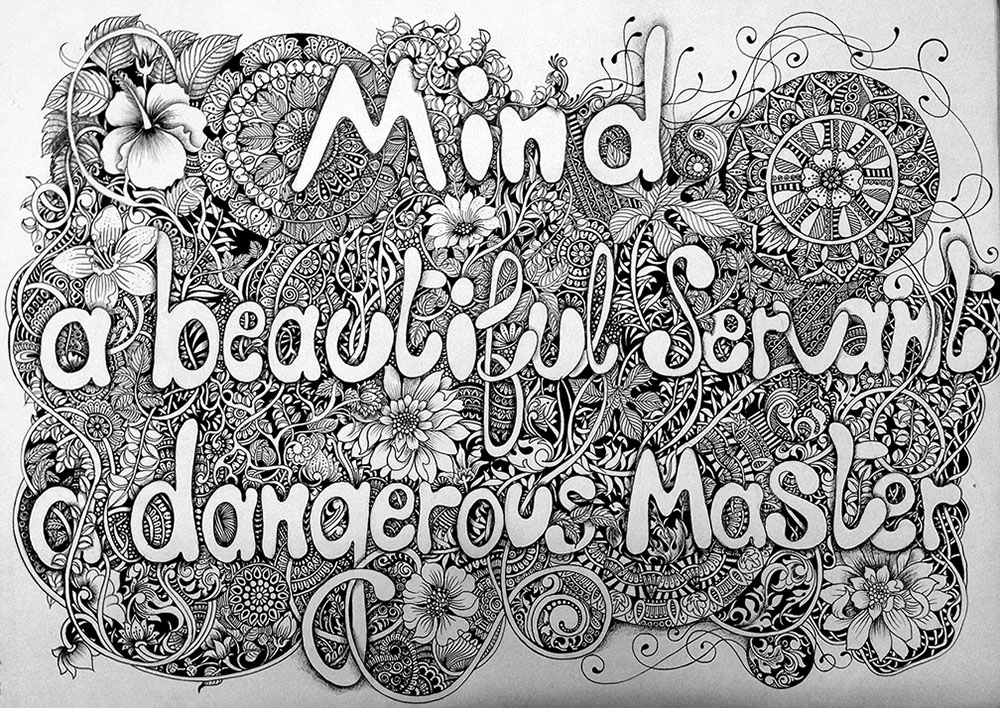 Ankita titled her works as "Abstract Life and Art", and you can follow her works in these handles: Instagram, Behance, Facebook.
All images courtesy of Ankita Bhattacharya.
Bhavya Desai
Cartoons and caricatures are what highlight the characteristics of the truest selves of people and places. Bhavya Desai is an architectural visualizer by profession, a cyclist hitting 50km circuits by hobby, and an artist by passion. His art, of cartoons and caricatures, and made into goodie-baskets of lifestyle props portray stories from the place Bhavya grew up in.
Mylapore, in Chennai, has been home across times to a meticulous sub-culture in Hinduism called the Tamil Bhramins. They've had their own formulated way of life, from the food they eat to the home they build. Bhavya's illustrations capture it very well, except like all the Brahmins are given Nitrogen gas. The characters in his sketches have wide open eyes and smiles, while often performing yoga with a cup of Chennai's classical filtered coffee. And this nature of illustration makes Bhavya's works cheerful and ever so adorable.
"I moved into Chennai 20 years back. I'm more Tamilian than Gujarati. After finishing The KFI School and graduating in 3D Animation from Image College for Arts Animation and Technology, I've been visualizing for Architecture firms for 6 years in Chennai. Meanwhile, I decided to pursue my passion of cartooning and I've witnessed people recognize my works well."
Bhavya ardently cycles through his favorite places in Chennai, finding inspiration. "The ability to observe the finest details of the city's domestic settings, the vendors, the movement and chaos people came from my cycle rides. A day's ride will give me a month's content to illustrate", says Bhavya, on his work process.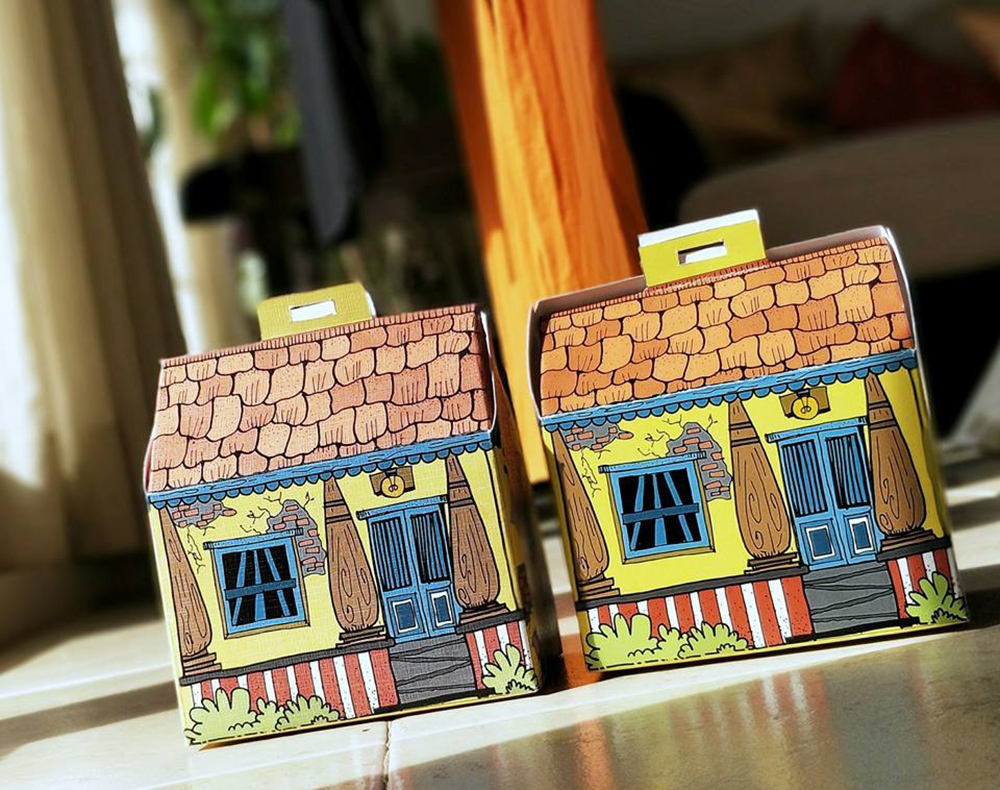 Bhavya's art works made into goodie-baskets.
"My Indian clients, settled elsewhere, feel connected to their roots with my illustrations," says Bhavya. "I love the noise when pencil grinds on paper and that's how my illustrations start. It helps ideate better on paper, before I ink my illustrations and Photoshop them finally. And I'm happy doing this every day," says Bhavya.
Follow Bhavya's works here: Instagram
All images courtesy of Bhavya Desai.
Harshavardhan Kadam
Two Indian comic writers wrote the Amar Chitra Katha. It retold ancient Indian stories. A scion of these writers, Harshavardhan Kadam found an artist's spark in him when he figured the craze for Amar Chitra Katha. He fell in love with comics, illustrations and art forms. Once a millennial, he decided to harness his innate skills and passion for painting, by travelling and exploring the country's long existing art forms in temples and towns. He beheld Indian Mythology and developed an appreciation for what god is in India-especially Lord Shiva. Along this journey, his friends; a paint brush, sketch books, his laptop, a pen-tab, became his toolset. With hired projectors, he began projecting digitized forms of his art on building faces. He realized spaces around can become a canvas to uphold his works.
Gradually he donned the walls of city streets with murals, eventually to become the painter of India's largest mural in Pune called "Song of The City". This was commissioned by the Pune Municipal Corporation and the Pune Biennale Foundation.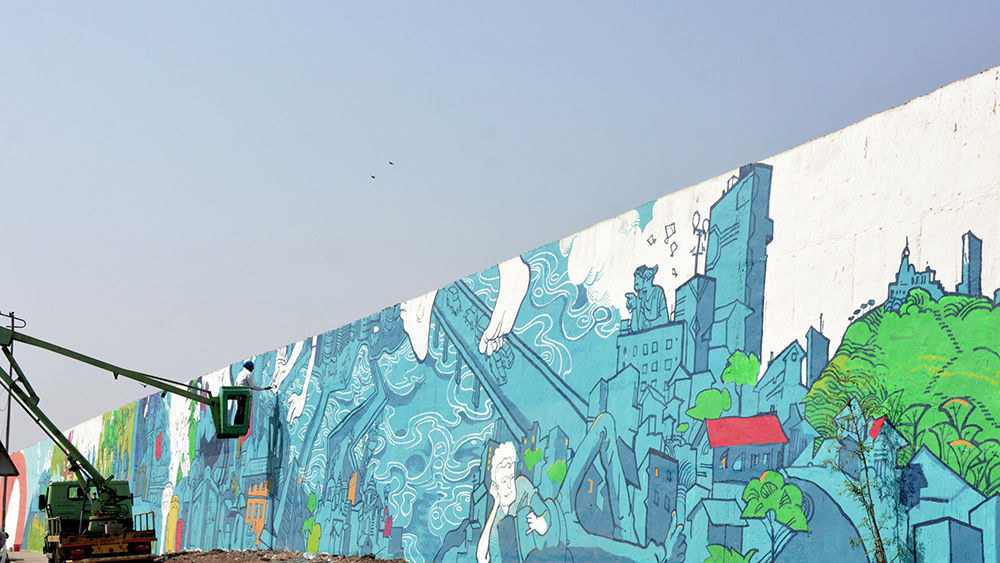 "The painting takes you down Pune's memory lane, as witnessed by its rivers Mula and Mutha," says Harsh. "Pockets of Pune's history are seen throughout the mural to what the city is now. These are abstract representations of Pune's history. And towards the end of the mural, I portrayed my vision of how Pune should become."
He invited around 25 artists across the country for the Pune Street Art Project. It revolutionized many parts of the city's outlook. An artist's residency in Goa got him to muralise the sands of a Goan beach too!
Harsh's studio "Inkbrushnme" enhances the aesthetical experiences of public and private spaces. It started as his college project in 2005 and evolved into a studio after graduating from Industrial Design Center, IIT Bombay. "Inkbrushnme" is now a multi-disciplined contemporary art organization dealing with its application in society.
"Mythopolis- a modern and contemporary rendition of Indian mythology and their invaluable lessons-is a recurrent theme and it's my focus," says Harsh on his themes.
"My recent murals explored issues related mental health and more modern day illnesses. And art showcasing the awareness of such illnesses in public spaces is what I would prescribe as an instant healer."
From his travels, Harsh understood lessons of Indian mythology and he's narrating stories of Ancient Indian Superheroes in his illustrations. He wishes to spread them to children and adults alike. Harsh says, "The universe isn't filled with atoms, but stories". His path is toward deciphering and illustrating them to the world.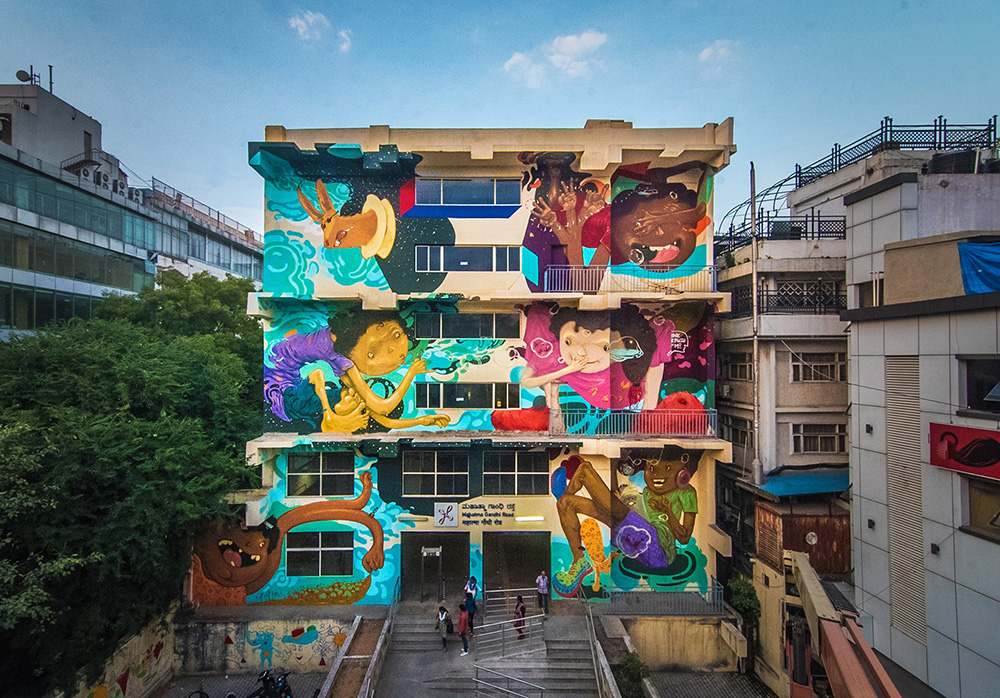 Harsh's quest to always draw better than yesterday takes him to the extremes of habitual human existence, as he describes. Spreading happiness is his purpose and Harsh's journey continues with his current illustration of the life and times of Vatsyayana, the author of Kamasutra.
Get more insights into 'Inkbrushnme' here: Facebook, Instagram.
All images courtesy of Inkbrushnme.
Mounica Tata
The hobby of journaling is largely adored. A part of a person is in his journal. For some, it is in the form of thoughts, memories, self-talk, blank conversations and diary entries. For some, it collects the person's artistic outputs and generates ideas for more.
Mounica Tata's journal, online, is called Doodleodrama. Much like the name, it is full of doodles that capture the drama of everyday life. With 17.2k Instagram followers, Doodleodrama is a quintessential doodle journal - quirky, cartoonish and witty.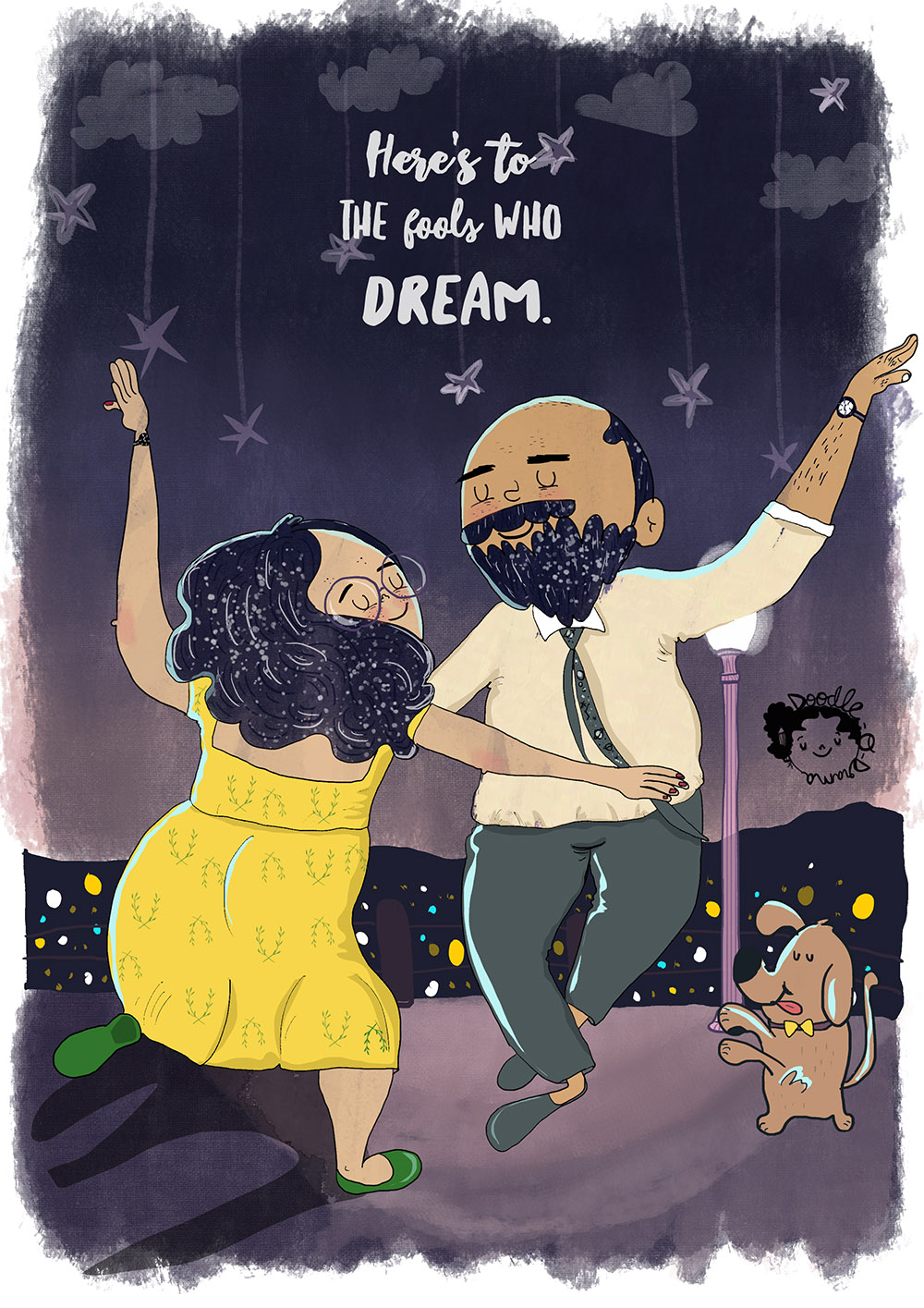 "In my Journal, I don't really set out to draw a particular theme or champion a particular cause, I draw inspiration from everyday life and that reflects in my work. Be it silly/goofy humour, body image, women rights and feminism, a general dialogue on society and its ways. I draw what I can connect to," says 28 the year old doodler.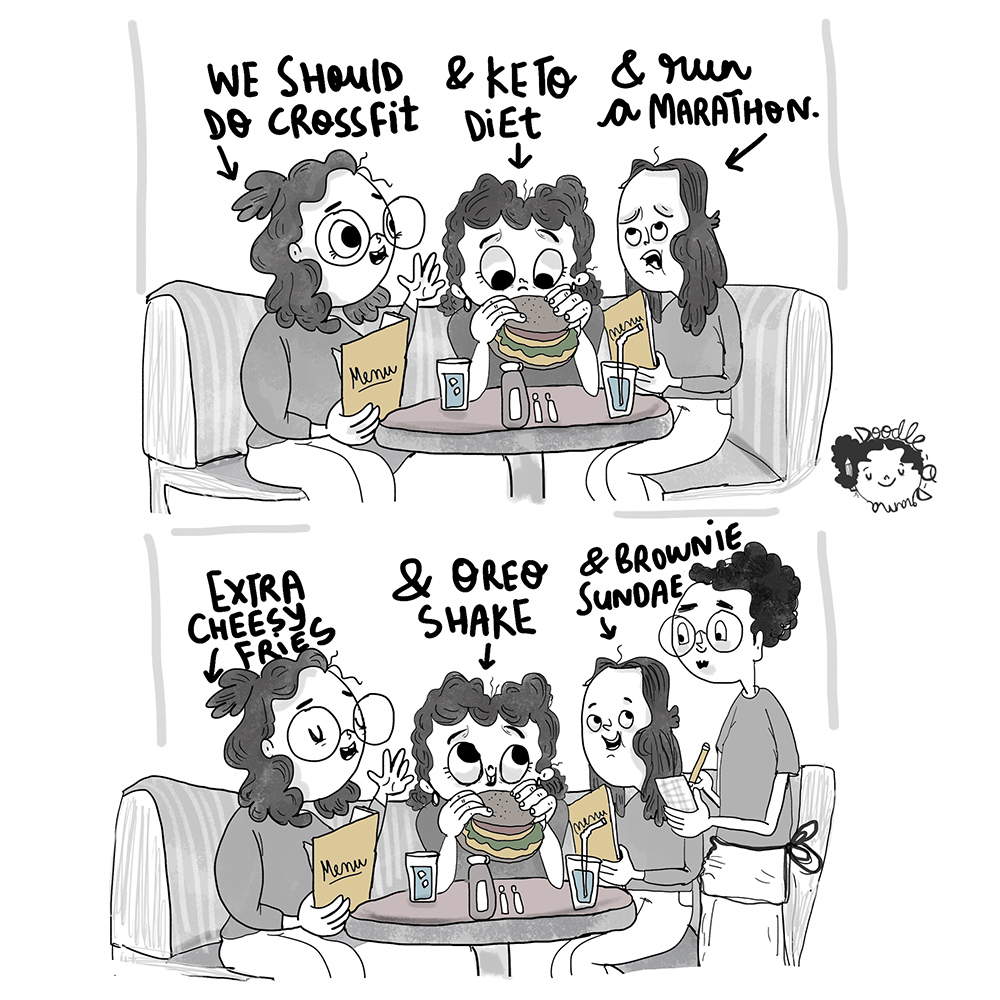 Drawing inspiration from everyday people and life for her doodles, Mounica says, "I firmly believe that Indians are the funniest/quirkiest race alive. We just don't know how to laugh at ourselves. I love telling these stories and seeing my observations come alive in a four panel comic or an illustration," says Mounica.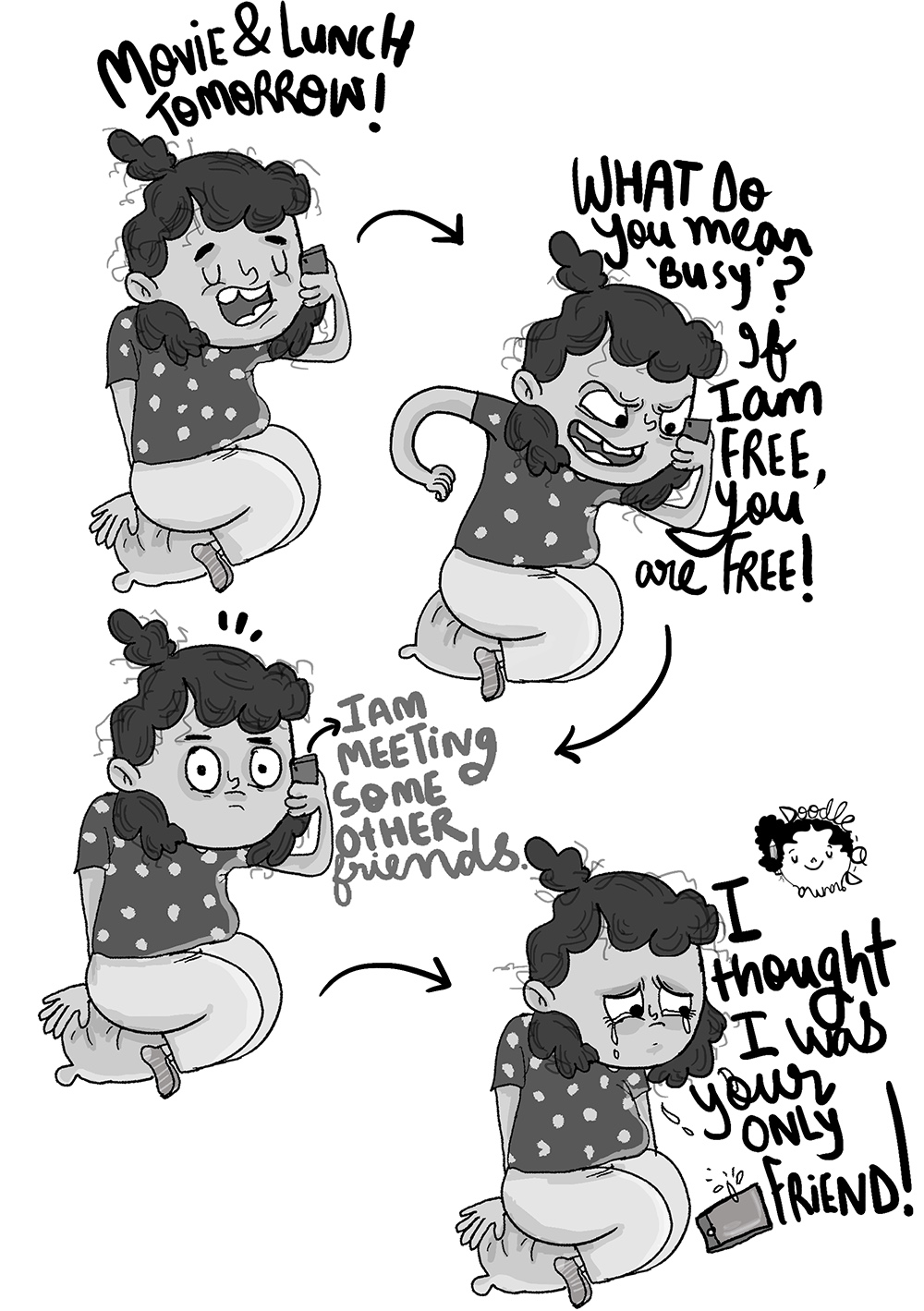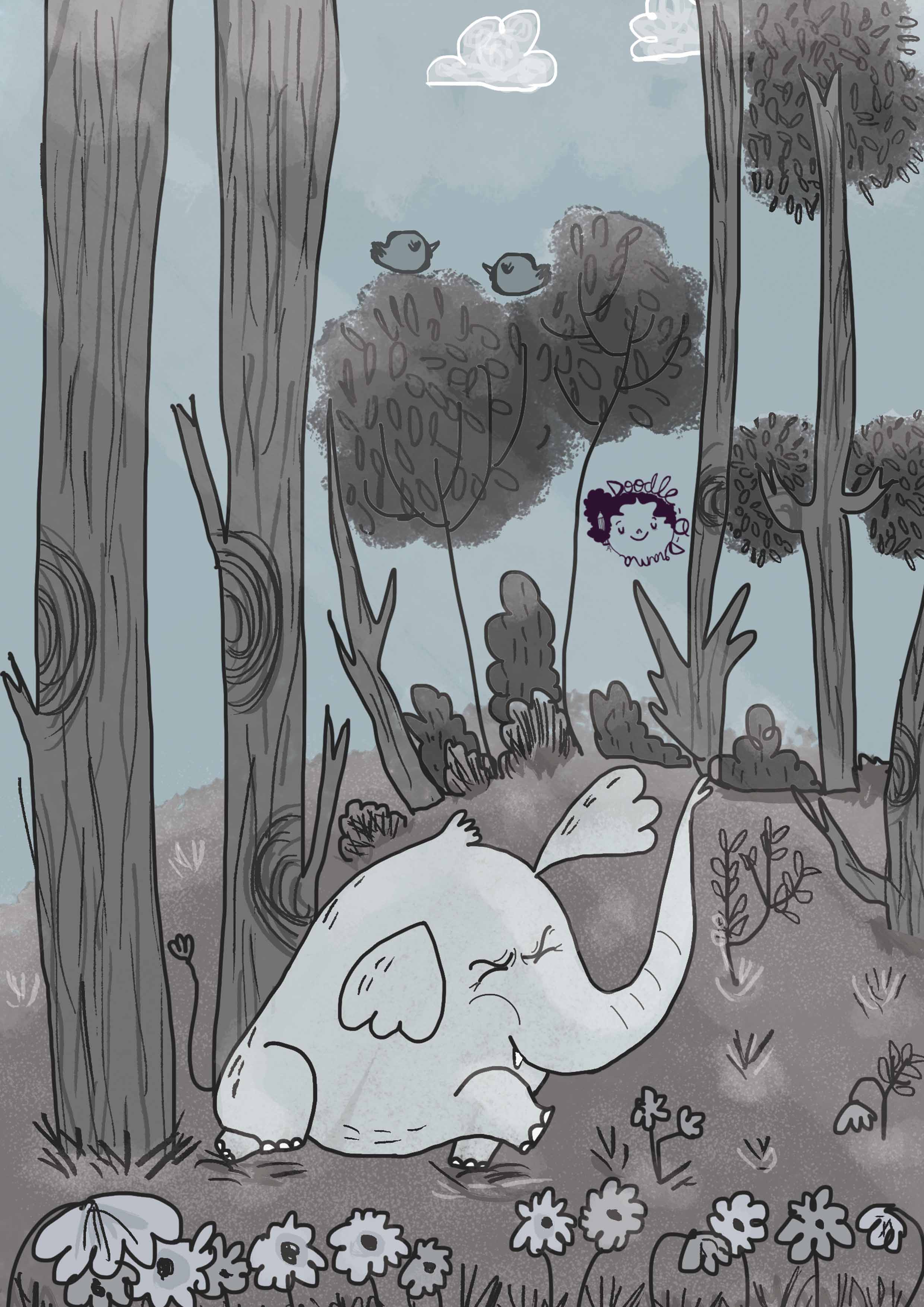 Trying to make count the privilege of having resources to doodle and an audience to consume it, Mounica says "if through my work, I manage to shift something somewhere and make the tiniest of a dent, I'd consider my job done!"
Mounica sets her doodles' skeleton with pencils and ink, to later take it into Photoshop and her Wacom Intuos where most of the coloring happens.
Doodleodrama can be followed here: Instagram, Facebook, Behance and Portfolio.
All images courtesy of Doodleodrama
Cover image courtesy of Mounica Tata's illustration, courtesy of Doodleodrama