Sponsored Content
How Did A Personal Tragedy Change the Work of Frank Lloyd Wright?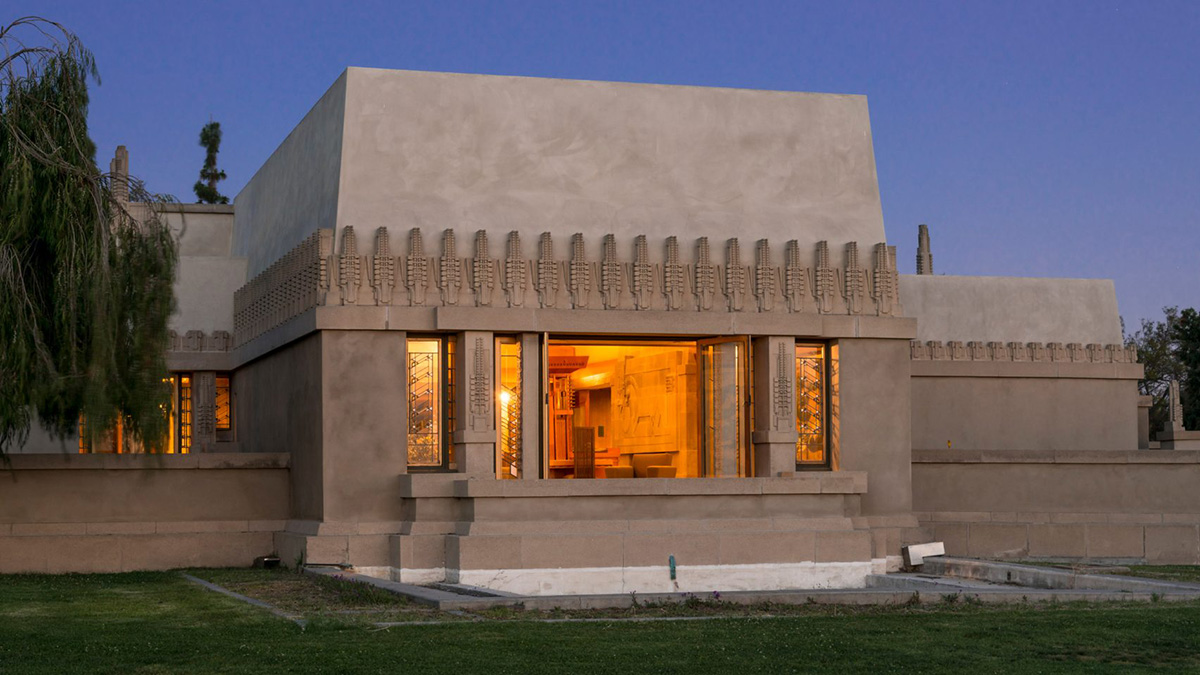 New Frank Lloyd Wright documentary uncovers how a personal tragedy changed the course of architectural history, which is unfolded in a new video released by KCET's Artbound, an Emmy award-winning arts and culture series.
In the late 1910s and early 1920s, Frank Lloyd Wright came to Los Angeles and produced a body of work that seemed anomalous to his previous oeuvre. Yet, just like his Prairie Style houses whose hipped roofs and horizontal lines expressed an affinity for the flat landscape of his Midwestern roots, his Los Angeles homes with their pre-Columbian concrete block ornamentation were uniquely tied to that city's culture and landscape. In a new documentary written and directed by Christopher Hawthorne, architecture critic for the Los Angeles Times, he explores why this city — itself in the midst of monumental change at the time — elicited this type of work from Wright.
Frank Lloyd Wright's Ennis House (1924) in Los Angeles. Image © Ted Soqui
The theory that emerges is both personal and architectural and this one-hour film, entitled "That Far Corner: Frank Lloyd Wright in Los Angeles," kicks off season nine of KCET's Artbound, an Emmy award-winning arts and culture series. For Wright enthusiasts, the film offers rare, cinematic tours into Wright's pre-Columbian-inspired Los Angeles houses, as well as interviews with Wright scholars like Kathryn Smith and UCLA historian Thomas S. Hines. All this in an attempt to unearth more about Wright's time in Los Angeles and to make connections between his personal life and his dive into experimental concrete block architecture.
Hawthorne starts his inquiry by taking viewers back to Oak Park, Illinois where Wright lived, worked and as Hawthorne says, declared war on the constraints of the Victorian style of his day. The result: Prairie Style homes that simultaneously hugged the earth and captured the dynamism of the future with the forward motion of their cantilevered roofs.
During that time, he met Mamah Borthwick Cheney when he built a house for her and her husband in 1903 in his Oak Park neighborhood. Wright and Mamah also broke from the constraints of their marriages and started an affair. Eventually, they left their families (Wright had six children with his wife Catherine) and embarked on a tour of Europe. Ever fodder for the tabloids, Wright relished media attention but as Chicago Tribune Architecture Critic Blair Kamin points out, in this case, the scandal surrounding his affair was too much, "The media helps make him, but it also helps tear him apart."
Frank Lloyd Wright's Freeman House (1923) in Hollywood, California. Image courtesy of MATT Construction
When the couple returned, the scandal still tainted Wright's ability to get work, so he and Mamah went to Wisconsin where he built his seminal home and studio, Taliesin, on land that belonged to his family. But what was more impactful to Wright's future designs, Hawthorne surmises, was the personal tragedy Wright suffered in 1914. Mamah and six other people (including her two children) were brutally murdered by a hatchet-wielding male servant who burned down the house and killed the residents when they fled from the home. Wright wrote of that violent interlude, "The gaping black hole left by fire in the beautiful hillside was no less empty, charred and ugly in my own life."
Like many before him, Wright headed west to Los Angeles, which he called "that far corner of the United States," to reinvent himself and convalesce. He was also desperate to work anywhere but the Midwest. In 1915, he visited the Panama-California Exposition in San Diego, which is often credited as kick-starting California's affinity for Spanish Colonial Revival architecture. Wright, on the other hand, was more taken with a gallery of pre-Columbian architecture, which Los Angeles County Museum of Art curator Megan O'Neil, characterizes, as a Mayan fantasy.
Interior of Freeman House by Frank Lloyd Wright. Image © Liz Kuball
Wright had seen similar architecture from the Yucatan Peninsula at the Chicago World's Fair in 1893 and Hawthorne points out that Wright once wrote, "I remember how, as a boy, primitive American architecture — Toltec, Aztec, Mayan, Inca — stirred my wonder, excited my wishful admiration."
In Los Angeles, Wright took that admiration and put it into practice first with the Hollyhock House, commissioned by Alice Barnsdall and completed in 1921. Hollyhock, with its Viennese modern and Japanese elements also exhibited Mayan influence — especially with its band of decorative ornamentation — and it set the stage for four other commissions which would evolve his affinity for the ancient architecture of the Americas into something grand and even brutal in sensibility.
Frank Lloyd Wright's Hollyhock House (1919 and 1921) in the East Hollywood neighbourhood of Los Angeles. Image by Joshua White, courtesy of Anne McCaddon
As Hawthorne begins to explore Wright's other Los Angeles projects — the Ennis House, The Freeman House, the Storer House and The Millard House — he delves into Wright's material innovation, as both a response to the machine-made modernism coming out of Europe and his use of concrete, which he deemed a democratic material that could be pressed into blocks and hand-stamped with pre-Columbian patterns. He created, along with his son Lloyd (who is also interviewed), a construction technique that later became known as textile-block construction.
Historian Thomas S. Hines points out the resulting designs, with their imposing ruin-like references illustrate that Wright was first and foremost a "cultural nationalist," who sought to express a thoroughly American indigenous style that wasn't imposed by colonialism but one that was native to the Americas.
Frank Lloyd Wright's Millard House (1923–1924) in Pasadena, California. Image courtesy of Curbed
As Hawthorne visits these homes and ponders their monumental, fortress-like quality, he reminds viewers what Brendan Gill said in his biography of Wright, "Many Masks," when he wrote that these houses are "better suited to sheltering a Mayan god than an American family."
The notion that Wright's Los Angeles designs are more temple than home, more reverent than domestic, drives Hawthorne's thesis that these residences were crypts of sorrow, expressions of an ordinary man dealing with unbearable grief who wanted to bury that pain in a monumental totem to his beloved.
Today Wright's pre-Columbian homes have become quintessential representations of Los Angeles, embedded in popular culture like the portrayal of the Ennis House in films like "Day of the Locust," "The House on Haunted Hill" and "Blade Runner."
Frank Lloyd Wright's Storer House (1923) in Hollywood Hills. Image courtesy of Crosby Doe
Even though these residences have become intrinsically entangled in the Los Angeles landscape, Hawthorne believes they cannot be separated from the man who built them. And Hawthorne reminds us of that by quoting the late architecture critic Herbert Muschamp who wrote, "Wright explicitly offered up his life along with his work for critical appraisal insisting that neither could be adequately understood without the other."
The new season of "Artbound" has premiered March 6, 2018 at 9 p.m. ET/PT on KCET and Link TV. Episodes will also be streaming here and here following its broadcast, as well as on Amazon, YouTube, Roku and Apple TV.
Text by Stacie Stukin, a native Los Angelena writer who has written about architecture and design for, among others, The Architect's Newspaper, W Magazine and the L.A. Times.
Top image: Frank Lloyd Wright' Hollyhock House (1919 and 1921) in the East Hollywood neighbourhood of Los Angeles. Image © Hollyhock House, courtesy of shaping beauty
> via KCET/Artbound