Philippe Starck unveils the first fragrances collection of Starck Paris
Philippe Starck has revealed the trilogy from his new Haute Parfumerie brand, Starck Paris. Three fragrances as a unique experience, a journey to the elsewhere, to the intangible. Top, heart, and Starck's base notes Silk Skin, Stone Skin and Besides Skin are olfactory poems, fruits of Starck's enigmatic riddles for master perfumers.
The designer creates an undulating tricolour splash inside the scent bottle by asking; what is the odor of shadow or of light? What is the smell of attraction, of cosmic void or of the mysterious core of a telluric matter?
Now the answers is in the bottles - also imagined by Starck. Ingredients include a few clues: meteorite; a circular mandala of light and dark; the heart of an earthly material, mineral, amber, musky and woody, whose notes are only revealed at the end of a long voyage.
''Big bang; exploring a mysterious unknown; gemstones; a woody, almost smoky intensity; the riddle of a synthetic molecule more real than nature,'' explained Philippe Starck. ''To wear a perfume is to create one's own territory.''
What could best transcend matter to reveal Philippe Starck's love for the immaterial? The top, the heart, the base. For the first time, the creator is revealing himself in a range of three fragrances that will usher in his new perfume label, Starck Paris.
He has come to grasp with the world of perfumes, discovered as a child, in his own way: by handing over to renowned master perfumers a personal vision filled with curiosity, audacity, sensitivity, elegance and generosity.
Philippe Starck's inital skecthes
Born out of his childhood dreams and his own unbridled, visionary imagination, the Peau de Soie, Peau de Pierre and Peau d'Ailleurs collection presents us with a bouquet of unexpected olfactory poems whose words are scents and every skin a palimpsest revealing unending possibilities.
"This open-minded way of talking about science and dematerialization, of evoking paradoxical images was, I think, a novel approach to the craft that obliged us to invent a new language. The translation by these great technicians, these artists who transformed my words into three different but complementary fragrances, was perfect. It was letter perfect, everything was there,'' said Philippe Starck.
The link between Philippe Starck and perfumes goes back a long way. Evoking this world inevitably takes him back to the olfactory sensations of a childhood still within reach, only skin deep: a far-off memory that says a great deal about the source of his interest in scents, perfumes and fragrances. When memory takes a fragrant journey during which the top, heart and base notes so dear to perfumers are revealed.
With Daphné Bugey, Annick Ménardo and Dominique Ropion, the three master perfumers who helped him to produce this first collection, they have flown in the face of convention and conformism. In order to better explore and challenge the limits of their creativity, they had no forbidden territories, especially not regarding the materials.
Each fragrance has its duo of creator and writer of scents. At each stage of its design, this diagonal conversation made it possible to create balanced accords, enigmatic enough to keep the identity of the different ingredients safe.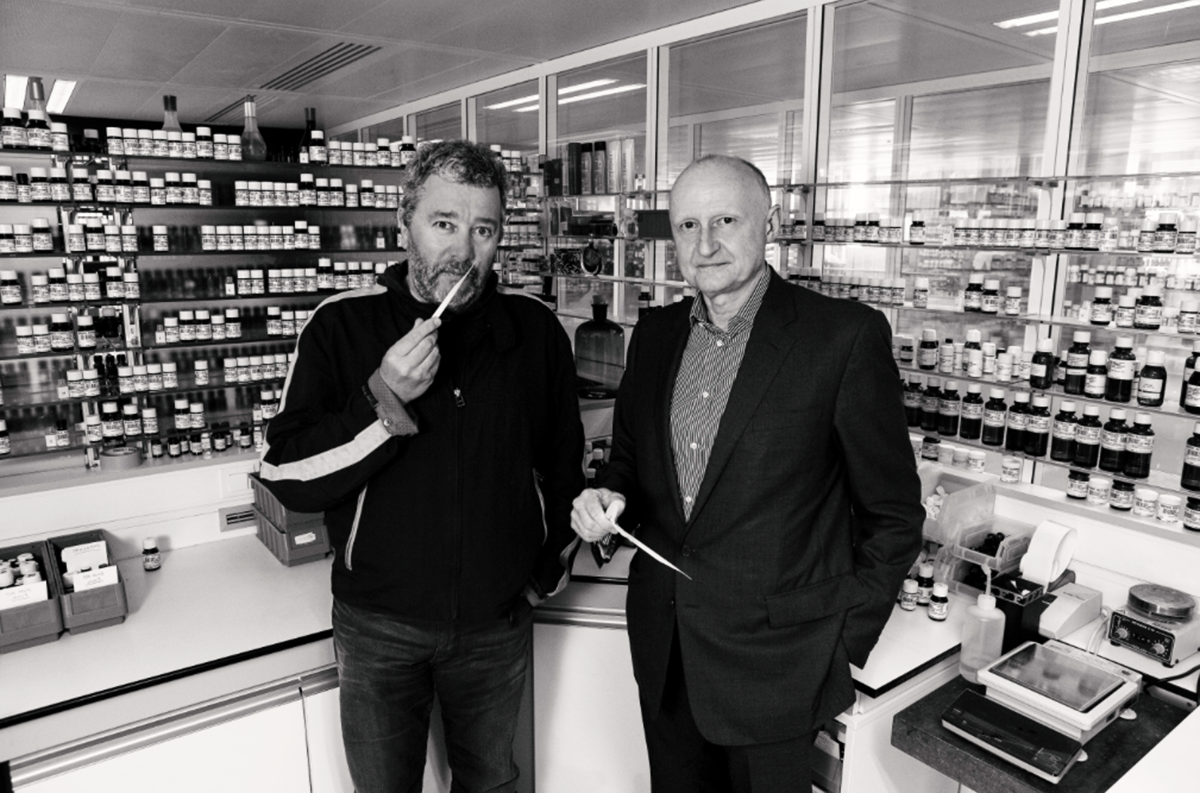 Philippe Starck selecting scents
The Peau collection will be available in September 2016 and can be purchased from the stores announced on Stark Parfums website.
All images courtesy of Philippe Starck
> via Philippe Starck