Steven Holl Architects' chameleon skinned 'Meander' finally moves ahead in Helsinki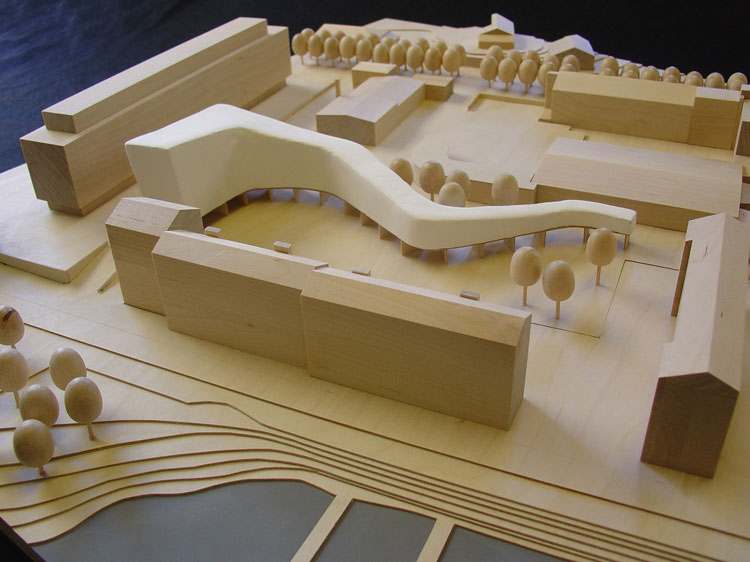 Steven Holl Architects' "Meander," a 2006 international competition winning design for central Helsinki housing, is now moving forward after being delayed by economic slowdown in 2008. The project maximizes sunlight for 80 apartments offering private views of Hesperia park and the sea. Residents of the 180 meter long building will have access to a rooftop sauna and running track spanning the length. Intelligent glass on horizontal hinges varies from transparent to opaque optimizing thermal function and giving the building a chameleon-like skin.
The 'meander' is located in Helsinki's cultural and historical (Sibelius lived nearby) district Taka-Töölö along the Taivallahti Bay, the site is enclosed by the Taivallahti Barracks, two apartment buildings and an office block. Out of the bounded inner block Steven Holl Architects' 8886 sm Meander rises in section towards the sea horizon, providing breathing space to the historic barracks and maximizing views and sunlight to the 80 apartments in the new building. The 180 meter long glass building with a height varying from two to seven floors, meanders across the rectangular courtyard like a musical score, shaping garden void spaces within the block.
Meander is carried by load bearing perpendicular concrete walls, and glazed with horizontally hinged panels of intelligent glass to maximize control of light and solar gain. This glass skin of the building slightly varies in shade from transparent to opaque with thermal elements and functions like a chameleon skin.
During the evenings, the building glows like an ice sculpture. The apartments, ranging from 62 sm to 222 sm, all have private saunas, balconies, and views of the sea or of Hesperia Park. Pivoting walls maximize user control on spatial variations. Among the public spaces for residents is a rooftop sauna with sea views, which opens onto a jogging track spanning the full building length.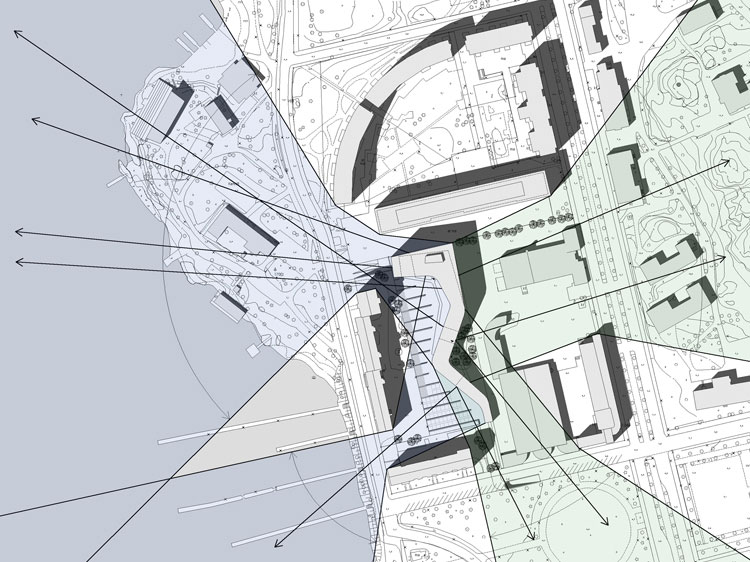 The project is one of Steven Holl Architects' 9 projects in design development in addition to 9 projects currently under construction.
All images courtesy of Steven Holl Architects
Project Facts
Architect: Steven Holl Architects / Steven Holl (design architect), JongSeo Lee (project architect),
Local Architect: Vesa Honkonen Architects / Vesa Honkonen (principal architect)-Anja Hämäläinen, Mari Koskinen, Tina Olli, Jaana Tiikkaja, Erika de Martino (project team)
Structural Engineer: Tero Aaltonen, Matti Ollila & Co., Consulting Engineers Ltd.
Program: 80 apartments, 500 sm rental space, garage, rooftop sauna and running track
Client: City of Helsinki & Senate Properties
Size: 29,200 sq ft
Status: design phase
> via Steven Holl Architects