Garage Museum of Contemporary Art Presents Garage 4th International Conference
Project for Underground Urbanization of Abovyan street, Yerevan/Armenia, late 1970s - Architect: S. Kyurkchyan
all images courtesy of Garage Museum of Contemporary Art
Garage 4th International Conference
Long Happy Life. Building and Thinking the Soviet City: 1956 to Now
Friday, October 30–Saturday, October 31, 2015
West Gallery
On Friday, October 30–Saturday, October 31, 2015, Garage Museum of Contemporary Art in Moscow will present Garage 4th International Conference - A Long Happy Life - Building and Thinking the Soviet City: 1956 to Now.
A Long Happy Life is an international conference curated by Georg Schöllhammer, as part of Garage's three-year project dedicated to Soviet Modernism in architecture and urban planning. Special guest speakers include Richard Anderson (US), Yuri Avvakumov (RU), Elke Beyer (DE), Alexander Bikbov (RU), Anna Bronovitskaya (RU), Boris Chukhovich (UZ), Jean-Louis Cohen (FR), David Crowley (UK), Nikolai Erofeev (RU), Steven E. Harris(US), Owen Hatherley (UK), Mart Kalm (EE), Olga Kazakova (RU), Wolfgang Kil (DE), Alessandro De Magistris (IT), Felix Novikov (RU), Oleksiy Radynski (UA), Alexander Sverdlov (RU), Sergei Sitar(RU). Other participants include historians of art and architecture, cultural theorists, sociologists, media-studies experts, and practicing architects, who will attempt to overcome the traumatic rupture with the Soviet past and reconnect it to our present culture.


Park of Memory (Crematorium), Kiev/Ukraine, 1968–1980 - Architects: A. Miletskyi, V. Melnichenko, A. Rybachuk
As if it would be just a parenthesis in history, still little is known about one of Modernisms longest hegemonies: Soviet post-war architecture and urbanism. Its realized and utopian projects still survive in the built environment of the former Soviet republics and in the collective imaginary. And most recently we witness a new and global, often nostalgic, interest in them. For understanding the late Soviet empire, the insoluble contradiction between the imaginary space of power dramatization and the real space of everyday life enfolding in its capitals and cities is crucial. They likewise have been the glue of the Unions coherence as they contributed to sounding the death knell of the empire. A three years leading project at GARAGE, including a conference, a book, and finally an exhibition aims at telling this story.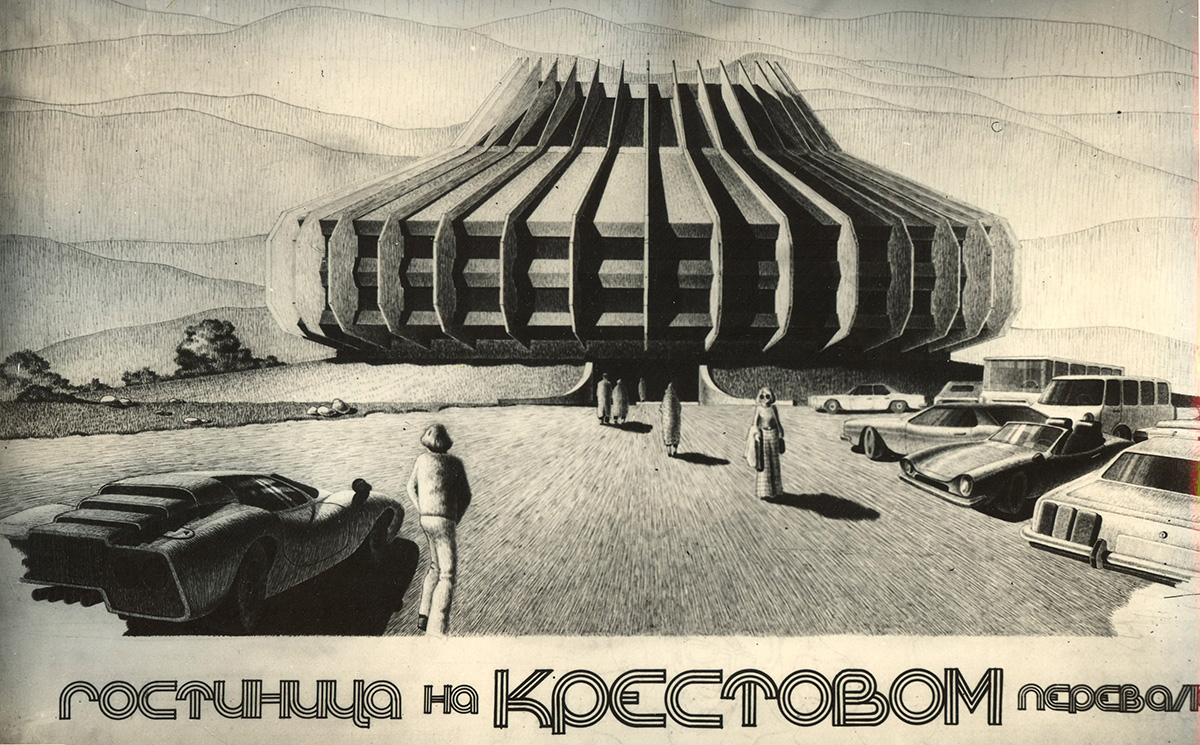 Sketch for Hotel on the Krestovyj Pass, Georgia, early 1980s - Architect: G. Chakhava
Long Happy Life conference looks at the Soviet culture, focusing on architecture, urbanism and town planning. This focus has been suggested by the post-Soviet urban space we still inhabit as much as by the fact that we can finally look back at the Soviet modernist architecture from a distance allowing us to approach the analysis of this complex, synthetic phenomenon – with all its social and political connotations – scientifically. Moreover, today we can see many Soviet monuments changing their function, and gaining a new life, a new energy, carrying new ideas.
Sketch of Central Business District in Residence
In 1955, the famous decree "On liquidation of excesses in architecture and construction" gave Soviet architects an opportunity to join the worldwide modernist movement, and create the modern cityscape that's unity we still can see before our eyes 25 years after the USSR ceased to exist.
Spa Pavilion, Borjomi/Georgia, 1965 - Architect: G. Jabua
This conference recalls and reinterprets Soviet modernism, its aesthetics and styles, its ideological bias and the economic ideas, the cultural images, and the social actors that have been the driving forces behind it. Art and architecture historians, cultural theorists, thinkers, sociologists, media studies experts and practicing architects taking part in the conference will broach the historical rupture and reconnect the present culture with the relatively recent past. Centered around several general subjects (The Norm Against Creative Freedom; The Fantasy and Reality of the General Plan, Internationalism/Colonialism/Localism, and others), the talks will cover a wide range of issues related to the Soviet modernist architecture and town planning, as well as to their analysis and the future of its legacy. Long Happy Life is part of Garage's three-year project dedicated to Soviet Modernism, devised by Garage International Advisor Georg Schöllhammer.
Please get more information about the conference from the link below
> via garageccc.com/en