Allison Crank transforms shopping malls into The Reality Theatre changing the ontology of shopping
all images © Allison Crank
British designer Allison Crank changes the ontology of shopping malls by designing new ''reality theatre'' with zebras, lions, experimental platforms flying in the air, presented as a virtual reality show. The project is called ''The reality theatre: shopping in the Ludic Century'', is masters thesis project of Crank from June 2015 which looks into the future of shopping. According to Crank, ''the reality theatre'' is more than a shopping machine, it materialises a world that encompasses elements of urbanism with contextualised dreams, inspired by the archetypical elements of the mall and store that look with an equal degree towards the future. It is a meshing of stories where the elements of the public life are not only revived through reengineering of architecture and urbanism, but also integrated with modern technology and new consumption economies, all in order to create a utopian future.
Shopping is a public performance. Stores are theatres where you can be both performer and spectator. What if we designed stores as stages? What if shopping were a script for new stories? Shopping architecture is the most common form of 'third places': a space for public activities where you can see and be seen. However, with the rise of online shopping and cyberspace, shops and malls are facing rapid obsolescence. To counter this, Crank proposes that stores should be transformed into playgrounds for experiences, where consumers become actors with the ability to perform, spectate, play and indulge themselves in the environment.
To reflect the wants and needs of people in this age of spectacle and play, this 'Ludic century,' Crank designed the Reality Theatre, a vision of the next urban shopping machine, an experience stager of limitless possibilities. The Reality Theatre is a new third place. Architecture, props, clothing and even movement are augmented and celebrate virtuality.
Realms blend with other realms, linked by an escalator that frames the view. Virtual movement allows the visitor to consume the space as spectacle and animation.
Allison Crank also designed an experience that allows you to visit this virtual world in the form of a VR play: a narrative that gives life to this fiction and lets you see how the Reality Theatre works.
You assume the role of Ms. Smith, who is shopping for a chair in the Reality Theatre, from the moment she enters, to her interactions with the designer, to when she leaves. Crank leaves it up to the viewers to immerse themselves in the virtual stage and performance.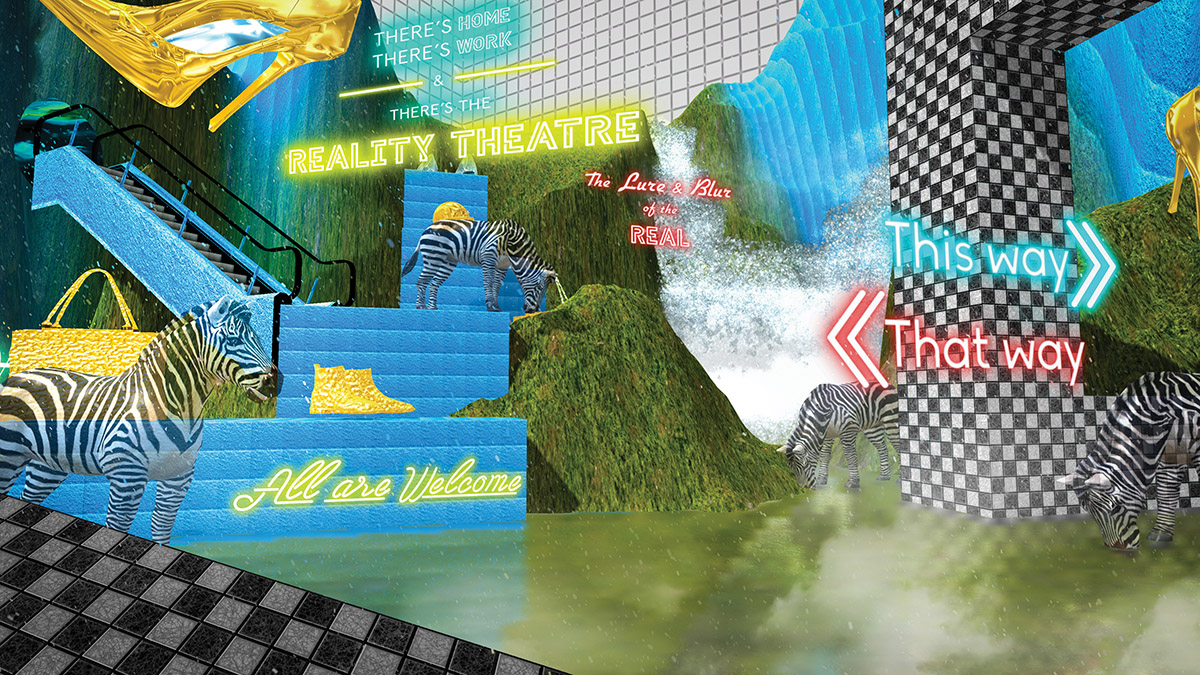 Allison Crank's thesis project text and research also curated as an interactive, non-linear reading experience in a website he built. Crank's project ''the reality theatre'' was presented at the Graduation Show at the Design Academy Eindhoven during Dutch Design Week and on display at the Thing Nothing exhibition at the Van Abbemuseum which researches the meaning, value and future of things-can be visited until November 15, 2015.
> via allisoncrank.com