Architectural Review ends its print editions after nearly 120 years of history
image © Architectural Review
British architecture magazine Architectural Review (AR) comes to end for its print editions after its 120 years of history. In AR's newsletters sent yesterday, AR announced that the print version of Architectural Review is under threat and now is the time to talk and shape the future of the AR. The Architectural Review is a monthly publication that is working with Emap as a parent brand. Architectural Review has always been a new era for architecture criticism and new discourses with the prominent names - AR is one of the most important architecture magazines that has showed a great divergence holding architecture discussions more vivid and incisive by presenting its content striking visuals as well as verbal.
August 2013, 1398. Volume CCXXXIII Subscription. image © Architectural Review
The Architectural Review (AR) was founded in 1896, the magazine leaded many important issues by firmly setting its sights on Victorian polymaths everywhere. AR briefly touched upon ''arts and crafts'' at the earliest issues inspired by John Ruskin and AWN Pugin, the movement's great patriarchs- and it was re-launched in 1913 with the quality of photographic reproduction, heralding a new and lavish format, with whole page photographs illustrating the great works of a confident Empire. In 1920s and 1930s, AR dealt with more actively with new architectural movements. It proposed ideas and plans for the League of Nations; it reprinted Louis Sullivan's speeches verbatim and commissioned pieces from Le Corbusier, Ernö Goldfinger, Berthold Lubetkin and Walter Gropius.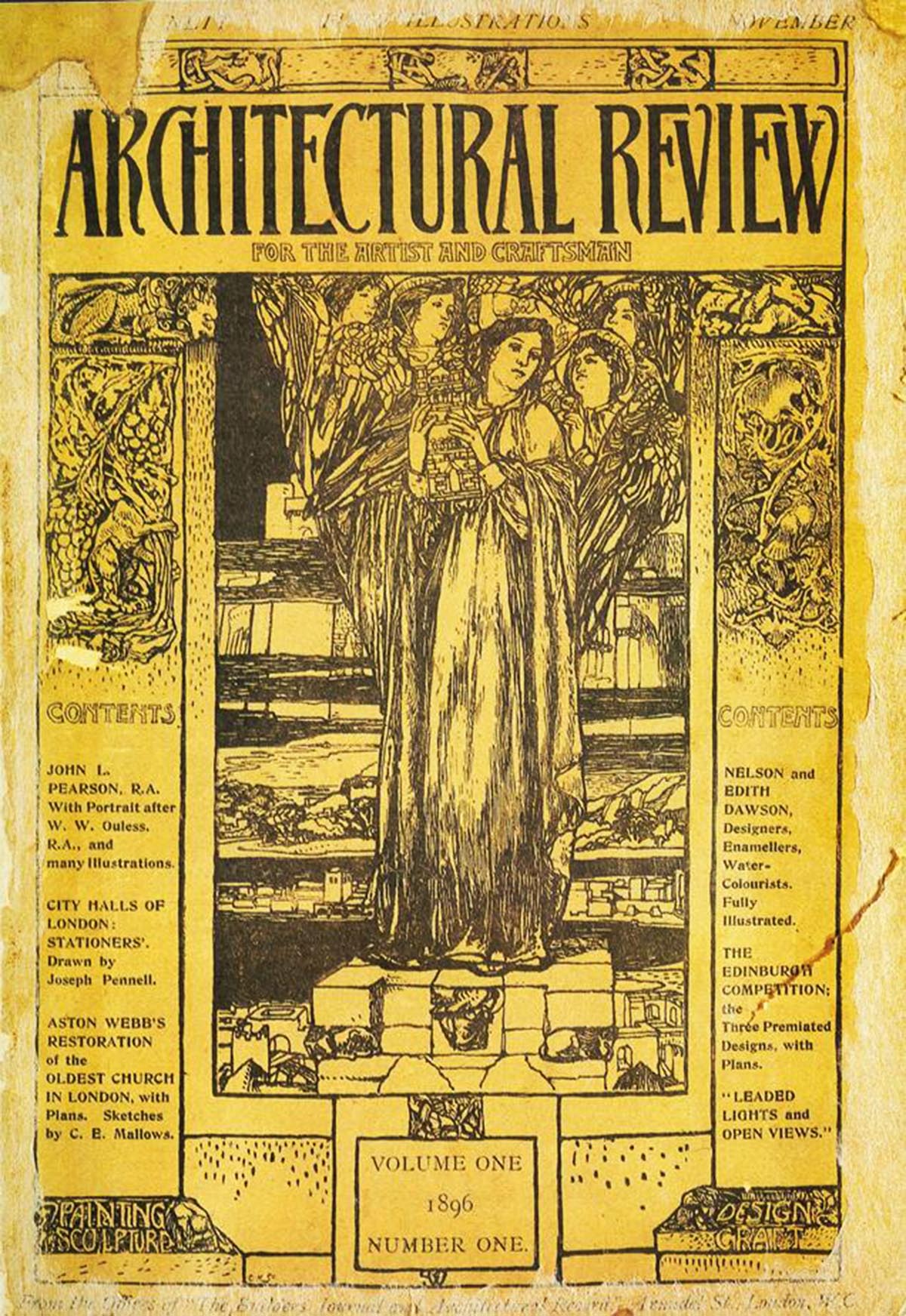 image © Architectural Review
AR in the post-war years of new ideas, its reputation for scholarship grew and Pevsner was succeeded by a young Colin Rowe, who made memorable contributions to the magazine. In 1960s and 1970s, The Manplan series of the late '60s was designed to reposition the AR at the heart of debate, setting out to ambitiously correct the ills of Britain with huge (and hugely expensive) photographic coverage of its problems, complemented by verbose essays on suggested solutions. In 1980's, the AR reclaimed its intellectual and visual superiority, with special issues on the environment, landscape, art and ecology, and architecture and climate, indicating a prescient engagement with environmental issues- and now, a decade into the new century, pluralism, parametricism and plagiarism reign, though the AR is still sceptical of fashions and fads, believing architecture to be, at its core, a socially responsible art.
Up to now, many prominent intellectuals and architects have written for the Architectural Review that raised their voices via this prestigious magazine including: Peter Cook, Farshid Moussavi, Michael Sorkin, William Jr Curtis, Lesley Lokko, Ellis Woodman, Fran Tonkiss, Barbara Penner and Jonathan Meades, which are still continuing to write for the AR. Christine Murray, is editor of The Architectural Review has launched a discussion on twitter and asked ''what do you think the AR should be online - documentary film, photography, there is so much potential - what would be the most exciting?'' and she added that ''we need to talk #PrintAR We have long debated the future of architecture, but what about the future of architectural publishing?''
image © Architects' Journal
Architects' Journal (AJ) is another weekly British magazine that is under threat for its print editions. Emap is a parent brand of these two journals and distributes thie printed versions of the magazines to the subscribers. However, Emap has announced that it retires and launces new business for the pure digital subscriptions. On Monday 5th October, Top Right Group, the international business-to-business media group announced the creation of a new operating company, to be led by Natasha Christie-Miller, that brings together the 4C, Planet Retail/Retail Net Group (RNG), Emap and MEED product brands. As part of this watershed event for the group, the 4C and EMAP company brands are being retired as the company enters the final stages of its migration to a pure digital subscription and large scale events company.
Emap underlined that the new business will help accelerate the conversion of former EMAP products into pure play digital and event businesses. Glenigan, Groundsure, De Havilland and Planet Retail/RNG are already 100% digital and events businesses. Duncan Painter, chief executive, Top Right Group, said: "Customers are sending a clear message: digital subscriptions and live events are the formats they want to engage with. This change finalises our group's migration to a digital and large scale events company." The new operating company will be holding a customer launch in November.
Natasha Christie-Miller, chief executive, EMAP, said: "This is a fantastically exciting time in the evolution of our businesses and creating this new company is an opportunity to finalise the successful digital migration of our great brands which started 4 years ago. The 4C, Planet Retail and EMAP businesses already have many things in common, including a lot of the same customers and we create products that meet similar customer needs. These needs are all linked by the need to know more, and the need to connect with the right people."
> via emap.com, The Architectural Review