Bangladesh Friendship Hospital by Kashef Chowdhury/URBANA wins RIBA International Prize 2021
Bangladesh rural hospital, designed by Kashef Chowdhury/URBANA, has been awarded the RIBA International Prize 2021.
Crowned as the world's best new building, the Friendship Hospital has been announced as the last winner of prestigious biennial awards that celebrate projects from around the world "that demonstrate design excellence and social impact."
The RIBA also announced the winner of International Emerging Architect 2021, which has been awarded to Hooba Design Group for the Kohan Ceram Central Office Building in Iran.
The 4,770-square-metre building is a remote community hospital, set in the water-laden landscape of the Bengal in south-west Bangladesh.
The building was designed as a sustainable and low-cost hospital to deliver essential healthcare services to the local communities of Satkhira in the southern region of Bangladesh.
It provides a medical lifeline for thousands of people in an area of the coast that was heavily affected by a major cyclone in 2007.
Lauded for the care and humanity at the heart of its design, the building responds innovatively to the challenging environmental conditions of the Bengal, a fragile and dynamic environment, directly impacted, without protection, to rising sea levels.
Commissioned by Friendship NGO, a non-governmental organization working for the vulnerable communities in remote areas, was commissioned as part of the organisation's mission to strengthen and empower remote rural areas. The building was completed in 2018.
"Once surrounded by grain fields, the rising sea water has resulted in this agricultural land being converted into shrimp fisheries," stated in a project description.
Thus, water has become a central design component in the hospital's design scheme; a canal cuts through the length of the site, separating the inpatients and outpatients.
Rainwater from all areas of the complex is drained and stored in a newly built tank - an essential resource and tool to prevent water logging as the saline groundwater is unusable for most practical purposes and draining is needed from increasingly incessant rains.
This water channel also helps with micro climatic cooling during the unbearably hot summers, avoiding the need for high energy consuming air-conditioning.
The Friendship Hospital is described as "an inspiring example of how architecture, even on a modest budget, can strengthen and empower remote rural areas."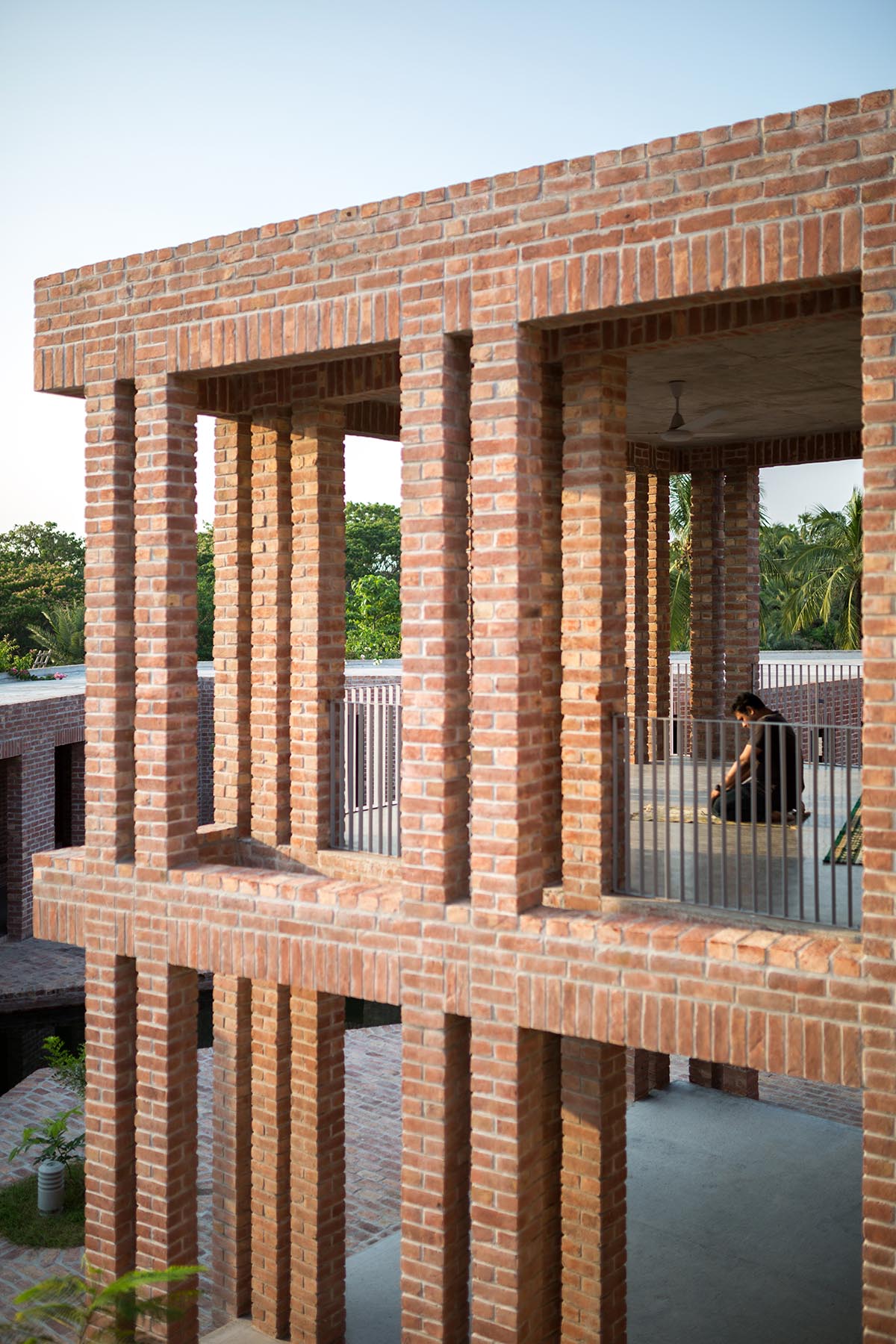 Reflecting the NGO's commitment to lasting social change, the project creates an uplifting and inviting experience for visitors, patients and healthcare professionals by offering a peaceful environment consistent with health and healing.
Featuring a series of intimate courtyards that bring light and natural ventilation to the wards, it provides spaces for patients and visitors to rest with viewpoints of the natural surroundings.
Sensitive areas of the hospital are protected from direct tropical light through shielded corridors and double-layered arches.
Built for longevity, the hospital campus is crafted in local brickwork chosen for its resilient qualities and low cost, with openings in the brickwork offering private shaded areas and natural cooling.
"Friendship Hospital embodies an architecture of humanity and protection that reflects the Friendship NGO's philanthropic mission to provide dignity and hope to communities through social innovation," said Odile Decq, Chair of the RIBA International Prize Grand Jury.
"Kashef Chowdhury/URBANA has achieved a building designed with a human touch which is deftly integrated with its surroundings and celebrates local, and traditional crafted materials."
"The hospital is relevant to critical global challenges, such as unequal access to healthcare and the crushing impact of climate breakdown on vulnerable communities. It is a demonstration of how beautiful architecture can be achieved through good design when working with a relatively modest budget and with difficult contextual constraints. This hospital is a celebration of a building dedicated to humans," Decq added.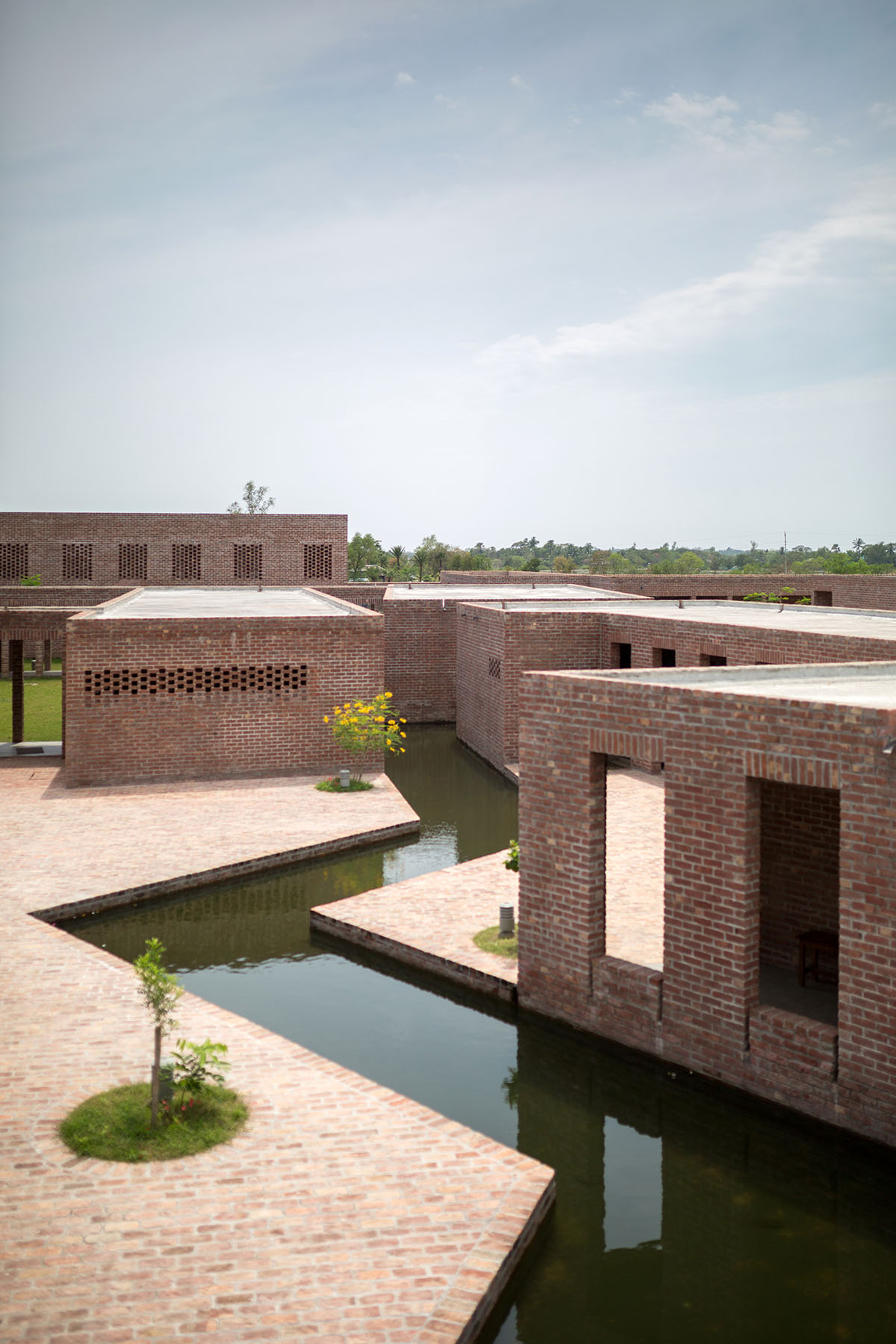 RIBA President Simon Allford said: "Friendship Hospital is an exemplar of thoughtful and creative design of a building of great importance and scale, built within a modest budget, and crafted with the local community and its natural surroundings in mind."
"Kashef Chowdhury/URBANA has created innovative, clear, refined, economical and delightful architecture with social impact - providing essential healthcare services in the rural area and addressing the increasing effects of the climate emergency. I am delighted that it is being celebrated as the International Prize 2021 winner," Allford added.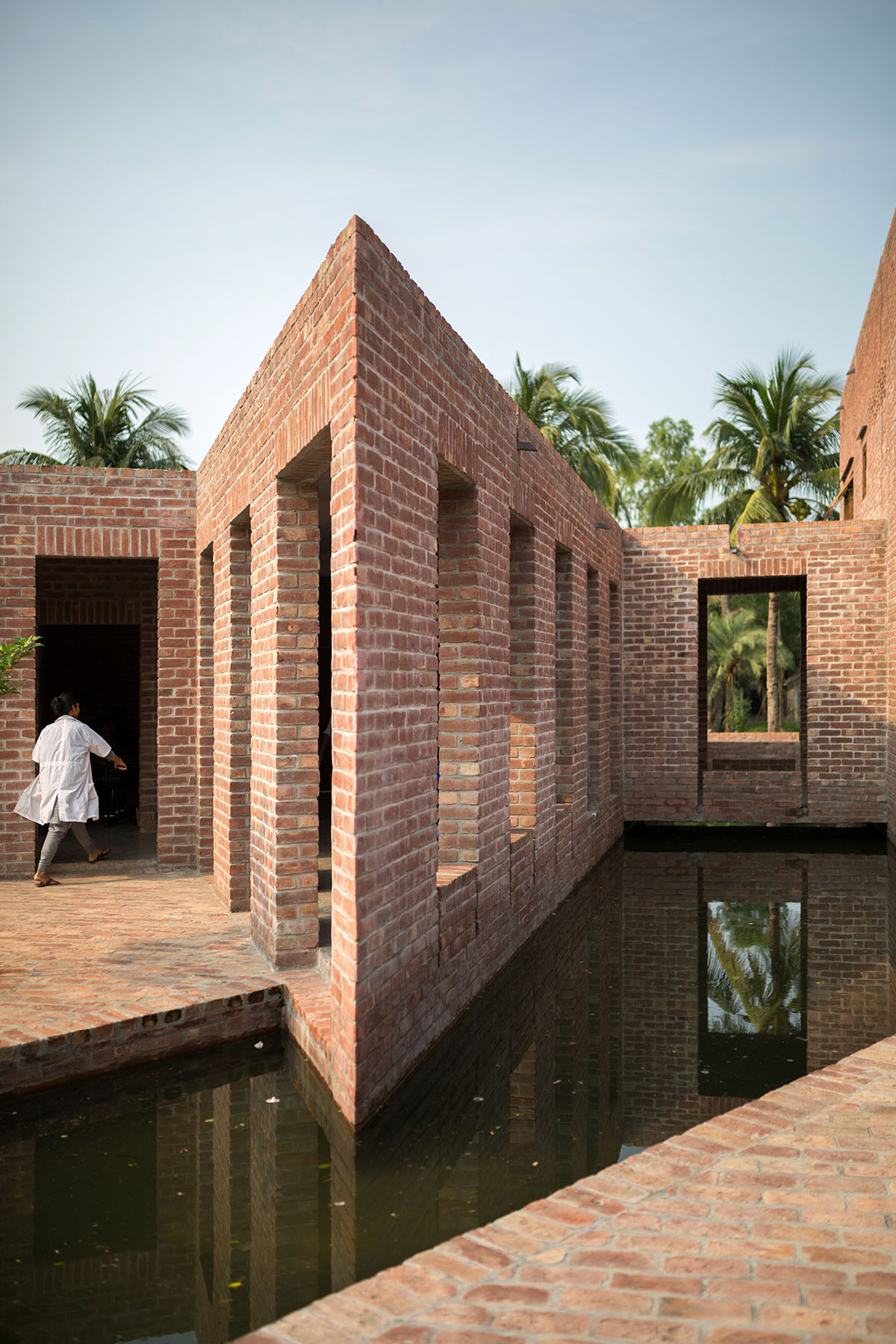 "It is hoped to encourage to an architecture of care both for humanity and for nature"
Kashef Chowdhury, the founder of Kashef Chowdhury/URBANA, highlighted that the project will encourage "an architecture of care both for humanity and for nature."
"In a sublimely important moment, RIBA and the jurors have identified a project from the global periphery to bring to the centre of architectural discourse and be the subject of one of the most important global awards," added Chowdhury.
"I am encouraged that this may inspire more of us to commit, not in spite of, but because of limitations of resources and means, to an architecture of care both for humanity and for nature, to rise collectively to the urgencies that we face today on a planetary scale."
"I am incredibly grateful to our client Friendship, and their founder Runa Khan for their unending support and understanding, and to the many architects, engineers and consultants who have been with us through the rigorous quarter century of our commitment to society, culture and our most beloved nature," Chowdhury concluded.
Friendship Hospital was selected as the winner of the RIBA International Prize 2021 from a selection of three outstanding shortlisted entries, which included James-Simon-Galerie in Berlin designed by David Chipperfield Architects Berlin and Lille Langebro in Copenhagen, Denmark by WilkinsonEyre and Urban Agency.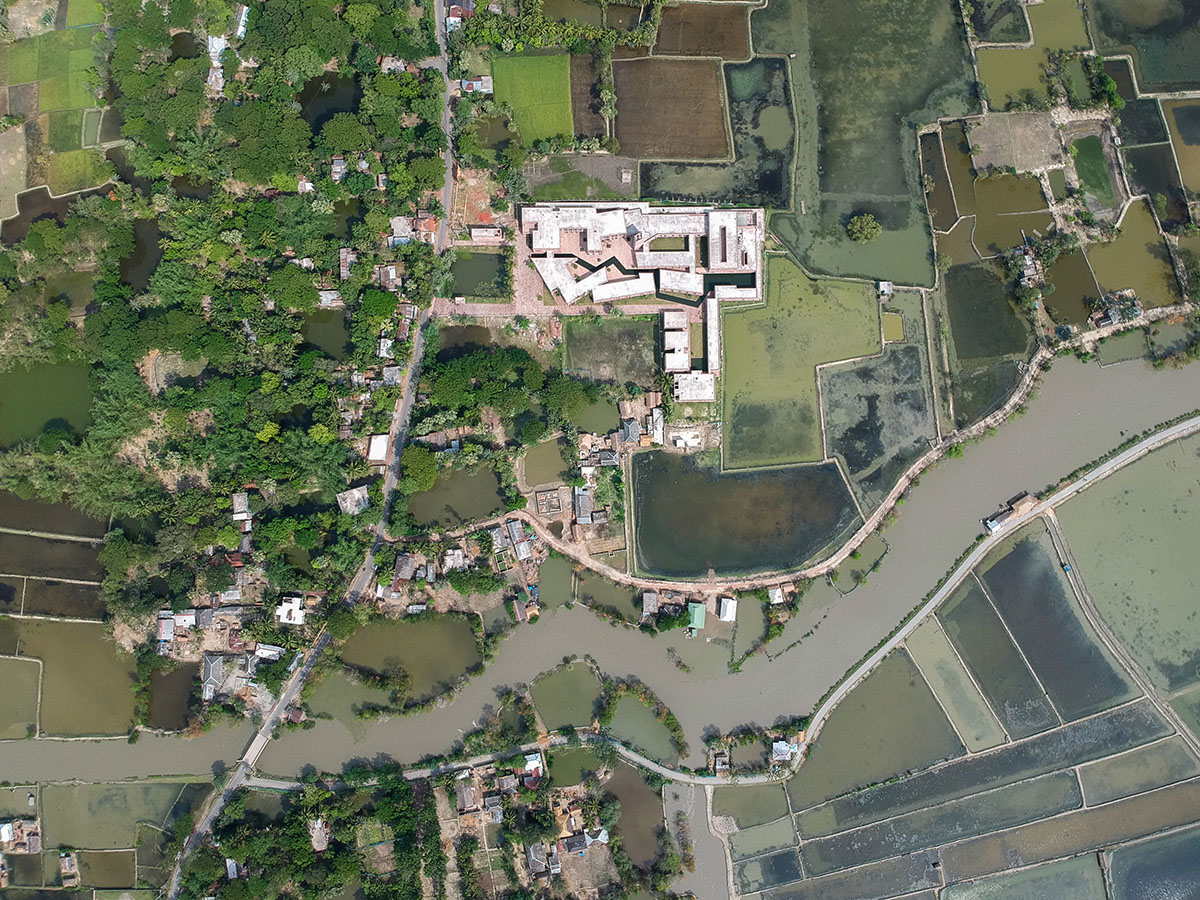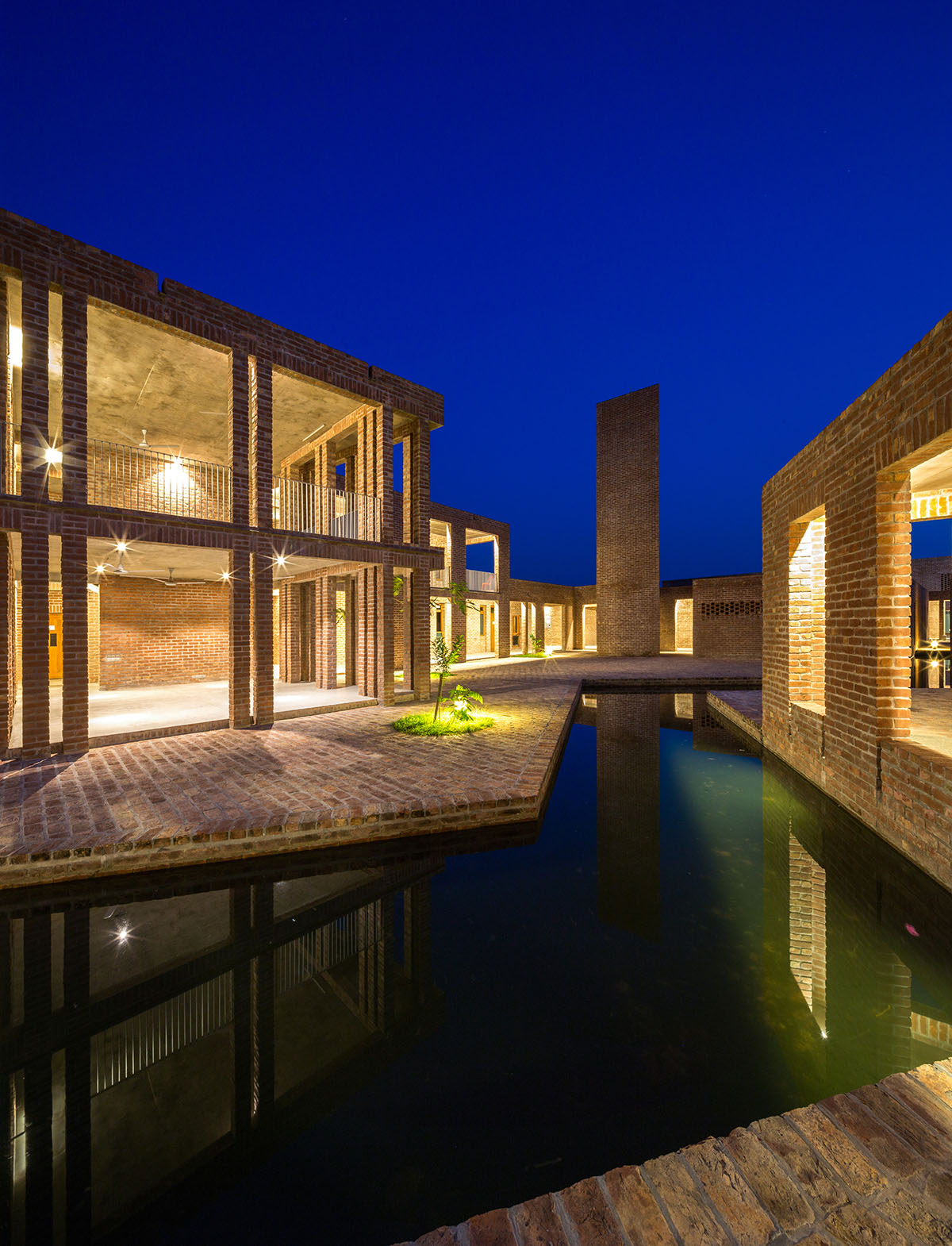 Plan. Image courtesy of Kashef Chowdhury/URBANA
The winning project was judged by a distinguished Grand Jury chaired by world-renowned multidisciplinary French architect and urban planner, Odile Decq and the jury members were: Es Devlin CBE, acclaimed British artist and designer, Jeanne Gang, American architect and founder of Studio Gang with offices in the USA and Paris, Rossana Hu, architect and founding Partner of Neri&Hu based in Shanghai, China and Gustavo Utrabo, Brazilian architect and winner of the 2018 RIBA International Prize and named the 2018 International Emerging Architect.
Hooba Design Group's Kohan Ceram Central Office in Iran won the RIBA International Emerging Architect 2021. Image © Deed Studio
Hooba Design Group has been awarded the RIBA International Emerging Architect 2021 for the Kohan Ceram Central Office Building, an office building with an internal and external structure built with a unique perforated brick.
The biennial prize celebrates the design innovators of tomorrow.
Situated alongside the Sattari highway in Tehran, the architect's innovative approach to the single use of brick, stretches the creative possibilities of the material to create a homogenous and harmonising structure that divides the busy motorway and the residential neighbourhood.
Manufactured by Kohan Ceram factory, the 'spectacled brick' is produced in three different forms with glass, filled, or empty, effectively regulating the building's temperature and light supply in the dry heat of Tehran, whilst creating an exterior spectacle of light at night. Vegetation planted within voids inside the building filters the polluted air from the main road.
Kohan Ceram Central Office Building, Tehran, Iran, Hooba Design. Image © Parham Taghioff, courtesy of Hooba Design
"The judges were impressed by how the practice's Kohan Ceram Central Office Building successfully addresses a number of key criteria and responds with an architecture of restraint, invention and elegance," said Denise Bennetts, Chair of the RIBA Awards Group.
"Working with an existing structure and collaborating with the client, Hooba Design Group developed an environmentally considered 'Spectacled Brick' building which stands out like a glowing beacon on a grey city corner."
"The decision to use a single material to create both the external and internal structure results in an intriguing ambiguity about what is solid and what is void; creating different perceptions during day and night. In the dry and polluted climate of Tehran, the building is minimal and cohesive, utilising the facade's voids to provide light, ventilation and space for vegetation to grow."
"An uplifting and inspiring design, this project as well as the Hooba Design Group's collaborative approach to innovation, qualifies them as a worthy recipient of the RIBA International Emerging Architect 2021," Bennetts concluded.
In 2018, Brazilian architects Aleph Zero and Rosenbaum's Children Village won the RIBA International Prize. Grafton Architects' UTEC University Campus in Peru won the RIBA International Prize in 2016.
All images © Asif Salman courtesy of Kashef Chowdhury/URBANA, unless otherwise stated.
Video courtesy of Kashef Chowdhury/URBANA.
> via RIBA