WAF highlights future projects tackling climate change and setting the agenda in sustainable design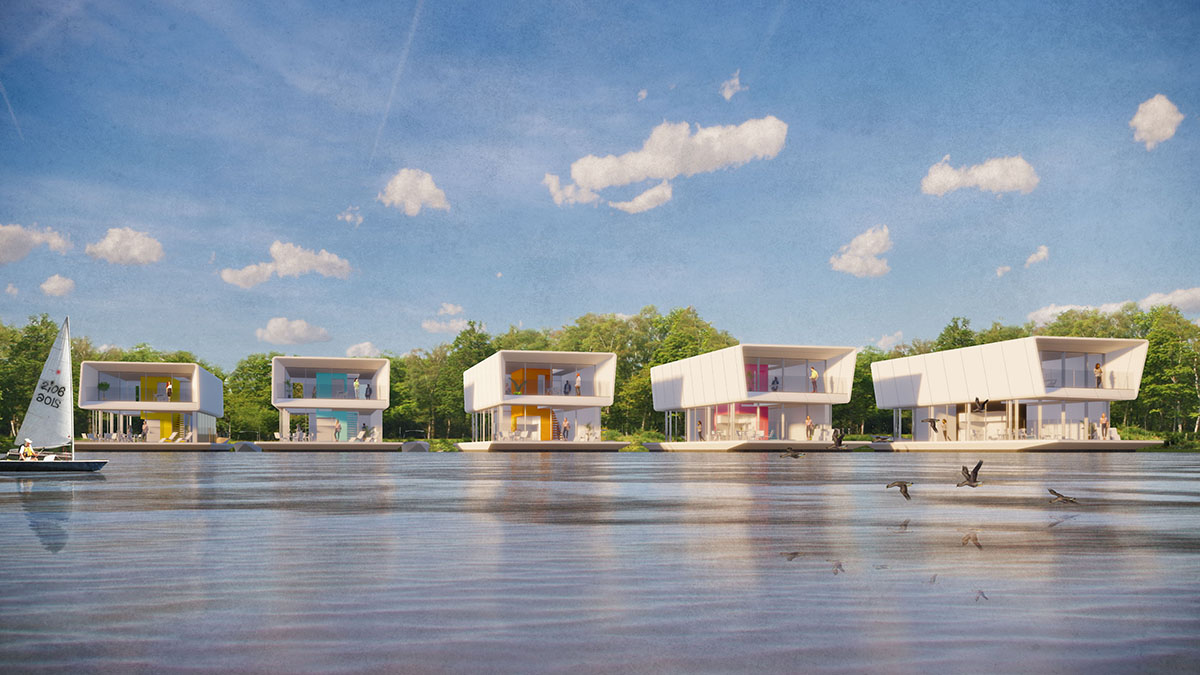 The World Architecture Festival (WAF) has highlighted some projects amongst its Future Project Shortlist in the 12th edition of the World Architecture Festival which will be held between 4-6 December, 2019 in Amsterdam. The selected projects play a major role in creating a more sustainable future, according to WAF.
These projects include: a tower which uses algae to produce clean air, to tackle the vast dust cloud which plagues Beijing by Desitecture, repurposed oil tanks creating a new eco-park to restore destroyed habitats in Brooklyn by Studio V, affordable modular water dwellings for Bergen in response to growing risks of flooding designed by Grimshaw Architects.
Image courtesy of Desitecture
Sanatheon Vertical City by Desitecture is an experimental design featuring a living algae wall, and a biomass algae converter to supply the building's energy, in conjunction with solar panels. Its central core turbines draw air through the buildings' cores and its towers act as ionisation veils attracting and absorbing the particles which form the vast dust cloud which plagues Beijing.
A surge protection system to counter rising sea levels in Houston by Rogers Partners Architects, the first energy positive airport city in the world for Oslo by Nordic - Office of Architecture and Haptic Architects and a residential community incorporating a large forest ecosystem reconnecting people with nature in Samutprakarn by F+P (Thailand), DT Design, ITEC Entertainment, Atelier 10, EEC Engineering Network, Grant Associates and TK Studio, are also among the highlighted projects for more sustainable future.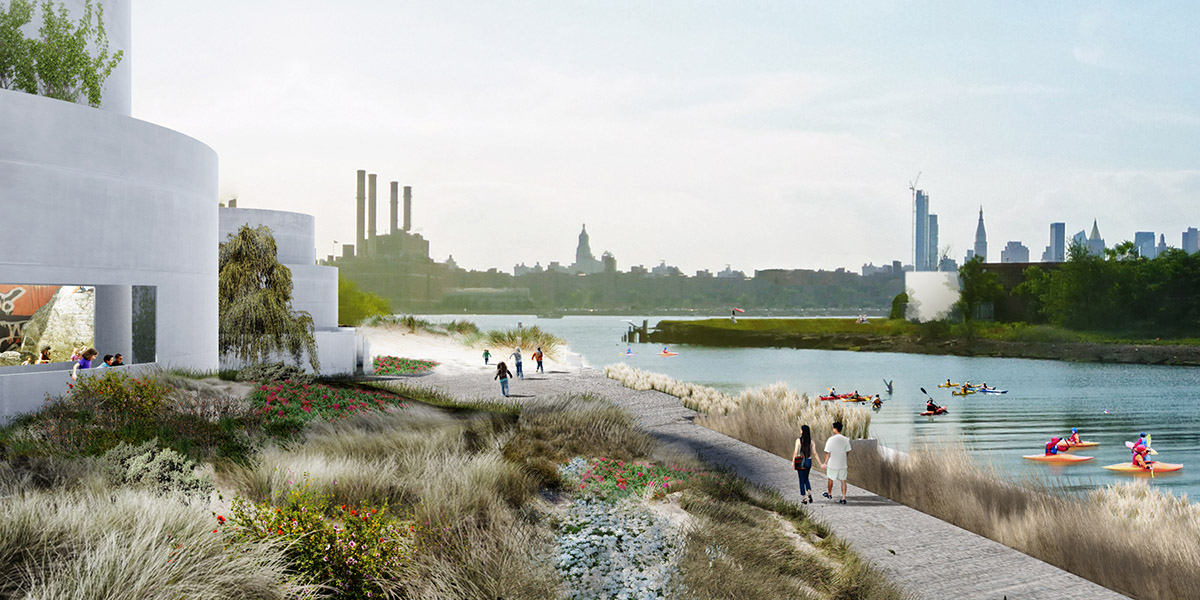 Image courtesy of STUDIO V and Ken Smith Workshop
The Tanks at Bushwick Inlet Park is a project vision by Studio V for the site of the former Bayside Oil complex on the Brooklyn Waterfront. The project's aim is to repurpose ten former oil tanks to create community gardens, performance spaces and galleries. Part of the project is also to to re-grow the devastated oyster population in New York Harbor by creating a suitable habitat in one of the empty tanks.
The projects illustrate architects grappling with some of the world's most pressing challenges. This follows the establishment of "Architects Declare", a collective of some of the most renowned practices who have come together to announce a state of climate emergency.
Image courtesy of Grimshaw Architects
The Modular Water Dwellings are Grimshaw's answer to mitigating flood risk brought on by climate change and minimising one's ecological footprint. The prototype dwellings are designed with an assembly line approach and manufactured off-site, bringing the benefits of an economy of scale and thorough quality control.
This year WAF's programme theme, "Flow" and will include speeches, discussions and debates examining the complex and deep-rooted relationship between architecture, design and people, data, nature and power.
Elizabeth Diller, Founder and Partner at Diller Scofidio + Renfro, and Doriana Mandrelli Fuksas and Massimiliano Fuksas, joint Directors of Studio Fuksas will be speaking at the this year's festival.
Andrew Whalley, Chairman at Grimshaw Architects, Angus Campbell, Senior Partner and Deputy Head of Studio of Foster + Partners, Jacques Ferrier and Pauline Marchetti, joint Founders of Ferrier Marchetti Studio, Kai-Uwe Bergmann, Partner at BIG, and Kasper Guldager Jensen, Director and Senior Partner at 3XN / GXN are also among other international architects speaking at the WAF.
Image courtesy of Rogers Partners 2019
Galveston Bay Park by Rogers Partners Architects is a proposed surge protection system that protects the key industrial infrastructure and the community in the Port of Houston. The series of mid-bay islands and gates will act as protective barriers when needed, as a secondary functions they will become recreational amenities for the local communities and visitors.
WAF is the world's biggest architectural awards programme. Major world architects shortlisted for this year's WAF Awards include Zaha Hadid Architects, Heatherwick Studio, Bjarke Ingels Group, Rafael Vinoly Architects, Rogers Stirk Harbour + Partners, Grimshaw and White Arkitekter. Many smaller practices will also take part to pitch against the big names.
This year's 534-strong shortlist, ranges from private residential, to education, infrastructure, healthcare, hospitality, cultural/civic, interior and landscape projects across 70 countries.
Image courtesy of Nordic - Office of Architecture and Haptic Architects
Oslo Airport City by Nordic - Office of Architecture and Haptic Architects is the winning masterplan design for Oslo Airport City, which aims to become the first energy positive airport city powered entirely by renewable energy. Situated on a 370-hectare site beside Oslo Airport, the sustainable smart city will be driven by green technologies, and centred around a public park with a large lake and cycle path.
The architects and designers behind each shortlisted project will compete for category prizes at WAF from 4-6 December. Presentations of the shortlisted designs will be made to more than 100 international juries in front of festival delegates. Category winners then compete against each other on the final day of the festival, to compete for the ultimate accolades of World Building of the Year, Future Project of the Year, Interior of the Year and Landscape of the Year.
"We have been inspired by the levels of innovation in this year's entries, that show the incredible range of ways in which architects are responding to the global climate and biodiversity emergencies we face," said WAF programme director Paul Finch.
"WAF has attracted more than 1,000 entries, for the second year in a row, from 70 countries, and we look forward to more than 500 live presentations at the Festival in Amsterdam, showcasing these exemplar projects from around the world."
Image courtesy of F+P, DT Design, ITEC Entertainment, Atelier 10, EEC Engineering Network, Grant Associates, TK Studio
The Forestias - Masterplanning is a joint effort by F+P (Thailand), DT Design, ITEC Entertainment, Atelier 10, EEC Engineering Network, Grant Associates and TK Studio. Exploring the threshold between urban form and landscape, The Forestias masterplan features community centres, residences and hotels in the heart of the forest in Thailand, designed to create a new type of modern lifestyle where humans are reconnected with the forest environment.
The 2019 completed buildings Super Jury which will decide the World Building of the Year, includes Aaron Betsky, President of Frank Lloyd Wright School of Architecture, Anuradha Mathur, Professor at the Landscape Architecture Department School of Design, University of Pennsylvania Philadelphia, and Maria Warner Wong, Design Director of WOW Architects & Warner Wong Design.
WAF and its co-located event, INSIDE World Festival of Interiors, will welcome more than 2,000 of the world's leading architects and designers to Amsterdam for three days of conference programmes, awards, exhibitions and fringe events from 4-6 December.
World Architecture Community is official Media Partner for this year's festival and offers to its Professional Members 10% discounted tickets over regular festival prices during WAF registration! All you have to do is to upgrade your World Architecture Community membership to Professional here or visit your WAC Settings page and send us ([email protected]) an email to get your promo code for your WAF registration!
> via WAF