Visit and experience National Pavilions of Venice Architecture Biennale 2021 online
A brand-new collective digital platform, called Biennale Pavilions, has been launched to visit and experience some of the National Pavilions at the 2021 Venice Architecture Biennale which will open to the public on May 22nd and will be on view until November 21st, 2021.
Due to the ongoing pandemic, while some of the Pavilions will present their exhibitions in physical way, some of them will showcase their works in a hybrid presentation - while some of them will entirely present their works virtual.
The 2021 Venice Architecture Biennale, curated by Hashim Sarkis, is themed under "How will we live together?", which will explore a special context of "widening political divides and growing economic inequalities". The theme will also help architects to "imagine spaces in which we can generously live together".
In response to an intensely challenging year for culture, 19 National Pavilions will present their exhibitions and online events through this digital platform, participating countries include: Estonia, Switzerland, Lithuania, Great Britain, Finland, Grand Duchy of Luxembourg, Austria, Canada, Dominican Republic, France, Grenada, Kuwait, Latvia, Nordic Pavilion, Poland, Singapore, USA, The Netherlands, and Turkey.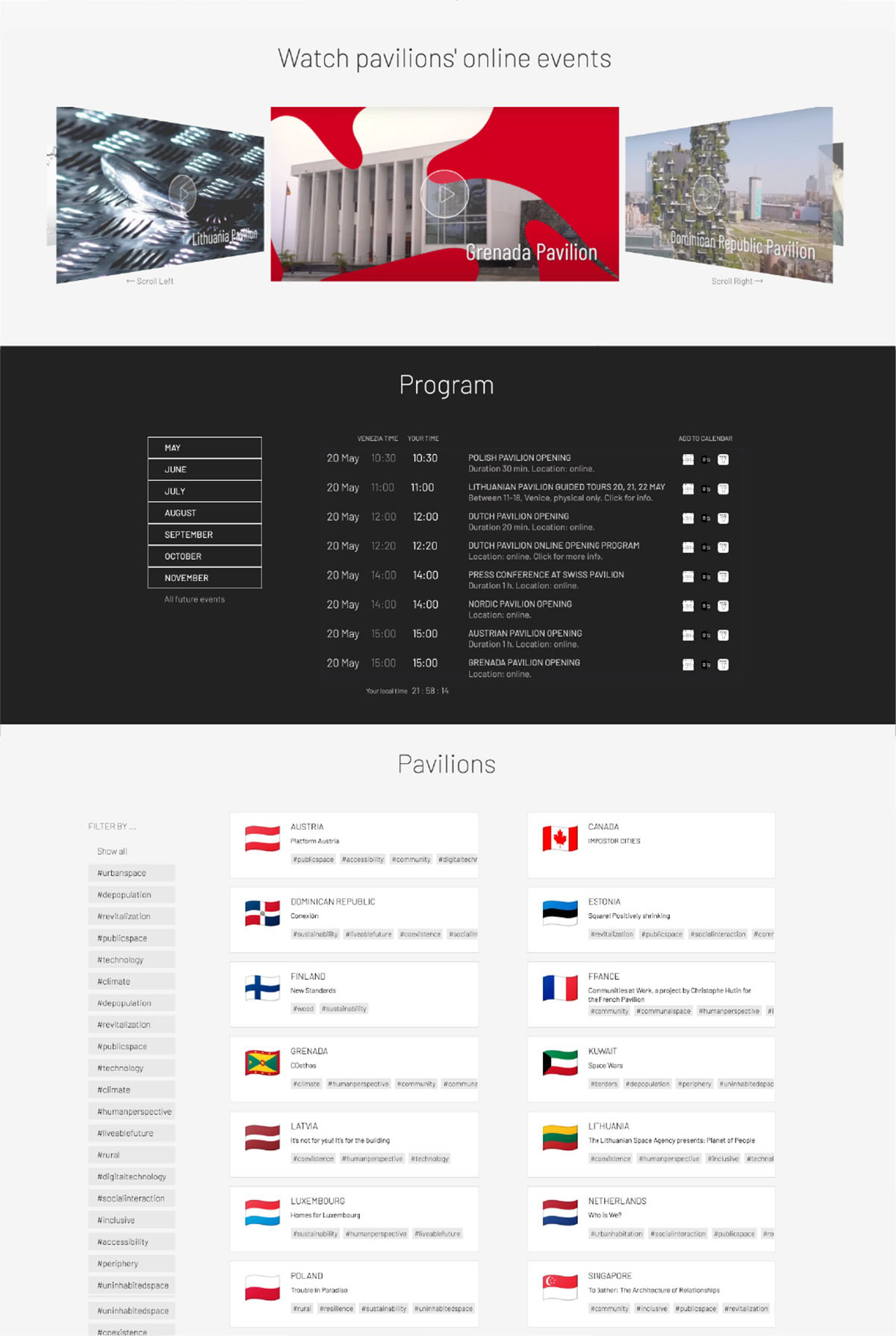 The list will likely grow in the coming months, covering the entire duration of the event, according to a press release.
Borne of a collective sense of community, collaboration and exchange of ideas, the project enables visitors to also enjoy the contents of some of the National Pavilions of Venice Architecture Biennale 2021 online, ensuring the participation of a higher number of visitors in times of travel and public gathering restrictions.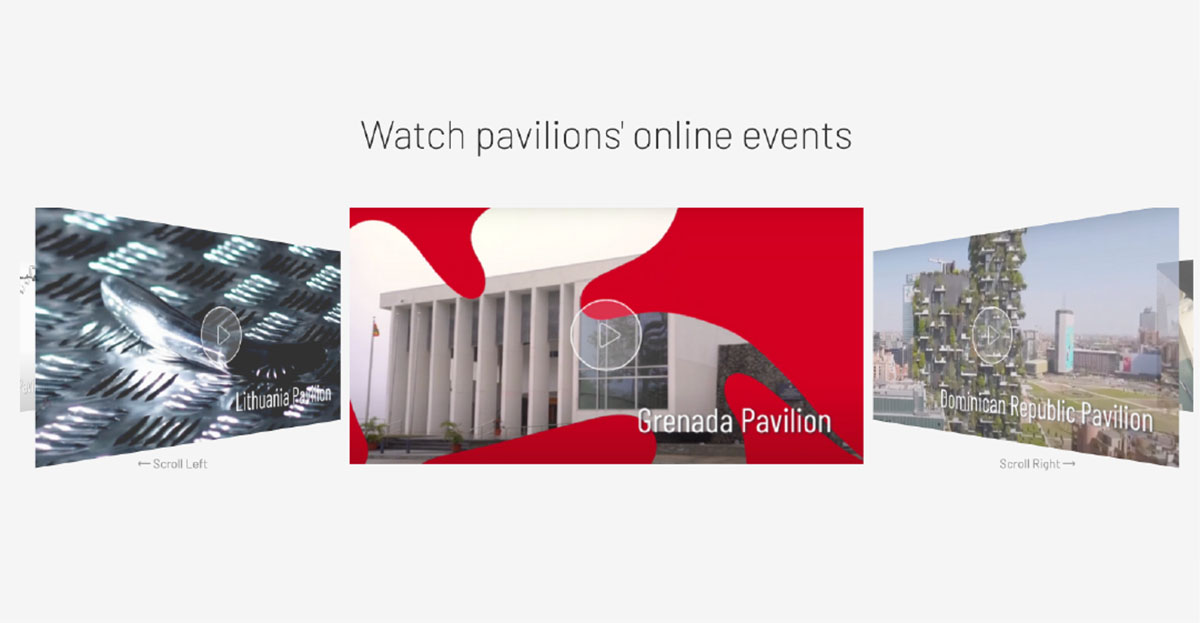 The action was launched by six National Pavilions, Estonia, Switzerland (Swiss Arts Council Pro Helvetia), Lithuania (Rupert), Great Britain (British Council), Finland (Archinfo), and Grand Duchy of Luxembourg (Luxembourg Center for Architecture) belonging to the Commissioner Group, who felt the urge to address the limitations imposed by Covid-19.
"The Biennale Pavilions website has been designed to add value to the national pavilions exhibits. It is the joint effort of various participating countries. This digital door to the frontline of architecture helps visitors and participants to stay tuned to the latest events and discussions from all over the world," said Raul Järg, Commissioner and Director of the Estonian Centre of Architecture.
"This year, more than ever, La Biennale di Venezia has become a hybrid event due to the global pandemic — a new reality that has accelerated the use of digital tools and empowered the participating National Pavilions to create new ways of engaging with their audiences," stated a press release.
Most countries are opting for online or hybrid inauguration events during the opening week in May 2021 and will continue to disseminate their talks, seminars and other events online over the summer and into autumn.
Biennalepavilions.com will bring together all these events in one online hub, not substituting the main physical event, but enhancing its potentialities.
The web platform provides the visitor with different options to experience National Pavilions' exhibitions and events online, and to find all important information in one place.
Visitors will be able to browse the calendar of events and save them in their own personal calendar in a single click, to filter the pavilions by relevant tags, browse each pavilion page for main information about their exhibitions, upcoming events, and to easily find all dedicated websites and contact information.
Moreover, all events will stay accessible and can be re-watched anytime from the archive on the website.
The six countries worked in synergy, together with all the Commissioner Group members, to bring this initiative to life, relying on Estonia and its renowned technological advanced tradition for the virtual infrastructure.
It's no wonder that the country has has been hailed the "most advanced digital society in the world" (according to  EU-Startups.com).
As well as being a necessity for challenging times, Biennalepavilions.com will also be a great medium with which to spread architectural knowledge tied to the Biennale Architettura 2021 around the world in an easily accessible way, potentially introducing a higher rate of engaged participants in the architectural debate.
The Biennalepavilions.com has been produced and coordinated by the Estonian Centre for Architecture in collaboration with the Commissioner Group.
Project facts
Project name: Biennale Pavilions www.biennalepavilions.com
Participating countries and national pavilions:
Austria, Canada, Dominican Republic, Estonia, Finland, France, Grand Duchy of Luxembourg, Great Britain, Grenada, Kuwait, Latvia, Lithuania, Nordic Pavilion, Poland, Singapore, USA, Switzerland, The Netherlands, Turkey.
Commissioner of the Estonian Pavilion: Raul Järg
Project coordinator and producer of the Estonian Pavilion: Ragne Soosalu
Project advisor: Eve Arpo
All images © Biennale Pavilions
> via Biennale Pavilions