Comfy home living in the country
A new Villa in the middle of Tuscan country between Florence and Arezzo that Rachele Biancalani Studio designed with the technician Matteo Bonechi. The project has involved the design of interiors, garden, and lighting.
A young couple with a little son are the owners of the house. They love minimal style and design but they did not want a cold and aseptic house therefore the designer has used warm colors and finishing materials that have characterized all the interior of the villa.
The sophisticated taste for design objects has been met with the choice of furnishings and lighting fixtures of the highest quality that could find space in these minimal interior but with enveloping heat.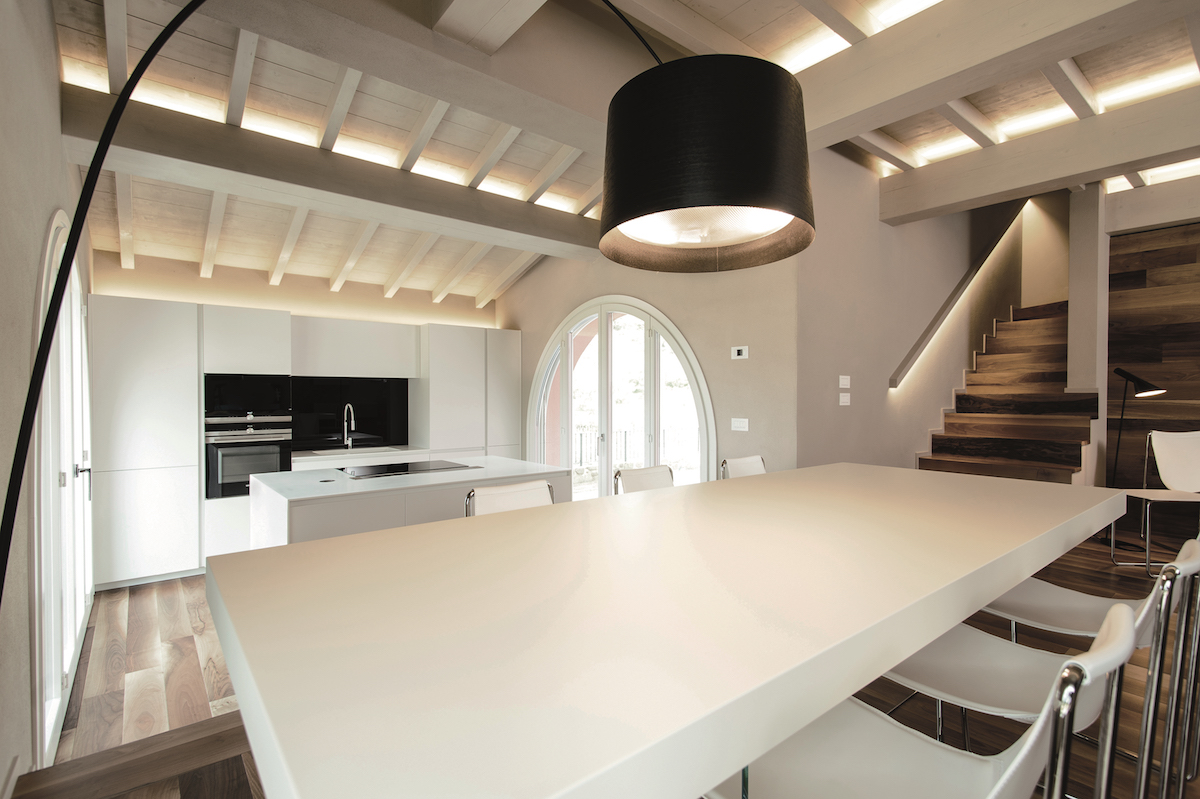 Absolute protagonist of the living open space is the wooden walnut flooring, that becomes a boiserie in the livingroom near to the entrance.
This walled wooden wall is concealed at the same time, hidden by two twin doors, respectively a large walled cabinet with total black interiors and access to the ground floor services.
The open-space living environment includes 4 zones with a variety of features: a reading corner with a comfortable armchair, leather table and chromed steel; a living room with modular sofa, TV area and fireplace; the dining area with a particular table and the kitchen in a separate body.
The minimal kitchen is total white and a thin top has been used to make also the two sides of the freestanding island also in addition to the top.
Furnishings are also essential in bathrooms with great attention to the clean and functional design of sanitary fixtures and accessories.
The ground floor bathroom has a tub whose side is covered with the same parquet list to recreate a situation similar to the one in the living room. In the bathroom on the first floor, however, it was chosen to create a shower with integrated seat and masonry shower tray.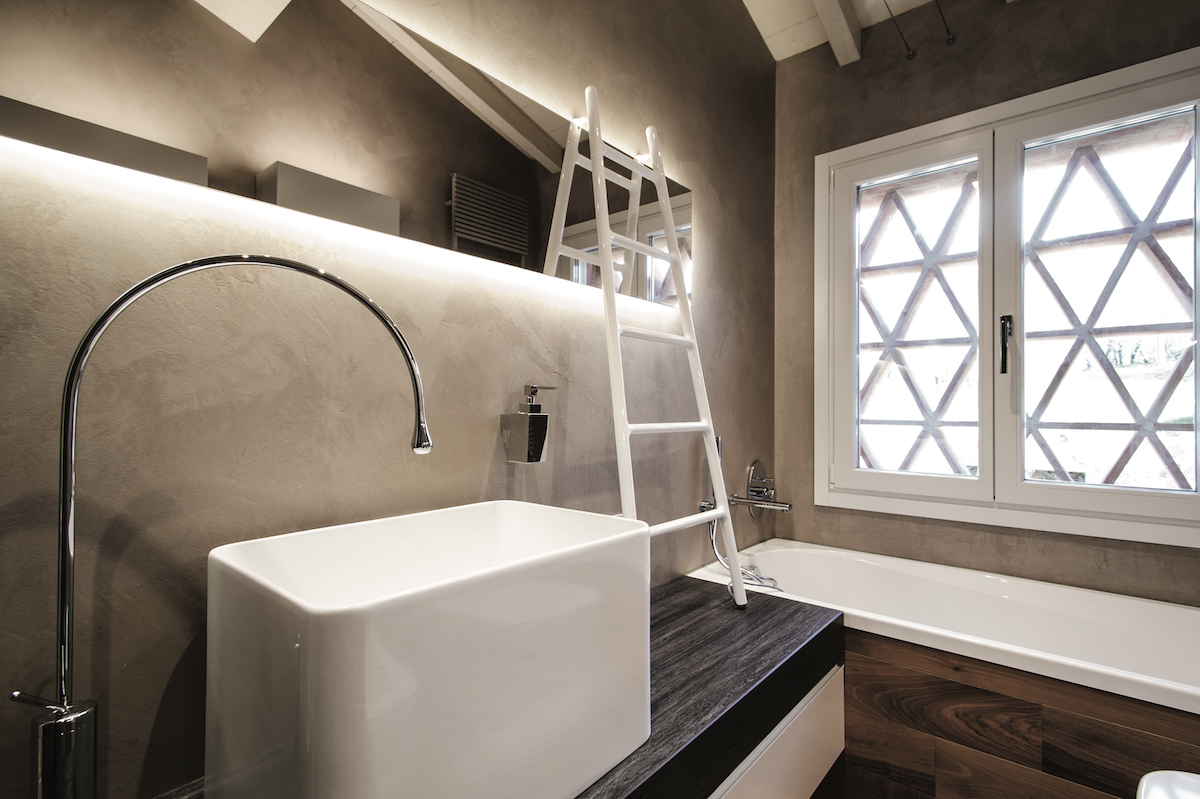 The bedroom is fully furnished with prestigious furnishings and a custom headboard behind which a strip led is inserted.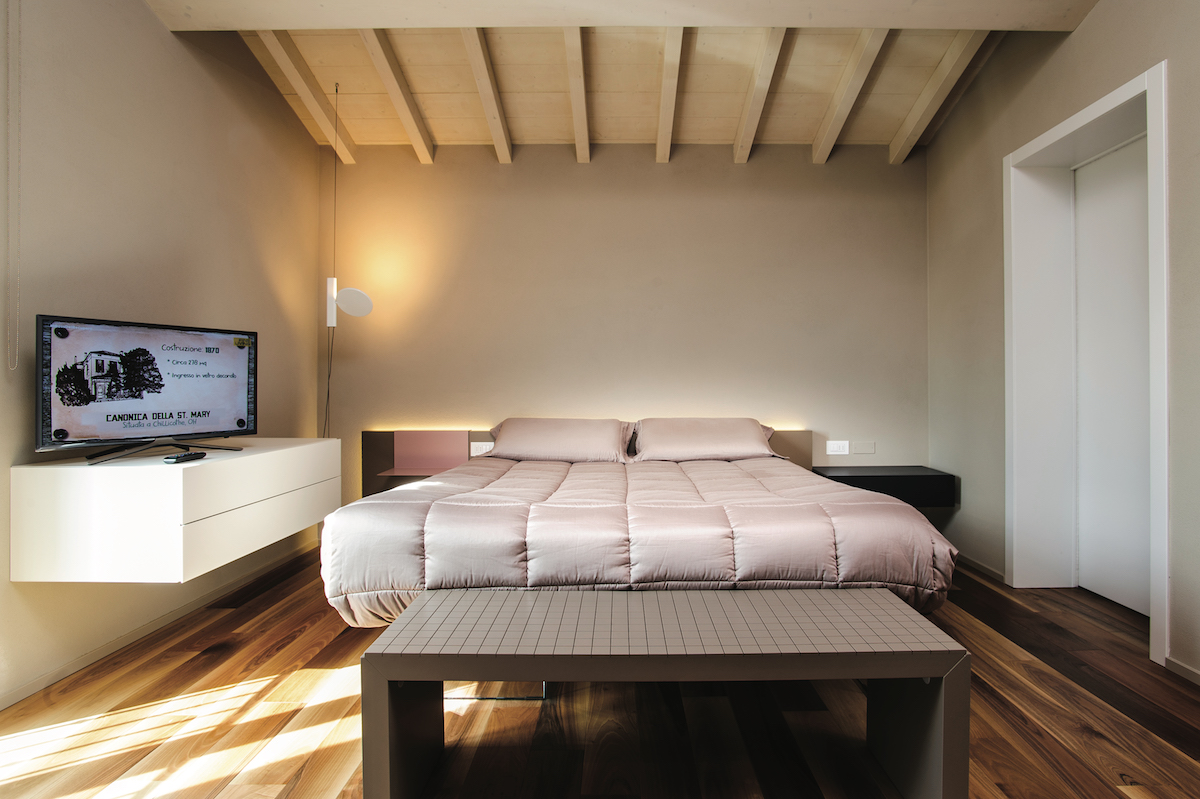 The symmetry of the room is enshrined by the two twin drawer units, but not identical in form. A double transparent bronze glass sliding door separates the walk-in closet area, completely designed by the architect who chose a texture similar to the yuta for the shelves.
The exterior of the villa is simple and linear characterized by a garden with English lawn and a very special light spot: a garden lamp that recalls a group of giant calleys that stand out in the green almost they were a corten sculpture.
All images © Thomas Dell'Agnello and Rachele Biancalani Studio