DigitalFUTURES 2020 Live Streaming for Events, Workshops, Panel Discussions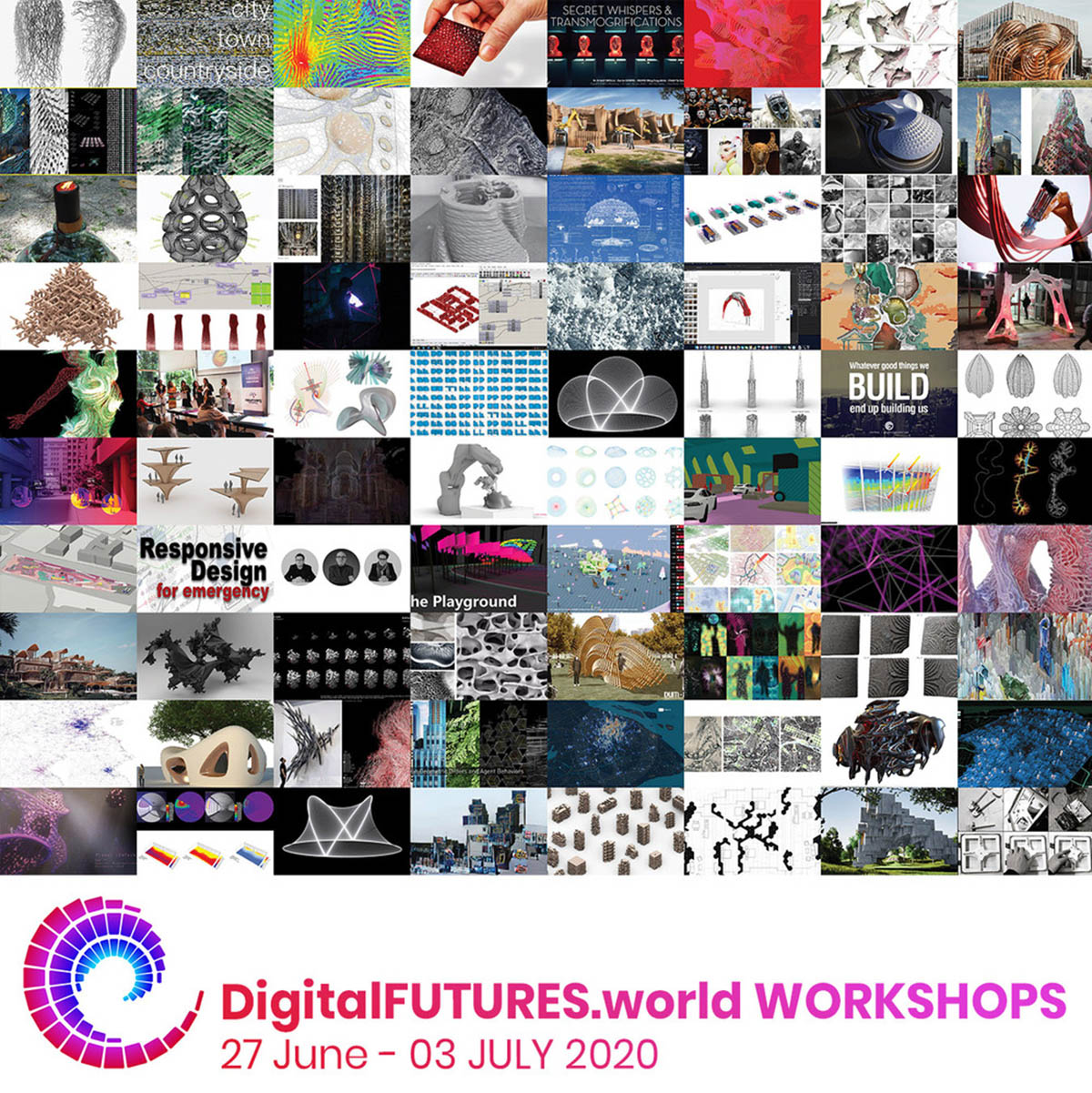 DigitalFUTURES World is a one-week series of 24/7 parallel online workshops, lectures, and panel discussions involving leading architects and interdisciplinary thinkers addressing the challenges facing architecture in the age of Covid-19. The event will be live-streamed continuously from 26 June to 3 July.
The largest global event for architectural education ever staged, with 12,295 applications, 78 workshops, 30 panel discussions with 24/7 continuous live-streaming on Youtube channel.
This initiative brings together these two themes, the Digital and the Future, to create an online platform for a continuous, week long series of talks and workshops, exploring every aspect of the potential impact of the digital on our lives. In so doing this initiative itself becomes an example of the new possibilities afforded by the digital.
"We face an uncertain future. Hardship is everywhere. Architects and students are struggling. It is time for our leading architects, thinkers and technologists to unite and come together for the benefit of everyone across the globe. It is time to transcend our differences and set aside our individual interests. One world together."
Contributors include: Thom Mayne, Wolf Prix, Peter Eisenman, Yansong Ma, Jenny Sabin, Patrik Schumacher, Eva Franch, Ila Berman, Philip Yuan, Claudia Pasquero, Achim Menges, Alisa Andrasek, Liam Young, Rachel Armstrong, Roland Snooks, Philippe Block, Shajay Bhooshan, Gilles Retsin, Sanford Kwinter, Marrikka Trotter, Michael Speaks, Michael Hays, Bernard Stiegler, Lu Xinghua, Antoine Picon, Kzysztof Wodiczko, Graham Harman, Jeff Kipnis, Neil Leach, Ciro Najle, Nader Tehrani, Hashim Sarkis, Meejin Yoon, Mette Thomsen, Matias del Campo, Stanislas Chaillou, Daniel Bolojan, Casey Rehm, Sandra Manninger, Philippe Morel, Areti Markopoulou, Biayna Bogosian, Andrea Macruz, Ani Liu, Refik Anadol, Anil Seth, Kris Mun, Virginia Melnyk, Wanyu He, Havard Haukeland, Pierre Cuttelic, Behnaz Farahi, Gabriel Esquivel, Claudiu Barsan, Gwyllim Jahn, Tom Verebes, Shermeen Yousif, Immanuel Koh, Sean Ahlquist, Mark Burry, Mike Xie, Jesse Reiser, Alejandro Zaera-Polo, Bob Somol, Alvin Huang, Simon Kim, Maria Ibanez, Joseph Choma, Someen Hahm, Guvenc Ozel, Satoru Sugihara, Namju Lee, Tomas Vivanco, Mike Weinstock, Niccolo Casas, Brad Cantrell, Michael Budig, Jason Johnson, Pablo Herrera, and many more.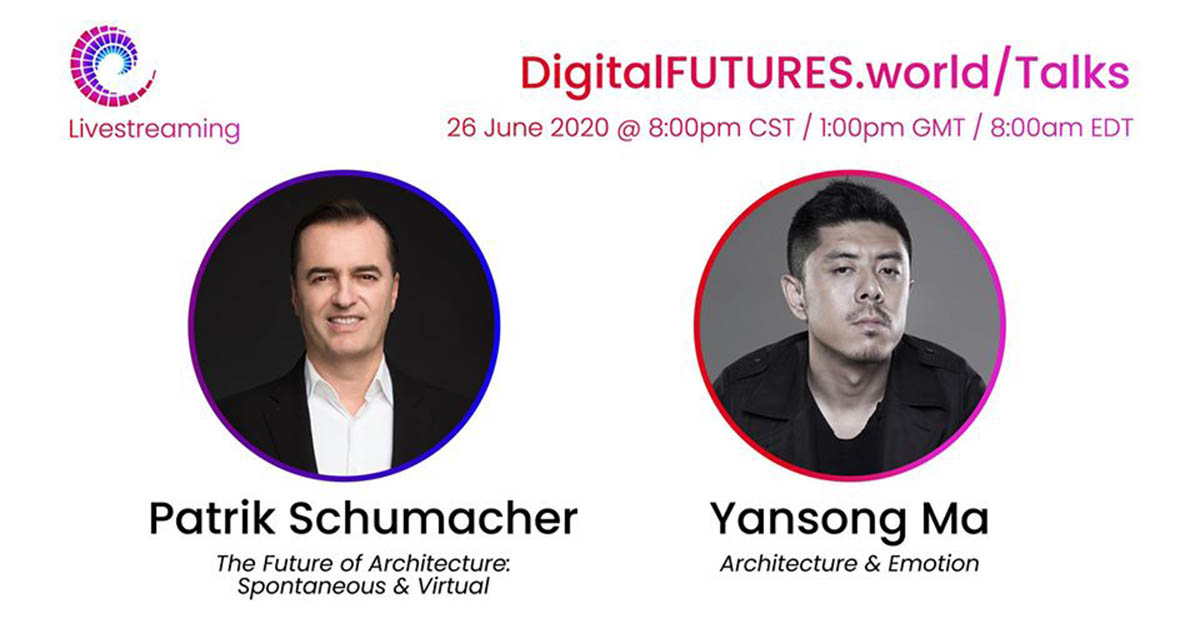 Opening Lectures
Friday 26 June, 8.00 am EST; 8.00 pm China; 2.00 pm CET; Noon, GMT
International Practice
Yansong Ma, a former student of Zaha Hadid, who is designing the George Lucas Museum of Narrative Art in LA, gives a lecture, 'Past and Future'.
Patrik Schumacher, director of Zaha Hadid Architects, who currently have numerous projects in China, gives a lecture, 'The Future of Architecture, Spontaneous and Virtual'.
Panel Discussions: Architectural Conversations in the Age of Covid 19
The purpose of these panel discussions is to address various pressing issues arising for architecture and urban design as a result of the Covid 19 virus. The idea is to seize the opportunities afforded by online communication to bring together architects and thinkers who otherwise might find it difficult to meet. Each panel discussion will address a different topic relating to issues that arise out of Covid 19.
1. Digital Technologies in the Post-Pandemic Future
This talk addresses the role of architectural research into digital technologies in the age of Covid19 and in the post-pandemic future.
Achim Menges (ICD Stuttgart), Philip Yuan (Tongji), Areti Markopoulou (IAAC), Bob Shiel (UCL Bartlett), Mette Thomsen (CITA)
27 June, 8.00 am EST; 8.00 pm China; 2.00 pm CET; Noon, GMT
2. AI and Neuroscience
The lockdown under COVID-19 turned the home into an office, and domestic space into an interactive space. In his AI 'machine hallucinations' media artist, Refik Anadol, makes spaces come alive, makes them 'dream' and gives them 'consciousness'. Anadol discusses the theme of 'hallucinations' with computational neuroscientist, Anil Seth, for whom reality is a form of 'controlled hallucination'.
Refik Anadol (Refik Anadol Studio), Anil Seth (USussex), Neil Leach (Tongji/FIU), Daniel Bolojan (FAU), Kris Mun (ANFA)
27 June, Noon, EST; midnight China; 6.00 pm CET; 4.00 pm GMT
3. Transculturalism: The Space in Between
As utopian fantasies of "global" interconnectedness fade in relation to a global pandemic and burgeoning nationalisms, it is important to develop strategies to foster a sense of inclusion and overcome a culture of exclusion. This panel discussion addresses what role might art and design might play to maintain a sense of transculturalism and how they might allow us to see things differently.
Amelia Jones (USC), Krzysztof Wodiczko (Harvard GSD), Behnaz Farahi (CSULB)
27 June, 8.00 pm EST; 28 June, 8.00 am China; 2.00 am, CET; Midnight, GMT
4. Architects and Locality
Covid 19 has forced us to rethink our obsession with technology. In conversation with Chinese philosopher, Lu Xinghua, French philosopher, Bernard Stiegler, outlines his conept of 'locality' as a new strategy for how architect can work together.
Bernard Stiegler (IRI, Centre Georges-Pompidou), Lu Xinghua (Tongji)
28 June, 8.00 am EST; 8.00 pm China; 2.00 pm CET; Noon, GMT
5. AI United
In the age of Covid-19, one of the most rapidly developing field of architectural inquiry has been AI. Architectural practices are beginning to recognise the incredible opportunities afforded by AI. At the same time AI is observed with suspicion in terms of potentially displacing entire architectural practices. This panel addresses this new phenomenon.
Daniel Bolojan (FAU), Sandra Manninger (UMich), Philippe Morel (UCL), Matias del Campo (UMich), Stanislas Chaillou (Spacemaker AI), Immanuel Koh (SUTD), Alisa Andrasek (RMIT), Neil Leach (Tongji/FIU)
28 June, Noon, EST; Midnight China; 6.00 pm CET; 4.00 pm GMT
28 June, 8.00 pm EST; 3 July, 8.00 am China; 2.00 am, CET; Midnight, GMT
6. AI and the Office of the Future
Some digital industries have fared very well under the restrictions in force in the age of Covid 19, and AI driven design technologies have been some of them. This talk brings together the two leading companies in the world developing these new technologies, Xkool and Spacemaker AI. How will these technologies contribute to the future of the office in the post pandemic age?
Wanyu He (Xkool), Havard Haukeland (Spacemaker AI), Maria Dantz (Spacemaker AI), Daniel Bolojan (FAU), Neil Leach (Tongji/FIU)
29 June, 8.00 am EST; 8.00 pm China; 2.00 pm CET; Noon, GMT
7. The End of the World
Is COVID-19 the end of the world as we know it? Hernan Diaz-Alonso and Matias del Campo discuss the possibility of the ultimate dystopian scenario.
Matias del Campo (UMich), Hernan Diaz-Alonso (SCI-Arc)
29 June, Noon, EST; midnight China; 6.00 pm CET; 4.00 pm GMT
8. Architecture and Disruption
March 1917. May 1968. 9/11. June 2020. How does architectural discourse shift in response to sudden changes in the order of things? Does new thought inevitably arise in crisis? Are old models destined to fade? The aim is to address these questions in thoughtful, provocative, and specific ways.
Marrikka Trotter (SCI-Arc), Michael Hays (Harvard GSD), John Cooper (SCI-Arc), Ivonne Santoyo-Orozco (Bard), Peter Sealy (UToronto)
29 June, 8.00 pm EST; 30 June, 8.00 am China; 2.00 am, CET; Midnight, GMT
9. Bio-Futures
Can the global changes that have arisen due to Covid-19 be addressed and given agency by bio-design? This panel discusses how designers can offer meaningful impact relative to our "new" normal, where humans have impacted the environment, and life is characterized by uncertainty, unpredictability, and constant change.
Andrea MaCruz (Tongji), Rachel Armstrong (Univ Newcastle), Ani Liu (Harvard GSD), Claudia Pasquero (UCL Bartlett), Marcus Farr (AU Sharjah/Tongji)
30 June, Noon, EST; Midnight China; 6.00 pm CET; 4.00 pm GMT
10. International Students in the Age of COVID-19
What will happen to international students? This panel will focus on several generations of Chinese architecture students studying in the US paying special attention to the challenges and opportunities working in the US and in China. What are the new challenges and opportunities for collaboration for students and for schools of architecture in the age of Covid-19?
Michael Speaks (Syracuse), Fei Wang (Syracuse), Alton Chow (AECOM), Na Wei (Wei Architects), Ying-Yi Ma (Syracuse), Aric Chen (Tongji)
30 June, 8.00 pm EST; 1 July, 8.00 am China; 2.00 am, CET; Midnight, GMT
11. Gaudí
Covid19 has forced us to reassess our attitudes to the environment and search for greater efficiencies. Antoni Gaudí stands out as an exemplar of a bio-inspired architect with an interest in structurally efficient systems. Mark Burry and Mike Xie discuss the lessons to be learnt from his church of the Sagrada Familia in Barcelona.
Mark Burry (Swinburne), Mike Xie (RMIT)
1 July, 8.00 am EST; 8.00 pm China; 2.00 pm CET; Noon, GMT
12. Operation PPE + Informal Fabrication
How have architects responded to the challenges of COVID-19? The panel leverages the participatory and networked space of design and making across disciplines to innovate design solutions to rapidly respond to gaps in supply chains at times of extreme crisis. It takes its point of departure from the production of personal protective equipment (PPE) undertaken by individual schools of architecture and research units in response to the crisis of PPE provisions.
Jenny Sabin (Cornell), Alvin Huang (USC), Manuel Jimenez Garcia (Bartlett), John Stuart (FIU), Mitch McEwan (Princeton), Biayna Bogosian (FIU)
1 July, Noon, EST; Midnight China; 6.00 pm CET; 4.00 pm GMT
13. Reappraising the City
Do we need to reappraise the appeal of dense urban living in cities such as NYC in the wake of Covid-19? Peter Eisenman, renowned architect and the first executive director of the IAUS, discusses this and other issues related to NYC in the light of Covid 19 with Nicolai Ourousoff, former architecture editor, The New York Times.
Peter Eisenman (Peter Eisenman Architects), Nicolai Ourousoff (Columbia GSAPP)
Wed 1 July, 8.00 pm EST; 2 July, 8.00 am China; 2.00 am, CET; Midnight, GMT
14. Towards a Neuro-Ecology of the Environment in the Age of COVID-19
We are experiencing massive shifts in the face of today's pandemic. Social distancing in public and living in isolation in private makes us more aware of our immediate environment. How can ideas from neuroscience inform architectural design in this time of crisis?
Kris Mun (ANFA), Pierre Cutellic (ETH Zurich), David Kirsh (UCSD), Sean Ahlquist (UMich), Sanford Kwinter (Pratt)
2 July, 8.00 am EST; 8.00 pm China; 2.00 pm CET; Noon, GMT
15. From Decon to AI: AI and Architectural Practice
AI was the technique that was the first to detect COVID19. It has begun to be adopted by several architects. Wolf Prix describes the development of AI out of Deconstructivism, and discusses its significance with Thom Mayne.
Wolf Prix (Coop Himmelb(l)au), Thom Mayne (Morphosis)
2 July, Noon, EST; Midnight China; 6.00 pm CET; 4.00 pm GMT
16. Agency, Borders and Immigration 2/3
Architecture is in crisis, and above all, in existential crisis. The world economic situation and its problems linked to the loss of cultural identity, immigration, climate change and now COVID19 have turned a vocationally liberal, glamorous profession upside down. This talk addresses the crisis in the context of the US-Mexican border.
Gabriel Esquivel (TexasA&M), Ersela Kripa (Agency Architecture), Alex Santander (Studio Santander), Rene Paralta (Generica), Paulina Ochoa Espajo (Haverford College), German Pellares (UPenn), Maruan Soto Antaki (author)
2 July, 8.00 pm EST; 3 July, 8.00 am China; 2.00 am, CET; Midnight, GMT
17. Immersive Environments during COVID-19 and Beyond
This panel discusses the affordances and disruptive qualities of immersive environments and technologies (XR: VR/MR/AR) for rethinking design communication, and enhancing socio-spatial dynamics during the COVID19 crisis and beyond.
Biayna Bogosian (FIU), Claudiu Barsan (Tongji), Aviad Almagor (Trimble XR), Christopher Morse and Adam Chernick (SHoP Architects), Keely Colcleugh (Kilograph), Gwyllim Jahn (Fologram)
3 July, 8.00 am EST; 8.00 pm China; 2.00 pm CET; Noon, GMT
18. The Future of the University
The impact of Covid19 on face to face teaching, and the challenges that it has posed to study abroad programs and the market of international students have forced many universities to reassess their positions. It has also caused significant financial hardship for universities. How might universities adapt to this new normal?
Nader Tehrani (Cooper Union), Hashim Sarkis (MIT), Eva Franch (AA), Ila Berman (UVirginia), Neil Leach (Tongji/FIU)
3 July, Noon, EST; Midnight China; 6.00 pm CET; 4.00 pm GMT
19. Sh*t Show Architecture
Wroom! Boom! Ka-boom! Pow! Ka-pow! Splat! Zap! Puff! Cuckoo! Oops! Gulp! Crack! Bing! Bang! Bong! Boing! Bam! Splash! Crash! Auch! Aargh! Pop! Huh? Wow! Ha! Ha! Ha! Wham! (Wuhan!) Oh! Not the tempered prediction of serious and grave post-pandemic scenarios, but the feverish, across-the-board conjecture of a perpetually pandemic reality. What is the architectural form of this irreducibly heterogeneous, ubiquitous sh*t show?
Ciro Najle (Di Tella), Alejandro Zaera-Polo (Princeton), Jesse Reiser (Princeton)
3 July, 8.00 pm EST; 4 July, 8.00 am China; 2.00 am, CET; Midnight, GMT
All images courtesy of DigitalFUTURES World
> via DigitalFUTURES World