Plastique Fantastique creates liquid-like tunnel at Venice Art Biennale 2019
Berlin-based firm Plastique Fantastique's installation at this year's Venice Art Biennale creates a "blurry" experience through a tunnel on the water where people can walk through.
The installation, named Blurry Venice, is exhibited at the Venice Pavilion and presents an oneiric experience, where the boundaries between environment and architecture disappear. Air, water and skyline melt together.
The 58th International Art Exhibition of Venice Art Biennale opened its doors to the public in Venice, Italy. The exhibition can be visited until until Sunday November 24, 2019, at the Giardini and the Arsenale.
This year's theme, titled "May You Live In Interesting Times", will highlight artworks whose forms function in part to call attention to what forms conceal and the multifarious purposes that they fulfil.
Curated by Ralph Rugoff, the exhibition will serve "as a kind of guide for how to live and think in interesting times."
"From the acceleration of climate change to the resurgence of nationalist agendas across the globe, from the pervasive impact of social media to the growing disparity of wealth, contemporary matters of concern are addressed in many of the works in this exhibition," said Ralph Rugoff.
"But let us acknowledge at the outset that art is more than a document of its times," the curator added.
The installation at the Venice Pavilion distorts the perception and creates illusion, which turns architectural construction into an imaginary landscape. The expanding space is squeezed by several marble "briccole" sculpted by Fabio Viale, which creates a passage on water where people can walk through.
Imagine a space where neither wall, nor ceiling nor floor exists. Like a city in a realm where land and water have no clear border. In this blurred dream-like space, visitors walk on water, projecting their own shadows and becoming performers and observers to each other.
The installation was directed by artistic director Stelios Kois. The concept development was also supported by Fabio Viale, Sidival Fila, Ferzan Ozpetek, Bureau Borsche, Γιώργος Κουμεντάκης / Giorgos Koumendakis.
The Venice Pavilion takes place at the Giardini della Biennale, Giazzo street, 30122 Venice, Italy. Plastique Fantastique is a platform for temporary architecture which samples the performative possibilities of urban environments.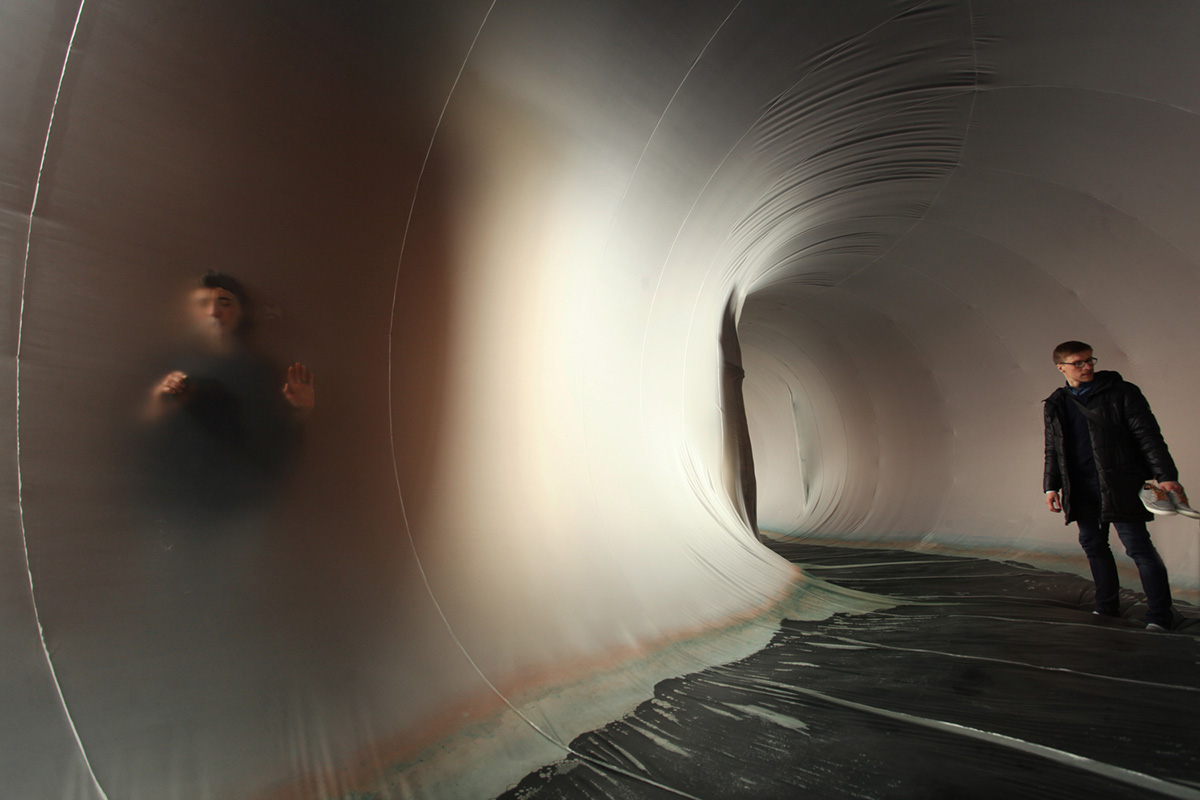 Established in Berlin in 1999, Plastique Fantastique has been influenced by the unique circumstances that made the city a laboratory for temporary spaces and has specialised in creating pneumatic installations as alternative, adaptable, low energy spaces for temporary and ephemeral activities.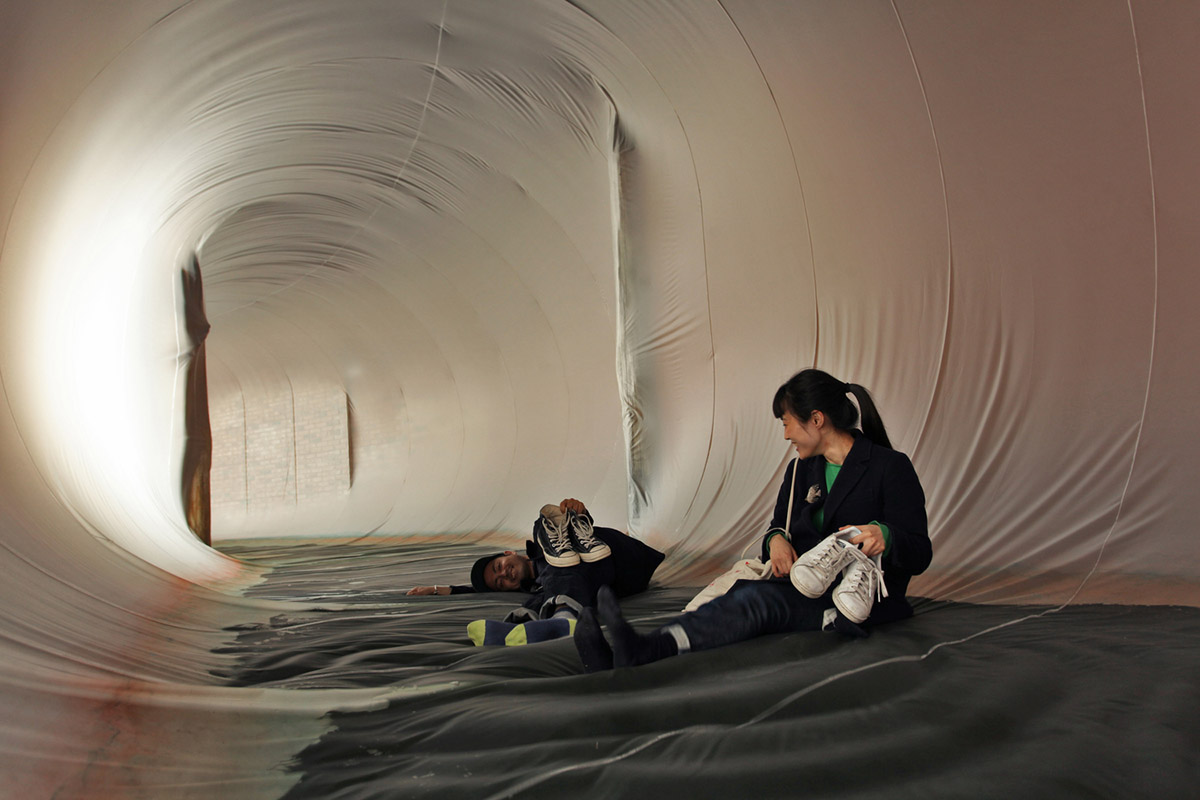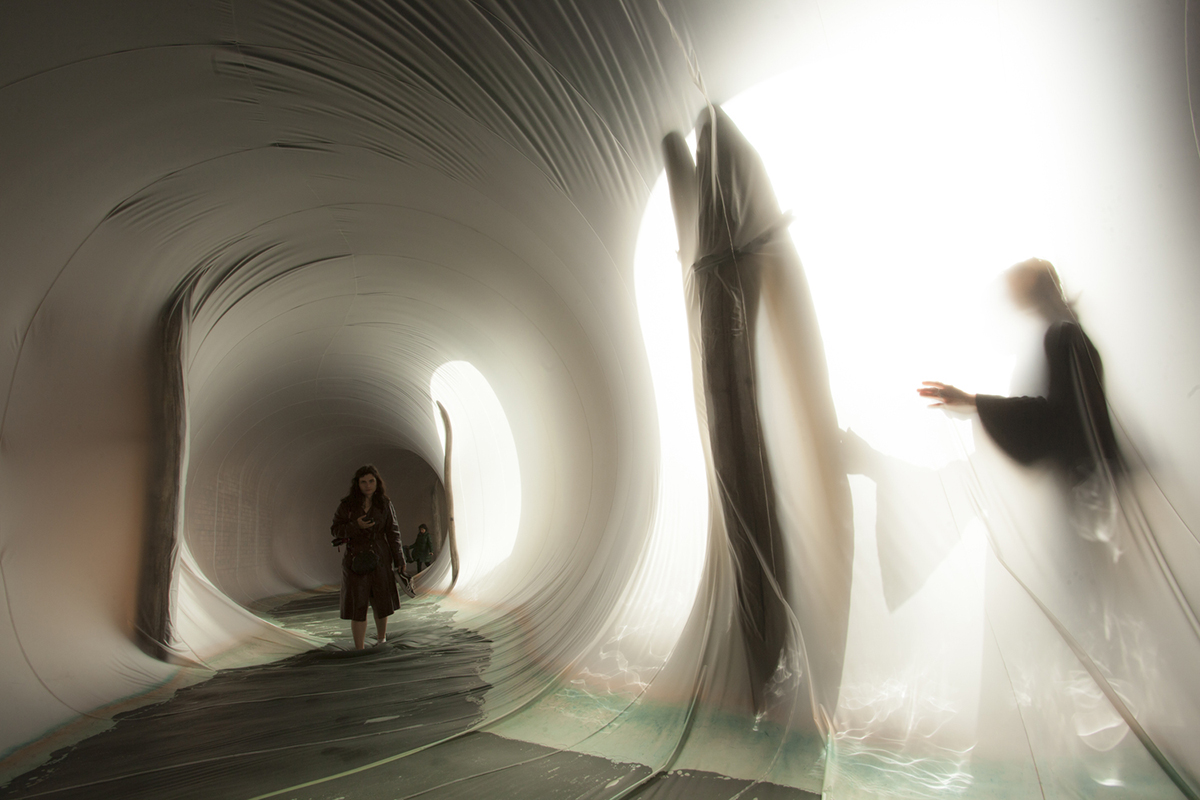 The exhibition will be on view until Sunday November 24, 2019, at the Giardini and the Arsenale. The Exhibition is divided into two separate presentations, Proposition A in the Arsenale and Proposition B in the Giardini's Central Pavilion, comprising 79 artists from all over the world.
Al images and video © Plastique Fantastique
> via Venice Art Biennale