Javad Eiraji's exclusive interview with Iranian Influential Architect Arash G. Tehrani
"Contemporary Architecture of Iran after Islamic Revolution" is the name of the research project that is being done by Assistant Professor Dr.Javad Eiraji, who is an Iran Country Reporter of World Architecture Community, and within this scope of this project some famous Iranian architects talk about their problems and solutions in contemporary architecture of this country.
The new series of these interviews are being done exclusively for World Architecture Community and in this section, Eiraji will talk with Arash G. Tehrani, founder of Arash G Tehrani Design Studio.
Arash G Tehrani, is a young Iranian architect, designer and University lecturer, whose projects were recognized and published worldwide and translated into different languages. Beside international attention in architectural magazines, books, and websites, he's been selected in ARCHITECT Magazine's list of "50 most Influential Architects from the Middle East" for 2 years, and "The Architect of the Season" by ArchLine Magazine.
He is a 7-time nominee of Middle East Architect Awards since 2014 for several categories, such as "Young Architect of the Year", Shortlisted for "Asia Architecture Awards 2016" in Vienna, shortlisted in 16th and 21st World Architecture Awards and the semi-finalist in Grand Me'mar Awards. His works also were exhibited in 56th Venice Art Biennale 2015, in Iran pavilion, and several other exhibitions around the world. In addition to working on personal projects since 2008, and participating in competitions, he has designed a different variety of projects in size and type for several architectural firms as the design architect.
His practice of architecture includes many types of projects, ranging from small monumental projects to cultural, sports complexes, residential complexes and also conceptual projects. He is also experienced in music, abstract painting, and photography, as a result of which he has achieved some architecture photography awards and honors.
From 2013, he has worked as a lecturer at Islamic Azad University and EYC. Also, as an architect, he is working on a design process research which is called "attribute-oriented architecture", which was examined on some of his professional projects, however, it should be mentioned that it's an ultra-architecture philosophical point of view.
Golshahr Mosque & Plaza. Image courtesy of Arash G Tehrani
Read the full transcript of the interview with Arash G Tehrani:
---
Javad Eiraji: What is the main design process you try to have in your projects? What are you looking for?
Arash G Tehrani: During my studies as an architecture student, I had a certain design process or design thinking which came out as my Master's thesis research and practiced and completed in some of my professional or student projects. I called it the "Attribute-Oriented Architecture". It mainly focuses on the belief in which the design is based on the attributes, functions, and character of the architecture, instead of decorative forms. For instance, if we want to continue our thousand years of architecture in Persia or any other place in the world which has a rich architectural history, we should keep the attributes of the architecture and space instead of copying the forms, ornaments or facades. The other factor of this method is that, when you design a building, regardless of type, the function of the building should be recognizable by the public, like what I've done in my projects such as Qods mosque, Incorporated Minarets, or Golashhr mosque. We should not attach a gigantic sign on the building to tell the passersby that: Heyyyy there is a mosque in here! It's not a shopping mall, it's a mosque! Or even the characteristic of the place, or function. Or even as the local characteristics, the fact that it's not an Arab or Turkish mosque, it's located in Persia, Iran, could be considered.
When I come to the design process, I usually start with the site, I mean the context of the project. I study the culture, society, environment, neighborhood, the needs of the projects and requests of the client, and I come up with a question. Actually a bunch of questions. This is the start point. I try to find answers for these questions, proper ones actually, and that's how the design is created. In my opinion, architecture happens when you find a proper answer to a question. The rest of the design process is the development of the idea and the project. In this case, I think that a correct design is the one that if you dislocate it for a few centimeters, the project should lose its functionality. Moreover, maybe that's why my projects don't share a visual or formal signature. If we consider a signature for my works that might be the attributes and the concepts of context-based thinking in every project, the solution might be different in each project. My projects are designed for the sake of good or correct design, not necessarily the eye-catching mold. Culture and context are in higher priorities for me.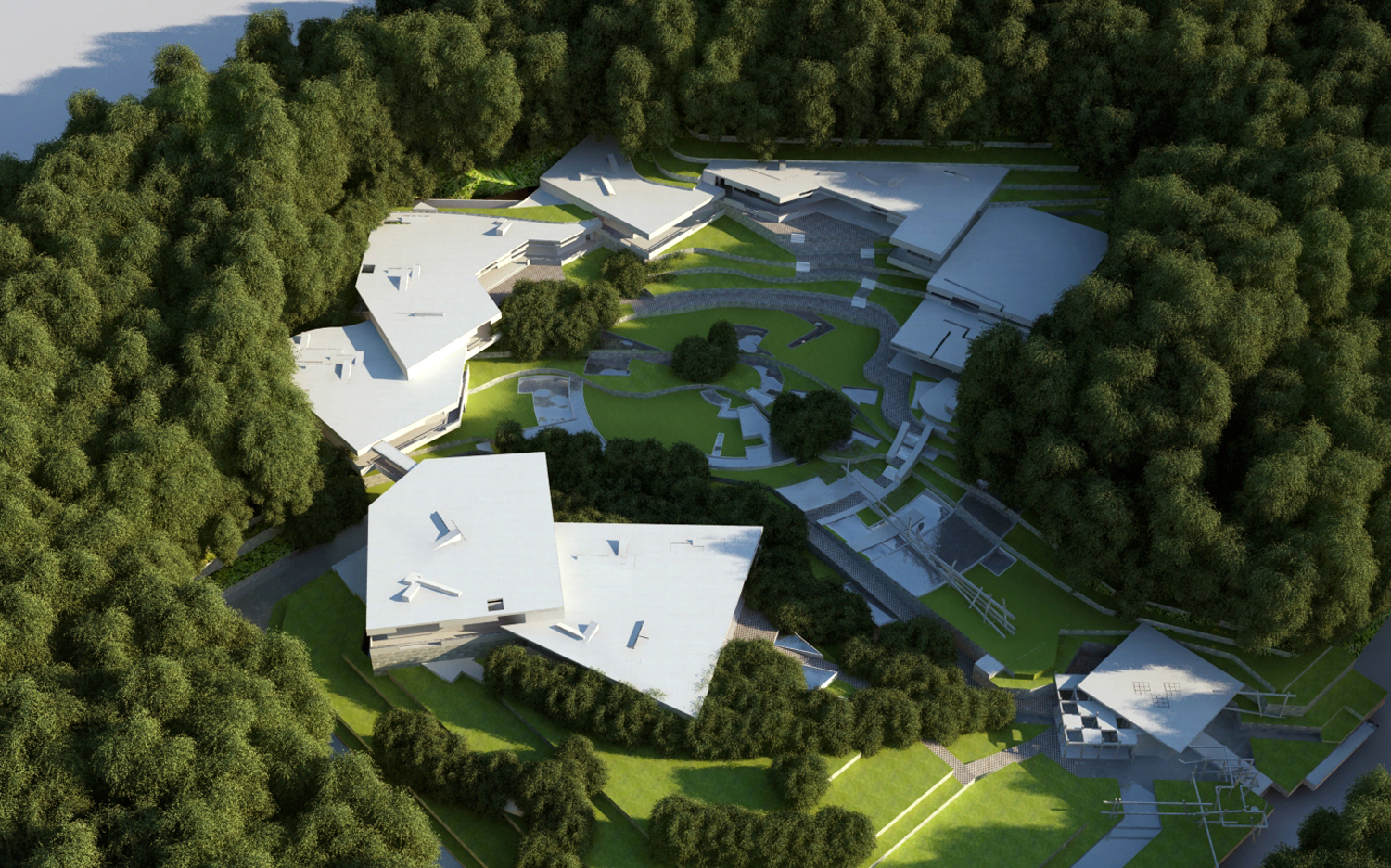 Persian Pottery Research Center. Image courtesy of Arash G Tehrani
Javad Eiraji: How do you treat with your clients and project users in your country as an architect? What are the problems and what are your solutions?
Arash G Tehrani: That's the tough question for me, because I mostly designed public and cultural projects, in which the client is a society, but not a single client with specific requests. The users are very important to me, usually more important than the business. I take their comfort and need as my design priorities and the social benefit is one of my main concerns in the design.
But talking about business clients or personal ones, I should say that I try my best to respect their requests, but I'm often sure that sometimes what they want from me and their project is a failed attempt! And coping with that is not an easy process. They come with exaggerated, kitsch, or even dangerous ideas about their dream project, and I usually try to explain or consult them why this idea would harm their project a couple of years later. One of the main concerns of the clients from my country these days are the financial issues. They need economical and cheap designs to lower their construction costs and of course to raise their profit out of the project. We usually try our best to consider this concern as long as it doesn't damage the quality of the project.
Cheshmeh Zoorkhaneh by Farnak Safavi and Arash G Tehrani. Image courtesy of Arash G Tehrani
Javad Eiraji: What do clients and users want from an architect in Iran?
Arash G Tehrani: Easy one! Free, Cheap, ready-made, luxurious design, with every possible option, finished in a couple of days!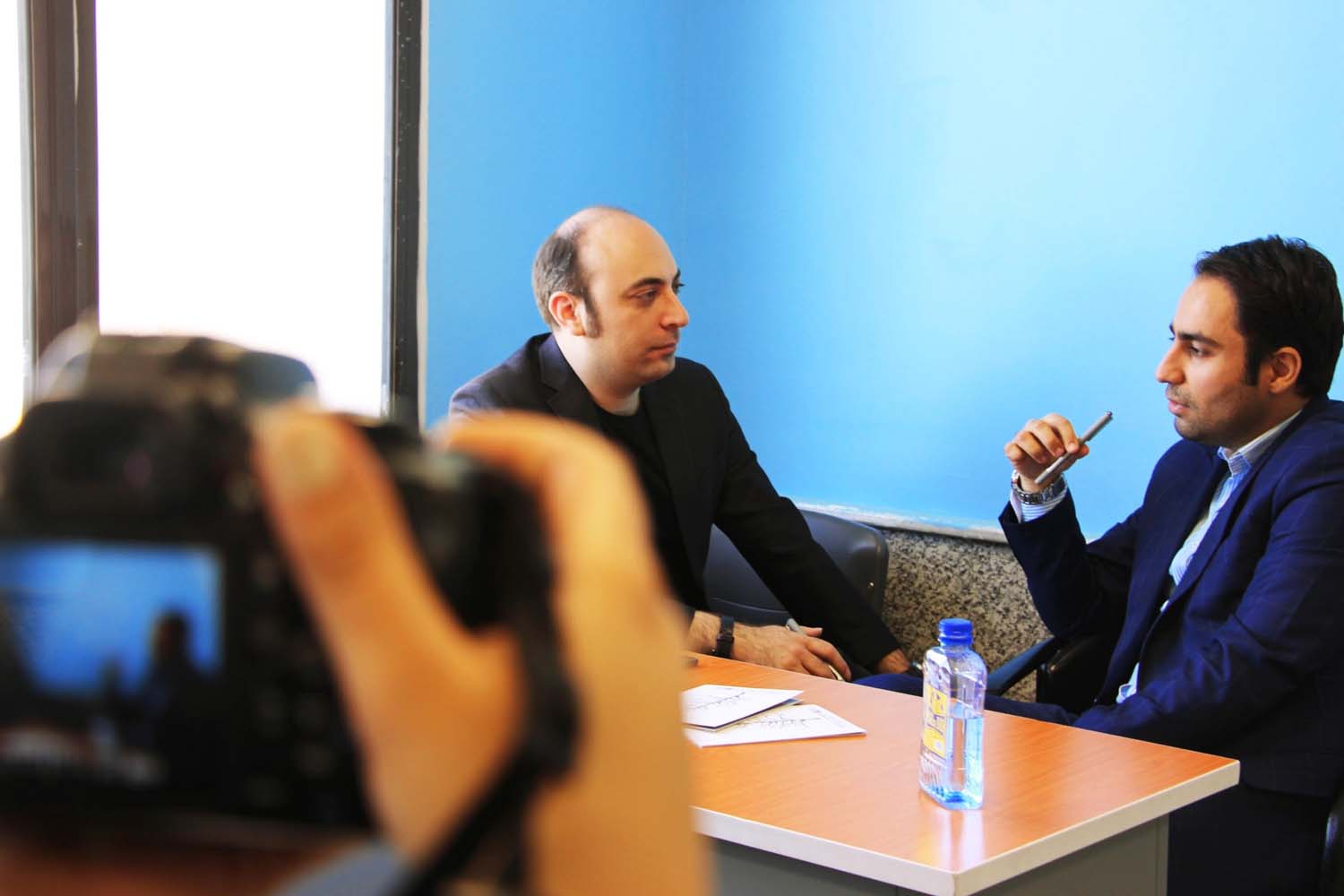 Dr. Javad Eiraji`s Exclusive Interview with Arash G Tehrani. Image © Sepideh Rahimi
Javad Eiraji: What is the meaning of meaning in your design thoughts and in contemporary architecture of your country?
Arash G Tehrani: Well, if I've got your point right, the meaning which I look for is the ones that make sense in the projects. The concepts are meaningless while you choose them just for the sake of filling your sheet, or even when they are too far away from the reality. Let me put it in this way, some years before, it was a fashion in architecture to use fake or nonsense concepts for your design, like saying that it's like a swan, or it's the wings to freedom, while the project has nothing to do with a bird or even freedom! Or as you've seen a lot of times, is when architects tell a story about every functional element in their design; my stair is a concept to reaching the peak, my void is a concept of seven skies, my inner garden is a concept of a Persian garden called paradise and etc. while we all know that these elements where all functional ones, and you could not compare a 2*3 apartment void to the gardens of Babylon!
So, I think the meaning is far deeper than these shallow talks. I might have used the same thing in my early projects, but recently I focus on keeping my design correct and proper, rather than talky. If I design right, then that's when the true meaning is getting born in the project. You could not inject meaning to a meaningless design.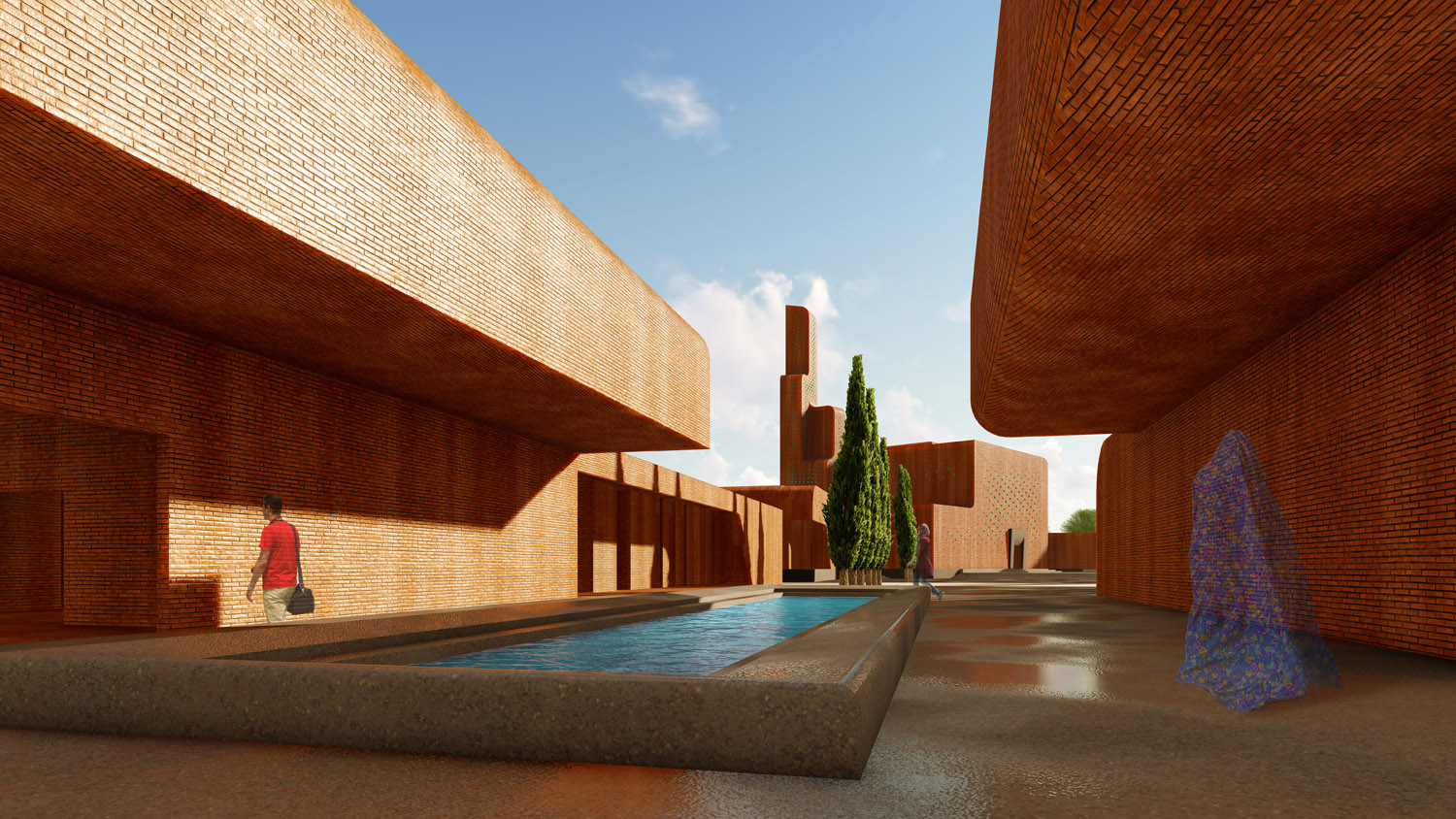 Golshahr Mosque & Plaza by Arash G Tehrani. Image courtesy of Arash G Tehrani
Incorporated Minarets by Arash G.Tehrani. Image courtesy of Arash G Tehrani
Javad Eiraji: How do you see the past, today and the future of architecture in your country?
Arash G Tehrani: We used to have a glorious history, we have a rich heritage and great architectural past; we used to export architectural solutions to the European civilizations in all the historical periods, but what we have now? What's our impact on the global architecture scene?
We have certain rich architectural treasures in our country Iran, along with the other great civilizations in the region, which remained underrated and unknown to the world. I believe that we should promote our heritage and culture, but that's not enough. We should try our best to find our place in the world of architecture, and make the future.
Hopefully, Iranian contemporary Architecture is getting known internationally, although it's at the beginning of its life. For instance, comments such as Middle East Architecture Award's jury member, Cristiano Luchetti, on the architecture of the region and using the phrase "Iranism" as the 'last or newest movement in the architecture of our age', shows that our practice is getting watched, reviewed and recognized.
Qods Mosque by Arash G.Tehrani. Image courtesy of Arash G Tehrani
Top image © Bita Hanifeh
All images © Arash G.Tehrani unless otherwise stated.