"How To Use Your Rooftop in India" explores 3 Indian projects
Metropolises in India have expanded progressively over the years. As they grow away from the center, urban homelessness, a general lack of space and soaring land values and rentals have seen the rooftops get occupied in recent years.
Rooftops are eventful. People contemplate there. Astronomical events are enjoyed there. Spaces under an overhead tank and even the top of it are seen with a group of friends. Clothes are dried and spices are sunbathed on rooftops. Men look for women on neighboring buildings. And young artists are known to find solitude and inspiration often on terraces.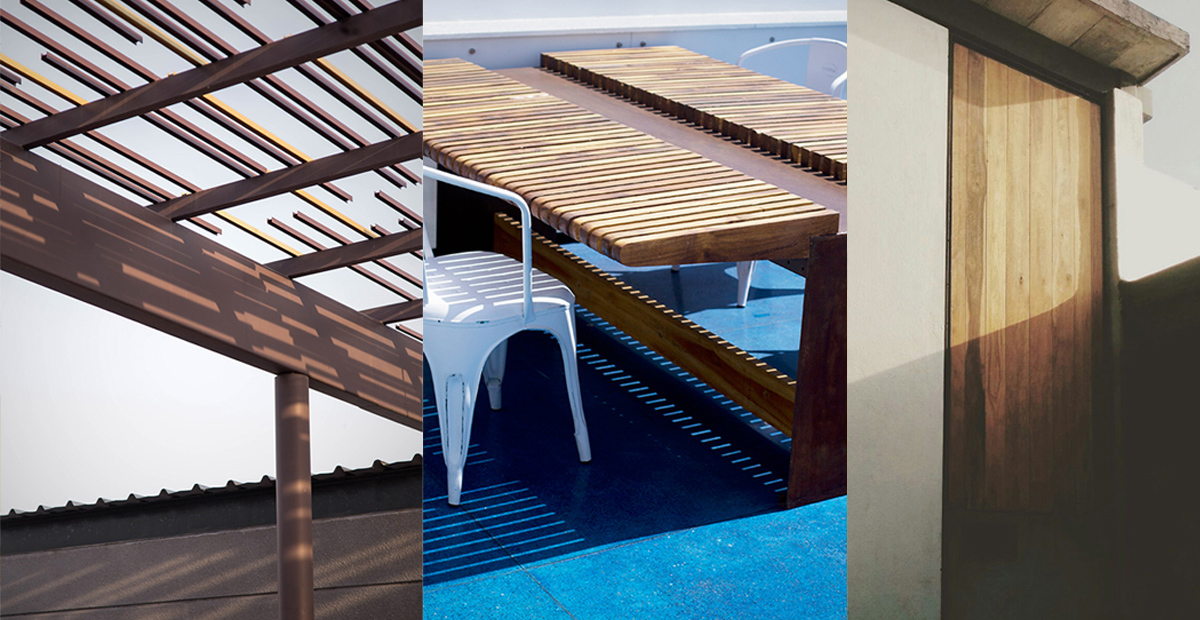 To keep this charm alive and away from the fact that urban space-starved conditions force people to occupy rooftops too, a Barcelona group has been reclaiming them to hold public events since 2011. The idea of rooftops as mini homes and inspiration for artists are long seen in Mexico. Municipal Corporation of Mumbai is opening up rooftops for cafes and restaurants. Chennai has also witnessed rooftop football and cricket practice pitches come up.
There are several ways roofs are used around the world. If you're looking to use your building's rooftop, here are three examples that could teach you how:
Party hall, A Design Co., Chennai
On top of an apartment set in a safe and sound locality, the party hall is every household's rooftop getaway. Irregular and dented in shape, the rooftop is dealt with two simple spaces that make the building transform to different ways of having fun on the roof.
From the architects:
"The party hall is envisioned as a common gathering space for the residents of a multi tenanted building. It serves as a space for celebration and gathering, and is placed on the building's rooftop to allow for larger spill over areas. The design maintains the essence of rooftop evenings, combined with a smaller more manageable climate conditioned multi use space. This space is used to gather, entertain, read, and exercise while also being enjoyed as a terrace."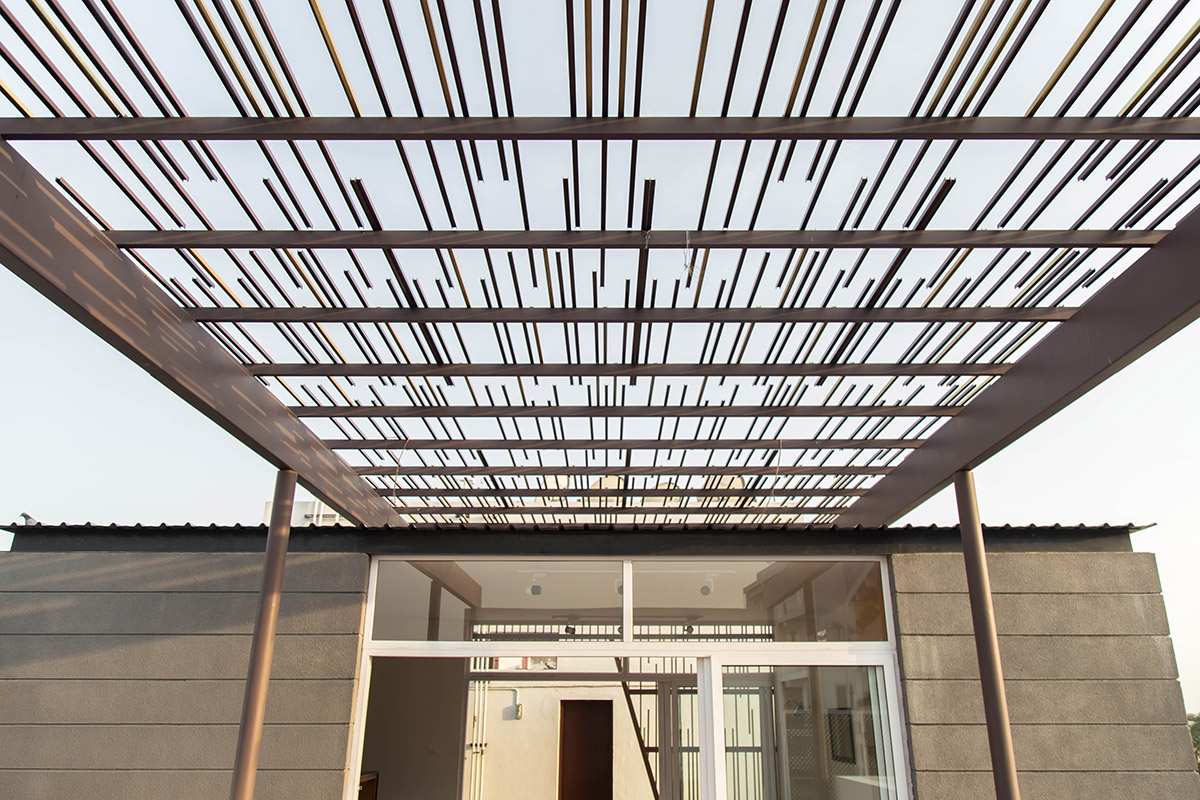 "It has two intersecting volumes - an open deck under a protective skin and a smaller air-conditioned volume with a bar and reading nook. There is a separate store which allows the furniture to be laid out as needed. The space hence can be reconfigured for gatherings of different sizes."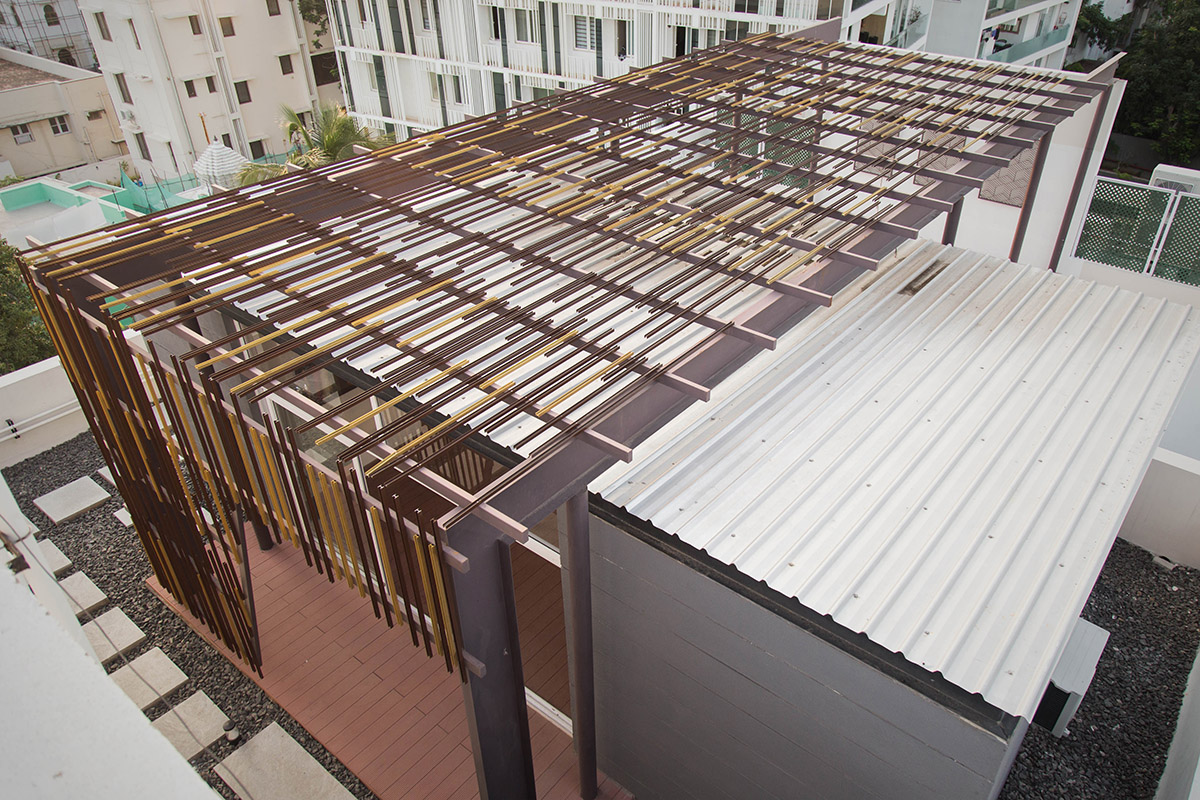 "The two volumes are separated by a set of simple sliding doors, and transforms in capacity instantaneously. The hall is used actively by the residents for varied activities and is a point of social gathering across the day."
"The use of a linear screen element creates fascinating light and shade effect as the day progresses while maintaining the visual connection to the skyline. The design retains the feeling of openness, of an evening on a rooftop. The structure can be a perceived as portal or an enclosure, and therefore sits lightly over the building it is inserted on."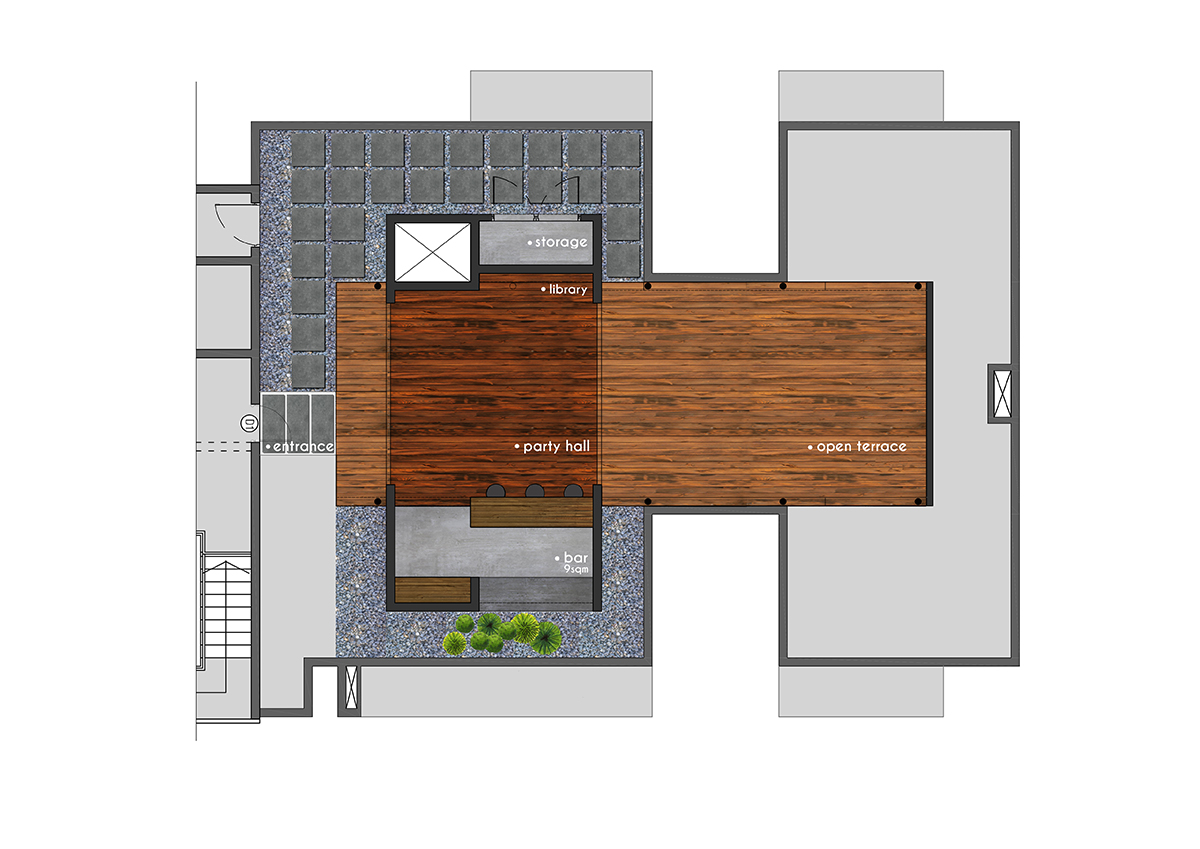 All images courtesy of Rahul Ramesh & A Design Co.
Art Lab, Chennai
A rooftop occupied by artists/architects, Art Lab is a studio space enriched with concrete, metal, wood and gravel. Along with mini gardens, this space has fresh breath and a calming aesthetic, enough to spur the artists who spend time here.
From the architects:
"Art Lab is a 1800 square foot rooftop studio for art making. It's located in a dense area with residences, small trade shops and a temple in its proximity. The studio sits atop an existing building and hence was designed as a light structure. A steel framework with windows, 4" thick aerocon walls and a 2" thick pre-cast concrete slab make up the volumes."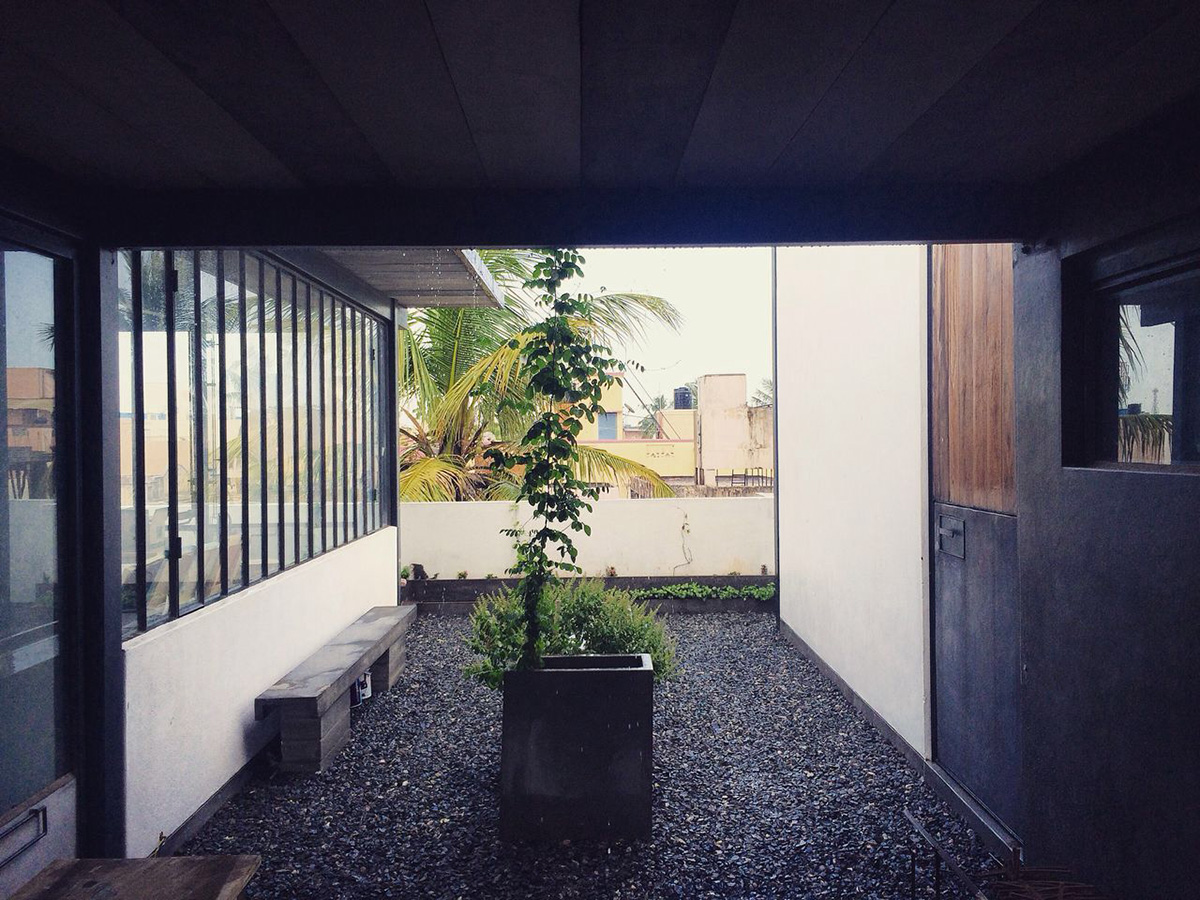 "There are 5 distinct workspaces in the studio, with each having different roof heights. Most spaces are lit naturally till about 6pm, until sunset here."
"The 8' high studio is the darkest and purposefully so to accommodate screenings, performances and computer aided work. Although. Solid wooden folding windows facing the deck can bring sunlight in."
"The workspaces are arranged around a central courtyard providing visual and thermal comfort. It gives a sense of ground on the rooftop. The court also gives the distance between the 14' tall and the 9' tall studios."
"The 14' tall studio has large windows bringing in essential light for painting large canvases. This room is used by principal artists as a refuge, to contemplate, to get things done and occasionally for the unavoidable afternoon siestas."
"The 9' and 8' tall studios are common workspaces which can accommodate various functions; painting, computer work, model making, meetings, lunch, screenings and more. The deck area is for works like carpentry, spray painting."
"The project is crafted to its smallest details. The door handles, latch, hinges, furniture, upholstery and curtains are all exclusively designed for this building. Art Lab functions in bizzare ways and our studio adapts and allows for all madness unobstructed."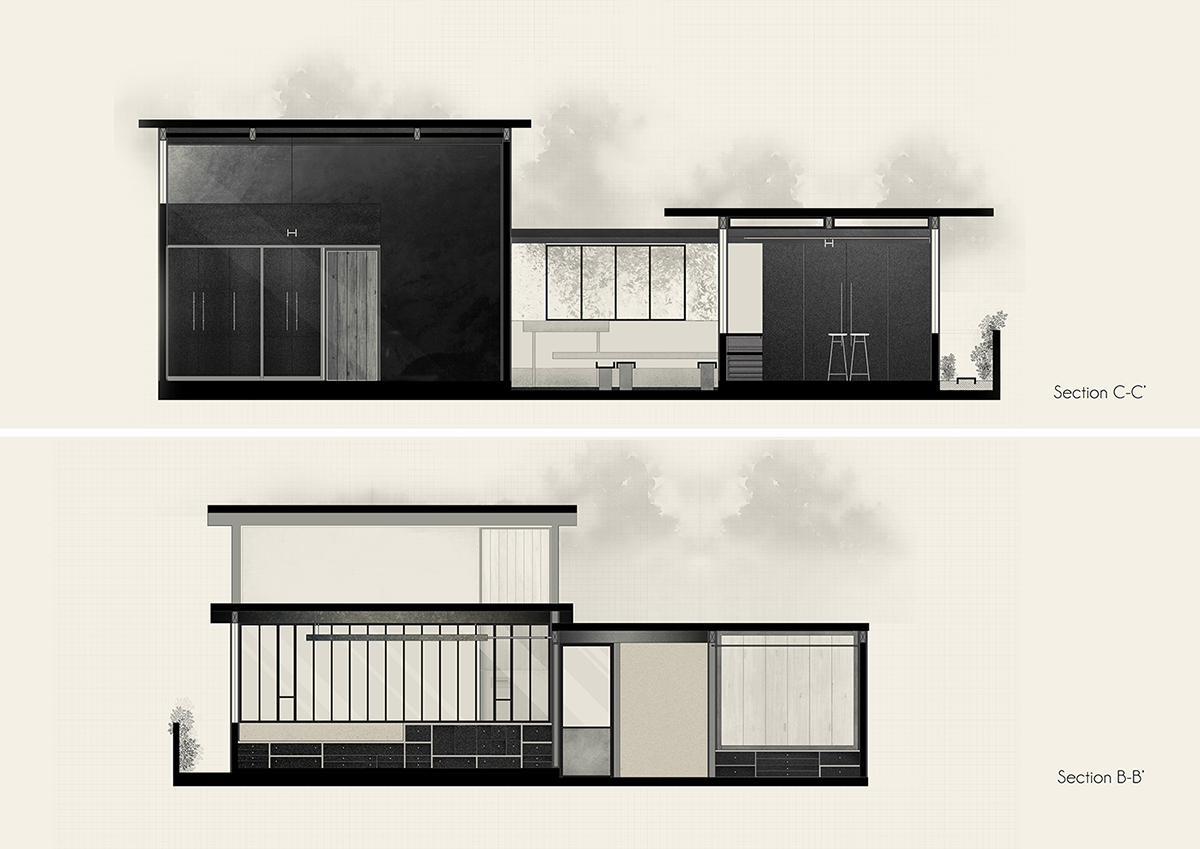 All images courtesy of Art Lab
Liquid Sky, Beyond Green, Ahmedabad
'A refreshing lounge time with the evening sky as the roof, and a mini cook-space to make ourselves a rooftop meal' - This was the output needed by a couple who wanted to put their 1000 square-foot rooftop to use. Beyond Green's response with blue terrazzo tiles and a view deck to capture the location's vast view of greenery and uninterrupted horizon seems ever refreshing.
From the architects:
"Our intent was to make the rooftop reflect the sky, while the couple lounges there. The rooftop was constrained and hence we kept all elements light and floating."
"The bench is hand crafted as thin slices of wood carefully assembled with slits to cast its shadows and not appear solid. The bench is molded to not allow the cushions to slide away. The breakfast ledge rests on rusted metal with wooden wedges with glass planter box in the center."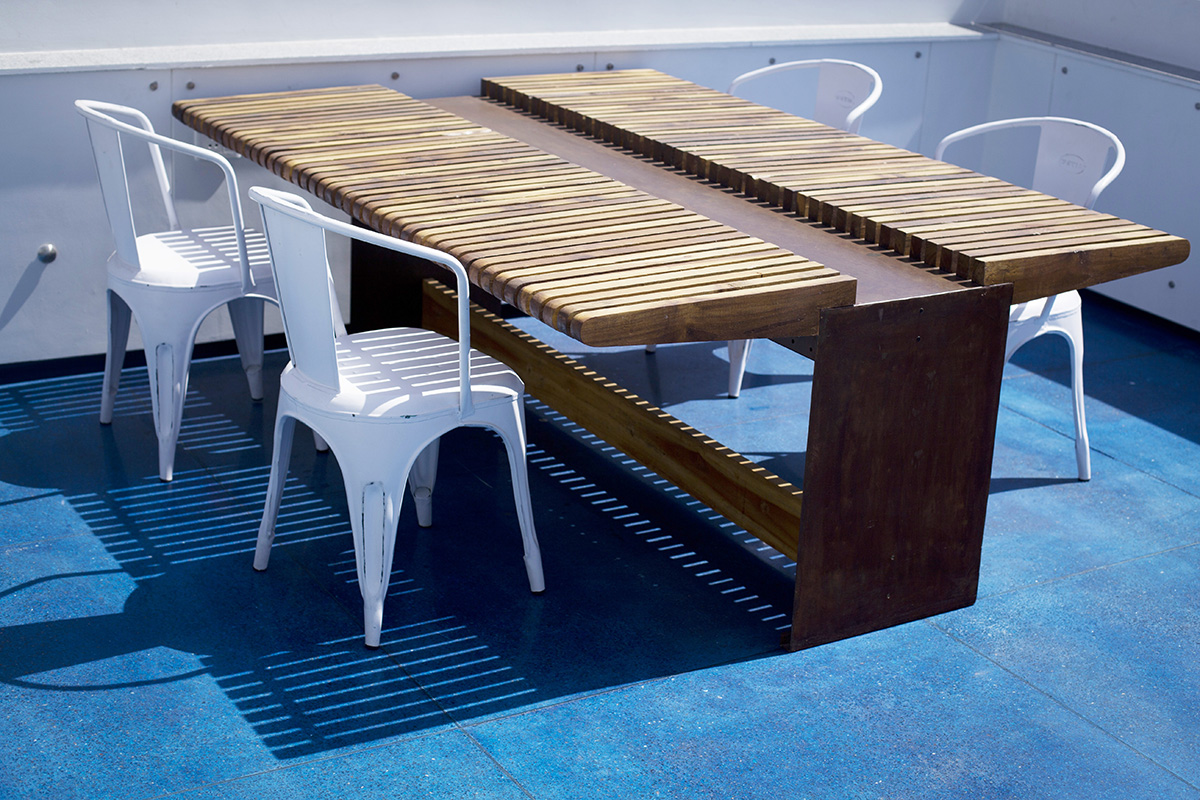 "The parapet is clad to hide its utilities and use it for lighting. The screen along the perimeter is a visual barrier for neighbors. The blank wall is stucco plastered and has five bougainvillea planters with an orange door imply the color of dusk. The wooden deck is the vantage point overlooking the beautiful sunset on the horizon."
"The blue terrazzo tiles with mirror insets make the place what we call Liquid Sky. The glass insets create interesting sun movement patterns making the floor appear kinetic."
"Beyond Green focuses primarily on Architecture and Landscape design. Over six years now, the studio is an energetic design team led by partners Ar. Bobby Sujasingani and Ar. Rucha Nangare. Beyond Green engages actively to create to contextually appropriate solutions in current times of change. We achieve the aspirations of who commission us, with unique design approaches, and it has won us international accolades five times."
All images courtesy of Beyond Green