Koyama dental clinic presents ultra-perforated facade in the heart of Kyoto
all images © Hiraoka Architects
Hiraoka architects designed simple white box that stand out in Kyoto town. In the heart of Kyoto there is a landscape ordinance, the meaning How do things very good to protect the town, since the discretion of judgment is in the public officials in charge, it is difficult to build a beautiful building, it has become a reputation of bad regulations.

Muko does not have a landscape ordinance in the city. It is great to be free, but, building such as house manufacturers have been mushrooming, this is now a problem. good location visibility in the roadside of a 5-minute walk from Higashimuko Station. There is also a land where building is not built but streets or because it is not a dense areas are somewhat dull. It is a place of discomfort in a good way you want. Quasi-fire zone in the 30 square meters of land. Just northwest side is the Seddo. It is quite harsh conditions.
Since the sash of wooden comes out before the outer wall surface, design on is a negative factor. Compact building has decided to cover the garden and I think that it is less likely to those outstanding on the appearance becomes full of wooden sash in skin retraction inside. The only part of the garden to the simple form close to the cube I opened at random. Trees also is also in the form window inside was also consideration to direct look is difficult to privacy tangled. Surprisingly white outer wall is not seen around also will emit a vivid presence is not a shine housing as reflector to illuminate the surrounding area.

Internal plan is not satisfied that it is not organized in rational. But we were able to and thanks does not feel packed in the space of the garden, which has entered the internal atrium and of waiting. Trees between the skin and the window moderately outside light is also cramping the clinic will relieve mood. I think that point of view was able to make the suits of the stage on both teacher and worthy to be active is Natsuko teacher of fun Koyama teacher and his wife in the unique.
Exterior at night with light leaks from the inside, changes to presence, such as the deferred lighting fixture in town. Day and night gorgeously practice of Koyama teacher Mrs. emit light is continued after become a reputation! The town also we hope that the old building to reverse and activity begins emit a retro charm. To proceed as fun Koyama teacher Mrs. is said to have laid the foundation and I believe that the Na good.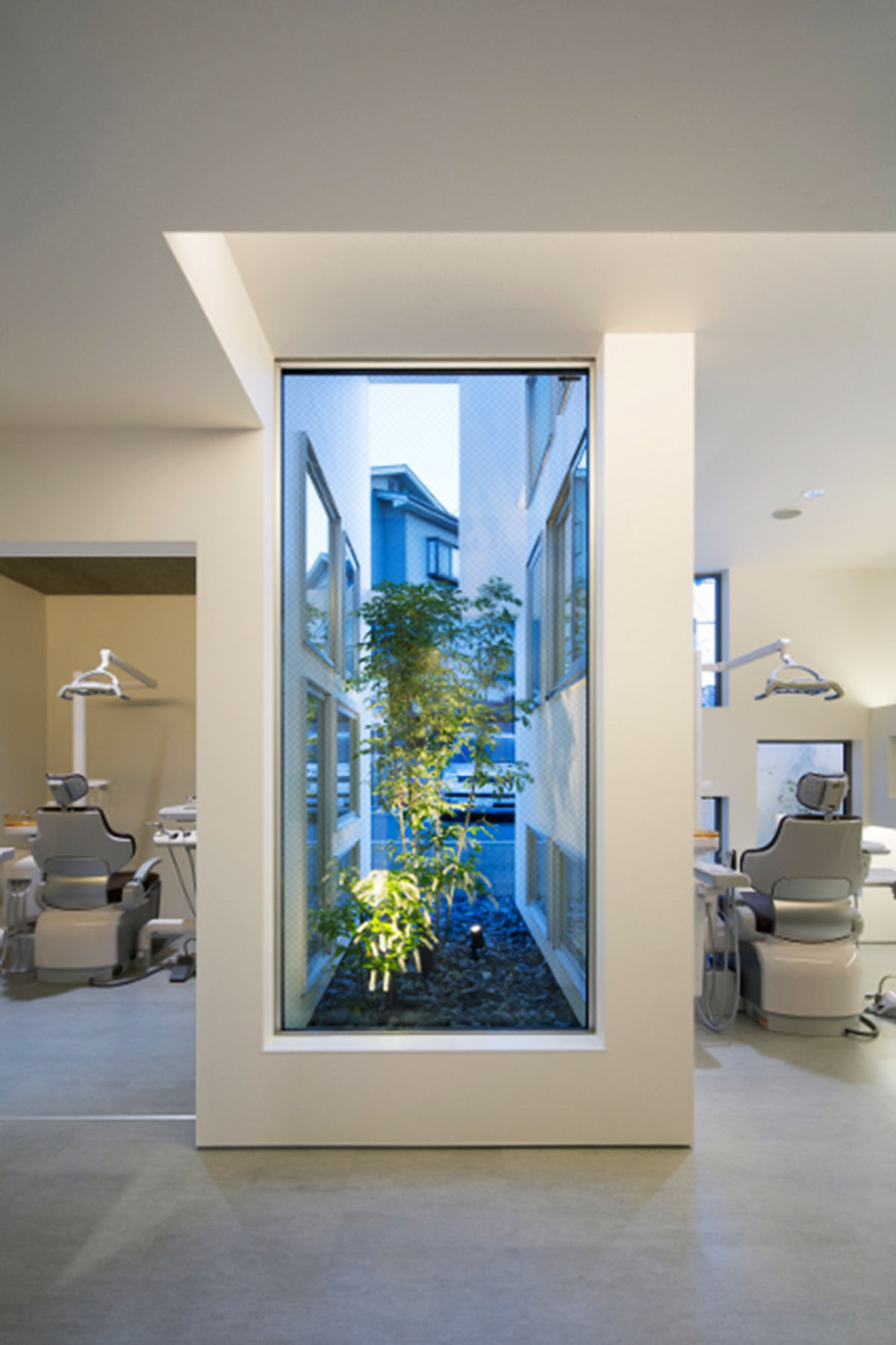 Project Facts
Site area: 97.14m2
Building area: 68.83m2
Tsubonobeyuka area: 126.69m2
> via Hiraoka Architects