Framlab Proposes Modular Community-Based Urban Farming System In Brooklyn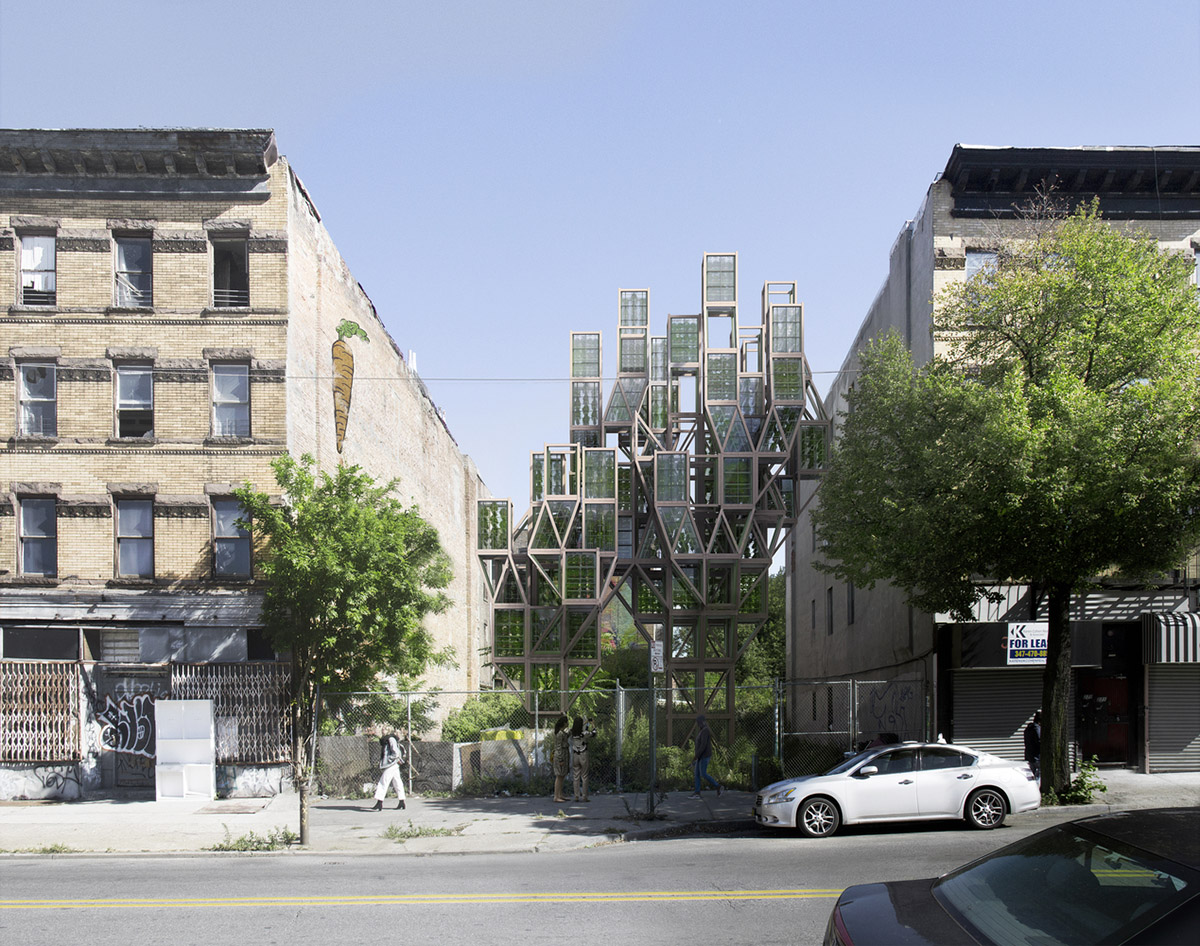 Bergen and New York-based innovation studio Framlab has proposed a modular vertical urban farming system on the Brooklyn streets, New York. Envisioned as a community-based system, the tubular-like structure aims to democratize urban farming on community level.
Called Glasir, the tree-like structure is comprised of a flexible system of modularity with the efficiency of aeroponic growth systems, the project offers self-regulating, vertical farming structures that can provide neighborhoods with affordable, local produce year-around.
The project aims to enrich urban food production through this structure as part of the existing communities.
"Agriculture is the basis for civilization," said Framlab. "World population is expected to reach 10 billion by 2050 and agriculture as we know it today will need to almost double in size to serve this population."
"However, most of the planet's land has already been claimed, while the remaining arable land is being degraded at rapid rates," added the firm in their project description.
For this structure, Framlab conceived "a majestic tree described in Norse mythology as "the most beautiful among gods and men". Creating an adaptable-model from this tree, according to the architects, "this project appropriates Rauh's model as a departing design strategy. This model is characterized by a monopodial trunk with rhythmic growth (through modules), developing tiers of branches — themselves morphologically identical with the trunk."
"Rauh's model is one of the most frequent among seed plants and because all meristems are equivalent and rhythmic, it is a very adaptable model. Examples of trees in Rauh's Model include the Entandrophragma Utile, Macaranga Aleuritoides, and Artocarpus Incisa."
Since the structure has a minimal footprint, it allows the structure to be erected in small sites, such as on sidewalks, subbing in for its biological cousin.
Glasir has been developed as a project that seeks to "utilize tree's adaptable growth processes as a dynamic framework for high-yield, vertical farming."
Glasir has ten modules; five growth modules, three production modules, and two access modules). Through the use of standardized interfaces, all modules can connect to each other, enabling the system to assemble into an endless number of configurations.
Through the elevation and distribution of production modules, the system enables high-yield, local production of greens and vegetables, while engaging with the streetscape as a distinct new urban figure.
The structure has 2' x 2' footprint, it can be erected anywhere in the city where a regular tree can be planted — on the sidewalk, in a backyard, in a public park, etc.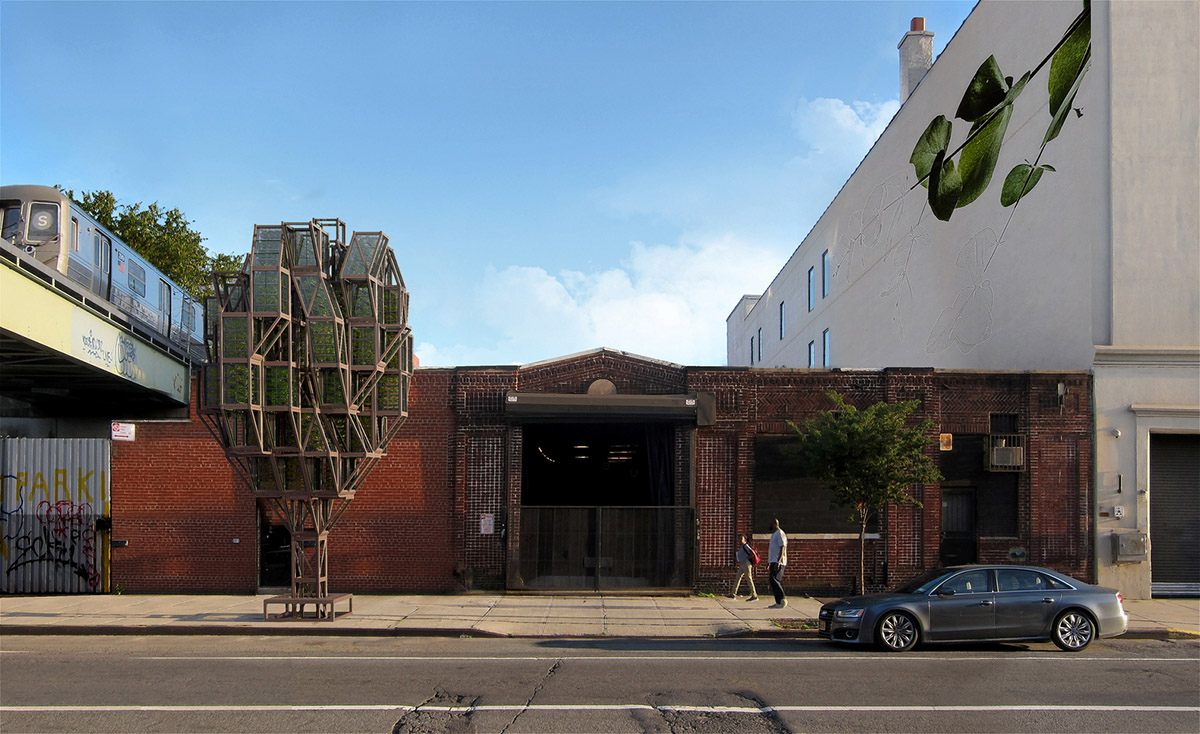 The modular architecture of the system affords great flexibility and allows each structure to conform to local context and constraints.
The studio says "all required energy is harvested through integrated, translucent photovoltaic cells; a rainwater collection system stores, purifies, and pumps the water-mixture through feeder lines to mist nozzles in each production module; an outer layer of Titanium Oxide enables the structure to combat pollution through extraction of pollutants from the air."
"With the use of magnetic electrical connector technology and male/female interfaces, each production module connects to the trunk structure for access to water circulation."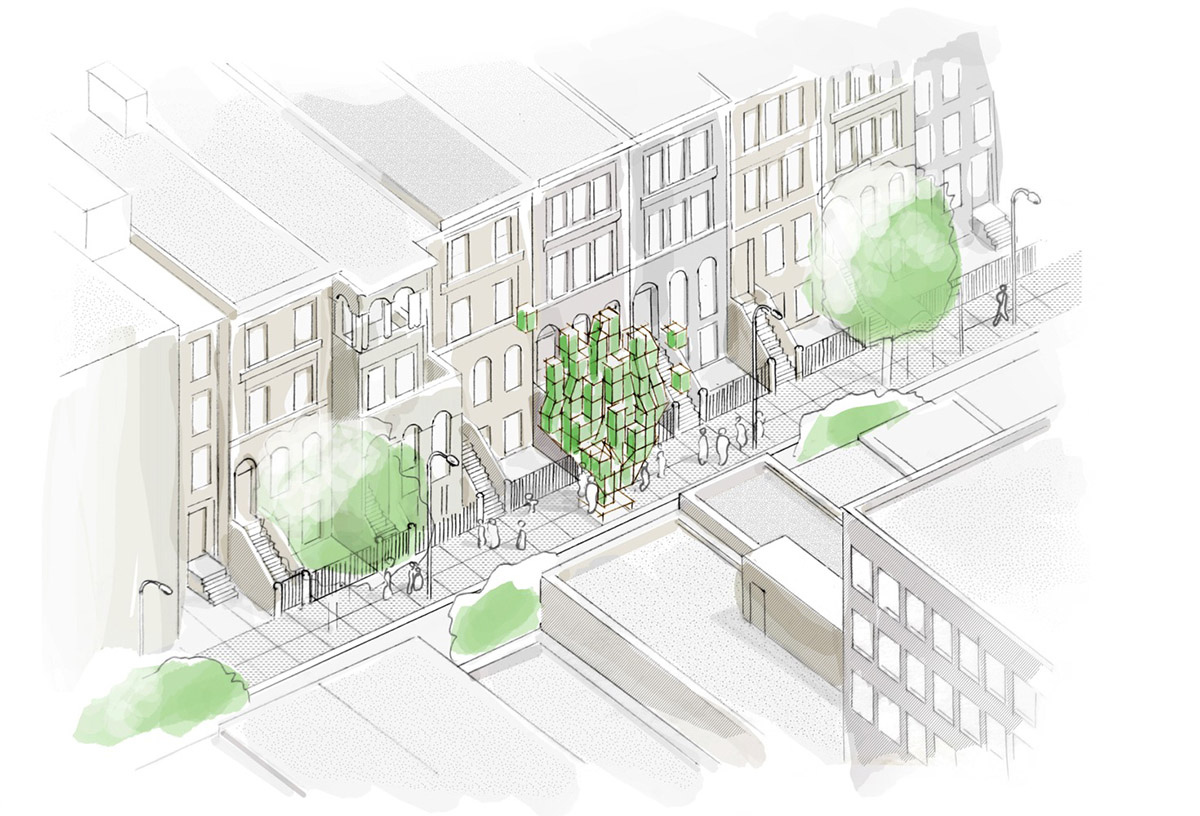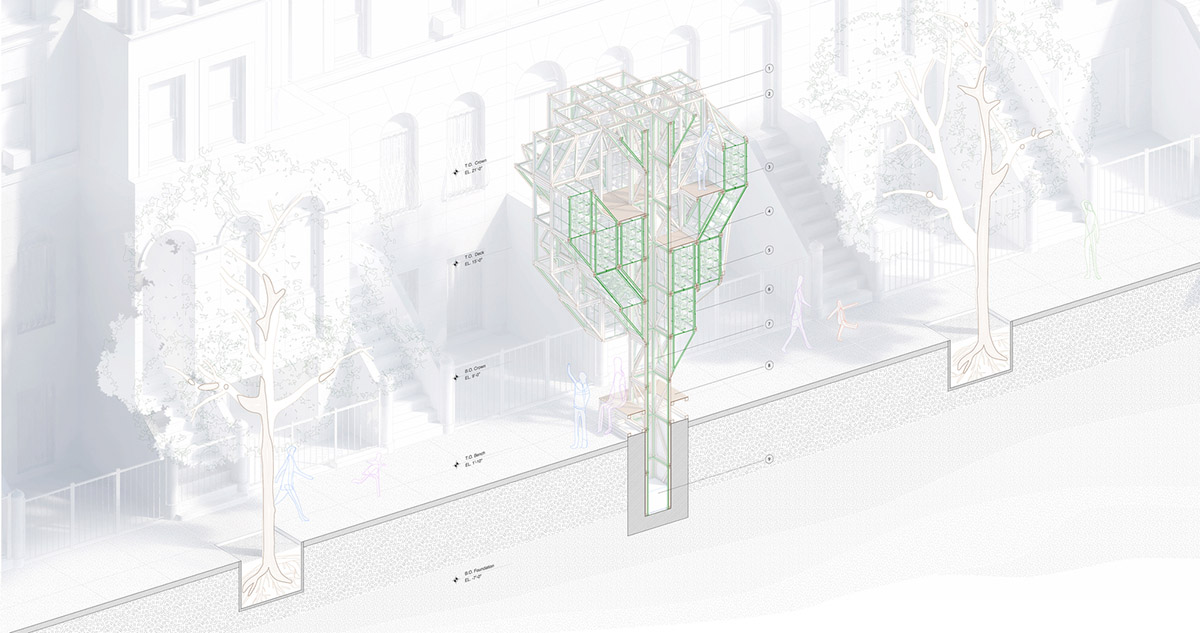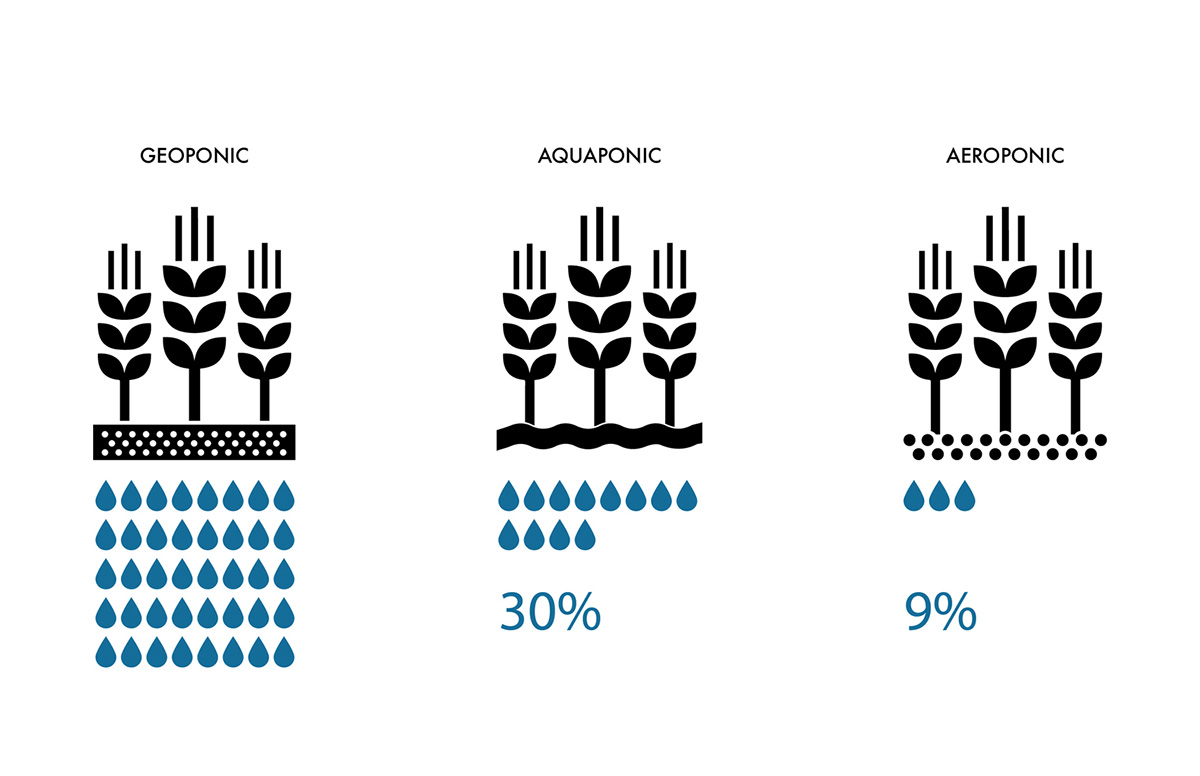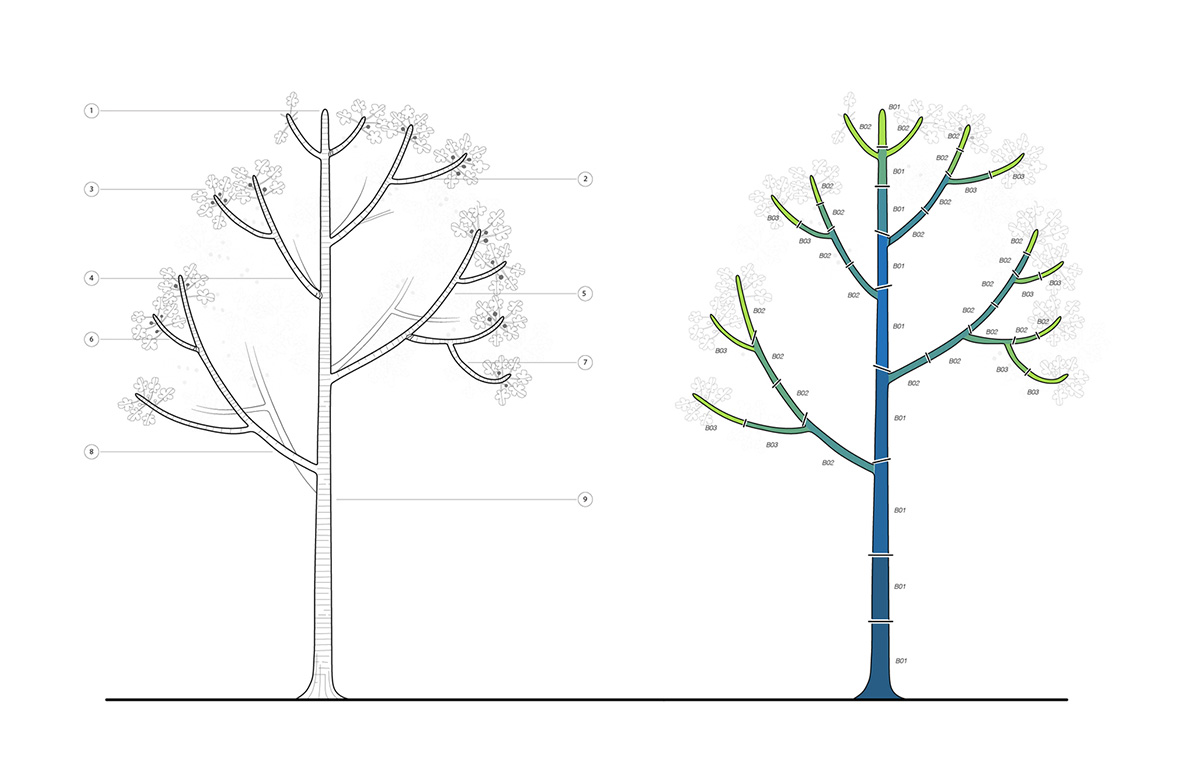 Framlab was founded by Andreas Tjeldflaat to advance social and environmental resilience through design. The firm has offices in Bergen and New York City.
All images courtesy of Framlab
> via Framlab