Thailand Pavilion presents The Class of 6.3 reshaping Thai's rural education at Venice Biennale
Thailand Pavilion presents 'The Class of 6.3: Rebuilding Nine Schools' after the 2014 Chiang Rai Earthquake at this year's Venice Architecture Biennale, which tells the story of how an earthquake in the Northern Province of Thailand not only led to a massive emergency reconstruction of 9 educational facilities, but also afforded an entire community the opportunity to rethink the role of architecture in the shaping of Thai rural education. The exhibition curated by Theeranuj Wongwaisayawan.
Image © Andrea Avezzù, courtesy of Venice Biennale
On May 4th, 2014, an earthquake registering 6.3 on the Richter scale rocked Chiang Rai, a major province in Northern Thailand. Fortunately, there were no deaths and injuries were minor. However, homes, temples, and roads sustained considerable damage.
Among those buildings shaken to the ground were nine elementary schools, thus leaving hundreds of local school children without classrooms and other important educational facilities. Most were forced to learn their lessons under tents, in makeshift shacks, and in open fields. This was the fate of the Class of 6.3, or the student victims of the 2014 Chiang Rai Earthquake.
Image © Andrea Avezzù, courtesy of Venice Biennale
In the wake of this catastrophe, Design for Disasters, a non-profit organization founded by Vipavee Kunivichayanont, asked nine Thai architects to help redesign and rebuild these nine elementary schools in desperate need. During this emergency design and construction process, a team of architects, engineers, consultants, school principals, school teachers, under the guidance of the Association of Siamese Architects, worked to quickly design and engineer new earthquake-safe facilities for the nine schools.
Image © Andrea Avezzù, courtesy of Venice Biennale
Artists, graphic designers, photographers lent their time to capture and document the situation to spread awareness of these collective efforts. In response to the campaign, local sponsors, big and small, contributed funds to make the rebuilding of these schools possible.
Image © Andrea Avezzù, courtesy of Venice Biennale
In the end, the Chiang Rai Earthquake brought together an entire community of people - young and old, amateur and professionals - to work together in re-building nine elementary schools.
Image © Andrea Avezzù, courtesy of Venice Biennale
Image © Andrea Avezzù, courtesy of Venice Biennale
Image © WAC
Image © WAC
See the 9 schools' images below after the 2014 Chiang Rai Earthquake. The projects were completed by nine Thai architects that are internationally recognized. In this regard, the Thai Pavilion displays examples of modern Thai architecture making a difference in the betterment of daily lives at the frontline of disaster zones.
Pong Phrae Witthaya School, Chiang Rai by Twitee Vajrabhaya Teparkum, Department of Architecture. Image courtesy of Thailand Pavilion
Department of Architecture Co., Ltd. has took on the responsibility to design this emergency school for Pong Phrae Wittaya School. The design from conceptualization to the construction drawing has to be done in 2 weeks. It has to be earthquake resistant, be able to withstand hail storms, quick to assemble by local workers, economical, properly protected from heat in the summer, rain in the monsoon, and freezing wind in the winter.
Baan Hua Rin Child Development Center, Jeravej Hongsakul, Idin Architects. Image courtesy of Thailand Pavilion
Baan Hua Rin Child Development Center is a kindergarten providing a pre-school education for 100 students of 3-5 years old in total 3 classes. There are two buildings. Classroom building comprises of three classrooms and one teacher room with toilets within. The other building is canteen comprising of a kitchen and the opened air dining hall with electric fans. The main materials are steel structure, cement board and metal sheet, which are convenient for transportation and installation.
Baan Pa Gor Dum Community School by Pitupong Chaowakul, Supermachine Studio. Image courtesy of Thailand Pavilion
Bamboo is a material that can easily be found in Thailand, but bamboo building is not known to be popular as the society understood it to be temporary structure. To build a permanent bamboo building has become almost a mission impossible. During the 2014 quake, weak houses of those hill tribes were damaged but survived the disaster. Only minor repairs were needed. This classroom building takes that example as a departing point using well-treated bamboo as a main roof structure combining with steel and dry wall system.
Saikao Subdistrict Administrative School (Baan Ta Haw) by Kanika Ratanapridakul, Spacetime Architects. Image courtesy of Thailand Pavilion
The school we were assigned was in need of a new kindergarten : A home away from home for little children who still have difficulty understanding why they have to be with strangers in a strange place away from their parents and the environment for which they were born into. School buildings have become institutionalized and impersonal. The architects have made it their job to "homenize" and "personalize" it. They wanted the children to really feel that the new school is their second home where they can effortlessly sense the warmth, love and security. The architects also want the teachers to feel like they are at home taking care of their own children and their relatives' children.
Huay San Yao Witthaya School by M.L. Varudh Varavarn, Vin Varavarn Architects. Image courtesy of Thailand Pavilion
The architects' design principle was to create the learning spaces to enliven the atmosphere for children who were victims of the disaster. The natural materials had been proposed in selected areas to illustrate how local materials can substitute expensive modern materials and at the same time, harmonize the architecture with its context. All the necessary structure elements had been designed to be exposed so as to convey the feeling of solidity and safeness and to reduce unnecessary furnishing costs.
Baan Nong Bua School by Jun Sekino, Junsekino Architect And Design. Image courtesy of Thailand Pavilion
Baan Nong Bua School, the local school which provides the element education for the children whose age ranged from 5 to 10 years old, has also been affected by this natural disaster. The school's building which was damaged is considered to possess the same standard and pattern with other schools in Thailand; however, this pattern does not brace for the severe natural disasters. Due to the dilapidation of the building, the students were beseeched to study in the temporary pavilion which is not suitable for learning. Nevertheless, the school had not received enough budgets to cope with this circumstance; consequently, the possibility for the new building seems to be faint.
Than Thong Witthaya School (Pa Ruak) by Chatpong Chuenrudeemol Chat Architects. Image courtesy of Thailand Pavilion
What soon became apparent in the design of the Than Thong Witthaya School was that we were not simply constructing an emergency shelter for temporary use, but a permanent educational facility that should serve as a primary example for how Thai children should be taught in the country. Working closely with the school's forward-thinking principle, Principal Kuang Chak, we adopted a mandate of "holistic" learning at the Than Thong Witthaya. The children would not be only trained in book knowledge, but be taught the important lessons of living in harmony with the earth. Thus, the architecture was envisioned as a learning tool that would help achieve this goal of holistic education.

The kindergarten consists of two simple rectangular buildings, containing four standard 6m x 8m size classrooms. These double buildings encircle a lovely longan fruit tree, thus creating a friendly protected court for the children. This court is divided into outdoor laboratory gardens where students can observe and learn about natural phenomenons.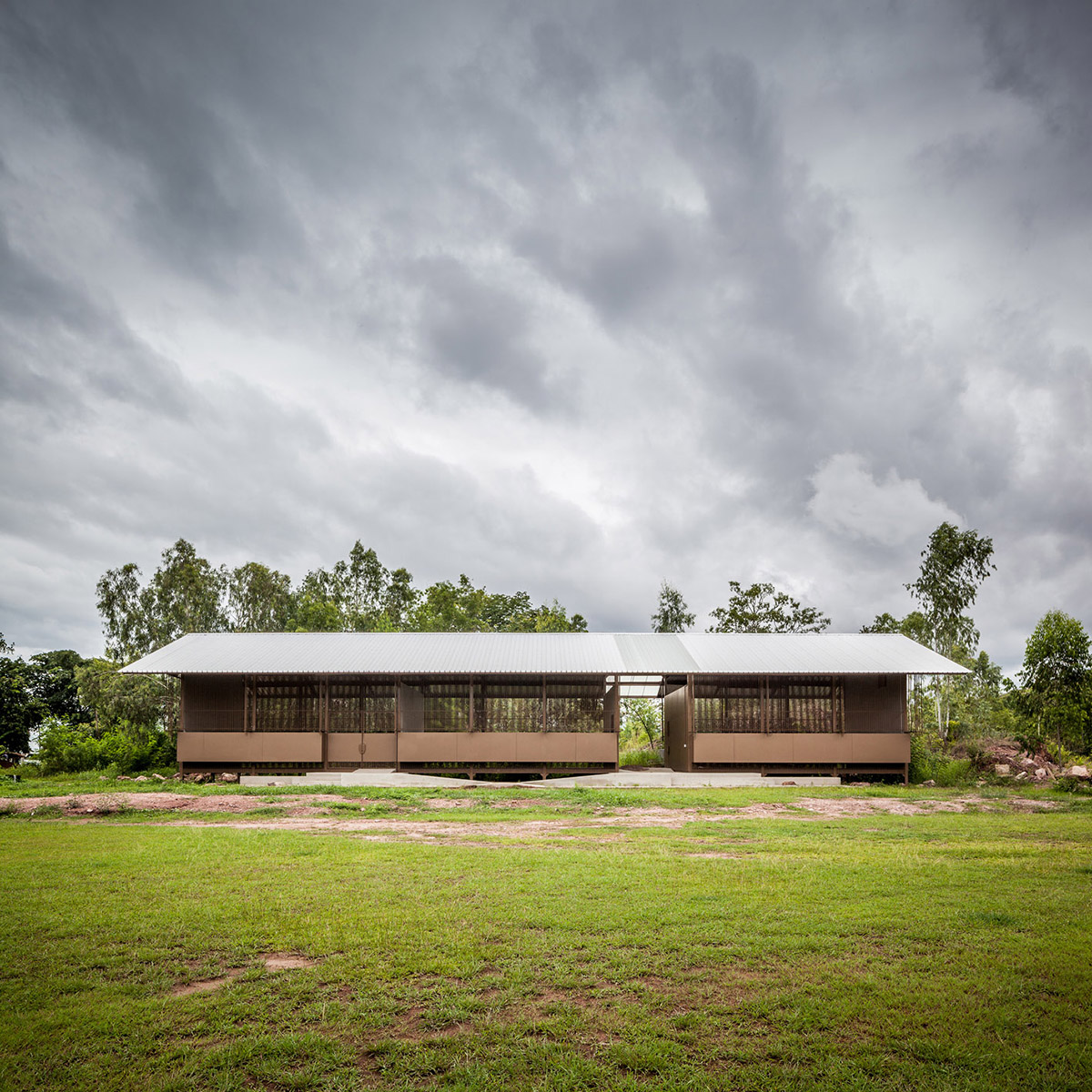 Phan Subdistrict Administrative School (Baan Don Ton) by Suriya Umpansiriratana, Walllasia. Image courtesy of Thailand Pavilion
The Pordee Pordee School initiative was launched in response to the devastating earthquake that struck parts of Northern Thailand in 2014, destroying many schools in the area. Conceived under the principle of sufficiency, the new school building at Baan Don Ton contains three standard classrooms measuring 6 x 9 meters. The design focused on the selection of appropriate materials by considering the different material properties in conjunction with the skill and knowledge of local builders. The selected material also needed to be low maintenance and earthquake-resistant.

The design avoided having anything suspended from the ceiling, while the plan and foundation piles had to work around the existing site condition dotted with many large rocks, one of which protrudes into the entrance hallway, which was relocated there to accommodate it. The building form is simple and capable of withstanding earthquakes.
Baan Doi Chang School by Chutayaves Sinthuphan, Site-Specific Company Limited. Image courtesy of Thailand Pavilion
Baan Doi Chang School is the heart of a mountain village of the same name. It sits on the top of a hill with houses dwindling along the slope down from the school. Baan Doi Chang School hosts approximately 700 students in its two campuses. The main campus has 600 students and 20 teachers. While the annex campus is a home to 100 full-board students and 5 teachers. This makes Baan Doi Chang one of the largest schools in Chiang Rai province.

There are a few sites that were a candidate of the new classrooms construction. After several design studies and revisions, it was finally decided that the new classroom building would sit just off the main court where most activities in the school such as morning greeting rituals, boy and girl scouts classes and daytime sport activities can happen anytime of the day. And the villagers also use this court space after school as a public plaza for sport and leisure activities.
Top image © WAC
> via Venice Architecture Biennale