Brian Brush installs Sensory Garden Arcade in Washington by using 1,600 clear polycarbonate tubes
Brian W. Brush, founder of BRUSH, is a designer and artist who uses the interaction of light and material to tell stories at the intersection of art, science, technology, and environment. Brush's latest installation was built in the seating area to the east of the autism classroom block at Roosevelt High School, Washington D.C. The 'Sensory Garden Arcade' is set to act as a visual and audible buffer to the parking lot adjacent to the patio and contributes to the patio space's overall quiet and relaxing atmosphere.
The structure is composed of 1,600 clear polycarbonate tubes that create both shading and buffer zone in garden of classroom. It employs solar powered fans for cooling that can be controlled by people using the space. Commissioned by Department of General Services, Washington D.C, the artist creates this crystal metalwork only using clear polycarbonate tubes and iron studs to bolt polycarbonate tubes to each other. Brush's sculptural installation becomes a new interactive public tool between people, technology and local sources to interact with environment they inhabit by manifesting this phenomena in colour, light, and form.
The project's form is derived from the 3-dimensional superposition of sine curves that flow through the space. Within the tube framework are sensors that detect nearby motion and activate an array of fans which provide zones of focused cooling in the seating area.
New York-based creative practice BRUSH he designs and constructs data-driven, interactive environments integrating high-tech illumination and digital media with complex geometric and material systems.
Brian is currently an Adjunct Assistant Professor of Architecture at Columbia University GSAPP, teaching design, digital fabrication, and Geographic Information Systems and is an Adjunct Assistant Professor in the Strategic Design and Management Program at Parsons the New School for Design in New York. He is also a PhD candidate and Fulbright Scholar conducting research with McGill University School of Architecture's Facility for Architectural Research in Media and Mediation (FARMM).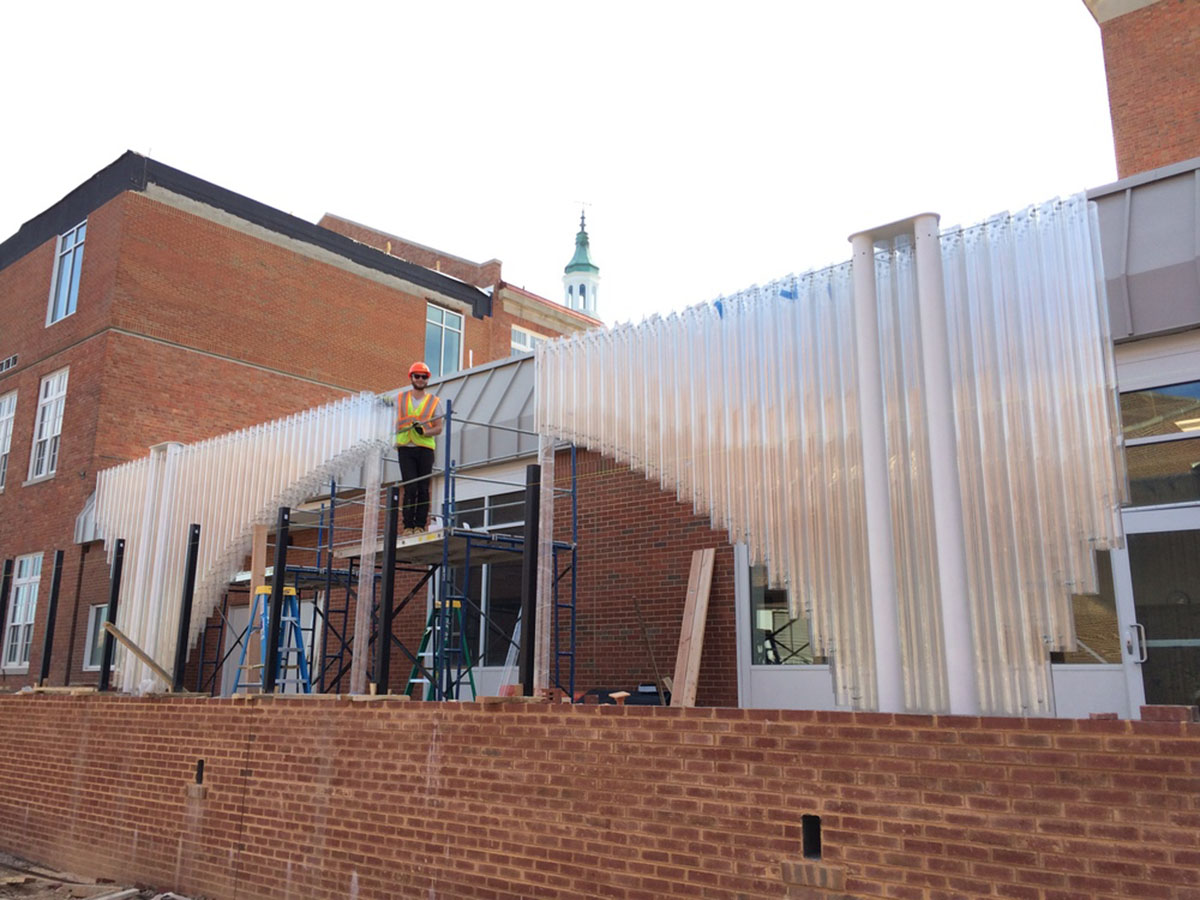 All images courtesy of BRUSH
> via brianbrush.com