Key Aspects and Challenges of Heritage Conservation in India
Heritage is what we retain from the inheritance of structures built in ancient times, which emerged with spiritual, religious, social or political significance in the society. Strictly speaking, it refers to those buildings, monuments, artifacts, spaces and precincts that are of historic, aesthetic, architectural or cultural significance, which include natural features within, such areas or precincts of environmental significance or scenic beauty such as sacred groves, hills, hillocks, water bodies, wooded areas, et cetera.
In India, heritage comprises archaeological sites, remains, ruins. The primary custodian of 'Monuments and Sites' in the country, i.e. Archeological Survey of India (ASI) and their counterparts protect them. In addition, many groups of buildings that are unprotected, particular neighborhoods and public spaces including landscapes and natural features that provide character and distinctive identity to settlements are taken under protection.
Further, it is evident that there was not any formal architectural education system persistent in the ancient times in India. It was only a few decades back that people in power and educationalists thought of formulating a well-connected, efficient and progressive system that could inculcate improvising guidelines in terms of Building Design and Structure Systems to fulfill the changing needs and aspirations of human lifestyle, as well as to cater the functional aspects of spaces. Nevertheless, it is stunning that structures that were erected in ancient times followed a complete sense of knowledge about proportions, stability, and aesthetic value.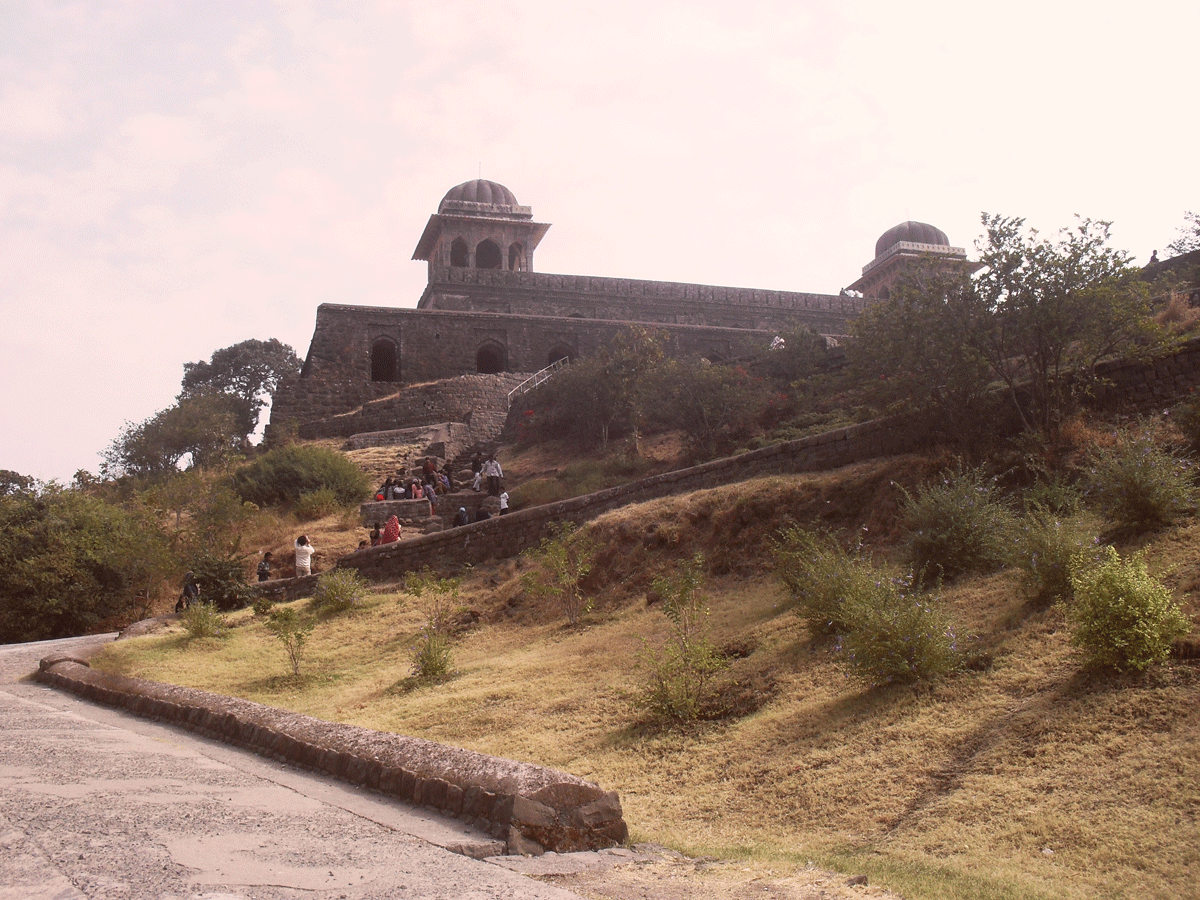 Rani Roopmati Pavilion, Mandu
One of the historic precincts protected and conserved by ASI in Central India is Mandu: 'The City of Joy', situated about 35kms south of District Dhar in Madhya Pradesh. It includes many monuments, namely: Rani Roopmati Pavilion, Jahaz Mahal, Baz Bahadur Mahal, Asharfi Mahal, Lal Bagh, Dai ka Mahal and Hindola Mahal. These exquisite palaces served the purpose of ornamental baths, canals, watchtowers, and pavilions, as refined as those times of grandeur and peace, were. This elevated plateau, Mandu, incorporates most enchanting and undulating scenery with dark pools, shaded trees, and rocky ravines alternating sloping swards with the overall effect of the illusion of unreal beauty. In addition, this hilly range is endowed with a marvelous natural effect, which is at its best in the rainy weather, when all sides are clothed with greenery and a number of torrents rush down into the ravine, winding about the sides below. This enhanced beauty is the result of interspersed dozens of lakes and ponds on its top.
Jahaz Mahal - Testimony of Stone Craft for Royal Pleasure
The spiritual reflection of romantic beauty and joy is characterized by Ship Palace that is Jahaz Mahal, which was built between two artificial lakes. The name of this palace is the outcome of its unusual shape and elevated space on the narrow land between two large tanks. This palace is 120m long, with elegant two-storey structure, inclusive of open balconies, overhanging water terraces, pavilions et cetera. Fundamentally, it is one of the testaments of imaginative recreation in the stone craft for royal pleasure.
First Marble edifice in India - Hoshang Sha's Tomb
Further, Mandu also includes some outstanding masterpieces of Afghan Architecture: Hoshang Sha's Tomb (The inspiration for the master builder Ustad Hamid of the magnificent 'Taj Mahal') and Jami Masjid. The marble latticework, beautiful carvings of blue enamel and lotus flowers in masonry, magnificently proportioned dome are some of the unique features of the white mausoleum of Hoshang Sha. On the contrary, there is a grand scaled Jami Masjid in the same complex; it is inspired from the great mosque of Damascus and has a huge dome porch that projects in the center, with similar imposing domes in the background. It has a stern simplicity and a pleasing variety of arches, domes, bays, and pillars.
Seemingly Innumerable Domes at Jami Masjid, Mandu
Heritage structures also include the existing pillars, called stambhs, which are still standing, due to the materials used that challenged the vagaries of time. Many of the stambhs have emerged from spiritual and the religious influences. Moreover, the architecture of their times has involved its presence in spreading these influences. Some of the examples include Vijay Stambha at Chittor, Rajasthan; Deep Jyoti Stambh; Iron Pillar; Qutub Minar; and the Pillars at Sarnath, Vaishali, and Allahabad. The best example of such structures can be stated as the intricate carvings of verses of the Holy Quran on the legend minar of Mughal times: The Qutub Minar.
Withstanding the varies of time and nature, Qutub Minar
Heritage buildings are a testimony of visionary efforts of our predecessors. Achieving what our ancestors had visualized and some concerted attempts to realize the same might have resulted in better conservation. It is rightly said: 'Experience is the best teacher'. Thus, trying to learn from mistakes of the recent past can help us in planning the cities better or their redevelopment. On our part as budding architects, it is imperative that the sanctity of these structures is maintained and their conservation and restoration is considered as a priority. Efforts should be made to conserve a monument, retain its ethical value, authenticity, visual connections to and from itself, and to sustain a truthful representation of its original/historic appearance. The purpose of such efforts should be to ensure that the monument is retained in its original condition, or in certain cases, restored to an earlier known condition, or to a condition in which it was discovered at the time of its identification and notification.
The foremost challenge faced today is the celebration of our traditional past alongside enhancing the importance of local materials that are environment-friendly. This beautiful and glorious past can be commemorated by introspecting the past, learning from mistakes and contemplating the misleading and rapid movement toward modernity, which is leading to us neglecting the splendid knowledge of our ancestors. Based on this, we must take proper steps for the conservation and rejuvenation of our heritage. With architecture in our hearts, emotions rule our heads while intellect plays its part. Therefore, the focus should be on leaving our footprints in right places in an appropriate way, in the process of conserving our historic architectural landmarks. However, remember, these footprints should be carbon-free, as we should never forget the importance of doing our little part toward mother earth, which has gifted us with so many beautiful places to create the best marks in our lives.
All Images © Pappal Suneja