6 Must-Visit Installations At Chicago Architecture Biennial 2019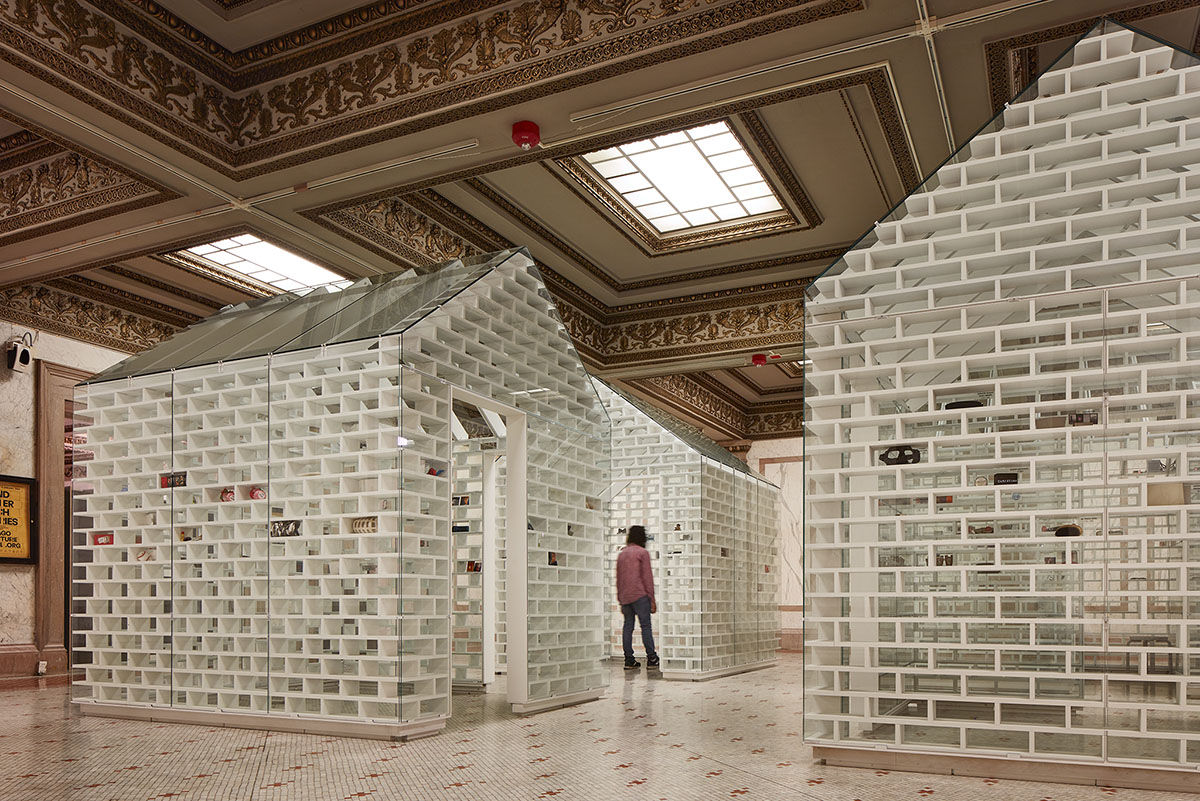 The 3rd edition of the Chicago Architecture Biennial has been opened to the public on September 19 and will be on view until January 5, 2020 with the central exhibition in the Chicago Cultural Center.
The Biennial's satellite locations are Overton Elementary School, the National Public Housing Museum's future site at the former Jane Addams Homes, Sweet Water Foundation, Homan Square with the School of the Art Institute, American Indian Center Chicago and the Jane Addams Hull House Museum.
Themed as ...and other such stories a success, the third edition of the biennial will be led by Artistic Director Yesomi Umolu, a contemporary art curator, and co-curators Sepake Angiama, a curator whose work centers on education, and Paulo Tavares, a Brazil-based architect and academic.
"Our approach to this edition of the biennial has evolved through conversations with architects, spatial practitioners, and everyday people in Chicago and other global locations, including through partnerships fostered in our research initiatives in the cities of Sao Paulo, Johannesburg, and Vancouver," noted Artistic Director Yesomi Umolu.
"Through these engagements, we have drawn out a myriad of stories about how lived experiences across global communities, cities, territories, and ecologies resonate with architectural and space-making practices."
Biennial's theme forms a uniquely discursive and interactive exploration of the experience of architecture and the built environment worldwide. The exhibition brought together more than 80 contributors from 22 countries - including Theaster Gates, MASS Design Group, Forensic Architecture and Invisible Institute, RMA Architects, Jimmy Robert, Vivien Sansour, and Wolff Architects.
If you still haven't visited the exhibition, WAC Editors have picked up the 6 must-see installations from the exhibition to help you to make your own agenda:
---
Image © Kendall McCaugherty
The Gun Violence Memorial Project by MASS Design Group and Hank Willis Thomas
Glass houses, personal remembrance objects
"Gun violence is a national epidemic. The sheer scale of this epidemic often reduces victims of gun violence to statistics. This project aims to communicate both the enormity of this national issue and the depth of individual stories, while providing a space to collectively heal and honor all victims of gun violence."
"MASS Design Group is a non-profit architecture and design collective working to advance justice, promote dignity, and improve human and community health through mission-driven design processes. In partnership with the artist Hank Willis Thomas and gun violence prevention organizations Purpose Over Pain and Everytown for Gun Safety, MASS has developed a memorial honoring the lives and stories of victims of gun violence. Through a series of advocacy and remembrance object collection workshops, MASS invites the public to share their stories and memories to the ongoing memorial. These shared objects will reside in a collection of glass houses representing the magnitude of gun-related deaths that occur over a single month in the United States."
Image © Cory DeWald
Eating Our Histories by Vivien Sansour
"Founded in 2014 by Vivien Sansour, the Palestine Heirloom Seed Library is an initiative that carries the vision to preserve and promote heritage seed varieties and traditional farming practices of Palestinian farmers. The Library and its associated El Beir Arts and Seeds symbolize a core belief that ecological agriculture is truly comprised of traditional farming practices (agri) plus the associated livelihood traditions essential to communities' identity (culture)."
"The Library is primarily intended to function as a seed conservatory and lending locus for Palestinian farmers, though it has served as a global platform to bring to the forefront a conversation about bio-cultural heritage. The Arts and Seeds part serves as a venue to provide agri + cultural education in-situ and via a Traveling Kitchen for social engagement and to different communities. Based in the village of Battir, a UNESCO World Heritage site, is also used as a space for community involvement for artists, poets, writers, journalists, and other members to showcase and promote their talents and work. In preparing its original Seeds, Vivien spent two years searching for the key heritage varieties to save and propagate, food crops that are threatened with extinction and that would provide the best opportunity to inspire local farmers and community members to become more active in preserving their bio-culture and recuperate their local landscape."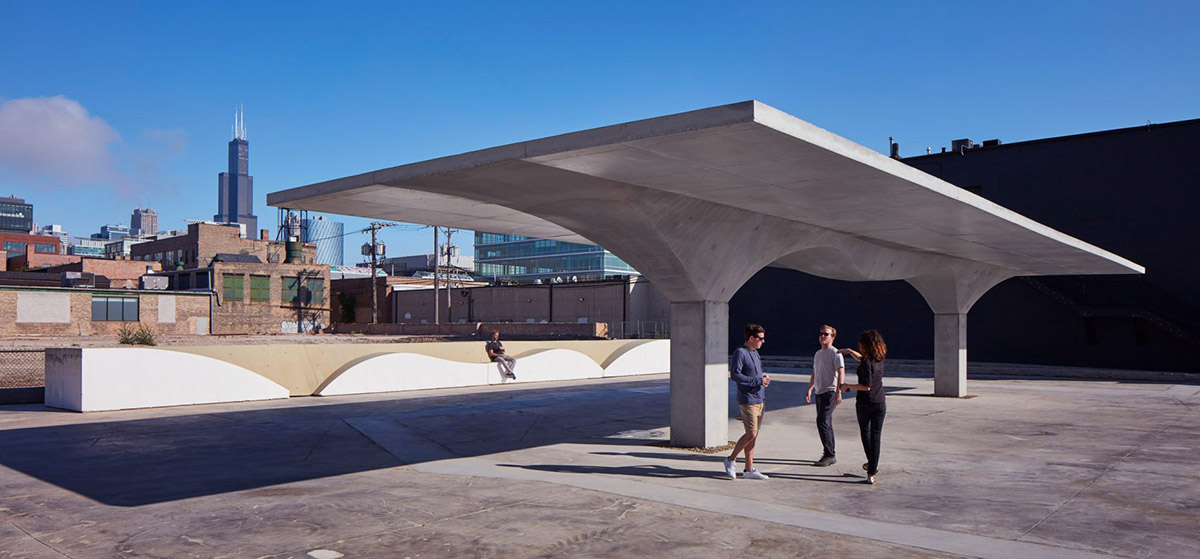 Image © Dave Burk
Stereoform Slab by SOM
Skidmore, Owings & Merrill (SOM) has used advanced robotic fabrication techniques to create this concrete pavilion featuring curvy slab that supports the roof. The pavilion replicates and abstracts a single-story concrete bay found in high-rise construction to create a simple architectural expression. Removed from its typical context, the structure exemplifies how digital fabrication can be leveraged in the building industry.
Built for this year's Chicago Architecture Biennial, this sustainable fabrication technique of concrete formwork using advanced robotics reduces a 20% carbon reduction in high-rise buildings, according to SOM. The pavilion, named Stereoform Slab, has been installed in the city's West Loop and developed by SOM's interdisciplinary research team, and realized through industry partnerships with leading organizations including McHugh Construction, real estate investment and development firm Sterling Bay, Denmark-based Odico Construction Robotics, and Autodesk, an innovator in generative design implementation.
Image © Kendall McCaugherty
Three Trees: Jackson, Obama, Washington by Hood Design Studio
Three Trees: Jackson, Obama, Washington, uses fallen trees from Chicago's South Side to represent the ongoing dialogue surrounding the location of the Obama Presidential Library and recognize memory's persistence in landscape and architecture.
HDS's work unveils and strengthens endemic patterns and practices both ecological and cultural, contemporary and historic, particularly those that remain unseen or unrecognized.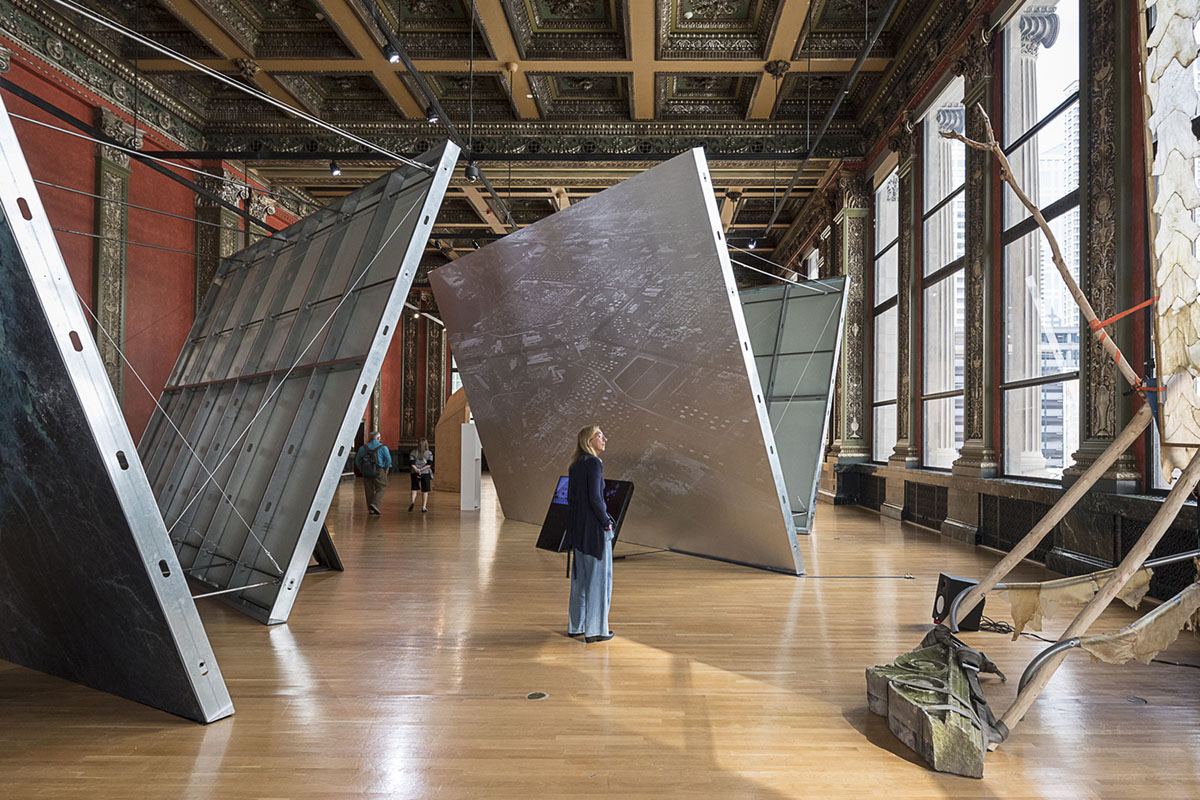 Image © Laurian Ghinitoiu
Museum of Oil by Territorial Agency
"Territorial Agency's Museum of Oil makes a radical and urgent proposal inresponse to the current climate emergency: "We shall keep oil under-ground, put the oil industry in the museum, and make it a thing of the past." Initially developed in collaboration with Greenpeace and produced in cooperation with ZKM Center for Art and Media in Karlsruhe, Germany, Museum of Oil registers how the oil industry has infiltrated and disrupted global finance, communities, and the natural environment."
"For this iteration, John Palmesino and Ann-Sofi Rönnskog developed new research focusing on the oil landscapes in North America, which will be added to the museum collection as the "American Rooms." The installation integrates satellite and remote-sensing data analyzing cases such as shale fracking in Texas, conflict over the Dakota Access Pipeline, deep-water extraction in the Gulf of Mexico, and oil refining in Whiting, Indiana. Conceived as an open public institution, Museum of Oil is a space for thinking collectively about the structural changes that abandoning oil use would entail, from everyday individual habits to larger institutional, industrial, and urban systems, including the field of architecture."
Image © Kendall McCaugherty
Anarchitectural Library (against the neoliberal erasure of Chicago's common spaces) by Adrian Blackwell
Steel, glass, fabric, books, pamphlets, reports
"Artist, theorist, and urban designer Adrian Blackwell responds to the political and economic forces exerted by physical spaces. Anarchitectural Library addresses the Chicago Cultural Center's history as the city's first public library, an institution conceived in part as a space to "civilize" an unruly population of immigrants, workers, socialists, and anarchists."
"Whereas the original library responded to the specific struggles of the late nineteenth century by pacifying political demands, Anarchitectural Library gives voice to contemporary organizations fighting to keep alive spaces that produce and maintain urban life and collectivity. The library houses printed publications submitted by Chicago-based activists, organizers, and researchers whose work resists public housing destruction, school closures, loss of industry, environmental degradation, and mass incarceration. The public is invited to peruse and discuss its contents."
Top image: The Gun Violence Memorial Project by MASS Design Group and Hank Willis Thomas. Image © Kendall McCaugherty